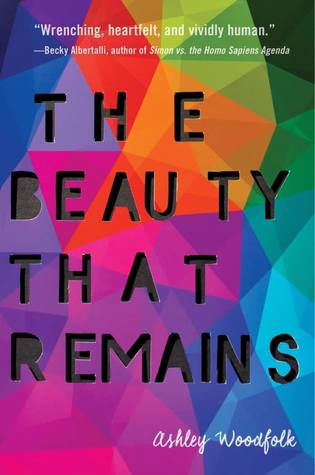 Music brought Autumn, Shay, and Logan together. Death wants to tear them apart.Autumn always knew exactly who she was—a talented artist and a loyal friend. Shay was defined by two things: her bond with her twin sister, Sasha, and her love of music. And Logan always turned to writing love songs when his love life was a little less than perfect.But when tragedy strikes each of them, somehow music is no longer enough. Now Logan can't stop watchi...
---
Details The Beauty That Remains
Title
The Beauty That Remains
ISBN

9781524715878

Author

Ashley Woodfolk

Release Date
Mar 6th, 2018
Publisher

Delacorte Press

Language

English

Genre

Young Adult

,

Contemporary

,

Lgbt

Rating
Reviews The Beauty That Remains
Books that deal with grief are hit-or-miss for me. I always find them important, because how could anyone not, but I am only able to enjoy them if I end up caring considerably for the dead characters and/or the characters who are grieving themselves.This book contains three alternative points of view: two girls and one boy. All three characters—Autumn, Logan and Shay—have lost someone they loved, whether it be a boyfriend, friend or family me...

I received an ARC copy of The Beauty that Remains in exchange for an honest review. Thanks goes to NetGalley, as well as the Delacorte Press for this advanced copy which is expected to be released on March 06, 2018.The Beauty that Remains is Ashley Woodfolk's debut novel, believe it or not. It is sure to be one of the greatest books of 2018 and that's saying a lot given that we've barely walked into February. This is all that a contemporary...

What a gorgeous, gorgeous bookPerfect for those who love novels by Adam Silvera, Jeff Zentner, or Nina LaCour.

Dark, edgy and filled with emotional turmoil and the heavy feeling of loss, THE BEAUTY THAT REMAINS by Ashley Woodfolk tells the tale of a group of teens individually dealing with the loss of a loved one either through illness, suicide or a deadly accident. These are their stories, their reflections on the past, and their attempts to heal and give up the ghosts of guilt that haunt them. In the end, these seemingly individual struggles will find t...

The Beauty That Remains is a really solid debut from an author I will be looking out for in the future. I feel like the book was spread a little thin over the three different perspectives, but the strong writing and diverse characters show a lot of promise. We all nod. We all get it. There's no way to measure grief; It is hard to write a good book about grief. First, you must convince the reader of the importance of the relationship between the p...

3.5 stars. This was a really solid read! The writing and plot really captured me on the first page, so much so that I finished this book in two sittings total. The writing is incredible, and I loved the slow-moving plot and bittersweet nostalgia. I enjoyed reading about the three main characters' struggles after the deaths of their loved ones, and I also appreciate the diversity that was so flawlessly included within these characters. Autumn is a...

There's not enough words for me to describe how much I loved The Beauty That Remains! So so so breathtakingly beautiful! Tears & smiles for days, this book will stay with me forever. Full review will be posted closer to release date, so hurry up 2018 because this books need to be in my hands NOW! Thank you Netgalley and the publisher for an e-copy!

"We all nod. We get it. There's no way to measure grief." I honestly don't know what to say besides I ADORED this book. My heart broke in every imaginable way and was healed watching these characters on their journey. I felt their every pain, I laughed with them in their joy, and I was a crying mess multiple times. The Beauty That Remains is a stunning debut about grief, healing, and the things that bring us all together. Things I Liked...

I want to start this review by giving a massive trigger warning for this entire book because it strongly deals with grief and loss. The blurb just states that "tragedy strikes" for all the characters, not that someone important in their lives passes away. The novel does revolve around 3 different POVs and one of the deaths is a suicide so please be cautious when reading. The characters were all compelling and engaging and their voices were distin...

I am beyond broken.I am shattered.~I received an eARC from Random House Children's through NetGalley in exchange for an honest review.~IS IT POSSIBLE TO BE IN A WRITERS SLUMP?LIKE A READING SLUMP BUT... FOR WRITING?Generally, I'm the kind of person who likes to write my review for a book I've finished straight away, when my pain is still raw and my thoughts still completely hooked on that one book.But right now, it's been 2 days since I actually ...

***ARC received in exchange for an honest review***This is one of those books that stays with you even after all the tears have dried. In Ashley Woodfolk's debut novel, The Beauty That Remains, she delivers a punch. I ended up going through a box of tissues on this journey of grief. From the start I felt my heart was taken away with theses characters, that I was dealing with their loss right along with them. Ms. Woodfolk's writing style for this ...

TW: Grief, Loss, Depression, Suicide The beauty remained troughout this novel due to Woodfolk's writing. I picked up this book because I heard it was perfect for fans of Adam Silvera and if you follow me on my social media you would know that MORE HAPPY THAN NOT is the book of my life. I was not dissapointed.We follow Shay who writes about music on her blog. Autumn who spends most of her time reading books. And Logan who was part of a band as a...

Absolutely fantastic. I had a chance to read this one early. If you liked HISTORY IS ALL YOU LEFT ME, you'll love this book.

The Beauty that Remains really pulled me in right from the beginning. Since there are three distinct narratives going on, I'm going to talk about them in order. "'You okay? he asks. We say this to each other all the time now, whenever one of us catches the other zoning out; whenever it's clear that we're thinking about you. I nod, even though I'll never be okay again, but I don't know what else to say. I ask him the same question. 'Are you?' And ...

**You can see this full review and more at Book Briefs: https://bookbriefs.net**The Beauty That Remains is the debut young adult novel by Ashley Woodfolk. The Beauty That Remains is powerful book featuring wonderfully diverse characters. It is a realistic fiction piece about how people deal with loss differently, and also about how this new era of social media can shape the grieving process. I really enjoyed this novel. I found it to be so multi...

Let me preface this by saying: I love seeing diverse main characters in books. It's always refreshing to see authors break away from the white heterosexual "default". Unfortunately, though, this book didn't really do it for me. I think the author tried a little too hard to get a variety of diverse characters and instead of feeling natural, it felt like marking things off on a checklist. There was just simply too much going on and too many...

See my full review on Diana Prince Reviews!Ashley Woodfolk's debut novel, The Beauty That Remains (out March 6th) is about 3 teenagers who are each coping with the tragic, sudden deaths of their closest confidants, and how their stories of grief and the struggles of moving forward from loss interweave. For a debut novel, Ashley has a way with words that immediately triggers an intense emotional connection with each of these main characters and ...

What a lovely debut novel! Full of pain, heartbreak and really fascinating characters. I enjoyed this book with its diverse characters and how their stories wove together. I was provided an advance copy of this book via NetGalley.

O.M.G. You guys. Are you sitting down? You should be sitting down for this. Because I am about to blow your mind with this amazing book! The Beauty That Remains by Ashley Woodfolk is easily in my top 10 books of this year, and you guys know how much I read. It doesn't come out until March 2018, but you guys should go preorder this thing NOW.The Beauty That Remains is the heartfelt, funny, and tear-jerking story of how one group of teens goes thr...

Woodfolk crafts a beautiful, touching, and heartbreakingly realistic portrayal of love and loss from the lives of three different teens. Shay has lost her sister, Logan has lost his ex-boyfriend, and Autumn has lost her best friend, and the three are struggling with how to move on with their lives without the people they loved so much. Shay, Logan, and Autumn's narratives align through the shared love of music all while wondering if they'll ever ...

This review originally appeared on Novel Ink. I received this book for free in exchange for an honest review. This does not affect my opinion of the book or the content of my review.Content warnings: death, loss, suicide, drugs, alcohol, anxiety, panic attacksWhat a beautiful gem of a book. The Beauty that Remains is an excellent debut, and an even better exploration of grief and loss. We follow three main characters– Autumn, Logan, and Shay–...

This book struck a chord with me I was NOT expecting (pun absolutely intended). While I did love some characters more than others, each narrator and each side character felt like a whole person with their own set of complications and struggles. I guess in some ways, that's the point of the story, and it was executed beautifully. And I do have to say, I cried. That doesn't happen much to me anymore in standalone novels where I haven't had much tim...

You can find this review and others on my blog shades of paper "I miss you. There's never an I miss you not. And there aren't enough petals on the flower. There aren't enough petals in the world." Wow, this was a very emotional read. When I started this book I honestly didn't know it was going to be this kind of story, but I have to say I ended up really loving it. It was tough, but overall it was really beautifully written book tha...

Maybe more like 3.5 because it was kind of slow for me. But I'll give it the boost to 4 since it was definitely well written. Overall, this was a wonderfully written book. The characters were very deep, the tragedies very emotion-wrenching, and the connections between the three intertwining stories were creative and perfect. First you had Autumn, who had lost her best friend Octavia. She felt guilt over Tavia's death because she had not been wi...

Actual rating: 3.5 starsThank you, Random House Children's, for giving me a free, digital copy in exchange for an honest review.Truthfully, I didn't know what to expect going into this novel. Initially, it was the cover that drew me in. Then I read the synopsis, and as I'm currently trying to read more contemporaries, I requested this from NetGalley. This book is about loss and heartbreak, grief and pain, and working through who you are when the ...

"Then we just sit there, silent and lonely for you together, because hellos are nice and neat and so much easier than goodbyes."The Beauty that Remains is the type of book that will be staying with me long after I've finished. Even now, I'm at loss for words. My review, my thoughts, my personal views; nothing will measure up to how beautiful and profound Ashley Woodfork made her debut into the book community. I knew as soon as I saw the b...