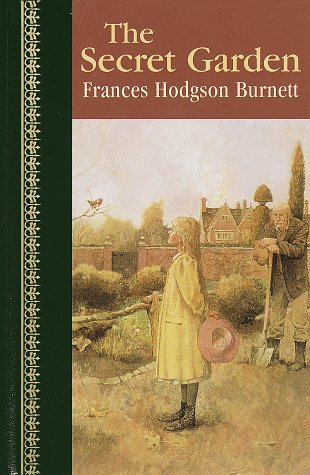 When orphaned Mary Lennox comes to live at her uncle's great house on the Yorkshire Moors, she finds it full of secrets. The mansion has nearly one hundred rooms, and her uncle keeps himself locked up. And at night, she hears the sound of crying down one of the long corridors.The gardens surrounding the large property are Mary's only escape. Then, Mary discovers a secret garden, surrounded by walls and locked with a missing key. One day, with the...
---
Details The Secret Garden
Title
The Secret Garden
ISBN

9780517189603

Author

Frances Hodgson Burnett

Release Date
Sep 1st, 1998
Publisher

Children's Classics

Language

English

Number of pages

331

pages
Genre

Classics

,

Fiction

,

Childrens

,

Young Adult

Rating
Reviews The Secret Garden
I am now confused. I do not know anymore what is my preference when it comes to books.When I was a kid, I wanted to read only books with pictures like the illustrated "Alice in the Wonderland" or "Rip Van Winkle". Until I read "Silas Marner" with no pictures and I said, wow, books with no pictures are also great! When I was a teenager, I said I don't like to read books that are hard to understand and read by adults until I read "Lolita" by Vladim...

Love love loveAlso: counting this as my first BookTubeAThon read even if I read only 2 pages during the actual readathon, I NEED ALL THE BOOKS I CAN GET

Except for the persistent India bashing, I loved this book. In fact Mistress Mary, I loved the ending so much that I forgive your English superiority complex. Next time you visit here though, allow me to take you on the ride across India, I hope your impression will change

I know this book seems out of place among the fare I usually read, but hey, all I can say is that I like what I like. There is some intangible quality to this book that really strikes a chord in me. The whole idea of that sickly child being healed with love, attention, and (forgive me an LDS joke) wholesome recreational activities, just somehow speaks Truth to me. I think this book has strong application to today's problems with the rising genera...

I first read this wonderful and evocative absolute and utter gem of a story at around age twelve or thirteen (it was likely one of the first longer novels I read entirely in English, not counting those books read for school). I simply adored Frances Hodgson Burnett's The Secret Garden when I read it as a young teenager (or rather, a tween), I continued to love it when I reread it multiple times while at university, and I still massively loved the...

Two sickly, arrogant, lonely, neglected, little children, from wealthy families, both ten, cousins, live continents apart , Mary Lennox, in hot, steamy , colonial India, and Colin Craven, he in rainy, cold, Yorkshire, northern England, a cripple, just before the start of the First World War, they don't even known the other exists, but will soon, both like to show contempt to servants, by yelling at them, while giving orders . Mary is spoiled, unh...

The Secret Garden is a "lovely" story in every sense of the word. Primarily, it's about three kids: Mistress Mary, Dickon, and Master Colin--and how just thinking a little differently can change a person completely.There's a lot of subtle things Frances Hodgson Burnett does right: The way she relates the Garden to Colin's mother and how that affects his relationship with his father--and how all of these things have made him a horribly spoiled bra...

Where, you tend a rose, my lad, a thistle cannot grow. Originally published in 1911 The Secret Garden is a true children's  classic.  One that adults should read as well.  Mary Lennox was born in India.  A plain little girl she was not wanted by her mother or father and consequently handed over to the servants to raise.  Because her Ayah and the other servants feared her mother would be angry if she was disturbed, Mary was consequently giv...

The Secret Garden, Frances Hodgson Burnettعنوانها: باغ اسرارآمیز؛ باغ مخفی؛ باغ راز؛ نویسنده: فرانسیس هاجسن برنت؛ عنوان: باغ اسرارآمیز؛ نویسنده: فرانسیس هاجسن برنت؛ مترجم: شمس الملوک مصاحب؛ تاریخ نشر فرانکلین: 1340، در 338 صعنوان: باغ مخفی؛ نویسنده: فرانسیس هاجسن برنت؛ م...

Book 27/100 of 2015I had to read this for class, but I'm happy that I did! I read A Little Princess by Frances Hodgson Burnett when I was younger and loved it, so I'm pleased that I had the chance to read this for a class. Definitely recommend this to anyone wanting to read an easy classic as I love her writing.

"The cholera had broken out in its most fatal form and people were dying like flies."There, is a cheery start to one of the most optimistic novels I have ever read. Occasionally I pick a Librivox audiobook book based on who the reader is, for this version of The Secret Garden, it is read by Karen Savage, one of the few professional level readers who have graciously narrated entire books for Librivox's public domain audiobooks. Listen to a s...

I guess I didn't miss much by not reading this book as a child. I don't really understand why it became a classic. It starts out interestingly enough with a very gothic setting. A little British girl named Mary survives a cholera epidemic in India and is sent to Yorkshire to live with her distant relatives. The author gives a vivid description of the beauty of the moors and the mysterious mansion that the girl goes to live in. The only other inte...

MISTRESS MARY, QUITE CONTRARY. HOW DOES YOUR GARDEN GROW? WITH SILVER BELLS AND COCKLESHELLS. AND MARIGOLDS ALL IN A ROW."This delightful children's classic, first published in 1911, pulled me right in with the cholera outbreak and continued with a bit of mystery, lots of magic and some pretty important learning experiences for both children and adults alike.Not surprising this wonderful work is on the "100 Books Everyone Should Read At Least Onc...

I seem to be the only woman I know who didn't read and cherish this book as a child. So I decided to see what all the fuss was about...It took me a while to get in step with the tone of this book. The beginning was Jane Eyre-lite...Mary is orphaned and sent from India to England to live with her uncle, a stranger to her. The story progresses...and then....Mary's talking to a robin, and he's showing her where buried keys are. At that point, the mo...

1 star for a classic?What a scandal.Well, it is the first classic that I'm giving 1 star for so it's fairly a big deal.Although I did not finish this, I already know how the book wraps up. (view spoiler)[Take a guess. Bratty kid. Mean uncle. Sick kid. (hide spoiler)] Here's the thing: Classics deal with universal ideas. The Secret Garden deals with kids who have been neglected emotionally by their parents, and even though it's overdone now days...

Uno degli aspetti più strani della vita è che solo di tanto in tanto siamo sicuri di vivere a lungo, molto a lungo, forse per sempre. La vita è troppo breve per serbare rancori, arrendersi, costruire dei muri intorno a sé..."Il giardino segreto" è l'emozionante resurrezione di due personaggi, ognuno dei due colpevole per colpe altrui ed entrambi silenziosamente desiderosi di amicizia e amore, sentimenti per lungo tempo negati.Viviamo in una...

Ο Μυστικός κήπος είναι ένα όμορφο παραμύθι, αλλά και πολλά περισσότερα από αυτό. Είναι μια αλληγορική ιστορία που μιλάει για την ψυχή, που όταν της δίνεις ήλιο, νερό, την αγαπάς, ανθίζει σαν τις τριανταφυλλιές του μυστικού κήπου. Τι μπορεί να θέλει ...

This whole book was pure magic and I loved it.

Read this novel and you will start dreaming about your very own secret garden."If you look the right way, you can see that the whole world is a garden."This is one of my favorite quotes that makes me see colors in the world again.I couldn't resist reading it after watching the lovely movie "The Secret Garden (1993)" that was completely different .. But you need to watch it after all because it will simply make you happy and you will smile. I just...

****SPOILERS****OK, I must have read and loved this book 40 or so years ago. (Yikes!) I liked it a lot this time round, but it was troubling to me in several ways. It starts off as the story of Mary, a girl suffering from epic neglect. (Her entire household in Colonial India, parents, servants, everyone, die from cholera or flee the house with no-one bothering to think about her, leaving her alone, not knowing what's happening, if anyone is there...

This is a book I have read over and over again. With the lovely characters that grow in stature, strength, and wisdom through the book, it is a wonderful progression. From the moment you meet pinched faced Mary, you come to love the little girl that has lost so much. Her sadness has become a part of her and one that she struggles to throw off. Her curiosity is lovely and brings Colin and Dicken into the picture. What a lovely lively trio they are...

Frances Hodgson Burnett looked to gardening for healing from grief and mental collapse--she also believed in metaphysical healing. Every day she wrote in a "walled rose garden." She loved reading Dickens and Charlotte Bronte. It shows in this book. Nature and fresh air--all symbolisms. How can someone write about these simple elements and leave you interested? They throw in a couple of children protagonists who are psychologically and physically ...

I finally read this after all these years. I loved the movies based on the book and now I have read it to see which version is the most accurate to the story. Frances Burnett made the characters fun, easy and enjoyable to read about! I especially liked the various point-of-views you read. From the staff, gardeners, and even the bird!

Giustamente, quando uno non vuole far trovare una chiave mica la butta, no: la sotterra vicino alla porta :3Lo so, purtroppo leggo e rileggo il libro e continua a rimanermi questo tarlo.. Per il resto amo questo libro come quando l'ho letto 20 anni fa** :')**VENTI ANNI?? ... VENTIANNI?!?! Dov'è finita la mia giovinezza!!!

Genre: Historical fiction Reading level: Ages 9-12Want to know the Secret? This book was written almost a century before Byrne and Oprah shared their version. The garden is only the beginning of the story of a brat, orphaned in India, who moves to huge lonely house in Yorkshire, England. It isn't only the wind that haunts the moors, but the wails of her tyrant cousin. With the help of a local family, the two children learn to heal their bodies ...

I can't believe I have taken this long to read this book. The Secret Garden is one of my all time favourite films from when I was younger, I can always remember it being on the TV of a Sunday afternoon so I had a feeling I would love the book just as much.We follow the young Mary Lennox as she is sent over from India to live with her Uncle in England, this is due to the fact that both of Mary's parents have passed away and she has nowhere else to...

AKA "How To Turn Some Jerk Kids Into Okay Humans", because Where you tend a rose, my lad, a thistle cannot grow. This is one of my favorite reads of the year. It was sappy, corny in places, and a bit over-the-top in others, but it was still awesome. Nourish the things you love; do it not just with food, but with compassion and understanding and knowledge and encouragement. You'd be amazed what might grow in that little garden with a tiny bit of e...

Four stars because:-I love ALL Children's books — classics and non-classics alike. I don't care how rubbish the story or characters are, I still end up loving them. There's just something charming about them.There's no teenage angst, adult bullshit, love triangles, teens saving the world, insta-love or Mary Sues/Marty Sues (okay there is kind of one Mary Sue in TSG but he didn't bother me too much). Its storytelling that doesn't rely 100% on cl...

Two days after surgery to remove one of my internal organs, I think I can be forgiven for lapsing into extreme nostalgia... at least I haven't reached for my illustrated copy of Heidi yet? I didn't actually have an illustrated copy of The Secret Garden, growing up -- or if it did have illustrations, they were few and far between, and in black and white. But I read the book to bits (I still have a copy held together with brown tape), and even a no...