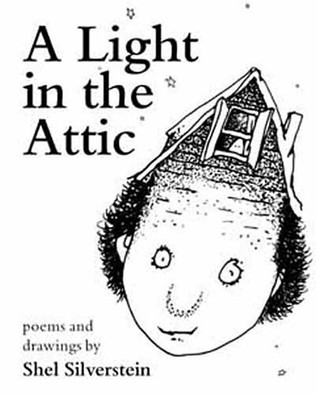 Last night while I lay thinking here Some Whatifs crawled inside my ear And pranced and partied all night long And sang their same old Whatif song: Whatif I flunk that test?Whatif green hair grows on my chest?Whatif nobody likes me?Whatif a bolt of lightning strikes me?...This 20th anniversary of Shel Silverstein's A Light in the Attic includes a CD of highlights from his Grammy Award-winning album.Here in the attic of Shel Silverstein you will f...
---
Details A Light in the Attic
Reviews A Light in the Attic
Every child eventually discovers the perverted old man who wrote songs for Johnny Cash, did illustrations for Playboy, appeared on the Dr. Demento show numerous times, and managed to get a few books published along the way. For some reason, parents never seem to think this creepy old guy who was so fond of children was in any way "disturbing," something I'm continually impressed with in the "ban now, ask questions later" climate of modern culture...

2016 Genre Challenge: Poetry

The feelings I have about Shel Silverstein's A Light in the Attic and Where The Sidewalk Ends contrast so sharply with the books themselves. I loved these funny, whimsical and sometimes downright sadistic poems with all of my young heart. Even now, I feel like I'm getting away with something when I think of Clarence Lee from Tennesee who loved the commercials he saw on TV. I am still afraid for Ickle Me, Pickle Me, Tickle Me too who never returne...

"Do a loony-goony dance 'Cross the kitchen floor, Put something silly in the world That ain't been there before."

"A Light in the Attic" is one of Shel Silverstein's best yet most controversial books of poems ever written. This book is full of poems about clowns, pirates, monsters and all manner of strange people and animals doing crazy things. "A Light in the Attic" may be too suggestive and morbid for smaller children, but older children will easily delight themselves with the silly shenanigans of the characters. Shel Silverstein's writing is a...

Recently, I started re-reading A Light in the Attic with my younger daughter, who's four-and-a-half. I think when I first read it I must have been about eight or nine years old, because I remember reading it myself, and loving it. (I must have checked it out of the library about a million times.) What's not to love? Shel gives us such gems as:BEAR IN THEREThere's a Polar BearIn our Frigidaire--He likes it 'cause it's cold in there.With his seat i...

Need to feel like a kid again? Cozy up with this humorous and whimsical book of poetry. Kids of all ages are sure to enjoy Shel Silverstein's fanciful word play in this amusing collection.Besides reading this book myself, I also purchased a copy of this book for my children and grandchildren. It is a good book to get your children into reading. I HIGHLY RECOMMEND this book! Excerpt:"Somebody Has ToSomebody has to go polish the stars,They're loo...

I read a little bit from this book everyday to my younger brother this past week. I can't remember if I finished this myself in my own childhood, but it felt like I read it for the first time, so I'll put this in the list of books I read this year. This is a book full of poems about jokes or about little lessons presented in comical ways. It gets little kids thinking and gets them interested about deeper thinking. Definitely a must-read for child...

Why I love it: Really? This is a banned book? Somewhere, Mr. Silverstein is shaking his head sadly. It's a hilarious book of illustrations and poems. Silly poems. Its message is clear: use your imagination, laugh often and your life will be good. It promotes kindness, goodness and understanding. There's nothing wrong with that.My Rating: 5 stars

4.0 to 4.5 stars. One of those books that can be enjoyed by children and adults depending on how deeply you dive into the meaning of the stories. Incredibly imaginative and very well done.