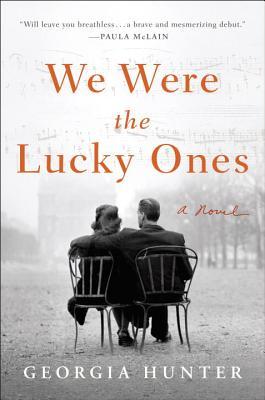 NEW YORK TIMES BESTSELLERInspired by the incredible true story of one Jewish family separated at the start of World War II, determined to survive—and to reunite—We Were the Lucky Ones is a tribute to the triumph of hope and love against all oddsIt is the spring of 1939 and three generations of the Kurc family are doing their best to live normal lives, even as the shadow of war grows closer. The talk around the family Seder table is of new bab...
---
Details We Were the Lucky Ones
Reviews We Were the Lucky Ones
There was both too much and not enough going on for me in this novel based on the true story of a Polish Jewish family under Nazi occupation. There were times when it resembled non-fiction more than a novel – something to do with the reportage nature of the prose, its aspiration to provide a constant overview of the war and its fidgety perspective. There are also so many characters that it was dizzying being swept from one to another. I never s...

3.5 Any book about a Jewish family caught in the horrific web of the Holocaust is, by its very nature, going to be difficult reading. Heartbreaking. This is based on the lives of the author's family, something she didn't have a hint about until the age of nine. There are so many of these books, so many based on true events but what set this one apart is the scope of narrative. Starting in Radom, Poland, the Kurc family, mother, father, four adult...

!! NOW AVAILABLE !!This is the story of the Kurc family, a Jewish family living in Radom, Poland, in the beginning of March of 1939. The exception being one son, Addy, living in the heart of Toulouse, who returns twice a year to Radom for Rosh Hashanah and Passover. He loves his family, but there's an energy to Montmartre with its artists and musicians, the clubs he can't quite bring himself to leave. You wouldn't think anyone had a care in...

This is the story of the Kurc family, a Jewish family, the parents and their five adult children, beginning in 1939, in Radom, Poland.We follow them through the years just prior to, and during World War ll, one of them sent to Siberia, and others fleeing to different locations in Europe.This is a lovely yet difficult story of survival, and family love.Based on the life of the author's grandfather.Thank you to NetGalley, Viking, and author Georgia...

Audiobook ...narrated by Kathleen Gati, and Robert FassI appreciate this story — the author's personal relationship to it.....based on her Grandfather and the Kurc's family harrowing experiences during WWII.....spanning from 1939 to 1947....And the Audio- voices were excellent - but when an audiobook is 15 hours long - it takes something extraordinary to keep us from drifting off into other thoughts. ....Sometimes — it just dragged — .....

What a fantastic debut novel! How the Kurc family survived the atrocities of WWII is an amazing true story of courage & determination. The thing that stood out to me about this novel was that the experiences of the members of this one family were so diverse. Only complaint was that being a large family it was difficult trying to keep track of who, when and where everyone was. I did notice, however, that the print version includes a character char...

Five stars all around for this story. Thanks to the Penguin Random House publishing group for sending me this book as an ARC. As soon as it comes out go and grab a copy. It will be a roller coaster ride you will not forget. It is a story of survival in Poland during World War II. Much of Poland and the Jewish community was ravaged by the Nazi regime. What unfolds in this story is just mind blowing.

Indringend...schrijnend...waargebeurd verhaal over de Poolse, joodse familie Kurc, die als één van de weinigen WOII weten te overleven...dit verhaal komt bij je binnen...grijpt je bij de keel...en laat je niet meer los...Sol en Nechuma, Genek, Mila, Addy, Jakob en Halina(alsmede hun partners), zij hebben WOII weten te overleven op karakter en met een hele grote dosis 'geluk'. Zij hebben , ieder op eigen wijze, de kracht gevonden te overleven in...

You can read all of my reviews at Lit.Wit.Wine.DineWe Were the Lucky Ones is the fictionalized account of the true story of the Kurc family and their experiences during WWII beginning in their home town of Radom, Poland in 1939. The book spans eight years as we follow the Kurc family members to several countries and continents including Austria, Italy, Argentina, South America, and Siberia, Russia as the war continues and finally ends.As many of ...

This is the miraculous story about the Kurc family living in Poland before war breaks out and continues through til the end of the war. The chapters alternate between characters when the family is separated and end up in different parts of the world. This is truly a remarkable story about survival against incredible odds and the fact that it is based on the author's own family is what makes this novel special. Georgia Hunter has written a story a...

What makes this 'historical-fiction' such a meaningful read is that it is steeped more in fact than fiction. The author spent many years researching the incredible true story of her grandfather's family, the Kurcs, a family of Polish Jews living in Radom, Poland in 1939, who get split apart far and wide throughout WWII. While they each endure many harrowing experiences, at its heart this is a story of determination, survival and the bonds of fami...

Well, I just found another auto-buy author. This book destroyed me. It's amazing. EVERYONE needs to read it. ETA: I loved it so much I ordered a copy and had it shipped to my parents just IN HOPES they will read it (they probably read 10 books a year put together). Full review to come!

I feel bad rating this book because it is based on a family's true story. As an ancestry novel for a family it would be an amazing novel of their ancestors. However, as a story for the masses, the characters lack depth and therefore the story lacks emotion. I have read much better novels from this time period. I didn't hate it but I didn't like it either.

As the Kurc family, a Polish-Jew family, is having its last meal together (they do not know this yet), they talk about babies and their growing family. While they see signs of a potential struggle, they also believe it will not amount to much. As Hitler grows in power though, they are sadly proven wrong. In their race to survive, they flee, hide in plain sight or resort to just about anything that will increase the likelihood of being able to see...

Expertly researched, beautifully told, compelling to the last page.

What a very very special book indeed. I finished this last night and my heart cannot be still, it is frantically trying to make senses of it all, trying not to be torn into million pieces and trying to process all that is in the book to tell. This book has no doubt become one of my favourites of all time.You all know my favourite genre to read is historical fiction and especially the time period set in the Second World War. I do not say it lightl...

Thank you to my friend, Georgia Hunter, Viking Books, and Netgalley for providing me with an advance copy of We Were the Lucky Ones.World War II "annihilated over 90% of Poland's Jews and [...] all but about 300 of the 30,000 Jews from Radom," Georgia Hunter's ancestors' home. Yet, her entire family survived. We Were the Lucky Ones is based on the story of how they did it. The Kurc family's experience during World War II, beginning in Poland and ...

As I wipe the last tears from my eyes, I am in awe of this beautiful story. What a privilege it was to learn about this incredible family. Their journeys were not easy, their heartbreaks were many, but the bonds and hope they shared are inspiring. Every time I encounter a story of the Holocaust, I am taken by the strength of the human spirit and will to survive. May we never forget the horrors inflicted on the millions of innocent people.5 heartf...

How, in an instant, his future can be decided for him. 3.5 stars. I've started this review three times already and hit the backspace button every time. I could write an entire review about the love/hate that I have with WWII fiction. The market is so saturated with stories that it's easy to dismiss most of them because they can't all be the one that you need to read. Yet at the same time, every single story deserves to be told. If you have read ...

Let me start by saying I love historical fiction and particularly love WWII literature. I thought this was a good book and the story was very interesting. It's different than a lot of other books like it and at times seems unrealistic, but obviously it's based on a true story. I laughed and cried, but I'm not sure I ever really connected with this book. There are so many characters and it jumps locations constantly, which makes it's diffi...

I read quite a lot of historical fiction that takes place during WWII. Even though reading about the horrors of war and the Holocaust can be so very heartbreaking, I feel it is important to remember those who fought in the war and to especially remember those who died so tragically. This story of three generations of the Kurc family is beautifully written and is indeed heart-rending. While it is considered historical fiction, it is based on autho...

We Were the Lucky Ones By Georgia HunterThis story was based on the author's Grandfather and the Kurc's family experiences during World War II beginning in Poland in 1939. This was both a beautiful and heartbreaking story. It is told through different member's of the family alternating throughout the book. The prose is lovely and lush and crystalline. The family gets scattered in all across different countries in Europe. This debut novel stayed w...

Over the past few years, since I began keeping track of the books I read, I've noticed that the books I rate the highest are either nonfiction or, if they are fiction, involve a marginalized group of individuals, or both. Maybe this has to do with the type of work that I do, or the life experiences I've had, but these are the stories that seem to be the most impactful and stick with me for the longest period of time. Shortly after finishing We We...

3.5 StarsThis historical fiction on based on author's careful research that traces her family from Poland to across the world. Several present-tense perspectives provide experiences of The Kurc's, a Jewish family spanning three generations, as each member battles to survive WWII and genocide. While some accounts are moving "We Were the Lucky Ones" lacks some layers. I think this book needed a strong central character with more emotional depth. .B...

So good, the story, the characters, the historical details. Amazing book, I loved it!

This is such a wonderfully written story about a Jewish family struggling to survive during the war and the Holocaust. The book is a little hard to follow at first because there are so many family members and each chapter gives an update on what is happening to a different family member but once you get used to who everyone is, it's a lot easier to follow their plight. Any time I read about what the Jews went through during Hitler's reign and how...

What makes the Jewish Kurc Family living in Nazi occupied Poland during 1939 the Lucky Ones? Yes, they were lucky, but they also demonstrated true resilience, forethought and they were smart.While this was a well written novel, the Kurc family includes the matriarch, patriarch, 5 adult children and their spouses. That is 12 characters to keep straight, at times a challenge for my simple brain. The author is the granddaughter of one of the five Ku...

This is a very special book. It's historical fiction, yet based on true events. It's about authors grandfather and his parents and siblings and their astonishing experiences during World War II. The author traveled the world researching this amazing story and her hard work is evident. I learned so much reading this, yet you can feel the authors love for her ancestors spilling from the pages. I've never read a book quite like this one, and it was ...

Y'all, this book was phenomenal. I cannot recommend it highly enough. It may not have the emotional connection of The Nightingale, or the beautiful prose of All the Light We Cannot See, but the just-slightly-fictionalized story of the Kurcs Family is one of the most amazing WWII stories I have read.As with many historical fiction I read, I began with some light research to figure out how much of the book was true and how much was fictionalized. W...

We Were the Lucky Ones is an historical account inspired by true events of the author's Polish Jewish family that was separated at the start of World War II. The author learned about these events from her grandfather and later other family members at around 15 years old. She learned that she came from a family of holocaust survivors. This is her quest to uncover her family's history.The Kurc family lived in Radom, Poland in March 1939 except ...