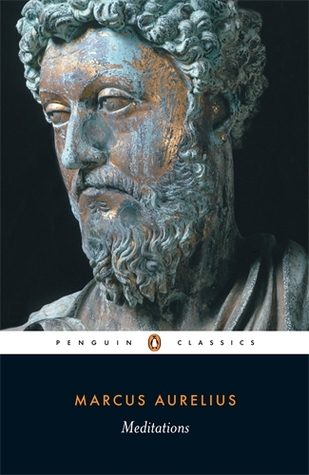 Written in Greek, without any intention of publication, by the only Roman emperor who was also a philosopher, the Meditations of Marcus Aurelius (AD 121-180) offer a remarkable series of challenging spiritual reflections and exercises developed as the emperor struggled to understand himself and make sense of the universe. Ranging from doubt and despair to conviction and exaltation, they cover such diverse topics as the nature of moral virtue, hum...
---
Reviews Meditations
In many important ways, the reflections of Marcus Aurelius (121-180) crystallize the philosophical wisdom of the Greco-Roman world. This little book was written as a diary to himself while emperor fighting a war out on the boarder of the Roman Empire and today this book is known to us as The Meditations.The Roman philosophers are not as well known or as highly regarded as Greek philosophers such as Plato, Aristotle, Epicurus, or Zeno the Stoic - ...

When I was a freshman in college, I lived in a dorm. My roommate was on the football team. He would write inspiring things on poster board and hang them in our room often on the ceiling above his bed to motivate himself. He favored straightforward sentiments like "never give up."The Roman emperor Marcus Aurelius did not hang motivational posters for inspiration. Instead, he kept a journal in which he collected his thoughts about how to live well....

Marcus Aurelius must have been a prolific reader. He sure was a prolific note-taker, for these meditations are surely his study-notes(?- after all he was a 'philosopher' from age 12). I don't know of the publishing system at the time but where are the detailed footnotes and references? Marcus Aurelius is quite a wise man or at least he read enough wise men. He sure nailed it as far as boring a reader is concerned. No better way to establish your ...

Marcus gives us wise advice about using the Internet, particularly social networking sites:"...because most of what we say and do is not essential. If you can eliminate it, you'll have more time and more tranquillity. Ask yourself at every moment, is this necessary…"He shares his opinions on the worst types of modern professional. He does not approve of lobbyists and is rightly worried about their influence on the legislative process. We sh...

THINK ABOUT IT!Never before have I given a five star rating to a book of which I had only read 9%. However, this book is special in many ways, and if the beginning is any indication of the author's thoughts and reflections, it merits this rating. I eagerly await my future readings of this splendid work.Like the Bible, it can be opened to any page, and the passage will resonate with most people at various times in their life. Each passage stands b...

جداى از جملات فراوانى ش كه به فكرم فرو برد - و جملات فراوانى كه حوصله م رو سر برد - يه خاطره ى ويژه هم با اين كتاب دارم، كه بيشتر براى يادآورى شخصى ثبتش مى كنم.يك روز داشتم كتاب رو توى شلوغى اتوبوس مى خوندم. و به اين فرازهاش رسيده بودم كه: لوسيلا، وروس را ...

Another great influence in my life; this was the personal philosophical diary of the last "good emperor" of the Roman Empire. In this work Marcus Aurelius draws a picture Stoicism as a philosophy that I call "Buddhism with balls". It is a harsh self discipline that trains its practitioners to be champions (of a sort). Champions of what? Mastery of the self. The heart of the book is that in order to make oneself free, they must train themselves to...

If you're into stuff like this, you can read the full review.Wearing Mismatched Socks at Work is Empowering: "Meditations" by Marcus Aurelius, Gregory Hays (trans.)"Concentrate every minute like a Roman— like a man— on doing what's in front of you with precise and genuine seriousness, tenderly, willingly, with justice. And on freeing yourself from all other distractions. Yes, you can— if you do everything as if it were the last thing yo...

The inner thoughts of a Roman emperor. Profound and for some, inspiring. A mournful, yet strong man, philosopher-king, which we don't see too often anywhere.

Aunque debieras vivir tres mil años y otras tantas veces diez mil, no obstante recuerda que nadie pierde otra vida que la que vive, ni vive otra que la que pierde. En consecuencia, lo más largo y lo más corto confluyen en un mismo punto. El presente, en efecto, es igual para todos, lo que se pierde es también igual, y lo que se separa es, evidentemente, un simple instante. Luego ni el pasado ni el futuro se podrían perder, porque lo que no s...

By today's standards, a bog-standard blog.The only reason that this was preserved in the first place is that the author happened to be a Roman emperor. (That, and that ancient Rome didn't have LiveJournal.) The only reason that Meditations is still being published today is that once a book gets labeled "classic," hardly anyone who reads it has the grapes to admit that it just wasn't that good. Well...the emperor has no clothes.

Čitao sam Aurelijeve Meditacije u onih praznih pet minuta pred neki izlazak, na bajsu u audio formatu, pa i u toaletu (toaletno štivo - najbolje štivo). Njena fragmentirana (kratki pasusi, ponekad dužine svega jedne rečenice) gradja za to je i idealna. Zato je malo i potrajalo, ali šta da se radi. Stoička filozofija i ovde, kao kod Seneke, nije ništa novo, ništa monumentalno, ali ono što izdiže ovu knjigu i ono što je čini posebnom, ...

Like the Tao Te Ching, this is a collection of short, powerful statements. If only Aurelius had as much humor as Lao Tzu, or as generous a view of life. Still, some of Aurelius's reflections have a cold, wintery beauty about them. Best read as poetry rather than any philosophy to take to heart. Only readable in small bites, which makes it perfect for the subway.

"Nowhere can man find a quieter or more untroubled retreat than in his own soul."This little book is the most personal work existent on the surface of the Earth, floating across all continents and countries, in all language, from time to time. Marcus Aurelius, the Roman Emperor and unmistakably, a Stoic philosopher, through his reflective aphorisms and repetitive admonitions, captivates us to inquire about our living, review our doings, and e...

التأملات كتبها الامبراطور والفيلسوف الروماني ماركوس أوريليوس, من الفلاسفة الرواقيين وعُرف بالفيلسوف الجالس على العرش, حكم الامبراطورية الرومانية ما بين عامي 161- 180م دَون تأملاته, وعرض آراؤه عن الحياة والأخلاق وتهذيب النفس وفضائل الحكمة والعدالة, ...

"The soul becomes dyed with the colour of its thoughts." After reading this book I realized that there was a wealth of wisdom from some of the greatest minds in history; all I had to do was take the time to meet them through books.

Marcus Aurelius was a Roman Emperor living 121-180 CE. He was born to a prominent, prosperous family in Rome. Emperor Hadrian sponsored his education. Later he was adopted by Hadrian's successor, Emperor Antonius Pius, whose daughter he married. He became Pius' confidant and friend, in effect ruling alongside him for ten years. At Pius' death, in 161 CE, Marcus Aurelius and his adoptive brother, Lucius Aurelius Verus, ruled together as co-E...

This basically consists of Marcus Aurelius repeating, "Get it together, Marcus" to himself over and over again over the course of 12 chapters. SPOILER ALERT:-The time during which you are alive is very very brief compared to the time during which you did not exist and will not exist. -People who wrong you only do so from ignorance, and if you can correct them without being a jerk about it, you should do so.-You are a little soul dragging around a...

(The edition I read from was translated by Meric Casaubon)"X. These two rules, thou must have always in a readiness. First, do nothing at all, but what reason proceeding from that regal and supreme part, shall for the good and benefit of men, suggest unto thee. And secondly, if any man that is present shall be able to rectify thee or to turn thee from some erroneous persuasion, that thou be always ready to change thy mind, and this change to proc...

Böyle bin yılları (abartı) aşmış ve okurken kimi zaman tüylerimi diken diken eden hakikatlerin çıplaklığı, kimi zaman içimi çoşkuyla dolduran faniliğimiz, sonsuz ve anlamsız zaman, kimi zaman kalbimi umutla yıkayan "an"ın yüceliği gibi birçok fikir ve durumla beni bir araya getiren, düşündürten, duygulandıran, gözlerimi dolduran bilgelik akan bir eser... Bunu yazan kişinin bir imparator olduğunu düşününce insan,...

Greatest Book I've ever read. "What a book is this, I'll kept it with me until my death."Everyone should read it once in a life to know Philosophy Of Life."The best provision for a happy life is to dissecteverything, view its own nature, and divide it intomatter and form. To practise honesty in good earnest,and speak truth from the very .soul of you. Whatremains but to live easy and cheerful, and crowdone good action so close to another that the...

My review will be postponed until I go through this book once again, no wonder Marcus Aurelius was one of the greatest roman emperors ever, this book is endless wisdom, and a sea of vertues, you do your best to memorize, you even take notes but you end up willing to read it once more..

I give a four to Marcus Aurelius (since he seemed like a pretty fascinating dude but I don't totally agree with him on everything) and a five to translator Gregory Hays for his readable, immediate translation as well as his thoughtful and unpretentious introduction. You can tell he really likes Aurelius, thinks of him as a buddy almost, but is willing to admit that he doesn't completely have his shit together. There's a warmth to his writing as w...

Say to yourself in the early morning: I shall meet today inquisitive, ungrateful, violent, treacherous, envious, uncharitable men. All these things have come upon them through ignorance of real good and ill. my favorite quotation Stoic philosopher, and a Roman Emperor from 161 to 180 try to imagine this man was a roman emperor as Nero, caligula and dioclite BUT why was he different ?he has a very good introduction about his education, The univers...

I view this work as a valuable resource, after all, it's not often one knows the private thoughts of an individual, let alone one of the more successful Roman Emperors. Only occasionally does it feel like the work of a Roman Emperor. Never do we get the feeling that it's written mid battle and amid the varied intrigue attending empire maintenance. Most often it's a welcome blend of philosophical pondering and practical advice.My favorite Books we...

The timeless manual of Stoicism, a philosophy that some will find incredibly useful to help them face life's challenges, while others will find it a little too self-centered and heavy-handed with fate and predestination. Well, to each his own, as they say. Written 1,850 or so years ago, Marcus Aurelius's Meditations are by no means a waste of reading time and are still very relevant today. Provided, that is, that philosophy is your cup of tea!OLI...

Marcus Aurelius (121 – 180 AD) wrote this material in his own personal journal for his own edification. It was found and published after his death. Marcus was a practitioner of Stoicism and these writings are a significant source of our modern understanding of ancient Stoic philosophy. It is considered by many commentators to be one of the greatest works of philosophy.The following is an excerpt of the one place where Marcus Aurelius mentions C...

اقتباسات من الكتاب: أوريليوس: إن اللطف لا يقاوم، طالما كان أصيلا بدون ابتسامات زائفة أو تظاهر أوريليوس: إن غضبنا وضيقنا يؤذياننا أكثر من الأشياء التي تغضبنا وتضايقنا أوريليوس: لا تضع مزيدا من الوقت في مناقشة كيف يكون الرجل الصالح؟ كن واحدا من هؤلاء...

من ليبيا ، ومن أمام موج البحر المتلاطم على شواطيء السرايا الحمراء في مدينة طرابلس القديمة، وتحديداً من تحت سقف قوس ماركوس أوريليوس الروماني القديم ،قام اعضاء نادي الكتاب والثقافة بجامعة طرابلس مناقشة كتاب الامبراطور الروماني "التاملات " تحت اهم م...

This book Has been on my to-read list for a long time. I am glad I have read it. The Roman Emperor Marcus Aurelius wrote the gist of his thoughts and wisdome in several books which later were put in one book and preserved for posterity.It is highly obvious how Marcus was influenced by Stoicism and it is core principles. The logos( the reason) is the super power that produced the world with all its animate and inanimate entities. It permeates ever...