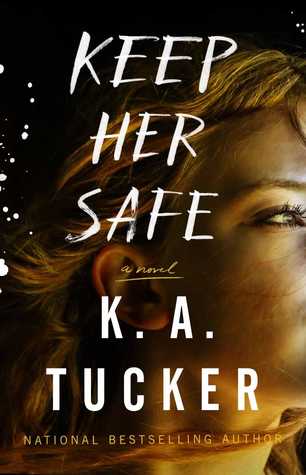 Making a Murderer meets Scandal in this story of police corruption, family secrets, and illicit affairs from bestselling author K.A. Tucker, celebrated for her "propulsive plot twists and searing seduction" (USA TODAY).Noah Marshall has known a privileged and comfortable life thanks to his mother, the highly decorated chief of the Austin Police Department. But all that changes the night she reveals a skeleton that's been rattling in her close...
---
Details Keep Her Safe
Title
Keep Her Safe
ISBN

9781501133404

Author

K.A. Tucker

Release Date
Jan 23rd, 2018
Publisher

Atria Books

Language

English

Genre

Romance

,

Suspense

,

Romantic Suspense

Rating
Reviews Keep Her Safe
4.5 stars!!!!What. A. Ride. Keep Her Safe is one of the most intriguing and suspenseful books I've read this year. I love reading a book that not only keeps me guessing, but manages to surprise me. The suspense part of the book was the predominate part, but I loved the bit of romance Tucker threw in there as well! "Who were you, really, Jackie Marshall?" This is the question Noah Marshall finds himself asking after he finds his mother, the...

4-4,5 STARS ⭐⭐⭐⭐⭐This was another great story from K.A. Tucker!!I loved it, it has an interesting plot, the writing was flawless and the story captivating!It started a little bit slow but I think it happened to set up the atmosphere and keep the readers interest!The truth is I was hooked from the first pages and I couldn't put it down! Noah and Gracie are two different people who are connected in so many ways!Gracie is an interesting ch...

Just my way of balancing out the low stars this book got before I even finished writing it *shrugs* :D

4.5/5 starsK.A. Tucker is one of my favorite authors. So I was very excited to get to read her latest book.Keeping Her Safe is a standalone novel. The author describes the book as an intense suspense story with a genuine deep-rooted romance. And unlike any other book that she's written.I guess if I had to choose a genre to put this book in I would say romantic suspense. Romance is definitely featured in this book. Although to me the mystery/suspe...

Release Date: January 23, 2018 Genre: Romantic SuspenseK.A. Tucker's novels have always been a hit or miss with me. It's not that her writing is poor, in fact, she has a superb storytelling ability. It's the plots that get me. Some I am extremely interested in while others I could do without. Keep her Safe falls somewhere in between for me. I liked the book enough to read it from cover to cover, but I didn't feel the undeniable need to read it ...

OMG YOU GUYS this book was AMAZING but also seriously messed up hahaha! I can't wait for everyone to read. Review to come.

4.5 Stars!'Keep Her Safe' is addictive, intriguing and mysterious, with a story that is as twisted as its characters. Grace Richards once had it all, a doting father, a supportive mother and a home in a nice neighborhood. It was stolen from her in what appeared to be a drug deal gone bad. Now, 14 years later, with little memory of that former life, she's living in a trailer park with her drug-addicted mother working two jobs to survive. Noah Mars...

Watch out, everybody! Romantic suspense has a new queen, Tucker totally nailed it with Keep Her Safe. There are ugly secrets, dirty cops, a beautiful love story, and some incredibly difficult decisions to make.

This storyline had me COMPLETELY RIVETED. KA Tucker takes her reader on a spellbinding journey of suspense and intrigue in Keep Her Safe and I couldn't put it down. I was RAPT, completely consumed as long buried truths are unearthed in these pages, as justice is sought. I can't even properly explain how well done this book was, how fully engrossing this storyline is. Tucker meticulously crafts this unputdownable storyline of the grown children of...