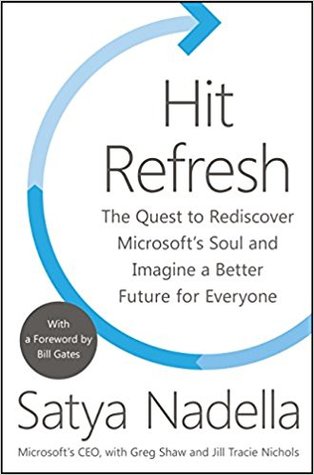 As told by Microsoft CEO Satya Nadella, Hit Refresh is the story of corporate change and reinvention as well as the story of Nadella's personal journey, one that is taking place today inside a storied technology company, and one that is coming in all of our lives as intelligent machines become more ambient and more ubiquitous. It's about how people, organizations and societies can and must hit refresh—transform—in their persistent quest f...
---
Reviews Hit Refresh
Recommended for only Microsoft employees.

Another reviewer says this is "Recommended for only Microsoft employees" but I disagree. This book isn't even for all Microsoft employees, for it leaves out a very large percentage us - the contractors. In fact, I wouldn't have read this book at all if my boss, who is a full-time employee and not a vendor contractor, hadn't picked up a number of these (the Employee Edition was given away on the Microsoft campus for free - but not to contractors) ...

This read was entirely for work; I nevertheless decided to write a review for those thinking about picking up the book. To me this book was the written form of an inspirational speech by Satya Nadella, the current CEO of Microsoft, who succeeded Steve Ballmer in 2014.The book consisted three parts. Nadella first gave a brief description of his background: growing up in India, obsessed in cricket, studied EE in college and moved to the U.S. to obt...

Really loved the first half of this book. Overall information was really good but it got a little too technical and regulation based in the back half.

Ranging somewhere around 3.5 stars, this book is Satya Nadella's manifesto. His worldview on how technology is going to shape up the world in coming times. The beginning parts present stories from his life - school, Microsoft, transitions etc. The end parts however contain more of his manifesto, about how technology and society should interact etc which makes this difficult to read at times. Still not a bad read from one of the new CEOs of a tech...

As a current Microsoft employee I now like Satya even more after reading his book: Hit Refresh. He comes across as more humble and thoughtful than any other current CEO in the tech sector, yet is just as driven and intelligent. I particularly like his mantra of having empathy for our customers and colleagues. Listen first and seek to understand before making any judgement, but be willing to challenge long held beliefs. Satya convinced me changing...

Why does Microsoft exist? And why do I exist in this new role? That was the questions Nadella asked of himself when he was offered and appointed as the CEO of Microsoft - only the third CEO in its 40-year history. Why am I writing this book is another question that I think Nadella should have asked himself.Hit Refresh is according to Nadella, not a biography, nor is it a book solely about himself. It's not really a book about technology although ...

In the first half, I despaired of any value in this book, though I did enjoy hearing about Mr. Nadella's youth in India, his family, and his love of cricket, which would endear him to anyone from the Commonwealth, including me. Like all companies that have owned a powerful franchise (DOS/Windows and Office) Microsoft had lagged in innovation, and come too late to the Web and mobile, and almost too late for the Cloud. This is central to the very n...

For the first time in 2016 Microsoft offered a free upgrade to Windows 10. That was surprising to me as I had never seen Microsoft offer anything for free. But at that time I didn't pay much attention to the fact and happily upgraded to Windows 10 and encouraged others to do so as well. I checked out the new Internet Explorer and Bing for a month before I decided to switch back to Google Chrome and Google search. I now realize that unwittingly, I...

Mixed Reality, Artificial Intelligence and Quantum Computing. These are the three most passionate exhortations one finds in "Hit Refresh" by Satya Nadella, the CEO of Microsoft. An autobiography subtly disguised as an expression of the current cultural ethos prevailing inside the world's largest tech behemoth, "Hit Refresh" is an alarmingly thought provoking book. Emphasising his reluctance in writing a memoir ("I'll save that for my dotage"), Sa...

I'm a Microsoft employee, but this opinion is my own. This book describes three topics, at a high level: - Satya Nadella's career and personal life: from a student in India to becoming the CEO of Microsoft, and everything in between, including his personal challenges- Microsoft's transformation under Satya's tenure- Industry trends, policies, regulations and how tech companies should enable people to become more productiveSatya's story is encoura...

It is difficult capture how one speaks in one's writing. Satya, however, does exactly that; he has a distinct composure when he speaks in public; he does not rush over sentences, or become overtly enthusiastic with his facial expressions; he conveys his emotions through the eloquence of his speech to the way his eyes "light up" when he is talking about his passions. If you've ever heard any of Satya's speeches, you can literally hear his voice wh...

A VERY long memo to Microsoft employees - I didn't get the sense that the book's purpose was anything more than explaining to the employees why Satya was a great CEO choice, how he is on top of knowing what will take Microsoft to the next level and how some of the initiatives he has taken since joining are all "first of its kind"/ "never heard of"/ "ones he has a knack for".I also didn't like the tone of superiority and 'look I have growth mindse...

The book is about individual change, about the transformation happening inside Microsoft and It shows that being yourself, improving yourself by hitting the refresh button in your life would matter a lot.

I read to understand businesses and I thought i could learn a bit on Microsoft. It was a waste of time.

Satya Nadella's "Hit Refresh" is a very refreshing book. As the third CEO of Microsoft, and the first one born in India, he writes from a unique perspective. He has chosen to write this book at the beginning of his tenure, instead of afterward, as he believes there is value in communicating the story of Microsoft at the beginning of his transformation of the company. And I would have to agree. Nadella's background and worldview add much to his le...

Satya's views on most things are very deep! He details his own personal evolution in an absolutely honest manner. I could connect with his emotions at many places and that made reading this book even more personal for me. And as a new hire at Microsoft, I found the book very informative and encouraging. I recommend it to all who want to be leaders in any technical field.

Full review on: FLIPPING THROUGH THE PAGESThis book is not for everyone. It is for those who understand technology a bit and are interested in knowing the inner workings of an organization like Microsoft. Not just about Microsoft, you need to learn what a person Satya Nadella is how is reached from a small place in India to where he is today.Now let's move to the probable reasons as to why you should read it.1. To know Satya Nadella's journey...

Full Disclosure - I'm currently a Microsoft employee, so I couldn't help but to read this book through the eyes of an insider. This definitely skews my perspective... it's a conscious bias that I have :) The overall idea of the book was good, and it was great to gain insight into the mind of my current employer's CEO. However, I'm split on my review of this book for a few reasons. First, there is a lot in here that I completely agree with - parti...

Microsoft is betting on three things to change the computing world going into the future. They are artificial intelligence, quantum computing, and augmented reality. I read the employee version of this book. It felt like this book was written to inspire Microsoft employees and to help unify the vision of Microsoft. I really enjoyed the peek into Satya Nadella's life. He has empathy for all people. Having a son with disabilities really drove that ...

This is one of the coolest understandable memoir of world's large corporation in the context of yesteryears glory, mistakes and to the promising tech's future! Satya's continual reference to his personal diaries make you connect better and well, bunch of literary annotations are more of a billboard stuff. A fascinating read to sum up!

Offers insights into the rise of Nadella and how he incorporated the lessons learned from his childrens' difficulties as he rose ladders in Microsoft along with his wife Anu. First half is easily the best part of the book and in the second half Nadella delves more into his vision, revamping process in Microsoft post Gates and Ballmer era. Throughout the book Microsoft's sheer internal operation machinery, peek into various departmental heads who ...

Must say I am quite disappointed with the book. My expectation was that it will highlight some of Satya Nadella's journey from Hyderabad to making big by becoming only the third CEO of a technological behemoth. However, it emphasizes about the digital innovation and how it will pan out for the society in general addressing issues such as Loss of jobs, role of government and implications for society in general. The digital literature can be found ...

Reading this book increases my respect for Satya as a leader and increases my hope that Microsoft won't fade away like other technology leaders of the past.Some key takeaways from this book:- As a leader, Satya thinks his main job is the curator of culture. He summarizes, Microsoft's new culture as a growth mindset - people should want to learn it all, not know it all.- Successful leaders at Microsoft (and arguably at most companies) need to brin...

If you are in search of the answers for one or more of these questions, i encourage you to read this book:a) Why Microsoft exists? You will be able to breathe the culture of Microsoft after reading this book.b) Why "Culture" is of extreme importance for a company? Satya shares tons of examples throughout the book just to prove thatc) What exactly a CEO does in there day to day job? Satya shares his journey as a CEO. It can help entrepreneurs...

I had no expectations for the book. Saw that many of my friends were reading and rating it well.Its a two part book. First part is about culture, values, mindfulness and how Satya tries to implement these in Microsoft and his life in order to reach set goals. All this is of course infused with stories about Microsoft and wider tech industry.The second part is about the future of tech and how it will shape our society. I found both parts interesti...

A book by one the C.E.O. of a top company out at a right time. Get this book if you want to know:- what changes were initiated by Staya in Microsoft, especially culturally- questions that C.E.O.s of such companies should ask themselves and responsibilities they carry towards not just their employees, shareholders , but humanity, as a whole- know a little bit of Satya's own personal life and challenges (and we thought only our lives are difficult ...

Satya Nadella, an Indian origin, did his engineering from Manipal Institute of Technology, went to University of Wisconsin for Masters in computer sciences, and completed his MBA from University of Chicago, now heads Microsoft as its CEO. He has authored this great book about reinventing yourself and organizations, and always moving forwards. He stresses the importance and describes stories from his life about empathy and culture. He has written ...

This book is not an autobiography of Microsoft's current CEO. Actually, far from it. To me, there are two parts in the book. In the first part, Satya discussed the transformation he leads in Microsoft as CEO. And in second part, he discussed the technological break troughs he is working with (along with other Tech giants) to change the world in a profound way. A must read for..........well, everyone!

As a Microsoft employee and a user and curator of technology, I read this book to get a picture of what one CEO has to say about innovation, leadership, and change. The book provides some excellent historical context and narrative to help explain why certain decisions were made or why things played out the way they did as well as paint the picture of what, how, and why Microsoft is investing and embracing change (in technologies and mindsets alik...