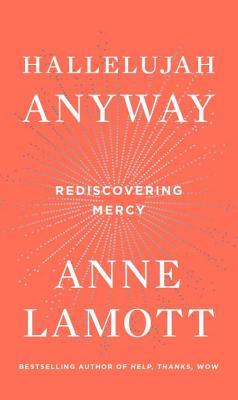 From the bestselling author of Help, Thanks, Wow and Stitches comes a powerful exploration of mercy, its limitless (if sometimes hidden) presence, why we ignore it, and how we can embrace itMercy is radical kindness, Anne Lamott writes in her enthralling and heartening book, Hallelujah Anyway. It's the permission you give others--and yourself--to forgive a debt, to absolve the unabsolvable, to let go of the judgment and pain that make life so dif...
---
Details Hallelujah Anyway
Title
Hallelujah Anyway
ISBN

9780735213586

Author

Anne Lamott

Release Date
Apr 4th, 2017
Publisher

Riverhead Books

Language

English

Number of pages

192

pages
Genre

Nonfiction

,

Spirituality

,

Religion

,

Faith

,

Christian

,

Autobiography

,

Memoir

,

Writing

,

Essays

,

Inspirational

Rating
Reviews Hallelujah Anyway
(2.5) I've read all of Lamott's nonfiction, and am quite fond of her rambly theological memoirs. Although this is probably one of her two weakest books, her fans will want to read it anyway. The overall theme is a bit loose and the personal anecdotes seem tired and/or thin on the ground, especially in the early chapters (she argues with her son about an unwise comment she made about a transgender person; she tries to resist buying an expensiv...

For me, Anne Lamott's nonfiction books on living in faith (and I don't mean denominational Faith) are not individual volumes but one continuing narrative. I mean this as a compliment. True, some books are slighter than others, either literally or figuratively, but all are needed and welcome. If you're a human being who struggles --with everything from trying to make sense of the current political environment to envying your girlfriend who, unlike...

Every time Anne Lamott releases a book, it is somehow just what I needed to read. I definitely struggle with forgiving people, and I do fully grasp that the only one hurt by this is me. (People should never be allowed to keep hurting you, and one of the ways they can do that is if you keep dwelling on it, and them.)One of the things I love most about Anne Lamott is that she seems to struggle with this, too, and she'll have these amazingly witty o...

I must admit that this is my first book that I've read by her, but I really, really loved it. It was exactly what I needed to her. This world could definitely use more mercy and kindness.

So, another five star rating from me. Books mean different things to us at different times in our lives, as all you readers know. This one really spoke to me as I do spiritual reevaluating in late-middle age, and worry and comfort and care for loved ones in health crises. Anne Lamott is always good company, and it did me a great deal of good to be with her at this time, reading of her journey to self-forgiveness and mercy, so that she can unfold ...

I'm about half way through this slim volume of delightful Lamott rambling and mixed metaphors. I love her style and the content is so apropos for the Eastern season. I feel as if I have been sipping coffee with a good friend as she shares stories and tells me tales and explains life, love and philosophy to me. <3 - Ginn, Happily Reading In Sunny SC PSThe book did not disappoint. I am finished now and filled with concepts to ponder as I go about m...

Again Lamott grabs my right wing heart and teaches me things in a way only she can. The raw truth she shares is a fresh drink of water. In her insightful way, she speaks to what is already in my heart. Now to live and to show mercy and grace. Hebrews 4:16.