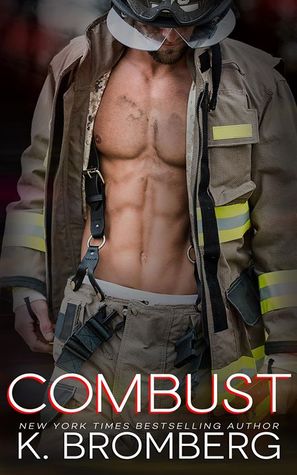 From New York Times Bestselling author, K. Bromberg, comes a new standalone book. Just how hot will firefighter Grady Malone turn up the heat?Songwriter Dylan McCoy has been burned.By her boyfriend she found in her bed . . . with someone else. By the contract she signed that obligates her to work with him until the songs for his new album are complete.By her agent when she asked Dylan to keep their breakup on the down-low.When she finds herself i...
---
Reviews Combust
What can I say about Grady Malone other than he surprised me? I was aiming to write a sexy, sweet book about a hot firefighter and I did . . . but there's so much more to him than how sexy he looks in his turnouts. There's damage beneath the surface. His scars are so much more complex than the ones that mar his back. And then there's Dylan McCoy. She's feisty and talented but is constantly doubting her self-worth. Plus she's in Sunnyville to gain...

5 Stars!When it comes to K. Bromberg novels you know you are going to get FEELS. FEELS. AND MORE FEELS. She is a writer who knows how to bring LIFE to a story and make it palpable. Combust was intense. A novel that stole my heart from the first to the last lines. I was honestly astonished by how attached I became to these characters. From the second I sat down to read, all my attention was focused on Dylan and Grady. You can't help but fall in lo...

5 "Face everything and rise" StarsOnce again, K. Bromberg blows me away and leaves me speechless. Combust is one of my new TOP favorite novels. It's so well planned and executed. The flow and feel of the novel is absolutely incredible! It's truly one of my favorites of the year!Here's the breakdown: Dylan and Grady are like two broken ships passing in the night. She's reeling from a recent break up and he's scarred from a past trauma. B...

4.5 STARS There's definitely something beneath the sexiness of Grady Malone. Question is, do I want to get invested enough to find out what? Oh my word! I'm actually at a loss for them right now. And my ovaries? Those are too busy swooning over everything that is Grady Malone. I thought I loved this series after reading Cuffed, but as much as I enjoyed that story, it pales in comparison to the swoons and feels of this one. And the heat? So ho...

The first book in this series, "Cuffed"  was about hot cop Grant Malone. I really enjoyed  his story, but I was very much looking foward to reading about his brothers.... medevac pilot Greyson and firefighter Grady as well.This one is Grady's story and boy was it HOT ....And in this case the firefighter was the cause of the flames !!!! Damn the mouth on that man !!When Grady and Grayson were introduced in the previous book, I loved both of the...

This is the second book featuring the Malone brothers and this time we get deep into Grady's life. All of these guys have made careers working in the emergency sector working in the police force, search and rescue and in Grady's case being a firefighter.Grady knows, better than anyone, just how much he risks each day in what can be a very dangerous job. Every time he suits up and enters a burning building there is a chance he may not come out...

I know when I drive into a K. Bromberg book I'm going to run the full gamut of emotions. I'm guaranteed to laugh, swoon, cry and get that anxious feeling in the pit of my stomach when I just know something bad is coming. Grady is the ultimate hero. He's sweet, funny, alpha in all the right ways and just so damn broken by grief, and circumstances that are so far outside of his control.I love the way Kristy deals with real issues in such creative, ...

5 'No matter the cost' Stars!ARC provided by the author via Social Butterfly PR in exchange for an honest review.K. Bromberg keeps surprising us every time she releases a new novel. I knew after I finished reading Cuffed that she would blow my mind with this series and, obviously, she just delivered an outstanding second installment. Ladies, be ready to fall in love all over again with a Malone man because Grady and his love story with Dylan will...

Title: Combust (Everyday Heros #2) Author: K. Bromberg Genre: Contemporary Romance, Adult Publication Date: January 29, 2018 This is what every fire fighter books will judged with henceforth.Here's the thing, I haven't had the best luck when it comes to books based on firefighter- I've read them all- too cliché, too boring, too predictable...the list goes on and on. But those days are gone! THE SUN HAS FINALLY RISEN!!!!! OK.. enough with the dra...

Exceptionally moving with all the feels, Combust completely engulfs you with its originality and passionate storyline.This book is so much more than just a hot cover. It's beyond emotional, tugging on the reader's heartstrings, and matches the continuous heat that burns with desire and attraction.The story captures the reader's attention from the very beginning. Grady and Dylan's initial spark of chemistry grows until their connection exp...

The three Malone brothers Grant, Grayson and Grady are the heroes of this new series by K. Bromberg.The 2nd one - Grady - is a fireman!And he just got himself a new roommate!Songwriter Dylan had to flee Los Angeles. She couldn't be in the same city with her cheating ex - rockstar Jett. BUT, she still has to fulfill her contract and finish the 20 songs for his album. But she'll do that in Sunnyville. Since her brother is too busy to take care of h...

5 explosive stars I'm completely and utterly blown away. This was one of those books you want to devour in one sitting, but savor every single word at the same time. It's one of those stories that completely suck you in and you can't catch a breath before you've reached The End. I knew this was going to be an emotional read from the very beginning, but boy, was I prepared for what hit me. There was so much heart and emotions put in this b...

"Love is rarely pretty. It's messy. It's complicated. It's often ugly, but that's how you know when it's right." When you read a book that MOVED YOU SO MUCH that you're not sure if you can put your feels into words, you have to JUST JUMP and pour your emotions into a review that can do the beloved book justice. K. Bromberg's knack for humor, wit, soul, and sensitivity shines in her latest heart-hitter of a love story, Combust. ...

"Because love is rarely pretty. It's messy. It's complicated. It's often ugly, but that's how you know when it's right. Pretty doesn't always last. It's the things you have to work at that make the reward that much sweeter."So I love Bromberg's Everyday Heroes series... I knew that Kristy would give us something highly emotional and sweet and sexy and boy did she deliver. Now I want to preface this by saying that my hubby is a v...

First person, Dual-POV, HAE. Can be read as standalone.Second book for Everyday Heroes, this is quickly becoming one of my favorite series about men in uniform. Stories full of angst, heartbreak - and then mending of said hearts - and enough personal achievement to not only fall in love with the characters but to keep you reading. I know I couldn't put this one down. This installment is about Grady, another Malone brother, this time a firefighter...

4.5 stars Wow, Kristy Bromberg sure did light the mother of all fires with her latest addition to the "Everyday Heroes" series and boy did I feel like my emotions had been burned to a crisp by the time I turned the last page. Seriously peeps, what a read. This one hit me right in the solar plexus from the get go knocking me for six not once but time and time again. I didn't think my heart would recover. Kristy writes angst so so well and "Combust...

"There's so much greed. So much need. So many pent-up emotions that I can feel each and every time our bodies connect." I LOVED THIS BOOK! Plain and simple! Review done! There you go! What else do you people need?! Nah, I'm just kidding, but seriously, we are talking about a romance by K. Bromberg. What the hell do you expect? PERFECTION! That right there, is what you should expect and if you haven't read any of her books yet, STOP WHAT...

A book with a very powerful and beautiful message, that will leave you thinking a lot of your fears and insecurities, and most of all, how to overcome them.

4.75 'Face Everything And Rise' StarsHoly Hot Fireman!!! This couple! Their past, their scars, their ghosts, their passion, their chemistry.... Their LOVE! Epic romance written brilliantly by K. Bromberg in the most perfect of ways.Once again miss Bromberg gives us ALL the feels. Straight to the heart! Dylan McCoy's – yes, how awesome is that we get two amazing McCoy heroines in the same week? – has just been shattered to pieces by her ...

Firefighter Grady Malone carries his scars not only on the outside but on the inside as well, he's sexy, funny and unapologetic, he also suffers the pain of survivors guilt and that's why he will never be able to commit to anyone. Song writer Dylan McCoy has just been burnt by her rock star boyfriend, needing to put some distance between them while she finishes off writing the contracted songs for his new album she finds herself becoming roommate...

Kristy Bromberg brings us book two of the Everyday Heroes Series.Grady Malone is a hot, sexy firefighter with 8 pack abs and a heart of gold. He is every woman's wet dream. Two years ago he lost his best buddy and has been fighting his demons and the nightmares that haunt him ever since.Dylan is a sweet, feisty, hardworking, talented songwriter. She was betrayed by her ex-boyfriend and left him without looking back. She travels to Sunnyville to...

It's possible Grady Malone may be one of my favourite 'Bromberg Boys'. New list to follow along with a full review #TwoInTwoOutThe hitch of his breath. The scent of his soap. The zap of his touch where his fingers rest on my forearm.....oh lord the sexual tension *Fans self #LovingItCombust is book 2 of the Everyday Hero Series. We meet Grady Malone who is a sinfully sexy firefighter with a sensitive soul, tormented by past events that he h...

5 Combust Stars Well, well, well, K. Bromberg does it again. She sucked me in from the first line to the last. I was a little iffy going into this book because I am freaked about fire, always have been probably always will be. And seeing it on TV or reading about it gives me the willies. Butttt I couldn't resist this cover!! Grady is smokin' hot and still sweet, I really loved that his friend asked him for help and he was like sure your sister ...

***ARC Provided by the Author and Social Butterfly PR***Ms. Bromberg made me cry.Again.Seriously, again.This author, with her amazing characters and great story-lines with people I care about. I can't help but get teary. There is a scene, one that I am not going to give away, where a character mentions the number 7...BAWLING. Nope, no spoilers here, but you will know what I mean when you get there...because you will be crying.Dylan and Grady have...

"We all have scars. Some are visible. Some aren't. In the end, they represent the fact that you're stronger now than whatever tried to hurt you. For you, it just means that you're stronger than the fire." Swear, everytime I finished a K. Bromberg novel, my heart is bursting with so much emotions. Combust - Grady Malone and Dylan Mccoy's journey to a roller coaster ride of HEA was overflowing with FEELS. Surely, I was consumed with Kristy's, brill...

Yet another fantastic read from K Bromberg! She's done it again!! All the smiles, all the tears, all the swoon!So often, the most vulnerable protagonist in books is the female. Kristy has a way of making the male character so very alpha yet broken. Grady Malone is no different, and my goodness, if there aren't thousands of women lusting after this troubled firefighter throughout this book as they read it, then I'll be stunned.Dylan has come to Su...

So emotional and sweet! You can always count on this author to deliver an adult and passionate romance with very real and very relatable main characters. Sexy Grady takes in a strictly platonic roommate named Dylan who is looking to escape the heartbreak of her cheating boyfriend. The problem? He's a famous musician and she needs to finish writing their songs. Poor Dylan! She's the real talent behind the music but she doesn't have the confi...