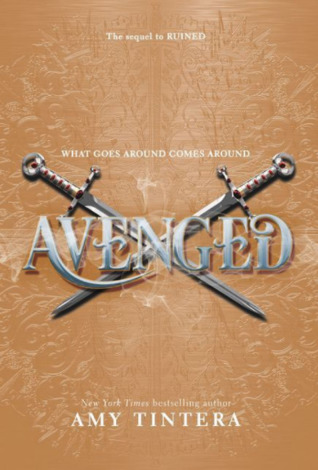 A war that will fuel her. A bond that will destroy her.Emelina Flores has come home to Ruina. After rescuing her sister, Olivia, from imprisonment in rival kingdom Lera, Em and Olivia together vow to rebuild Ruina to its former glory. But just because Em and Olivia are out of Lera doesn't mean they are safe. Their actions over the past year have had consequences, and they are now targets of retaliation. Olivia will destroy everyone who acts aga...
---
Details Avenged (Ruined, #2)
Title
Avenged (Ruined, #2)
ISBN

9780062396631

Author

Amy Tintera

Release Date
May 2nd, 2017
Publisher

HarperTeen

Language

English

Genre

Fantasy

,

Young Adult

,

Romance

Rating
Reviews Avenged (Ruined, #2)
3.5 stars. If you like castles, princes, magic, battles, and YA fantasy worlds in general then definitely check out this series!So remember how crazy Olivia went at the end of the first book? That girl was just getting started... there is absolutely no reasoning with her now as she storms around tearing out people's hearts for the thrill of it. She makes Emelina co-queen, but doesn't listen to any pleas for peace. The Ruined have been hunted for ...

4.5 stars. Really REALLY good sequel. Dang near perfect (even with the cliffhanger/similar ending to Ruined). Maybe I should round up...***Review posted on The Eater of Books! blog***Avenged by Amy TinteraBook Two of the Ruined seriesPublisher: HarperTeenPublication Date: May 2, 2017Rating: 5 starsSource: eARC from EdelweissSummary (from Goodreads):In the sequel to Ruined, the romance of The Selection and the epic stakes of Red Queen come togethe...

I LOVE this series!! Cas + Em! My new favorites Aren + Iria. The action is awesome!! Olivia is insane! But I kind of loved some of her lines. The humor is some of the best aspects of this series. So freaking good, and now to wait another year... *sigh* Full review on my blog https://literarydust.wordpress.com/20...

Everyone ran from her now. People whispered her name, as that man had. They said it with fear.It was what she had always wanted.It did not feel good as she had expected. This review contains spoilers from the previous book.This was so boring and I have been left upset and disappointed with the book, myself, and Amy. Nothing really happened until the end. It's pretty common for a book to have a boring beginning, middle, and intense ending. To be ...

How did I forget how much I was enjoying this series after reading Ruined? There are too many fantasy books that replicate each other, but this one is constantly surprising me. I will find myself thinking "Okay...so when the characters get to X, obviously this will happen" and then something will happen that I did not see coming preventing whatever I thought was inevitable from ever happening.I may have enjoyed Avenged more than it's predecesso...

Despite the cover being blue and Em looking 500% different than she did on the front of Ruined...This glorious sequel had NO sequel blues and contained ONLY FANTASTICNESS. I'm so pleased! It reminded me how much I adore this author's style, with the incredibly dry humour and sharp dialogue and characters who will break your heart. Literally tho. This book is super bloody. (But not gory.) Please fall in love at a distance or you're likely to lose ...

Full review posted! Sorry, how about NO.This entire book felt like a fricken FILLER. WHAT WAS THE POINT OF THIS BOOK IM STILL TRYING TO FIGURE THIS OUT WHILE I WIPE AWAY MY TEARS OF DISAPPOINTMENT If I had chosen this book for a school book report, I would have failed bc I cannot highlight WHAT THE HECK THE PLOT WAS. *steps up to the mic very calmly with a straight face* AAAAAAAAAAAAAAAAAAAAAAAAAAAAAAAThis was basically me everytime Olivia/Aren/E...

EDIT 30/05/17: oops. One word to describe this book? B O R I N GSince I'm so behind on reviews I'm just going to give you my thoughts in bullet point format;- the intensity and greatness that was book one was non existent - second book syndrome- olivia is crazy don't even try and tell me she isn't- aren was boring and gave me major Chaol vibes and that isn't good - who the fuck were these other characters - i skimmed a lot- can't even tell you th...

4.5 STARS (for now)! I'm not sure whether I want to round up or down so I'll decide that later. So, I was sitting in my bed on Friday morning and I was scrolling through Instagram when I saw that my local dymocks had early stock in. I instantly screamed and ended up rushing to my store (I was the first in the door at 8:30am and I checked my book out by 8:33am). The lady at the shop was basically as excited as I was and we fangirled about how many...

(I received an advance copy of this book for free. Thanks to HarperCollins and Edelweiss.) "Everyone ran from her now. People whispered her name, as that man had. They said it with fear.It was what she had always wanted.It did not feel as good as she had expected." This was a YA fantasy sequel which was possibly better than the first book in the series.Em was once again a strong character in this book, and she really showed how clever she w...