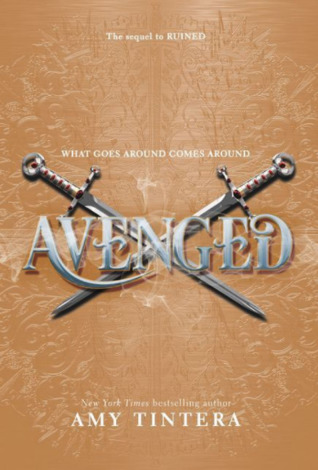 In the sequel to Ruined, the romance of The Selection and the epic stakes of Red Queen come together in a story of revenge, adventure, and unexpected love.Emelina Flores has come home to Ruina. After rescuing her sister Olivia from imprisonment in rival kingdom Lera, Em and Olivia together vow to rebuild Ruina to its former glory. But their fight has only begun. Olivia is determined to destroy everyone who acts against Ruina, but Em isn't as su...
---
Details Avenged (Ruined, #2)
Title
Avenged (Ruined, #2)
ISBN

9780062396631

Author

Amy Tintera

Release Date
May 2nd, 2017
Publisher

HarperTeen

Number of pages

416

pages
Genre

Fantasy

,

Young Adult

,

Romance

,

Young Adult Fantasy

,

High Fantasy

,

Adventure

,

Magic

,

Young Adult Romance

,

Science Fiction

Rating
Reviews Avenged (Ruined, #2)
Yesss!! AVENGED is just as good as the first! Of course it ends with a bang! Now what the heck do I do while I wait for book 3???? Argh! Why can't authors have magic and release books back to back? Lol! AVENGED did not disappoint! Huge 5 stars from me!

HO-LY SHE-IT I AM SHOOK. Ruined ends on some pretty big moments, and Avenged just keeps it going. Em is such a cool MC. What I like about her is that she is the anti-special one. Her sister Olivia is this world's superpowered The One, but with it, she's basically sacrificed any empathy and possibly her sanity, and she's basically a murderous psychopath with a major superiority complex. Em, in contrast, is the level-headed one with a plan. She rem...

Omg I need book 3 and Olivia can suck it!!

I feel like Em's sister Olivia is a psychopath. Oh wait, she is.

3.75. This took awhile to get the ball rolling but once it did, it was non-stop, on the edge of my seat action. The ending is not as brutal as Book One--PTL for that. I'm anxious to see how it all ends.

GAH! I CAN'T WAIT! THAT ENDING WAS A BIG NOOOO.

These books are INTENSE.After reading quite a few sequels in the past year that were nowhere near as good as the first book, I was really worried about Avenged I loved Em and Cas SO MUCH in Ruined and I didn't want their story to decline, but I needn't have worried. This book is every bit as tense and dangerous and romantic as the first book.I only have a few thoughts about this book (I mostly have feeeeelings) so I'll list them here:-Olivia is T...

Book one is a Frankenstein's monster of high fantasy. But book one needed to exist so we could get this. A terrifying shift of "who is the villain" and a lot of blood and high stakes made me a happy reader. At the very least, it's entertaining--and I'd recommend book one based solely off of book two.

I forget how much I like to read fantasy books until I pick up a book like Avenged and I fall in love with the drama, romance, and beauty that is a cleverly created world and stunning characters. Life, freedom, and love are hard-fought in Avenged, and it will leave you desperate for book three in this exciting series. Avenged was rather agonising to read. The characters face a lot of opposition - unjust opposition and that tends to drive me nuts....

I was pleasantly surprised with this sequel to Ruined. Fantasy sequels can be a bit difficult to pull off, but Tintera lands it pretty well. First of all, I liked seeing Tintera's expansion of the world in the novel. We get to see Ruina for the first time and meet new characters such as Em's unhinged younger sister Olivia and Cas' new ally Violet. We also get to further explore old characters such as Aren and Iria, who get their own story in this...