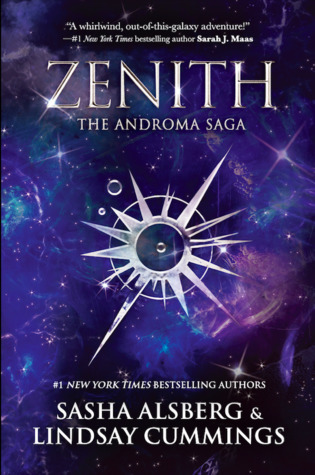 Most know Androma Racella as the Bloody Baroness, a powerful mercenary whose reign of terror stretches across the Mirabel Galaxy. To those aboard her glass starship, Marauder, however, she's just Andi, their friend and fearless leader.But when a routine mission goes awry, the Marauder's all-girl crew is tested as they find themselves in a treacherous situation and at the mercy of a sadistic bounty hunter from Andi's past.Meanwhile, across the gal...
---
Details Zenith (The Androma Saga, #1)
Title
Zenith (The Androma Saga, #1)
ISBN

9780373212590

Author

Sasha Alsberg

Release Date
Jan 16th, 2018
Publisher

Harlequin Teen

Language

English

Genre

Science Fiction

,

Young Adult

,

Fantasy

Rating
Reviews Zenith (The Androma Saga, #1)
I mean...I'm a bit biased, but the authors of this book are SUPER cool.

4/4.5 FIRST like mentioned before that:Yes I am friends with sashaNO I am not being paid to review thisand ALL THOUGHTS ARE MY OWN. I am 23 years old and just because I am freinds with the other means I will review it positively. I have even spoken to sasha before I started and told her I would be honest and OF COURSE she understands because she would do the same.THAT SAID i did really enjoy this. You can find out what my detailed thoughts are in...

Thanks NetGalley for the eARC. All opinions are my ownTrigger Warnings: murder, PTSD (bad rep), griefCLICK HERE TO GO OVER TO MY BLOG WHERE THIS REVIEW AND OTHERS ARE FEATUREDR A M B L EHere's the thing, I knew Zenith wasn't going to be the book for me. I knew it in my soul. I had read the small snippet that was released last year. I hated it. At first, I was shocked, because it was pretty good on my first read through. However, the more I sa...

"We'll have to move quickly once we get inside. No more than forty minutes.""Plenty of time to raise hell," Gilly said We are raised with the common precept of "Don't judge a book by it's cover." However, in the very special case of Zenith, I found myself telling myself "Don't judge a book by it's author." I took away from all the low ratings and the stigma against this book, and I read it for what it was. Did it work? Yes.Did it enable...

I'm so over books being published because of fame. I get it that there's some work involved but it's so Ivanka Trump when people who are famous tell me in their high-pitched, fluttery voices: "I worked so hard just like everybody else to be successful" and I'm like, no. You're successful because you worked hard at being famous. Big Difference. Not the other way around. God I miss that time in our society when hard work could get you places instea...

I've put off writing this review for a few days because I really don't know what to say. The long and short of it is: Zenith isn't bad, but it isn't good either. The writing felt very self-conscious, like they knew exactly what character traits and relationship dynamics would make it match with the 'bestseller' label. Androma was a copy-and-paste version of Celeana from 'Throne of Glass.' They shared the same sort of backstory (with death as a ke...

So I received an arc of this and I just... I just can't.It's so stupid.It's so bad.I was either cringing or laughing whilst reading this and only managed to get through ~100 pages before I started skimming.This is the flimsiest sci-fi I've encountered. It's laughable.Spoilers, ahoy.The "WORLD-BUILDING" is SO LAME. People are constantly described with kooky features; red and white striped eyes, webbed feet(on someone who is evidently barefoot on a...