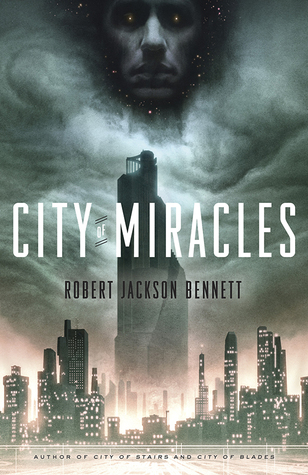 Revenge. It's something Sigrud je Harkvaldsson is very, very good at. Maybe the only thing. So when he learns that his oldest friend and ally, former Prime Minister Shara Komayd, has been assassinated, he knows exactly what to do — and that no mortal force can stop him from meting out the suffering Shara's killers deserve. Yet as Sigrud pursues his quarry with his customary terrifying efficiency, he begins to fear that this battle is an unwinna...
---
Details City of Miracles (The Divine Cities, #3)
Title
City of Miracles (The Divine Cities, #3)
ISBN

9780553419733

Author

Robert Jackson Bennett

Release Date
May 2nd, 2017
Publisher

Broadway Books

Language

English

Genre

Fantasy

,

Fiction

,

Urban Fantasy

Rating
Reviews City of Miracles (The Divine Cities, #3)
By all the Divinities, this was a miraculous conclusion for The Divine Cities trilogy.We had Shara as the main character in City of Stairs, Mulaghesh in City of Blades, and now for the big conclusion, it's time for Sigrud je Harkvaldsson to take the central role. It's been thirteen years since the end of the previous book (eighteen years since City of Stairs) and the story focused around Sigrud as he came out of his self-imposed exile for one...

Well shit . . . . =(I really didn't want to cry today. Thank you book, thank you Robert Bennett. First off I wish I would have went back and read the first and second book so I could have been totally immersed in the world. But, it's okay it was perfect just the way it was and it ripped my heart out. It started with some crying in the beginning when Sigrud found out that Shara had been killed. (it's not a spoiler, read the summary). Dead. Dead.He...

Actual rating: 30 stars. At least.This is one of the most amazing books I have ever read in the entirety of my entire life. I don't think I will ever recover from it. I cried. I bloody shrimping cried. This is outrageous. This is scandalous. This is disgraceful. Ergo, this is most absolutely, completely, overwhelmingly, beautifully scrumpalicious. Robert Jackson Bennett, thank thee kindly. You killed me dead several times over, and I loved every ...

4.75ish stars. An appropriately perfect (or at least near-perfect) conclusion to a spectacular trilogy, one that I'm sad to say goodbye to. This has a little bit of everything. Mystery, character building, some insanely cool set pieces (the aerotram!), and all of the emotion one could expect from the climax and eventual denouement. Bennett has such a talent for getting to the heart of his characters. I never cared much for Mulaghesh until she too...

Thanks to Netgalley for the ARC!It's getting really hard for me to have content-less gushing in certain books. Like this one. I mean, sure, I can say that Shara has been killed and Sigurd is out to avenge/solve her murder, but beyond that, I really can't be as specific as I want to be.The fact is: SO MUCH AWESOME happens in this book! And I mean crazy awesome. Or absolutely Divine Awesome. :)Lordy, some of these reveals came right on top of each ...

*** 5 ***A buddy read with my comrades @ BB&B!!! Because some books you can only read while your friends hold your hand.... I cannot say a word about the content of this book. Everything would be a spoiler, and if you have read the previous two books, you have an idea of the world. If not, don't start with this book - you have to read the previous two in order, they are not to be read as stand alones, despite every story being separated from the ...

Book 1: 3.5*Book 2: 3.25*Book 3: 4.25*By far my favorite book of the series and not simply because it was the climax. The writer developed a much better sense of pacing in this book and it flowed from start to finish. Even when it wasn't an action scene there was tension and/or a very empathetic reason for that scene. One of the better urban fantasy series I've read. The series starts in a quasi steampunk era and flows into a modern era. I liked ...

Some authors always manage to surprise me. Bennett is one of them, with each book I've read a very different flavor from the other. Characterized by complex characters, his stories tend to have vivid world-building and plots that explore the relationship between mundane and divine. City of Miracles is the third book set in the Divine Cities, and although one could read and enjoy it perfectly well as a stand-alone, part of the richness in the stor...

"In the Divine days it was the purpose of the gods to shape the reality of the world's citizens.The gods are gone. But this need remains.Now it is the task of governments to tell their citizens what reality is, to define it for them. For citizens are, by and large, wholly incapable of doing this for themselves." City of Stairs elevated me onto the cloud number 9. I loved the city of Bulikov, I loved Shara, the MC and the focal point of the ...

Thirteen long years Sigrud je Harkvaldsson has waited. He has waited to hear from his friend Shara Komayd that it is finally ok for him to come home. Sigrud's hopes are snuffed out like a candle when he learns Shara has been assassinated. Sigrud decides to find and make those responsible for her murder pay...it does not matter if they are man or divine.City of Miracles was an excellent conclusion to The Divine Cities trilogy. I have to admit I wa...

This was absolutely bloody fantastic. Robert Jackson Bennet managed to somehow add even more layers to an already layered series, enough so that I contemplated re-reading the first two books just to able to appreciate them even more. It is an impressively wonderful trilogy and a world I am very sad to have to leave.This third and last book of this marvelous trilogy follows Sigrud; after the events of the previous book he has lived off the grid wh...

Quite a few people have said in their reviews (and I totally agree) that this book makes them want to go back and read the whole series through again. It is really that good!How could I ever have guessed that Sigrud would make such a splendid hero. After all he is an old man now and past his prime, but the author plays a clever trick . You have to read it to find out what:) The other characters are all excellent too, some of them from previous bo...

5 stars for all 3 entries into this trilogy. Really, this story is just so good. Complex, believable characters that the reader really cares about, great plotting, and a wonderful balance between small yet heartbreaking details and dramatic, world-shattering events - in a consistently interesting, surprising world. Everything I want from my fantasy adventure!This story begins 20 years after the events of City of Blades. The Viking-berserker-esque...

Come into the night, and I will show you greatness! Robert Jackson Bennett is writing one of the greatest ongoing fantasy series today, and I somehow wish I didn't read this third installment right after the even more amazing and emotionally wrenching "Stone Sky" by Jemisin. What is at first glance a superhero action romp with a badass killer machine (Sigrud) going on a quest to avenge the assassination of his former master and only friend, Ashar...

Definitely goes into top 5 fantasy series I read.

4 of 5 stars at The BiblioSanctum https://bibliosanctum.com/2017/05/03/...Robert Jackson Bennett is back with the third installment of his Divine Cities sequence, and so ends one of the most brilliant and extraordinary fantasy series in recent times. First, we were introduced to this incredible world of Divinities and miracles in City of Stairs, joining protagonist Shara Komayd as she fearlessly stood against a god. That was soon followed by the ...

The last decade or so brought us very few truly remarkable fantasy books, and even fewer that have helped to move the genre in the new directions. Science fiction has seen its decline as well, but that's another story. Of course, although fantasy is paradoxically younger genre than science fiction, it relies far more on the tropes established by fairy tales and mythology, so it's quite difficult to find some new and unexplored waters to sail thro...

Fantasy Review BarnA boy chases laughter through the city. Followed by a presence he can't see the boy keys in on laughter, any laughter, and throws himself desperately toward it looking for shelter or a way out. In a land once ruled by miracles the unnamed boy uses the only one he has at hand hoping for it to prove useful just one more time. And when finally hitting a laughter that rings a bit false...Well that is where City of Miracles really b...

While I liked a lot about City of Miracles, I'm disappointed to say I didn't necessarily like the third book of The Divine Cities. It's imaginative and well-written, and bears all the hallmarks of Robert Jackson Bennett's other novels, but the more contemporary and civilized the series gets, the less compelling I find it.Despite the magic, the swords, and the gods, this instalment is less epic fantasy and more action thriller. It's set in a city ...

Four stars, because this is the least brilliant book of the series, by my standards. It's still a great book and honestly a fantasy that many authors would pay to be able to write (imho), but I found book 1 and 2 definitely a step ahead in terms of plot. I do think the main concept was quite brilliant and touched some rather difficult topics, but I'm not completely satisfied with how everything played out, or rather, with how the events came to a...

At least until I will finish The Broken Earth trilogy by N.K. Jemisin, The Divine Cities is the best fantasy series that I've read in the last 5 years. Even if the explored themes are different, this trilogy is at least as fun and inovative as was the Bas-Lag series by China Mieville; and with a group o characters that are simply exceptional. This kind of fiction makes it impossible for me to read the majority of fantasy series out there.

Always hard saying goodbye to a wonderful series. And yet it is inevitable. After five days of consideration, I finally decided to give this book five stars. Why? It gave me a satisfying conclusion to a wonderful series.I was really annoyed when the synopsis came out. Like, seriously, it announced that a main character died. In the synopsis. What the hell. Nevertheless, I patiently waited for the release. It was not in vain. The story flowed effo...

Sigrud bold, fierce and merciless as always has been living last decade in exile, waiting for Shara to once again call him,ask him to join her. Instead he hears she is assasinated. He decides it's his last mission, to find Shara's killers and punish them. In doing so, he finds out he has yet another operation. Another reason to live, not to give up. That's protecting Shara's adopted daughter Tattana against a new young god. He knows he only shoul...

A brilliant end to an amazing series.It's many years after the events of City of Blades. Sigrud is living in hiding in a logging settlement and Shara has been Prime Minister of Saypur and was living an active retirement until she is assassinated, apparently with Divine help. With Shara's death Sigrud descends on the perpetrators like an avenging angel only to discover the extent of Shara's activity in recent years and her adopted daughter. Sigrud...

Executive Summary: When I say this is the weakest book of the series, that's less of a knock on this book as it is on the strength of the previous two. It's still quite good, just not quite as good as the others. Full Review Sigrud was one of the highlights of City of Stairs. When I heard he'd be the main character of this book, I was really excited. It was definitely fun to follow him around again, but at it's core this is a revenge plot, and no...

"Close your eyes. I'll be here in the morning." E, o tome je ovaj roman. O tom osećaju da će, bez obzira na oštri svet i loše ljude i mračne dane, neko biti tu, pored. Ne mogu da zamislim lepšu, jednostavniju rečenicu koja to ovako savršeno dočarava.Takva je i knjiga. Sada već tradicionalne Benetove mane su tu: nije baš siguran kako da dodje od (takodje tradicionalno briljijantne) ideje do realizacije, te podleže pritisku odred...

My least favorite book of the trilogy that was lacking in almost every area compared to the previous two. Everything cool was there but it was like the "lite" versions of them and a Sigrud lite don't cut it. The last twenty pages were great but did not make up for the averageness of the rest.

This series just gets better with each installment. I gave City of Stairs and City of Blades 4 stars each, but I think having listened to all three, the trilogy as a whole deserves 5 stars for incredible world-building, complex mystery plots, and above all its damaged and conflicted characters. City of Miracles is centered on fan-favorite Sigrid, the Nordic berserker assassin and all-around badass, but much of the plot revolves around the secret ...