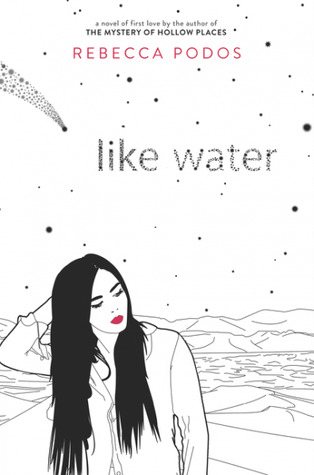 A gorgeously written and deeply felt literary young adult novel of identity, millennial anxiety, and first love, from the widely acclaimed author of The Mystery of Hollow PlacesIn Savannah Espinoza's small New Mexico hometown, kids either flee after graduation or they're trapped there forever. Vanni never planned to get stuck—but that was before her father was diagnosed with Huntington's disease, leaving her and her mother to care for him...
---
Reviews Like Water
I loved this book a lot. Review to come.

I had the great privilege of reading an early version of this book, and wow is it gorgeous. Messy, complex characters and motivations, beautiful prose, a diverse cast, and QUEER. I have so many thoughts, and I'll add to this later, but yes, yes, you want this on your 2017 TBR.

OMG YA'LL IS THIS BOOK ON YOUR 2017 TBR BECAUSE IT SHOULD BE. One of the most beautiful and impactful books I've ever read. And like. Idk man. It's been a long time since I've seen so much of myself in one book. ~more later~

This is so good. It reminds me of Ari and Dante. It made me tear up and get worried about the end, but it's so hopeful. I love it.

I absolutely LOVED this story! Everything about it is so authentic and realistic seeming, and to top it off it's sooo moving, and hilarious :D Love the MC, Vanni...oh my goodness, I adore her. The author's craft skills are stunning––the characters, pacing, and writing are all superb––and this is one fantastic tale. Prepare to fall in love with Vanni <3.

Like her debut novel, THE MYSTERY OF HOLLOW PLACES, Rebecca Podos continues to stun - crafting another tender, deeply-moving and gorgeously written story, LIKE WATER. High school graduate Savannah is in controlled free-fall. Her father's Huntington's disease has derailed not only her future plans of escaping her hometown for college but something more drastic - a future of any kind. Because Huntington's disease is genetically passed and this know...

Disclaimer: I received a free copy via Edelweiss for review purposes.Like Water was a fantastic contemporary read. Performing mermaids, a bi protagonist, a genderqueer character, healthy and positive family dynamics, and an exceptional f/f romance. What more could you ask for? Full review to come.

This is such a fantastic story, and I cannot WAIT till its release so that everyone can read it.

After reading THE MYSTERY OF HOLLOW PLACES last year, Rebecca Podos became an insta-buy author for me so I was so thrilled to receive an advanced copy of her sophomore YA novel, LIKE WATER. I have a crush on everything about this book: the southwest setting, the tough and fragile Vanni, the mermaid waterpark, Vanni's Mom and Dad, and the fierce and vulnerable Leigh. Every richly layered character is delivered in the gorgeously emotional prose I...

Rebecca Podos' Like Water is an excellent portrayal of the coming of age story set in a small New Mexico town. As I read I was drawn into the conflicting feelings that manically jump between certainty and uncertainty and control and chaos. All the emotions of being eighteen again came flooding back to me. I grew up in a small town in the Midwest, but small towns are the same everywhere. An enemy in high school is and enemy for life; you never out...

I wasn't quite sure what I was getting into when I started to read this book. I had an ARC of it and the cover caught my attention but I'd just glimpsed at the synopsis. It seemed interesting so it was the one that ended up getting picked from the TBR to read. It ended up being a very good, very relatable read. What I thought was going to be a pretty quick, light read turned into a very meaningful reading experience.Savannah, or "Vanni", was a gi...

I liked this book quite a lot, but after the halfway point it got really rushed?? Idk its a meh book.

Messy Queers are Messy and Relatable.