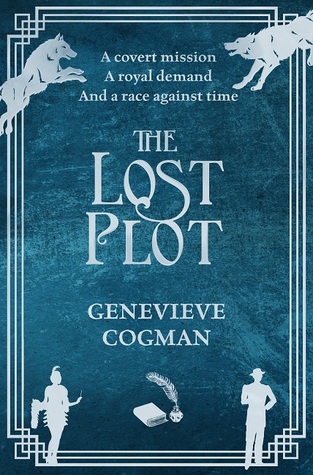 A covert missionA royal demandAnd a race against timeThe fourth title in Genevieve Cogman's witty and wonderful The Invisible Library series, The Lost Plot is an action-packed literary adventure.In a 1930s-esque New York, Prohibition is in force, fedoras, flapper dresses and tommy guns are in fashion, and intrigue is afoot. Intrepid Librarians Irene and Kai find themselves caught in the middle of a dragon vs dragon contest. It seems a young libra...
---
Details The Lost Plot (The Invisible Library, #4)
Reviews The Lost Plot (The Invisible Library, #4)
Another excellent entry in this very enjoyable series. And what a sweet ending. It left me with a smile on my face!I have loved the concept of a hidden library between many different worlds since I read book one and now it is even better because we have dragons! In this book there are a number of dragons doing dragony things and when two adult dragons fight in the air over the Hudson River watch out!I like that the main character is a librarian c...

After the last books thrilling plot was I eagerly awaiting the next book in this series. The Lost Plot takes librarians Irene and Kai to an alternative world set in 1930s America with gangsters (and dragons). They have to save the life of a librarian who has been caught up in a fight between two dragons. And, Irene and Kai most try to fix this situation since librarians have to stay outside conflicts like this.Now, this book was absolutely alrigh...

".....And if X gives Qing Song the book that lets him get Minister Zhao's position, then Librarians become tools for hire. They become servants. And they become generally known as allies of the dragons, which means they're automatically enemies of the Fae. Not to mention that if we support one dragon family or faction, then we make enemies of the others. The Library survives in the middle. We are not on anyone's side. If X exists and has do...

4 of 5 stars at The BiblioSanctum https://bibliosanctum.com/2018/01/25/...Now that the Invisible Library series has become firmly established, the storylines are just getting better and better. Thematically, The Lost Plot is more mysterious and adventurous, drawing heavily from Dragon vs. Fae politics, and there are also strong attempts to involve as many world-building elements as possible. That said though, I do feel this installment takes a st...

This review can also be found at Carole's Random Life in Books.I had such a good time reading this book! This is the fourth book in The Invisible Library series and while it tells its own story, I do think that this series is best if read in order. One thing that I love about this series is that each installment can be completely unique and the types of worlds that they visit really has no limits. This was a very strong story that was incredibly ...

I love these books.This is a rare situation where each book in the series is better than the last. What begins as a straightforward action adventure story becomes more of a mystery that is not easily solved. Dragon politics has taken a nasty turn, and evidence points to the involvement of a librarian, violating their neutrality pledge. Irene and Kai must find this rogue librarian and try to restore balance, but must do so without the institutiona...

Update: 3.5 stars. Still really good, but it feels slightly different from the other books in the series. Though I loved the progression in Irene and Kai's relationship!I'm so excited for this! There's now a cover for it, and the title has been revealed!The summary is intriguing:"Their fourth adventure takes our intrepid pair of Librarians to a 1930s-esque Chicago. Prohibition is in force, fedoras, flapper dresses and tommyguns are in fashion, an...

I admit I am very much a fan of Irene Winters and the Invisible Library series. So much so that I will actually be purchasing a copy of this, book 4, to become part of my Nursing Home Collection (all those books that will make the transition with me to said nursing home when the time do come). I read too damn fast—The Lost Plot went by much too quickly. It is action-packed, putting Irene in many tight spots, between gangsters, plotting dragons,...

Just as were getting used to books gone missing, it is happening to Librarians as well … And, "who re you gonna call …? Irene!"After an installment # three which showed a wee bit weak in the storyline, Genevieve Cogman (and Irene) is doing a worthy come-back. Lots of action, intrigue and fight-to-the-end-for-honor takes place in Chicago and New York during prohibition at a pace only fit for well-shaped dragons.When we previously came to b...

Review courtesy of All Things Urban Fantasy.The Invisible Library series consistently provides an entertaining and enjoyable reading experience. I love Irene and Kai, and I love the concept of the Library. While THE LOST PLOT felt like a side quest to the main, overarching plot of the series (no super evil librarians in sight here, or questions answered from previous books), it was still a great deal of fun to read.THE LOST PLOT was full of dange...

Anybody who loves books simply must love Irene Winters and the Library. In this fourth installment of The Invisible Library, Irene once again finds herself tangled in a mess. The setting? 1920s America. The players? Two dragons who are keen to steal a book and win a place of honor in their court. What follows can only be madness and mayhem, as well as all the delights followers of Cogman's series have come to expect in these books.I would like ...

Vampires, fae, and dragons all give Irene fits in The Lost Plot. Two dragons are tasked with a quest. The one who completes it gains favor with the Queen, and the one who does not faces a disgrace that will require sacrifice to atone.  When a new Librarian finds himself tangled up in their quest to retrieve a book, Irene and her young dragon apprentice Kai must travel to an alternate 1920s New York to save him and protect the Libraries neutral...

This is yet another great continuation of a wonderful series. Cogman has created such a fascinating world, with endless possibilities... and in exploring this further she never disappoints.This time around we travel to New York in the 1930s, complete with mobsters, guns, booze and dragon politics. In all her stories so far Cogman draws on the cliches, but still managing to create an unique world out of them. In doing this she makes the setting in...

3-1/2 stars.Another entertaining entry in this series. I enjoyed the time period this one took place in, as it is more "modern" times than previous books. It felt like there was more action throughout this book, rather than in spurts here and there. This made the story move along at a quicker pace.I also enjoyed that Kai and Irene were separated during a lot of the story; showing the reader how industrious each had to be to get themselves out of ...

This book was provided by the publisher for free in exchange for an honest review. This does not affect my opinion of the book or the content of my review. I wasn't really sure where The Lost Plot would take this series. After finishing The Burning Page last year, I felt like the series had all but wrapped up (I think it was only supposed to be a trilogy at first?).There was a bit of a disconnect with this fourth book. Part of this may be fro...

I love these books so much 😍 Irene goes total Columbo at the end of this one too. Brilliant stuff.

Recevied a free copy in exchange for an honest review.The Lost Plot is, without a doubt, my favorite book in The Invisible Library series. Coming back from a mission to retrieve a book, Irene is stopped by a mysterious stranger who introduces herself as Jin Zhi, a dragon who serves the Queen of the Southern Lands. Jin Zhi and another dragon, Qing Song, are currently engaged in a sort of contest for the position of Minister, which has been recentl...

*minor spoilers*3.75 stars Hmmm...so this was the fourth instalment of The Invisible Library series by Genevieve Cogman and whilst I did really enjoy this book (it was witty and all very prim and proper), I didn't love it (like I did the first two). I think the main reason for this was because there were quite a few characters who I love which didn't feature in this book at all :( For example: the Sherlock Holmes-like Peregrine Vale, the charming...

Wieder ein fantastischer Teil in dieser Reihe. Das letzte Drittel musste ich in einem Rutsch weglesen, an Pause war nicht zu denken :)

Another thriller! This actually felt as if it could be the end of the series. Or not. I think I'd be ok with it ending here.

Best book of the series and first five star award. Irene and Kai are sent to a world where gangsters and Prohibition remain to battle Dragon politics, dire wolves, kidnapping and the integrity of The Library. Just a first rate, steam punk adventure fest.

This series just gets better. Irene and Kai are put in harms way as they are sent on a mission to find a possible Librarian who has broken the rule of staying out of Dragon politics.

Book 4 of the Invisible Library series. Spoilers aheadIrene tries to get a book in a fair book exchange, and finds herself in a lair of vampires. Extricating herself, she meets up with a dragon who tries to make a deal. And notes this was carefully timed to ensure that Kai would not be with her.When Kai returns early, he can tell her some things, but exposes her to danger because now the other dragon knows. Consequences touch on Irene's mysteriou...

3.5 bumped up to 4 - The Invisible Library novels might be the fluffiest of brain candy, but they're undeniably fun, fast reads and I enjoyed myself thoroughly on this last adventure.Alberich is dead (probably), but that hasn't meant the end of Irene's troubles. The high ranking dragon official Minister Zhao has unexpectedly and suspiciously died, and the two candidates competing to replace him have been set a final task: to bring back a rare ver...

Best Book YET!A few months ago, I finished what I had assumed to be the last book in the Invisible Library... Until they announced not one, but two new books to follow! Naturally, I was over the moon. I could not wait for The Lost Plot to be released, and let me tell you, it did not let me down!Right off the bat, Irene is thrust once again into a no-win situation. Forced to play sides between two competing dragons, she needs to find a compromis...

I love this series about Irene Winters, a no-nonsense Librarian who works at a mystical library, her student Kai and the dragons and fae they have to cross wits with as they cross over from one world to the next.Irene's job is to steal books for the library, but when a couple of powerful dragons get into a fight over an open position in the queen's court, Irene and one of her colleagues find themselves walking a tightrope to save their lives, the...

Another wonderful installment in this series! Prohibition America, mob bosses, dragons, politics and ever-elusive books all combine to make another rollicking adventure for Irene & Kai. 😄

*ACTUAL RATING 3.5 STARS*I've had to have a long think about this one.This series has had highs and lows, with The Masked City a massive disappointment after the joys of the first book in the series, and then returning with a vengeance with The Burning Page. The settings of these books is what makes them, and in a Library where you can enter any number of alternate worlds, the possibilities are endless. The setting for The Lost Plot is 1920s Am...

A fantastic, fast paced and action-packed story! I've so much to say about this book and my emotions are all over the place right now. ☺I was completely lost in the pages of the story. I think this is definitely my favourite installment of the Invisible Library series. The setting was exciting being set in a 1930s America. It's wonderful to read what Genevieve has come up with having visited several other cities in the previous installments. ...