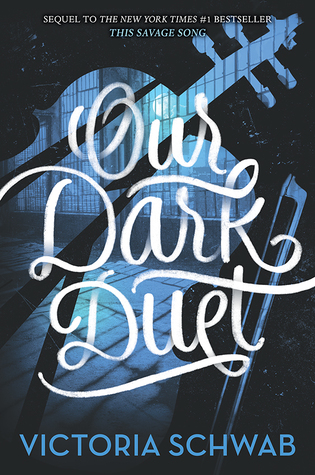 THE WORLD IS BREAKING. AND SO ARE THEY.KATE HARKER isn't afraid of monsters. She hunts them. And she's good at it.AUGUST FLYNN once yearned to be human. He has a part to play. And he will play it, no matter the cost.THE WAR HAS BEGUN.THE MONSTERS ARE WINNING.Kate will have to return to Verity. August will have to let her back in. And a new monster is waiting—one that feeds on chaos and brings out its victims' inner demons.Which will be harder t...
---
Details Our Dark Duet (Monsters of Verity, #2)
Title
Our Dark Duet (Monsters of Verity, #2)
ISBN

9780062380883

Author

Victoria Schwab

Release Date
Jun 13th, 2017
Publisher

Greenwillow Books

Language

English

Genre

Fantasy

,

Young Adult

,

Paranormal

Rating
Reviews Our Dark Duet (Monsters of Verity, #2)
Because she knew a secret: there were two kinds of monsters, the kind that hunted the streets and the kind that lived in your head. She could fight the first, but the second was more dangerous. It was always, always, always a step ahead. Oh shiiiiit. Schwab was not playing nice with our feelings when she wrote this book. I suspect she might be a bit evil, but, you know, in a good way.Our Dark Duet picks up several months after the events of This ...

wow, what a ride! this was a fantastic conclusion to the duology! there was laughter and pain and explosions and it made for a very satisfying finale to august & kate's story....but we're not done with the world yet, are we?? it's just SO COOL and i still have so many questions. like i definitely need more books set in this world please thank you.

Funny, she thought, that even monsters had fragile hearts. 10382950/5 stars RIP EMI, 1998-2017 I'm so dead.Victoria Schwab has killed me one too many times that I'm all out of lives. I just can't.The fact that this series is only two books and I'll never get to see my children again makes me so mad. I'm currently saving up for a lawyer so I can sue Victoria for emotional distress. Also sorry, this review is a complete mess, much like myself rig...

I loved this book so much but it damn well broke my heart. I'm almost at a loss for words. =( The thing is, I had this documentary on low that I had watched before on Netflix and it has this really deep music on it. So, here I am reading through the book with this music and it's so perfect and the things that broke my heart with that music playing made it ten fold. I need something fluffy and goofy to read now. Victoria Schwab knows how to write ...

this was the most incredibly disappointing thing I have read in my life, I feel like I need to climb into a hole and cry and hide from my followersOkay. You really want to hear it? Because I have thoughts.First of all, I was not invested in the plot like, at all, and it is due to a fundamental structural flaw. In a series that is structured with each book playing into the next, as this one is, a good second book should be about the fallout of boo...

"All monsters were not created equal."4.5 StarsThis was so good. Much better than the first book. If you've read my review of This Savage Song you might know that I only rated it three stars. I struggled with the characters - especially Kate - and the predictability. Overall it just wasn't as spectacular as Schwab's previous novels. This one, however, was a huge improvement.Where do I start? The plot was much more exciting and fast-paced. The cha...

THIS BOOK LIVES TO TORTURE US. THAT'S ALL I CAN SAY. No wait. I also want to say: it was absolutely gorgeously darkly bloodily brilliant and I'm so so pleased. Also devastated. ALSO PLEASED. Part of me knew how it'd end, though, and I was right and I'm currently c r y i n g ... but it was good. It was a good and perfect book.I don't want calm feelings anyway.I also don't want this to be over because August and Kate are two very very very precious...

fun fact: victoria schwab herself liked my pre-review, which looked somewhat like this:____________see you in hell, victoriahonestly i'm mainly mad at myself for not being prepared for the abysmal pain and endless suffering schwab's books tend to bring upon me, like @ past me why you always do this to yourself??? STAY WOKE BITCH[something about me crying into my pillow] satan is a woman and her name is victoria schwab ____________so basically the...

2 Stars "There were two kinds of monsters, the kind that hunted the streets and the kind that lived in your head." Look, no one is more disappointed by my rating than me. I adored the the first book! Everyone promised this was even better! I started reading as soon as my copy arrived, so excited! (Did I read the same book as everyone else???)Before you throw things at me, let me explain the problems I had.Starting with the abysmal inconsiste...

EDIT: so I've been thinking I'm willing to put myself through this numbing agony again because I miss my sweet child, August, like crazy. Probably not wise though... *sigh*ORIGINAL REVIEWI am numb again. My soul is not okay. Schwab has a way of making me feel numb with the ending of her books. Ugh, I don't know how to review this. Fuck you, Schwab. You've left me completely devoid of feeling any emotion.One thing I will mention though is the inte...

5 stars!::UPDATE JULY 14, 2017::IM STILL NOT FUCKING OVER IT! OMG!KILL ME NOW I'M IN TOO MUCH PAIN!(view spoiler)[I am literally still bursting into spontaneous tears over this book ... like in public ... it's a problem (hide spoiler)]::JULY 10, 2017::IAMWRECKED

iiiim baaack!! i loved my soft little monster, august, way too much to stay away.

~ after 45.4 years, full review finally posted ~At least once in your life, you will get the opportunity to have your heart, soul, and essence smashed and ground into smithereens by some words on pieces of paper. :) Cherish this feeling :) It's a wonderful, monumental moment of your life. :) No regrets. :)I want Victoria Schwab to wake up every morning knowing that I really really really DISLIKE her !!! hate is a strong word I TRUSTED her with ...

"It wasn't easy. The world was complicated. Life was hard. And so often, living hurt. So make it worth the pain." // I think I died a little inside. I loved it so much yet hate that it's all over now. 🙁

6 out of 5 stars. All spoilers are marked.holyshitholyshitholyshitholyshitTHIS IS A FUCKING MASTERPIECEhow fucking dare you, miss victoria schwab. how fucking dare you play with my emotions like that.*sighs**cries**screams**wipes tear**gets self back together*okay, okay, I'm done ranting. Actually, I'll never be done. This book has skyrocketed its way into the second place my favorites list (let's be real, the first will always be Vicious) and I ...

You know when you want to absolutely devour a book, but it's the last book in a series you love, so you're torn between reading it in practically one sitting and savoring it for as long as you can? That's the way I felt about Victoria Schwab's Our Dark Duet, the second and apparently final book in Schwab's Monsters of Verity series. (The first book, This Savage Song, was pretty fantastic, too. See my original review.)"There were two kinds of mons...

"So often, living hurt."3.5 maybe? Something between that and 4 stars, anyway.•I must admit, I didn't remember much from This Savage Song. It was easy to brush everything up once I got started, but the first pages had me a little lost. And then something strange happened: my difficulty to get in sync with the story remained, only its cause shifted from my temporary lack of basic information to something that I'm still not really able to pin...

Book one is still my fave, but I really liked this one! It took me a while to get into this book since Kate and August were separated for so long. Kate's snark was the best, and that ending was so good!!!! Full review on my blog https://literarydust.wordpress.com/20...

95% of the book: *dies of feelsfeelsallthefeels but pretty sure that since haven't really cried yet then probably not going to*Last 5% of the book: *cries nonstop*COULDN'T HAVE ENDED BETTER, REALLY. Like just all the things that this series is about always guts me and this book definitely intensified that by a lot, a lot

I'm not sure why, but I didn't seem to love this quite as much as everyone else. It was good, but maybe my expectations were too high for an over the top ending. I do think I did myself a disservice by listening to the audio instead of reading the print copy, as the many similar scenes seemed to run together in my head. I did think the resolution with a few of the characters was really well done, and of course the writing was beautiful becaus...

This book was amazing!!If I am honest with you, I wasn't expecting it to be. I read This Savage Song last year and while I really enjoyed it, I just didn't love it so when this book came along I was expecting those same feelings.I am so happy to be proved wrong. I loved the second book! It was easier to get back into the world of Verity and the monsters in them because you already know them. This book isn't happy. It's a dark, gritty book about m...

I won't be reviewing this but I did want to leave a small thought or two. The book wasn't bad--it was a grey finale and I think if you liked This Savage Song, you'll like this one too. The reason it fell a little from my expectations is that it felt a bit slow at times? The book is over 500 pages and it feels like it. Somewhere around the middle, I wasn't eagerly awaiting what was going to happen next; I just wanted things to pick up the pace. Th...

I finished this book the other day but I forgot to update you guys because I was ... you know... sobbing.

5000/5 starsObviously..."Mourning was its own kind of music—the sound of so many hearts, of so many breaths, of so many standing together."Hey Victoria Schwab, is it okay if I refer you as Sloan for now on? That's okay? Cool.You sadistic human being...9 hours it took me to read this book. And in 9 hours, I didn't breath, eat, drink or feel my heart beating.Not once.That book was just something else. I'm legitimately struggling for words bec...

"People were messy. They were defined not only by what they'd done, but by what they would have done, under different circumstances…" That was one dark, intense book. So much better than the first and what an ending 😭. I'm going to miss my soft, violin playing, monster 💕

Am I actually supposed to carry on with my life after what I just read? I hope my soul tasted delicious, @Schwab, and you didn't choke on it ! I can't. stop. thinking. about. this. series. If I don't find out what happens next and how it all ends right now I might cry. Love is pain.

The real Sunai here is Victoria Schwab, she just uses words instead of music to steal (and destroy) our souls

"I know it hurts," she said. "So make it worth the pain." Low-key not even mad about this ending... or upset. Here's the thing, I wanted to like this duology I really did. I'm just super neutral about this. While there were aspects of the story I did enjoy there also wasn't much that stood out from any other YA Fantasy/Paranormal books I've read . I wasn't crazy about This Savage Song but in no way did I dislike it enough to not pick up this...