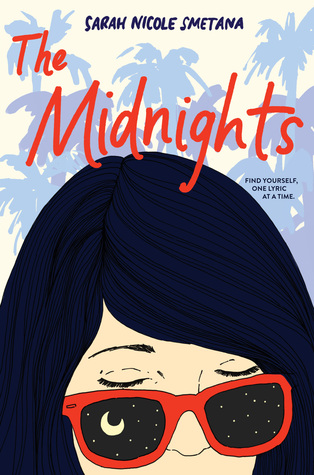 Susannah Hayes has never been in the spotlight, but she dreams of following her father, a former rock star, onto the stage. As senior year begins, she's more interested in composing impressive chord progressions than college essays, certain that if she writes the perfect song, her father might finally look up from the past long enough to see her. But when he dies unexpectedly her dreams—and her reality—shatter.While Susannah struggles with ...
---
Details The Midnights
Title
The Midnights
Author

Sarah Nicole Smetana

Release Date
Mar 6th, 2018
Publisher

HarperTeen

Language

English

Genre

Contemporary

,

Young Adult

,

Music

Rating
Reviews The Midnights
"You have to shake your notions of good and bad, and create outside of judgement. Follow the instinct, not he convention." I wanted to love this so much and I just didn't and that makes me really sad. I was looking for this moving story of grief and family and Susannah finding herself, but this book made me feel absolutely nothing. I didn't connect to it at all - not the characters, not the relationships, not the plot. Nothing. I can't...

* REVIEW OF ARC I RECEIVED *The Midnights is a lush, poetic, coming-of-age tale set in present-day CA. Sarah Nicole Smetana is too clever a writer to present your typical palm-tree-shadowed California love story, with sea-blue swimming pools, and empty In-N-Out wrappers scattered across the leather seats of convertibles. Instead, the west coast is painted in tangerine, volcanic shades; a sleeping beast that might awake at any second. Fires, quake...

THE MIDNIGHTS is one of the most exquisite YA novels I've ever read, with an evocative, dreamy setting that is truly a character in itself. I've never read a Southern California so raw and alive and unapologetic. Sarah Nicole Smetana's prose should be savored like the darkest dark chocolate. So many lines burrowed into my heart and stuck in my throat. I loved and ached for Susannah, grieving the sudden loss of the musician father who didn't have ...

A stunning, beautifully-written debut, THE MIDNIGHTS explores the complex nature of loss, grief, secrets, and family, as we follow one girl on a poignant journey of self-discovery.*I received an advance copy*

Smetana's gorgeous writing and heartfelt storytelling soar in THE MIDNIGHTS. The novel follows Susannah, a seventeen-year old who has music thriving in her bones, who's uprooted from her LA home and moved to Orange County with her mother after experiencing a monumental loss. The passages about grief and striving to find answers are heartbreakingly realistic and thoughtful, and Smentana's masterful plot is effortlessly captivating. It's the kind o...

I've been dying to read The Midnights ever since I saw Rachel Lynn Solomon, author of the AMAZING You'll Miss Me When I'm Gone, raving about it on Goodreads. I figured if she'd loved it I'd probably love it as well, and as it turns out, I was one hundred percent correct (thankfully!). The Midnights is not just good but great. Combing lyrical writing, a drool-worthy setting, and a thoughtful coming-of-age, The Midnights is a standout YA debut, per...

Rating: 3.5 StarsI am always up for a good grief and loss book, and The Midnights absolutely fit the bill. It was filled with the pain we associate with losing a loved one, and the ways one may go about trying to fill the hole left in their heart.•Pro: Smetana beautifully depicted the emotional pain experienced by the characters in this book. The grief and suffering was utterly palpable. •Con: I know it's realistic for some people to spin a l...

IThank you to Booksparks for providing me with a free copy of the book in exchange for an honest review. really loved reading this book. I was completely in the mood for some YA fiction, and this was a perfect fit. I mean, not only was it set at that slightly awkward, slightly angsty end-of-high-school age, but it was also laced with music. And by "laced" I mean "completely submerged in music". And I loved it!I'm finding myself wanting...

If the title isn't enough to grab you, the premise will!!! LOVE!

Visceral and heart breaking, THE MIDNIGHTS explores grief and artistry and the secrets that make up a family, a friendship, an identity in both sharp and subdued layers. The voice is absolutely evocative of Janet Fitch, both in terms of the prose overall but also in the way Sarah captures the raw natures of LA and Orange County. The description does not lie: you can *feel* the scintillating landscape that Susannah navigates -- both the external a...

Friendship, family, music, and romance. All layered in a way that will touch your heart and make you feel. Really feel! Also, I appreciated the OC setting. Haven't read many books, although I'm sure they exist, that capture this California atmosphere. Smetana's light stroke paints a vivid picture with all senses evoked. THE MIDNIGHTS is a must-read for 2018! Can't wait to see this book on the shelves.

The Midnights is a moving story about family, grief, music, and finding yourself. Set in Southern Califonia, there is a strong sense of place. The Los Angeles area is captured beautifully, and not as a glitzy Hollywood stereotype, but rather in a richly nuanced way that could only come from someone who has lived there. Nature is almost personified at times in the Santa Ana winds, earthquakes, and wildfires. As someone who lived for many years in ...

Susannah and her father have a bond through music. Her entire existence is connected to music. Her parents actually met at her dad's concert, his biggest hit was about her mother and Susannah knows her dad quit the band when her mom got pregnant.Susannah loves music too. She loves nights spent writing and playing music with her dad. They have a connection that Susannah just doesn't have with her mom.Her dad definitely isn't a perfect person...

Bibliophile EuphoriaThis story has a melancholy feel to it with a side dish of inspirational. Through the wondrous power of music, this beautiful story navigates the path of friendship, family, the grief of losing someone, and finding who you are. (Proven once again, music never fails).The setting description was my favorite part of the book. The scenery and visuals given made me feel like I was right there in Orange County. An unforgettable r...

So many of my writing friends were raving about Smetana's The Midnights on Twitter, so when I saw a copy available for review, I jumped at the chance to get a sneak peek. I wasn't disappointed. Smetana writes beautifully and evocatively. She captured that delicate age where you realize your parents aren't who you thought--or hoped--they were, grief, and relationships both platonic and romantic. I savored and enjoyed every word. Her main character...

A heartbreaking and real story with unique pacing and a cast of characters that all have distinct voices. This was a lovely book. It made me want to go out and learn how to play the guitar. Beautiful!

"Even as time passed, as my fingertips hardened into calluses, as I slipped into those awkward early teenage years, my father's studio remained the sole place where I felt the most extraordinary, and most alive."Susannah Hayes wants to follow in her musician father's footsteps more than anything. She writes song lyrics in her spare time and spends countless late night hours with her father in his studio. They live and breathe music the wa...

Sarah Nicole Smetana's debut The Midnights is a delightful must-read for fans of YA contemp, romance, coming of age stories, & girls who rock. Extra nostalgia points if, like me, you spent (or spend) a decent amount of time in rock clubs, tuning guitars, scribbling lyrics and set lists on scraps of paper, and trying to figure out the difference between a good kisser and a good liar.

Susannah Hayes loves every moment that her dad allows her into his world--his garage studio where he writes music, drinks, and dreams of recreating his youth, sometimes not emerging from the studio (or even talking to Susannah) for days at a time. She knows her dad can be irresponsible. She knows her mom struggles to support their family while her dad behaves erratically. But he gave Susannah music, and she clings to the connection that she feels...

When my library put their list of new books out for the month, I just ordered a few that seemed like I might be interested in them. I'm so glad that I did! I started reading it knowing only that it was a coming of age story and that she was interested in music. I didn't even really read the back so I was really surprised by the events that unfolded.I think a lot of teen books will inflate certain activities like having crushes, having sex, lo...

This is a story about midnights...that mysterious time between morning and night that often gets wiled away as we slumber between the sheets. That's the norm for most, but what if it wasn't? What if during that magical in-between, where you have one foot in nighttime and one foot in morning, you were spending time with those you love, making memories to cherish, and impressions you'll need to hold on to all too soon? What if you were not only abl...

I received this through Edelweiss in exchange for an honest review. Susannah has always had a special bond with her father. They connect through music. He is a washed up rock star, who continues to record and work with music in their home recording studio in the garage. Susannah writes songs and tweaks music to make something beautiful that will impress her father. He has had mental challenges, and addiction issues for years, which threatens fami...

I was definitely expecting to lose myself in this book when I first started it and there were many times I did find myself getting completely absorbed into the story. There were also times where I was taken out of it and it took a while to lose myself again. There were a lot of different themes and different bonds, and I really liked seeing how the author explored each one and how she used them within each other. There was the family bond, the bo...

hank you @booksparks sending me The Midnights and having me be a part of the pop up blog tour! Susannah Hayes's father is a former rock star and the best way she can communicate with him is through music. Her life abruptly changes at the beginning of senior year when he unexpectedly dies and she is forced to move to another town and a new high school. Set in LA the author uses Southern California weather to showcase the non-glossy side of lala-...

Ugh. Definitely falling into a slump. Break down of story: Talented musician/father dies leaving his daughter to try an deal with the loss and figure out what happened that night. On top of having to cope with the tragic death of her father, she also has to move, make new friends, and deal with possible love-ish feelings. This story deals a lot with music and the passion behind it, so if that resonates with you, try this out. Unfortunately, I don...

Bibliophile EuphoriaThis story has a melancholy feel to it with a side dish of inspirational. Through the wondrous power of music, this beautiful story navigates the path of friendship, family, the grief of losing someone, and finding who you are. (Proven once again, music never fails).The setting description was my favorite part of the book. The scenery and visuals given made me feel like I was right there in Orange County. An unforgettable r...

This book was so emotional and beautiful, I swore that I was actually the main character while I was reading. Sarah's ability to describe a setting totally immersed me into the world of THE MIDNIGHTS and never let me go. Although this book is a little more melancholy and less escapist than my normal favorite contemporaries, I still found it an amazing read. I could relate on such a close level to Susannah's love for music and her intense longing ...

The Midnights is a lovely YA contemporary debut novel. Susannah tells the story from present day, looking back at the past year of her life, so the story is told with a wistful feel that I really liked. I loved the complexity and development of Susannah's relationship with her mother. I liked the depiction of friendship - the uncertainties, the things we only realize or understand in hindsight, the mistakes we make, the way they can change. I lov...