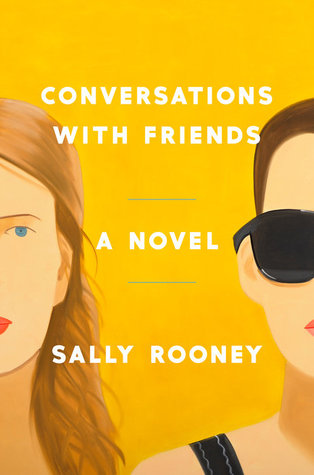 A sharply intelligent novel about two college students and the strange, unexpected connection they forge with a married couple.Frances is twenty-one years old, cool-headed, and darkly observant. A college student and aspiring writer, she devotes herself to a life of the mind--and to the beautiful and endlessly self-possessed Bobbi, her best friend and comrade-in-arms. Lovers at school, the two young women now perform spoken-word poetry together i...
---
Details Conversations with Friends
Title
Conversations with Friends
Author

Sally Rooney

Release Date
Jul 11th, 2017
Publisher

Hogarth

Language

English

Genre

Fiction

,

Contemporary

,

Cultural

,

Ireland

,

Literary Fiction

,

European Literature

,

Irish Literature

,

Novels

,

Lgbt

,

Adult

,

Glbt

,

Queer

,

Adult Fiction

Rating
Reviews Conversations with Friends
A very tepid 3 stars. Conversations with Friends is another one of those books about not particularly nice people entangled in awkward relationships. I've certainly read many books of this nature that I've found clever and quite enjoyed, but this one was just ok. Frances and Bobbi -- both young women who used to be in a relationship with each other -- become entangled with somewhat older heterosexual couple Nick and Melissa. It's all told from Fr...

**2 STARS***shoulder shrug* Unfiltered review https://wp.me/p7ZSCH-3dCReading the synopsis of the book had me excited. I just knew I was going to love this book. It sounded like I was going to get a little bit of YA and NA combined into one brilliant masterpiece. Sadly, for me, that did not happen.I want to start with the first and deepest reason why I never connected with this book. It's a big one, lovers.There are no quotation marks. It was e...

I didn't really respond well to Conversations with Friends. The writing itself is quite good in terms of realistic dialogue and description, but I found all of the characters entirely unlikable and hard to empathize with, very few with any positive animating traits, mostly just self-absorbed, narcissistic, occasionally cruel and capricious. Either in addition to or because I didn't respond to the characters, I also didn't respond to the plot well...

I've been thinking a lot about aging lately: the way our perspective changes and how our need for stability, trust and healthy relationships become so much more valued than intoxicating, crash-and-burn emotional roller-coasters of our younger years.I say this as means of introduction because while reading Conversations with Friends, it occurred to me that those readers who are not familiar with the confusing yet exhilarating times of poor choic...

The narrator of Sally Rooney's Conversations with Friends at one point states that she never wants to work.I had no plans as to my future financial sustainability: I never wanted to earn money for doing anything. [...] I'd felt that my disinterest in wealth was ideologically healthy. I'd checked what the average yearly income would be if the gross world product were evenly divided among everyone, and according to Wikipedia it would be $16, 100. I...

This book revolves around two college students in Dublin named Frances and Bobbi and their relationship with Melissa & Nick who are a married couple they meet early in the story.It is told from the point of view of Frances which at times can be described as very matter-of-factly and at other times as very introspective. A lot of the interactions happened by email which I thought was a bit strange since nowadays most people communicate by text. I ...

I received this book for free through LibraryThing's Early Reviewers.This book gave me so many feels. It was a roller coaster of emotions. For some reason I really connected to this book. There was something so captivating about it. I felt like this book would make a great movie or miniseries on HBO. There's something really special and different about it that would translate well to the screen.The characters felt very real and I think that's w...

Okay, I think this book might have worked better for me if I'd read it before Elif Batuman's The Idiot. Batuman and Rooney give their narrators similar voices: sharp, clear and deadpan but excessively self-aware. Both use email conversations to map out the development of a relationship. Both novels are told from the perspective of naive, supposedly intelligent young women who appear largely passive, falling into particular courses of action more ...

Conversations with Friends (the title and sunny cover are fairly misleading) is a stark, reflective novel which asks the reader to inhabit the mind of 21 year old poet and college student, Frances. She appears to be coolly detached from her feelings, at least in the beginning, and analytical to the point of neurosis.We get a sense of Frances' excruciating self-consciousness at the start of the novel, when she and her ex-girlfriend Bobbi are invit...

VIDEORECENSIONE: https://youtu.be/Nz60Y06FWJk"Le cose e le persone mi si muovevano intorno, posizionandosi in base a oscure gerarchie, partecipando a un sistema di cui non sapevo e mai avrei saputo nulla. Una complessa rete di oggetti e nozioni. Prima di capire certe cose le devi vivere. Non puoi sempre assumere una posizione analitica.Vieni a prendermi, ho detto."

"A sharply intelligent novel about two college students and the strange, unexpected connection they forge with a married couple." - GoodreadsLet's be honest...Selfish and self-absorbed young woman discusses her daily escapades with equally selfish and self-absorbed people of various occupation and age and learns absolutely nothing.Sally Rooney's dialogue's realistic, albeit a bit strange considering Frances, the main character, remains an android...

Ogni tanto la sera quando io e Bobbi eravamo a letto chiamava mio padre. Senza fare rumore portavo il telefono in bagno e rispondevo. Era sempre meno lucido. Certe volte sembrava convinto di essere inseguito. Diceva: ho questi pensieri, brutti pensieri, sai? Mia madre diceva che i fratelli e le sorelle di mio padre avevano ricevuto le stesse telefonate, ma che cosa potevamo farci? Quando andavano a trovarlo non era mai in casa. Spesso sentivo del...

Nope, not my kind of book. Bored by the story, and the writing style didnt do it for me either.

Questa non è una recensione, e non è nemmeno un commento. Sono solo poche righe intrise di grande delusione, perché di questo romanzo avevo letto meraviglie (almeno fra i lettori italiani, già cercando fra recensioni straniere il numero di stelline mi pare abbassarsi sensibilmente), e invece non sono riuscita nemmeno ad andare oltre pagina 124. Sulla carta, avrei dovuto apprezzare moltissimo tutto questo: una scrittrice della mia generazione ...

Wonderful - funny, smart and sad - not much happens in this book, but it's a joy to spend time with these difficult, intelligent and sometimes unpleasant people.

Talking 'bout My Generation?Sunday Times Young Writer of the Year Award shortlist review #2(I am on the official shadow panel of book bloggers.)(Nearly 4.5) The first thing to note about a novel with "Conversations" in the title is that there are no quotation marks denoting speech. In a book so saturated with in-person chats, telephone calls, texts, e-mails and instant messages, the lack of speech marks reflects the swirl of voices in twent...

I even began searching my emails and texts for "evidence" of our affairThat night I decided to start reading over my old instant message conversations with Bobbi …. It comforted me to know that my friendship with Bobbi wasn't confined to memory alone, and that textual evidence of her past fondness for me would survive her actual fondness if necessaryOur [Frances and Nick's] relationship was like a word document which we were writing and...

Se dovessi riassumerlo con una frase direi: Noi siamo quello che non ci aspettiamo di essere e che nemmeno gli altri si aspettano da noi. Traduzione di Maurizia Balmelli. (Titolo originale "Conversations with friends", 2017) "Ai campi preferisco le case, ho detto. Sono più poetiche, perché dentro ci sono le persone".In questo romanzo non ci sono particolari descrizioni di paesaggi, il paesaggio che interessa Frances, la voce narrante, sono le p...

Ai que livrão, MEU DEUS.Assim, não é NADA demais. Não vai mudar sua vida, te jogar no chão, te fazer chorar, gritar de rir, repensar conceitos, nada disso. Mas que história envolvente, que prazer que eu senti lendo... eu tentei ir lendo aos poucos pra guardar o livro e não terminar nunca. Infelizmente acabou e fiquei abraçado no livro olhando pro nada. Um dia vou reler. Juro! Acho.

NOW AVAILABLE!!!!!!I won an ARC of Conversations with Friends here on Goodreads as a giveaway from Crown Publishing Group, and I'm so glad I did! I'm thrilled to have won this for review, because I have so much to say about it!!! This is by far my favorite ARC that I've ever won. Sally Rooney's debut novel is definitely one of the best books of 2017, and it certainly joins the ranks of my favorite books of all time. Conversations with Friends was...

This is cool and classy and hip and hot and happening - plus I also found it to be compulsively readable. A little like when you're reading a Lee Child novel and you're 80 pages in without even realising it and you wonder 'how does he do that?', I similarly have no idea how Sally Rooney kept me going back to these (in many ways) insufferable characters. But I did, and I cared about them, even if I didn't like them. I just didn't really, really ca...

Frances and Bobbie are best friends in their early twenties. Despite the fact that they used to date back in the day, they still have an easy friendship. They also perform spoken word poetry together and are basically inseparable. Their relationship is tested, though, when they meet a quasi-famous and free-spirited couple, photographer Melissa and her actor husband Nick. Bobbie immediately develops a crush on Melissa, which goes nowhere. But Fran...

This is a hard book to rate and review: on one hand, I didn't find it particularly sharp or witty or sparkling as claimed in the blurb; on the other, I gulped it down in a day. It's certainly easy and untaxing reading (so good for commutes, holidays etc.) but is still a step-up from chick-lit. Frances, the first-person protagonist, is a blurry character: her role in the story is a pretty dominant and dominating one yet her voice makes her out to ...

Really, really enjoyed reading this. A slow, thoughtful slice of life, but really poignant all the same.

What a surprise sleeper! Irish author Sally Rooney has written a thoroughly engaging, literary, but highly accessible contemporary novel about friends and acquaintances that installed me by the first page, and kept enticing me further into the narrator, Frances's, head and heart until the bittersweet end. Unsentimental, unsparing, and droll, laced with a dash of mordant wit, the questionably reliable narrator is yet full of candid observations ...

I can't say I hated it but I sure didn't love it. Early on I felt like I had a lot in common with the main character Frances when it came to her everyday anxieties, but eventually her inability to be honest and open with those who she was closest to really confused and bothered me. I guess my main feeling upon finishing this was "what was the point?" I kept waiting for some sort of human truth to be revealed and if there was one I didn't get it. ...

More reviews are available on my blog:http://reviewsofbooksonmynightstand.b...Frances and Bobbi used to date and are now best friends who perform poetry together. When they meet a writer, Melissa, and her actor husband, Nick, the four quickly form a tight friendship. Frances soon falls in love with Nick and begins an affair with him.I really didn't find this book too interesting. It was actually boring for most of the book. The only interesting p...

The language is for much of the book enjoyably precise. The sentences have a staccato rhythm that I found appealing. The narrator is hyperactively self-aware in a way that reminded me of Miranda July's writing. I enjoyed the story. Some of the scenes seemed unnecessary, though, and the stakes throughout didn't seem particularly high. I enjoyed spending time even so with a smart narrator and a smart author.

Boring as hell. Vacuous 21 year olds and a one dimensional married couple in their 30's. Wanted to read this as I heard 4 publishers bid for it. Well all I can say is there must be a scarcity of quality out there. Quite disappointing and unsatisfying. Would have given up except I lived in hope of a seismic shift, no such luck.