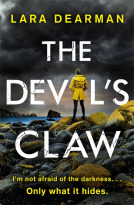 Jennifer Dorey thinks she is safe.Following a traumatic incident in London, Jennifer has returned to her childhood home in Guernsey, taking a job as a reporter at the local newspaper.After the discovery of a drowned woman on a beach, she uncovers a pattern of similar deaths that have taken place over the past fifty years.Together with DCI Michael Gilbert, an officer on the verge of retirement, they follow a dark trail of island myths and folklore...
---
Reviews The Devil's Claw
Journalist Jenny Dorey has left London, after an incident which has left her feeling threatened and traumatised, and returned to her childhood home in Guernsey. Moving back in with her widowed mother, Jenny takes a job at the local newspaper, "Guernsey News," and tries to re-make her life. Jenny is mainly covering fairly boring stories and it is while visiting a fireworks display, in order to write about it for the paper, that she hears a scr...

Another one sitting read for me from Trapeze. Really enjoyed it. Classically good writing from Lara Dearman and a lovely twisty tale with a haunting setting plus a heavy dose of unpredictability. What's not to love? By the halfway point I was devouring it as much as reading it and the end lived up to the rest which is a huge plus. Nothing flat here. Full review nearer publication. Look out for this one. Put on your bookish radar. Set a day aside ...

I wanted to like this book a lot more than I did. It was well written but didn't have the suspense factor that I was hoping for. The main character, Jenny Dorey was likeable enough as well as DCI Michael Gilbert that she was working with on the case of the drowned women.Jenny has returned to her home on Guernsey with her widowed mother. Jenny was working in London but got herself into hot water over an immigrant worker who disappeared. She was th...

I recently received the first 3 chapters of this book by Lara Dearman courtesy of Trapeze, Orion Publishing Group. Set in beautiful Guernsey, this little snippet definitely has more than enough to put its publication date on your radar. The locale is quickly established by descriptive passages that bring the island & its inhabitants to life.MC Jenny Dorey came home about a year & a half ago to work at The Guernsey News. Something made her leave L...

The Devil's Claw Sampler. This will be one book that I shall be watching out for upon it's publication date! Although this is only a sampler and it's not always easy to rate as such, I read enough to know that this is going to be a must read. My thanks to Netgalley and the Publishers for providing this sampler.

Set in Guernsey this is a mighty fine debut!Visit the locations in the novel Devil's ClawI do hope this is the first in a series as it's being touted as, as well, it's one of the most intriguing crime novels I've read in a while. Jenny is a complex bag of emotions who returns home and faces issues both in her life she's escaped from and that which she now finds herself sucked into. I found her intriguing if not a little naive and a bit to...

This is an entertaining thriller set on the isle of Guernsey. Jenny, a journalist, returns to the island after living in London for several years. She's partly there because of the death of her father, but also because she's running from a dangerous situation involving people traffickers. Shes' also traumatised by an event that happened when she was a teenager. While working for the local paper, she is there when the body of a young woman is foun...

This book was a really solid police procedural and I really liked the characters as well as the storyline.The characters of Jennifer and Michael were well fleshed out and the secondary characters were great as well. I liked the interactions between the two main characters and I really hope this is just the start of a series, starring the pair of them? Or at least one of them? Just sayin' :) Hint, hint.Guernsey is an island and everyone seems to k...

Firstly, thank you to Trapeze for the manuscript bound copy I won in the giveaway. I really enjoyed this novel, the isolated setting fits the dark story perfectly and I found Jenny to be an interesting character that I would like to read more of. This is a hauntingly good thriller and I recommend you read it when it's published later this year!

Actually 4.5 stars.This was a book that I really wish that I had started at a different time. Sadly, due to life getting in the way, I had to stop several times whilst reading it and every time I was away from it, I kept thinking about it and really wanted to get back to it soon.Set on the relatively small island of Guernsey, we meet Jenny Dorey. She has recently left the bright lights of London after a bit of a traumatic incident and returned to...

Jenny has left London following a career, and personal, crisis and finds herself back home in Guernsey working for the local paper. She's living with her Mum after her Dad was lost at sea a few months prior. When we meet her she's feeling quite dissatisified with life generally. She isn't able to write the investigative journalism she did back in London and is sent out on another fluffy story by her editor. Covering this story leads her to the di...

Fantastic crime novel - utterly gripping, I devoured this in just a couple of sittings, which is quite something with a newborn on the scene and two small children on their school holidays. The author introduces us to a series of interesting characters, from Jenny Dorey, a journalist who has returned to her home island of Guernsey and finds herself immersed in the investigation of a suspicious death, to the illegitimate son of a Nazi soldier, who...

The Devils Claw (Sampler) by Lara DearmanTitle: The Devils ClawAuthor: Lara DearmanFirst Published: Nov 17Publisher: TropezePages: 368Price on Amazon: Paperback £7.99 Kindle: £1.99ISBN:1409170284Going home isn't always a good idea. Jenniffer has returned home to Guernsey and is living with her mother and working as a journalist whilst trying to escape her past. One night Jennifer takes her mother to the bonfire and firework display. This is the...

Lara Dearman's debut thriller (the first in a series) is a so-so affair that tries too hard to set up the main character's back story to provide an overall series arc at the expense of the plot, which degenerates into an unsatisfying denouement that tells you very little about the antagonist's motive and which also made me uncomfortable with its depiction of children born to women who slept with Nazi occupiers during World War II.

I loved everything about this book. It was well written and exciting with a character that you rooted for. There were so many twists that I was guessing who did it until the end - just when I thought that I had figured it all out, someone else became a plausible suspect. The use of narrative from several perspectives was very clever and chilling. Jennifer came to life through her thoughts, fears and actions. I miss her and can't wait to see what ...

Thank you to Trapeze and goodreads for an advance copy of this book. I would thoroughly recommend this as it was a 'can't-put-down' read and I was gripped by the characters and the story from the beginning. The plotting was taut, thrilling and convincing and the characterisation skilful, although I had the feeling that the same characters are ripe for further development in future books. I also enjoyed the interesting descriptions of Guernsey an...

Review based on 3 chapter sampler.....will be reading in full in September, FANTASTIC!Wow this is a strong start to what will be a fantastic thriller set on the lovely island of Guernsey. The pace of this book from these first few chapters is brilliant, I look forward to getting my hands on the full book in September!4 stars as whilst it starts off brilliantly, I would like to save my illustrious 5 stars for the full book :)

Absolutely riveting - couldn't put it down. Suspenseful thriller that kept me guessing until the very end -- thought I had it figured out at about five different points but Lara Dearman's craftful storytelling made this one of the best mystery/crime fiction books I've ever picked up. Great characters, and the setting of the island of Guernsey adds to the eerie atmosphere. A triumph for a new author -- she is one to watch for sure!

Really enjoyed this debut novel (received an advance copy in the goodbooks giveaways). Fast paced with chapters switching between years and characters. Easy to read with likeable characters. I'll be looking out for more of this authors work in the future and hopefully this book will be first in a series.

Journalist Jenny moves back to Guernsey from London after a traumatic experience. However in a sleepy island there are secrets to be uncovered. I loved this book. I thought the ending was fantastic. Highly recommended.

Really gripping, dark, loved the folklore element and the descriptions of Guernsey.

Could not put this book down! From the first page I was hooked. Neglected everyone just so I could finish this very thrilling, well written book. Still thinking about it.

This was a terrific one day read, pulsating and gripping in equal measure.