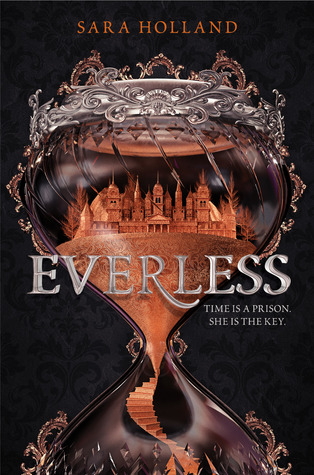 In the kingdom of Sempera, time is currency—extracted from blood, bound to iron, and consumed to add time to one's own lifespan. The rich aristocracy, like the Gerlings, tax the poor to the hilt, extending their own lives by centuries.No one resents the Gerlings more than Jules Ember. A decade ago, she and her father were servants at Everless, the Gerlings' palatial estate, until a fateful accident forced them to flee in the dead of night. ...
---
Details Everless
Title
Everless
ISBN

9780062653659

Author

Sara Holland

Release Date
Jan 2nd, 2018
Publisher

HarperTeen

Language

English

Genre

Fantasy

,

Young Adult

Rating
Reviews Everless
What if the person to be feared is me? I know you shouldn't go into a book expecting the worst, but these days it's hard not to approach any new YA fantasy without some trepidation. The genre is often tropey and unoriginal. Publishers churn out versions of the same old story again and again. It's hard to find the hidden gems among the pile. But Everless really surprised me.It's not a perfect book by any means and Holland does fall into some traps...

Ah yes, my first 1 star rating of 2018. I guess it's that time of year again where I become 1% human and the other 99% is just crippling disappointment.I can't overstate just how much I don't care about this book. I'm looking at everyone's five stars reviews and wondering if maybe we all truly live in different realities and the internet is the only commonly shared space which doesn't change across universes, because how is it possibl...

Oh, I loved this. Full of mystery, intrigue, and... well, more mystery. The plot was super fun and unique, and for the life of me, I couldn't predict a thing. Ladies and gentlemen, we have a page-turner here. I'm pretty sure I read the whole thing in almost 24 hours - I seriously couldn't set it down after the 20% mark.Really quick - a big thank you to the publisher for providing me with an arc!In a world where time is bound to blood, and people ...

Release date: January 2, 2018Every so often I find a book that I simultaneously want to shove at everyone I see, yet also keep hidden & secret... because I just love it SO MUCH? I really don't have the right words to explain how much I adored this entire story. It's easily one of the best YA fantasy books I've ever read and totally a new favorite! Jules lives in a world where time is drawn from blood and forged into the currency of blood-iron coi...

ARC provided by the publisher via Edelweiss in exchange for an honest review.Maybe I would have really enjoyed this if I hadn't read so much YA Fantasy. Maybe a younger Melanie would have ate this up and asked for seconds. Sadly, I'm just at the point in my life where I feel like I've read this all before.And the aspect of this story that is really cool and different is the everyone's lifespan is their currency. In this world, you can bind ...

You know what most captivated me? The PLOT TWISTS HOLY WOW. I was actually really nervous going into this because I'd seen a lot of mixed reviews. But I buddy read with my fabulous friend Danielle and we both ended up thinking it was pretty good!+ OK so the premise about turning time into money is REALLY awesome.Nooo not unique, haha, I have seen In Time. But I loved the more epic-fantasy-esque spin to it?! And there was so much world building do...

This is like... a better Red Queen. And honestly a whole lot wilder. Okay. Guys, I fully admit that this is not the Most high quality thing I've ever read. But god, if it wasn't entertaining. This is an odd book because it has some tropes but isn't completely those tropes - Everless sets up a few tropes and then proceeds to play with them, instead of falling into them so much that it feels predictable. I had several guesses as to plot twists ...

Really enjoyed this story. I have not read a fantasy in a while which feels unique. This ticked that box!

Everless was my last read of 2017 and boy am I grateful that I am ending the year with such a great read 🌟The world building in this story is absolutely phenomenal and so unique y'all I loved the concept of combination of time into fantasy - science fiction and fantasy are two of my favourite genres and although Everless was purely fantasy, I still enjoyed the incorporation of time into a world of queens and magic very much. A big thanks to Ne...

This won Book of the Month on my blog for December 2017:https://littlemissnosleep.wordpress.c...Firstly, I think the cover is absolutely gorgeous. If it hadn't been for the alluring cover, I may not have even been tempted to read this book. This thought now shocks me! I don't read a lot of fantasy or young adult fiction, as my love for it seems to be a bit hit and miss. I sometimes find young adult fiction too shallow or angsty, and my ability ...

4.5 STARS!!!!Buddy read with someone who hates Roan's timestopping eyesEverless is one of my most anticipated release of 2018 and boy was the wait absolutely worth it?!!?!?I finished this so fast and I was sucked right in from the very first page. I honestly need the next book right now like wtf ✨What I liked ✨1.The world-building YASSSSSS YAS YAS YASSS I LOVE THE PLOT AND THE STORY AND THE WORLDBUILDING I LOVE IT SO MUCH I MEAN TIME AS MONEY...

Imagine a world where time is used as currency, extracted from the blood in your very veins (turned into blood-iron coins). A plethora of ideas may pop into your head including the possibility of robbers in the form of bleeders to steal time from you. The world building here is fantastic as Sara Holland creates a world where the rich tax the poor, ultimately having centuries to live while the poor are continually struggling to get food on their ...

Meh... The more I think about it, the more it's a 3 stars...Mini spoiler free review.Buddy Read with JasmineSo... I'm just going to give a mini review because like I said, I feel so ill at the moment. The basis of the book was really interesting a persons time was represented by blood money, so often the poor would die young and the rich would live for many years. In the first few chapters a lot of information is thrown at you with different back...

3.5/5This was such a unique story! Seriously. The whole idea of being able to "drink time" to live longer was something I've never read about before. So yay for originality. However, the biggest downside was how the story started slowly; however, luckily, it picked up towards the middle and end.Since this is Sara Holland's debut novel, I'm quite impressed with her originality. Normally, all YA fantasy novels have similar qualities (an obvious rom...

I loved this story so much! Such a fun plot and different - I cannot wait for next book! This is definitely one you need to read!

UMMMM THIS WAS AMAZING!!!! 5 stars purely because I didn't predict the twists AT ALL and all my guesses were WAY OFF

Actual Rating: 2.5 starsIf I wanted to give this a mark out of 100, it is going to be exactly 50%, no more and no less...You see, if I hated something it will be balanced by another thing that I liked!The idea is not new, I saw the movie In time eons ago and liked the idea very muchSo I was intrigued by the idea of a book about it and the similarities were obvious...I slept 6 times while reading the first 6 chapters and actually considered DNFing...

Ughhhhhhh! Almost a love-triangle! Pretty Mediocre Gift With Awesome Wrapper! Concept: 4.0/5.0Execution: 2.0/5.0 Characters Bespoken: 2.5 /5.0Cover: 5.0/5.0Until like chapter 22:And then of sudden:Reading the blurb – it did imprison me to start it instantly. Time as – the Currency, human-blood turned into iron-blood coins, royal time bank - I expected world-building, plot-line would be as unique as the concept. But it shattered my every sky-r...

Real rating: 3.5 starsIt's possible to feel joy and grief at the same time. It's possible to look forward to the horizon while mourning what you've lost.The first word that comes to my mind when talking about this book is promising: a promising debut, a promising characters, a promising plot and a promising development of all the above components in the sequel. A lot of people compare Everless with Red Queen and movie In Time. I agree about...

Blood is MoneyTime is PowerDesire is TreacheryWelcome to EverlessOverall 4 solid starsI was lucky to get an ARC of Everless in my Fairyloot box.As the book was so hyped and promoted everywhere I could not wait to read it!Everless is a very original story build on a brand-new world at least one I had never read about before.How many stories do you know about people whose blood can be drawn and their living time goes down with it? Their blood is me...

Well, that was better than I thought it would be.I am ashamed to admit that I went into this book expecting the worse, and while I know that sounds terrible, it was pretty hard not to. When you've read as many YA fantasy novels as I have, all stories start to feel the same, as if authors simply rehash the same old tropes over and over again using different character names. Thankfully, despite first impressions, Everless, added its own unique f...

spoiler-free reviewdnf at 51% well, this was interesting. in this world, time is currency. it's intertwined in coins, and is exchanged just as we might trade a gummy bear for a gummy worm. this concept was a bit confusing to understand for me, but it was unique all the same. everless had a lot of potential. one thing that ruined it for me was the writing. it's in first person present, and even though there are many great books written in this...

NetGalley kindly provided me with an eARC but all opinions are my ownTHIS EVERLESS MINI REVIEW FEATURES ON MY BLOG AMONG OTHER REVIEWS AND POSTSM I N I R E V I E WThis book was high key a shock for me. I was not expecting to enjoy it. I started it twice before since the eARC came to me from NetGalley but having no Internet really let me sit down and absorb this book like it's meant to. I really didn't expect to enjoy this as much as I did. I ...

"All of these things are tied together in shifting and complicated ways, yet still nothing is clear." Woah. Just WOAH. What did I just read? Right after finishing the book I was speechless and I literally didn't do anything at all for half a day just because I was so shook - Everless completely blew me away okay I just want the second book NOW even though the first book is yet to be published. Guys, honestly, this book is gonna be the next big th...

You can also find this review on my blog HereActual Rating 3.5When i first read the synopsis of this book i couldn't wait to get my hands on it. My expectations were high and i already had a pretty good idea of how this story was going to go. Well, everyone… I wasn't just wrong, i was completely mistaken! This story took a totally different turn that i wasn't expecting and to be honest it made it so much more enjoyable. Mystery and intrig...

Quite decent book. If I should pick a fitting word for this book, it would be underwhelming. The concept, writing, characters were great but they lacked something at the same time; there was a lot of going on, mysteries, secrets but it was still boring. The idea of time as a currency is absolutely amazing and original. It reminded me the movie In Time which I liked and I was sold two seconds after reading the synopsis. But the rest of the story w...