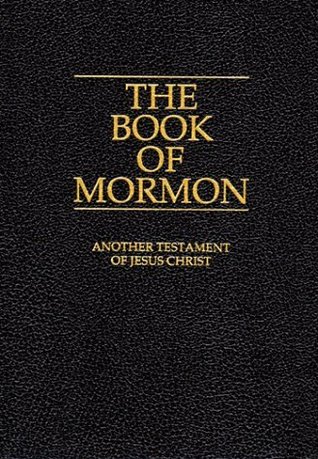 The Book of Mormon is a volume of scripture comparable to the Bible. It is a record of God's dealings with the ancient inhabitants of the Americas and contains, as does the Bible, the fullness of the everlasting gospel.The book was written by many ancient prophets by the spirit of prophecy and revelation. Their words, written on gold plates, were quoted and abridged by a prophet-historian named Mormon. The record gives an account of two great civ...
---
Details The Book of Mormon
Title
The Book of Mormon
ISBN

9780967686561

Author

Anonymous

Release Date
Oct 10th, 2018
Publisher

The Church of Jesus Christ of Latter-day Saints

Language

English

Genre

Religion

,

Nonfiction

,

Christianity

,

Lds

,

Church

,

Spirituality

,

History

,

Classics

,

Inspirational

,

Reference

,

Christian

Rating
Reviews The Book of Mormon
This book is much more entertaining if you read it as a "historical novel" rather than trying to read it as a religious text. Honestly, because of the sheer volume of anachronistic errors contained in Joseph Smith's book, even trying to read it as a novel is taxing. The Book of Mormon is set in North America in the first century. Before I get "flamed" I would like to point out three of the more glaring anachronistic errors:1) Horses (actually bro...

While certainly not comprehensive, here are some of my observations from reading this entire book in three days: * Nephi is hard for the proud to like. If this sounds sacrilege, and you've never had this thought before, congratulations...you're probably not proud. But, pride is something I struggle with so his, "Why can't you all just be more like me?" attitude can be a stumbling block. But the thing to remember is, he was called of God, and alth...

Elder Ballard of the LDS Church, talking to a group of graduates at BYU-Hawaii, encouraged us to use the media, specifically blogs, to teach of the Church of Jesus Christ of Latter-day Saints. I'd like all who read this post to know that this is a book that has changed my life. It is a book that can change anyone's life if read with an open heart and mind. It testifies of Jesus Christ, our atoning Savior. It was translated by Joseph Smith Jr., wh...

Unlike most religious texts that are approached metaphorically, the Book of Mormon claims to be an historical history of the Americas, which is a verifiable claim. The linguistic, anachronistic, biological, sociological, and archaeological evidence against this being a legitimate history of the Americas is monumentally staggering. Pick a random field of study, and that field has numerous evidences illustrating the impossibility of this being hist...

Without sounding sacreligious, I am profoundly grateful for this book. It's a book about answers to personal challenges. It's a book about how to live your life. It's a book about two civilizations and their relationship with a loving Father in Heaven.There really isn't a rating you could give something so profound and precious. And to this, I apologize. It is the BEST book I have ever read. This is at the top of my favorite list!!! For anyone wh...

Somehow I'm not surprised Orson Scott Card and Stephanie Meyer don't recognize an uninspired sequel when they see one. ++++++That's my one-sentence review. And it came to pass that we had a talk with the neighborhood Mormons today, and they bestowed upon us the Book of Mormon. And it came to pass that we are slowly making our way through it, checking to make sure we haven't too hastily judged it. And it came to pass that, so far, god seems like e...

My Mom gave me the Book of Mormon as a gift to me when I was still a student at Seattle University. I reading it off and on for the next week or so and determined that it was an obscure history book with weird names, place-names and events and in fact could even have been written by a science fiction writer (especially after reading about the role of the Liahona - a current-day device that must have been a GPS of some sort powered by mental focus...

A book I've read more than any other book (unless you count a few picture books). The Book of Mormon is at the foundation of my testimony of the restored gospel of Jesus Christ. I love this book!5th Time - 3/7/916th Time - 5/3/917th Time - 11/3/918th Time - 4/26/929th Time - 9/24/9210th Time 1/1/9311th Time 2/15/9312th Time 6/8/9313th 3/13/9414th 7/17/9415th 2/23/952 years??4/13/972 years??11/15/99Big gap where I know I read but didn't keep track...

The review process for this book has become a farce. Mormons give the book 5 stars because they believe in this junk. Non-Mormons give it 1 star because they recognize it for the fiction that it is. And so it goes.

I did actually read the entire book. Each week with some missionaries that discussed it with me. My grandparents are Mormon and after visiting the Temple in Salt Lake City on the way to California, I signed up for discussion. I love my grandparents and if some cult was going to take over their brain, I wanted to know what it was about. They seemed to be getting more intense with it as they grew older. I enjoyed the conversations. The reading itse...

Having been raised in the Church of Jesus Christ of Latter-Day Saints I was exposed to this book at an early age. Regardless, I did not seriously read this book until my early 20's. At that time I truly wanted to know for myself if it was the word of God as proclaimed by the church I belonged to. Because of my experience with this book and the Spirit of God, my life was enhanced immeasurably - I know that Jesus Christ lives and is the resurrected...

I'm not Mormon; I know that this book is merely fiction and nothing more. Someone already pointed out the major flaws in credibility (horses, wheath, cities, dozens of events that never happened). This makes this book rather funny than historical. I'm pondering about sorting it under "fiction"... ;)

Two weeks ago I didn't know I was having appendicitis. I thought I was dying. Seriously, as in calling my family from where I lay curled up on the floor. I can walk a few blocks now, so that's great. Go grandma! As for being able to concentrate on things, it pretty much consists of watching Monk reruns, and reading The Book of Mormon before I go to sleep. I've never had surgery before, and I have a lot more understanding for those who can't take ...

A MUST READ!Count Leo Tolstoy, the great Russian author, statesman, and philosopher, held [this] opinion as to the possible future destiny of the "American religion" founded under the instrumentality of the Prophet Joseph Smith. Thomas J. Yates related an experience he had while a student at Cornell University in 1900. He had the privilege of meeting Dr. Andrew D. White, former president of Cornell and, at the time, U.S. Ambassador to Germany. Up...

The LDS (Mormon) church does everything it can to instill the idea that if a person reads this book, prays with "real intent" and "faith in Christ" (and other loaded phrases) that she/he will receive a burning euphoric feeling. We are expected to believe that an experience like this is sufficient evidence to prove that the church behind this book is "true". However, experiences like this are not exclusive to any one religion, and it i...

This book has facilitated greater change in my life than any other book making it my all-time favorite book! It testifies of God's goodness and love. It better clarifies His whole plan for us: where we came from, why in the world we are alive, and what happens after we die. It is written by God's ancient prophets in the American continents (whereas the Bible is written by God's ancient prophets mainly in the Middle East). The inspiring words in T...

I don't know what I can say more than has been said, but I wish to add my voice to those who know this book to be true. I would like to issue a challenge to everyone--regardless whether or not you have read it:1. Obtain a brand new, unmarked copy of the Book of Mormon. One of the free copies that missionaries give out works great. You will also need a colored pencil.2. Over a period of ~60 days (10 pages/day) scan read the book doing three things...

I've read some of the other reviews of this book that point out some intellectual garbage that they say can't be proved (without actually looking at the evidence) or the literary problems with the book. They're missing the whole point of it. This book can only be understood with a spiritual sense that many people ignore or fight against to justify their lifestyles. I have been reading this book every night ever since I was in High School. It cont...

A must read each day. Hope for the helpless and those willing to do what is right no matter what the challenge. Writing by individuals and church representatives anciently who were willing to live by the higher law (charity, not just Moses' 10 commandments: an eye for an eye; equal justice). I memorized the Beatitudes as a member of my Baptist Church's 66 club (66 books in the Bible ... join by memorizing the books' names, stay a member by memori...

I read this as part of a grand (unfinished) project to read all the major world religious texts. I also read it because a Mormon suggested I should read it and pray about it to see if God would reveal to me that it was true. I did, but God made no such revelation. I did find some parts of the book interesting, and I did find a few insights, but, on the whole, I did not get as much from it even as I have gotten from many non-Christian works, and I...

I have read this book. Really. It took more than a year, laying at my bedside (the book, not me). Mark Twain was spot on when he called it "anesthesia in print." I have rarely been so underwhelmed. I only wish it were possible to give it less than one star.Five thousand 5-star ratings? Come on, people. The church may have suggested such an obvious ratings campaign as a means for proselytizing. But a 4.57 rating is unlikely to make me read it agai...

This is the most stunning, life-changing book. I am a Bible fan, and so I am quite familiar with the principles taught by Jesus Christ. This book is a similar book, but it was written by prophets in the ancient Americas, instead of Palestine/Middle-East area.The prophets likewise taught of the coming of Jesus Christ, and lobbied for improved Christian morals among the people, and were lead by the Spirit of Lord. I find the language very New Testa...

Hands down, the best book I've ever read. I make a point to read it everyday.

This set of scriptures is the best way to learn about the core beliefs of the members of the Church of Jesus Christ of Latter Day Saints (aka the Mormons). This book, like the Holy Bible, help us to learn more about our Savior, Jesus Christ and his mission and role in our Heavenly Fathers Plan of Salvation as well as in our own lives. This book, coupled with prayer, will help, as Joseph Smith Jr. said, any person grow closer to Christ as well as ...

This book was voted one of the top ten life-changing books by readers of Parade Magazine. Each time I read it I understand something new and find something profound and relevant to my life. If you understand the context of how the book was translated and appreciate the fact that an uneducated teenager could never have "written" it (especially in about 90 days) you cannot deny that it is another true testament of Jesus Christ.

There's not much I can say about this book that won't potentially sound cliche to those who have read and believe in this book or absolutely ridiculous to those who, having read it or not, do not believe in this book. But if there are a few things I can say that might pique your interest in reading it if you do not already have an opinion on the book, it might be these. 1)I know it is true; 2) It is evidence that the Church of Jesus Christ of Lat...

As a young girl of 14, I read this book during a lonely summer. My family and I had just moved from Tennessee, and it was my first summer in Utah. It was a slow summer, since I had only made a few friends. So, I decided to hole up in my room at night, open my windows, and let the sweet desert air blow into my room as I read this book. From that sweet experience, I have a deep love and appreciation for The Book of Mormon. Aside from being a collec...

A book this large, in translation, and covering this many years is bound to be difficult for some to get through, but it is incredibly rewarding. An entire civilization from beginning to end (about 1,000 years worth) is contained through short glimpses of those who were chosen to keep the record from generation to generation. Each writer has a different voice, journaling what they have witnessed in wars, politics, exploration, and most importantl...

I came to this with a lot of interest and curiosity, and left it firmly believing that this is one of the most unbelievable and ridiculous religious scams ever propagated, second only to Dianetics. Joseph Smith's vernacular is distinctly late 19th/early 20th century, the attempts he makes at approximating ancient writing consist basically of poorly imitated King-James-esque idioms (was Smith aware that the Bible was not originally written in Engl...