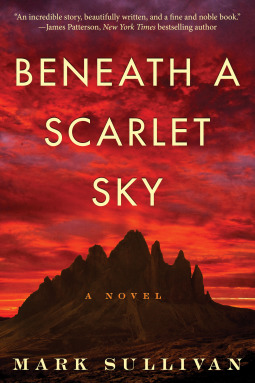 Pino Lella wants nothing to do with the war or the Nazis. He's a normal Italian teenager—obsessed with music, food, and girls—but his days of innocence are numbered. When his family home in Milan is destroyed by Allied bombs, Pino joins an underground railroad helping Jews escape over the Alps, and falls for Anna, a beautiful widow six years his senior.In an attempt to protect him, Pino's parents force him to enlist as a German soldier—...
---
Details Beneath a Scarlet Sky
Reviews Beneath a Scarlet Sky
2.5ish stars.Based on the experiences of Pino Lella, an unsung WWII hero, the events at the heart of this book are incredible and inspiring. Sullivan, though obviously well-meaning, presents them here in what is more or less a bloated, commercialized, color-by-number hagiography.Somehow present at just about as many significant events during WWII as one can be, Pino deftly overcomes every obstacle in his path. While- again- incredible and inspiri...

I know I've been gone, but I'm back now so don't worry I'll be clogging your feeds with my garbage reviews again now. I already started reading my next book.A semi biographical story about an Italian teenager Pino Lella who is sent to a convent after Allied forces airstrike destroys his home in Milan. At the convent he helps the priest smuggle out Jews to Switzerland who have come there for help. He meets and falls in love with Anna, an older wid...

One feature of every hugely engaging novel is that it's palpable throughout that the author has invested a great deal of heart and imagination into the narrative. This is far from always the case. There's sometimes a sense an author is fulfilling a contractual obligation or is never quite inspired by his/her characters or story. This is one of those novels where it's obvious the author has thrown himself heart and soul into his material and...

This is a fascinating book about WWII in Italy. I've read so much about Northern Europe during the war, but this is the first book about what took place in Italy. It follows the story of a real life teenager, beginning in 1943 when he guides Jews over the mountain pass to Switzerland and through the events that have him end up as a spy for the Allies. The story is well told and engaging. The characters seem real. Too often, historical character...

2 1/2 stars. This should be a fascinating story, but, unfortunately, the writing is poor. I would even say it's repetitive, juvenile and boring. It's nowhere near as engaging as I would expect from a book that has a 4.4 average rating over 48,000+ readers.The strength of Beneath a Scarlet Sky comes from it's exploration of the Italian experience under Mussolini during the Second World War. I know almost nothing about what happened here, despite h...

This was beautifully written. The events really happened but the author had to add conversations that the subject obviously could not remember decades later word for word. I liked seeing the Holocaust from the viewpoint of what happened in Italy. Most books include little if anything about the suffering that both Mussolini and Hitler wreaked on Italians, both Jews and non-Jews. An amazing book I highly recommend.

3.5 stars. Beneath a Scarlet Sky gets high marks for telling an interesting story about Italy at the end of WWII. It gets middling marks from me for the delivery. Author Mark T. Sullivan has written a fictionalized account of Pino Selle's Iife during the last year of WWII. Pino was an 18 year old Italian boy compelled to enlist as a German soldier by his family in occupied Milan -- this is how they thought he could stay safe. He ended up working ...

This book brought me to tearsThis is far and away one of the best books ever on Kindle First. It's a riveting story of love and righteousness. I won't give away more than that. If you want to know the perspective of an Italian during World War II, this is worth the read.

My 14 year old is a military history buff, and I'm pretty sure he will enjoy this simple work of historical fiction set in WWII Italy. Me? Not so much. GOOD STUFF: I learned that groups of Italians - loosely organized by priests and archbishops of the Catholic church - were active in smuggling Jewish refugees over the Alps and into Switzerland to keep them out of the Nazi reach. Getting a feel for the timeline of the German presence in Italy and ...

The story of Pino Lella is amazing. The writing of Mark Sullivan is dreadful. It reads like it was written by a sixth grader, full of cliches and bad metaphors. I brought this book on vacation and was so excited to read it based on the description on the back cover. What a disappointment.

So many five-star reviews, so much gushing over this book! I love reading about WWII in Europe, so I snapped this up in a nanosecond. What could go wrong?A hell of a lot.I should remember that a tsunami of five-star reviews, mitigated by some sizable waves of four-star pronouncements, by people I don't know and whose opinions I have no reason to trust usually equals disaster.And I was right.First I must figuratively scratch my head over the edito...

What I liked most about this novel is the look at WWII in Italy. I've read a few books that has skimmed over it, but Beneath a Scarlet Sky, gave me a much better sense of time and place. Every country has different stories to tell about it's unique experiences. I liked that this was mostly based on a real life person, as I would have thought that there was too much happening if it was fictionalized, but as we know truth is almost always stranger ...

This work of historical WWII fiction is about a real Italian teenager who was, for a short time, part of the group that smuggled Jewish refugees over the Alps and across the Swiss border to safety. Sent to a Catholic order up in the mountains to escape bombing at home, Pino comes of age in a short time period and takes great personal risk to help those fleeing the Germans. Anecdotes surrounding refugees hiding in the tree tops and treacherous alp...

Masterful tale of a young man's courageous struggle to fight for the greater good during the Nazi occupation of Milan during World War II. SUMMARYAlthough a work of fiction this novel is based on a true story with a real hero. At the heart of the story is a normal seventeen-year-old Italian boy named Pino Lella. He is obsessed with music, finding a girl, and falling in love. But then in 1943, the bombs start dropping on Milan and his family hom...

This was available on Kindle First, and sounded like a fresh take on WW II for me. Both the subject of the novel, a young man who actually lived through these extraordinary times and experiences, and the author had compelling stories, and it caught my interest. I bought it in book form as there are many people with whom I wish to share this, and found myself reading way too late into the night as I needed to know what happened next. I cared deepl...

3 neutral stars The book synopsis sums up the first 35% of the novel really well. Therefore, I am not going to summarize the plot here. I didn't hate Beneath a Scarlet Sky, but I didn't really love this book either. I did love the cover, the title, and that this was a WWII era book situated in Italy. Most of the books I read are heavy on the France/Poland narrative and I appreciated the different angle. I will say that it was refreshing to have ...

A stunning novel about being brave in the face of evil. Finding happiness when you think it's been taken from you and remembering that each day is a gift.The Italian side of WWII isn't something that historical fiction novelist focus on but there are stories to be told about what happened there. The fact this this story is part biography and part fiction is what makes it brilliant. Pino Lella is a true hero and one that everyone should know. Real...

Be ready to hear an extraordinary, mostly untold, story about the Italian resistance in WWII. While I knew the battle for Italy was brutal and cost many lives, I was unaware of the underground railroad working to bring Jews and trapped allies to safety.Having been to Milan a couple of summers ago, I do wish I'd been aware of this story, as it would have brought a rich context to the place for us.I recommend this well-told story, weaving together ...

The vocabulary and sentence structure seem geared toward about fifth grade. As the boys moved on, Mimo limped along while rubbing his right hip and complaining. But Pino was barely listening. A tawny-blond woman with slate-blue eyes was coming down the sidewalk right at them. He guessed her to be in her early twenties. She was beautifully put together, with a gentle nose, high cheekbones, and lips that curled naturally into an easy smile. Svelte ...

Beneath A Scarlet Sky by Mark Sullivan Review 5/4/17Pino Lella a hero!Based on the true story of a forgotten hero, Beneath a Scarlet Sky is the triumphant, epic tale of one young man's incredible courage and resilience during one of history's darkest hours. Pino Lella wants nothing to do with the war or the Nazis. He's a normal Italian teenager—obsessed with music, food, and girls—but his days of innocence are numbered. When his family ...

Beneath a Scarlet Sky by Mark Sullivan is one of the finest historical novels that I have read in a long, long time. The author is no stranger to thriller lovers. He was an Edgar-finalist for one of his thrillers, Triple Cross. Along with bestselling author James Patterson, Guinness World Record holder for the most #1 New York Times bestsellers, he has co-authored the hugely successful Private series. And it is not a surprise that his latest offe...

A well organized telling of experiences in the final years of World War II centered in Italy and lived by a young man from Milan, Pino Lella. This one cannot be put down. Pino and his younger brother were watching Astaire and Hayworth dancing on the big screen when "an air raid siren wailed...People began to yell and jump up from their seats...As the film melted up on the screen, antiaircraft guns cracked outside the theater, and the first unseen...

This book ranks right up there with "The Nightingale," and "All the Light We Can Not See." I think it surpasses them. The book is about Pino, a 17 year-old boy in Italy during the German War. This book will make you love and hate the characters. You will fall in love with Pino and his family. He lives through things no 17 year-old boy should have to witness. The characters will stay with you long after you turn the last page. Well done Mr. Sulliv...

Another WWII novel?? Well, to my delight "Beneath a Scarlet Sky" shares the Best Books Podium with "All the Light We Cannot See" and "The Lilac Girls". Mark Sullivan's latest, exquisitely brings to life the often-forgotten battles in Italy, by featuring real-life Italian teenager Pino Lella - his heroism, his heartache, and his resilience. Faith and loyalty take center stage in this book which will have the pages turning and your heart pounding. ...

A poorly written exercise in suffering with a smarmy intro. It should be quite plain by the end, how purple this book is. Even has alliteration in the title, for Spaghetti-monster's sake. Try saying it seven times fast. Yeesh.

To see all of my book-related content, check out my blog @ http://bit.ly/2zzVt0RCan I just take a minute to reflect on the reading experience that I had with this book? Beneath a Scarlet Sky truly has to be one of the most vivid and poignant books I have read in a very long time. Addictively written, it is easy to read in a small number of sessions, despite the large page count and, through its protagonist and its rather hypnotic writing-style, i...

I can't recommend this book highly enough. Simple but beautiful writing about an amazing young man's story of being in Italy during WWII.My full review is here: http://elleisforliterature.blogspot.c...

5 star plot and storyline, 3 star quality of writing.

Amazing story, must readWonderfully written and tokd. Unique and unbelievable story of a true hero of World War II. Must read and highly recommended.