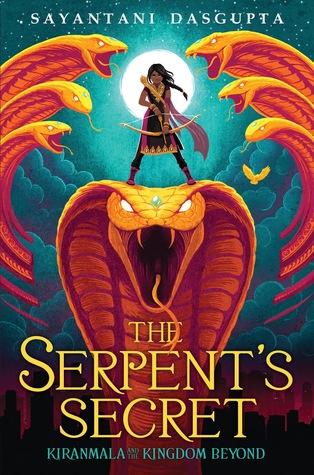 MEET KIRANMALA: INTERDIMENSIONAL DEMONSLAYER(But she doesn't know it yet.)On the morning of her twelfth birthday, Kiranmala is just a regular sixth grader living in Parsippany, New Jersey… until her parents mysteriously vanish later that day and a rakkhosh demon slams through her kitchen, determined to eat her alive. Turns out there might be some truth to her parents' fantastical stories—like how Kiranmala is a real Indian princess—and ...
---
Details The Serpent's Secret (Kiranmala and the Kingdom Beyond, #1)
Title
The Serpent's Secret (Kiranmala and the Kingdom Beyond, #1)
ISBN

9781338185706

Author

Sayantani DasGupta

Release Date
Feb 27th, 2018
Publisher

Scholastic

Language

English

Genre

Fantasy

,

Childrens

,

Middle Grade

,

Mythology

,

Adventure

Rating
Reviews The Serpent's Secret (Kiranmala and the Kingdom Beyond, #1)
Disclaimer: I haven't read this but I'm pretty sure the people who gave this book 1 star haven't either. I'm hoping my 5 star rating counteracts this.

Disclaimer: I received an ARC of this novel in exchange for an honest review. This is no way impacts my review of the novel.The Serpent's Secret is a middle-grade novel about Kiranmala, a 12-year old living her regular life in New Jersey until her parents go missing and she finds out she's a real Indian princess. In all honesty, the only reason I was planning to read this novel was because of the Indian rep, but there is so much more to the perfe...

Pre-emptively giving this five stars to balance out the eyebrow-raising rating of a book that literally just sold today. I am so, so excited for this and Sayantani's magical words! This is going to be so good!

CLICK HERE TO SEE MORE OF MY REVIEWS ON MY BLOGI am trying to look at this book as a completely individual series from the Percy Jackson series. A couple reasons for this; it is not even published by Rick Riordan's publishing industry and this book is about Indian fairytales. I know it is so easy to compare middle-grade novels that are urban fantasy to Rick Riordan but you can't with this. Why? Mainly because this is all own voices.Now, into ...

THIS BOOK WAS SO FUN! An original fairy tale that emerges from Indian folklore. It walks the line of creative and classic - familiar fairy-tale allusions blend with new ideas. I really loved all the strong characters and the crazy adventure and the way everything wraps up without a cliff hanger. 4 stars for the book + 1 extra because this was so not YA. And I know this isn't supposed to be YA, but sometimes Juvenile fiction can feel YA, and this ...

I snatched this from a panel from one of the nicest authors (who signed my book by the way).Kiranmala and the Kingdom Beyond Book One is something I would recommend to ALL children. Also any adults who just enjoy a good ride start to finish in a book.Kiran is such a relatable young girl for anyone who has ever felt embarrassed by typical 12 year old things, namely parents. But her family is different from the majority of NJ folk in a way that mos...

This was fantastic, go read it!💜 Wish 12 year old me could've read this!! Full review coming soon!

Had me at Indian folktale-based interdimensional adventures of a demon-slaying princess. Oh, wait. That's the whole summary? GIMME.

could not be more excited for this book

First of all, I wanted to brag that Sayantani wrote this book in MY library! When she mentioned that her book was getting published, we all were looking forward to getting our hands on it. I devoured this book in two sittings. It has a badass 12 year old girl who finds out that she is an Indian Princess from another dimension when her parents are eaten by a demon. It is her job to get them back.It is hilarious, full of puns, rhymes, word play and...

Win a finished copy of this book at TheBengaliNomad My Blog: TheBengaliNomadTwitter: @1102DaydreamingInstagram: thebengalinomadBefore I begin this review, I'd like to personally thank the author. I grew up reading fantasy and adventure novels that mainly featured white/western protagonists. Sure, I did enjoy the occasional dose of Meena Raju , Thakurmar Jhuli and Gopal Bhar, but none of them sported characters whose world I could actually step ...

Aw, this was a cute story! I loved the snappy one liners BUT I really don't like that there was a romance in it. I just role my eyes at that. The mc is clearly incredibly smart and grows to better understand herself and her parents as well as the new world she is thrust into. The magic and new world was really fun and easy to get into.

Short version: kick-ass heroine + epic world-building + hilarious and snarky dialogue = one memorable ride. More, please!Long version: Kiranmala is just a regular sixth grader attending a regular middle school in Parsippany, New Jersey. Sure, her parents embarrass her on a regular basis, especially when they proclaim loudly about her fiber intake and the fact that she's really an Indian princess. Jeez! All that changes on the Halloween that happe...

So, so great. I looooved Kiran's toughness and fears and utter realness. The traditional mythology was adapted and blended in so beautifully.

This book was basically everything I needed when I was a kid! It seamlessly weaved in all of these wonderful folktales, including the ones I grew up on in Bangladesh. And it was so unapologetically Bengali. All of the rhymes and riddles - super Bengali! I also loved Kiranmala as a character, and how she grew from the beginning to the end. And her relationship with Neel! The book was also just... really funny? And the comedy just worked wonderfull...

This book deserves way more hype than it's getting. 11/10 would recommend! RTC.

Oooh gurl! Where can you get a kickass heroine who is an Indian-American version of Buffy Summers and has the comedy of a Rick Riordan Percy Jackson series? Well, Kiranmala and her Kingdom Beyond upcoming series, of course. Here our 12 year old heroine is so embarrassed about her culture that she is shocked to learn she has a greater destiny to battle demons and monsters that are part of Indian mythology and folklore. Finally, a series that is ge...

I was lucky to receive an advanced copy of The Serpent's Secret at NCTE17. The story is fresh and full of adventure. Kiranmala is a sharp heroine with a voice that will have you laughing. I suspect it will be a favorite among my students! Personally, I can't wait for the sequel.

IF YOUR PUBLISHER COULD HURRY UP AND PUT THIS AWESOME BOOK IN MY HANDS I'D SURE APPRECIATE IT THANK YOU

***Post-Release Review***The Serpent's Secret could have been a wonderful story. It had everything it needed for the recipe: fantasy, monsters, giant snakes, Pegasi, magical stuff, and lots of girls and boys to make all those things come to life. First, the story itself was a bit choppy. As other reviewers have put it, the characters and the story really jump all over the place, and the next part of the story really has no segue from the previous...

https://youtu.be/C3H1GnCFddc4 baby Rakkhosh Stars Estaba bloqueada cuando empecé este libro a pesar de ser middle grade y eso me gusto mucho la historia the Kiram es super chistosa, tiene sus cliché y todo se resuelve casi magicamente pero para el público que está dirigido creo que está bien.

"It was only when I admitted to myself all of who I was that I was able to find my deepest power."A story filled with humor, wit, action, tradition, and heart. Don't miss this engaging story by @Sayantani16 coming out at the end of February. @Scholastic

Do you ever read the end of a book, then feel you must rent one of those skywriting airplanes and tell everyone, "OMG, guys; YOU HAVE TO READ THIS BOOK!" ?That's how I feel this morning. Kiranmala is a normal girl living her usual life with her (goofy-but-loving) parents in New Jersey, until, one day, her parents disappear and a snot-dripping rakkhosh demon from her mother and father's folk tales breaks —well, smashes—into her house. Two d...

3.5/5 That was interesting, despite the fact that it took one day short of two months to read it. It was worth it. Mini RTC maybe---"May you have children this ungrateful, my little luna bar, so you can know the intestinal agony that only your progeny can give you.""Make new orbs but keep the old, one is silver and the others gold.""Be gone, you fart faces!" Ai-Ma shrieked, waving a knobbly arm. "These are my darling grandbabies, and if you so mu...

When a book succeeds in rekindling the romance of fairy tales, alongside the charm & humour of a modern kick-ass YA, you instantly realise something.It's special.This, is one such book.It has some of the most beloved characters of Bengali fairy tales and Children's Classics. But unlike some of the modern retelling of those stories, it doesn't try to recreate the period. Instead, this book tells us a tale full of mystery, suspense, action, horror,...

This was a cute and fun read. Kiran is a top tier middle grade protagonist in my opinion. The story while sometimes lack fluidity, was definitely entertaining. It portrayed some good lessons. It also also treats the reader to some terrible but wonderful puns. I always love a good bad pun. Outside of the story sometimes feeling a jagged at times, my only other complaint was some of the middle grade style slang used. Some moments it felt a bit forc...