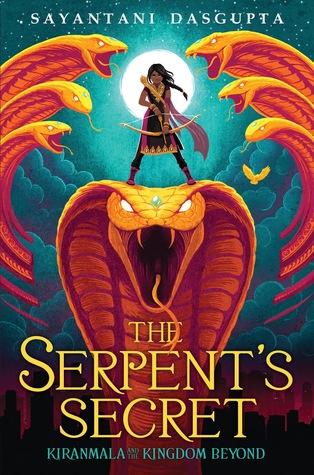 MEET KIRANMALA: INTERDIMENSIONAL DEMONSLAYER(But she doesn't know it yet.)On the morning of her twelfth birthday, Kiranmala is just a regular sixth grader living in Parsippany, New Jersey… until her parents mysteriously vanish later that day and a rakkhosh demon slams through her kitchen, determined to eat her alive. Turns out there might be some truth to her parents' fantastical stories—like how Kiranmala is a real Indian princess—and ...
---
Details The Serpent's Secret (Kiranmala and the Kingdom Beyond, #1)
Title
The Serpent's Secret (Kiranmala and the Kingdom Beyond, #1)
ISBN

9781338185706

Author

Sayantani DasGupta

Release Date
Feb 27th, 2018
Publisher

Scholastic

Language

English

Genre

Childrens

,

Middle Grade

,

Fantasy

,

Mythology

Rating
Reviews The Serpent's Secret (Kiranmala and the Kingdom Beyond, #1)
Disclaimer: I haven't read this but I'm pretty sure the people who gave this book 1 star haven't either. I'm hoping my 5 star rating counteracts this.

Pre-emptively giving this five stars to balance out the eyebrow-raising rating of a book that literally just sold today. I am so, so excited for this and Sayantani's magical words! This is going to be so good!

Had me at Indian folktale-based interdimensional adventures of a demon-slaying princess. Oh, wait. That's the whole summary? GIMME.

could not be more excited for this book

I snatched this from a panel from one of the nicest authors (who signed my book by the way).Kiranmala and the Kingdom Beyond Book One is something I would recommend to ALL children. Also any adults who just enjoy a good ride start to finish in a book.Kiran is such a relatable young girl for anyone who has ever felt embarrassed by typical 12 year old things, namely parents. But her family is different from the majority of NJ folk in a way that mos...

So, so great. I looooved Kiran's toughness and fears and utter realness. The traditional mythology was adapted and blended in so beautifully.

Short version: kick-ass heroine + epic world-building + hilarious and snarky dialogue = one memorable ride. More, please!Long version: Kiranmala is just a regular sixth grader attending a regular middle school in Parsippany, New Jersey. Sure, her parents embarrass her on a regular basis, especially when they proclaim loudly about her fiber intake and the fact that she's really an Indian princess. Jeez! All that changes on the Halloween that happe...

I was lucky to receive an advanced copy of The Serpent's Secret at NCTE17. The story is fresh and full of adventure. Kiranmala is a sharp heroine with a voice that will have you laughing. I suspect it will be a favorite among my students! Personally, I can't wait for the sequel.

IF YOUR PUBLISHER COULD HURRY UP AND PUT THIS AWESOME BOOK IN MY HANDS I'D SURE APPRECIATE IT THANK YOU

First of all, I wanted to brag that Sayantani wrote this book in MY library! When she mentioned that her book was getting published, we all were looking forward to getting our hands on it. I devoured this book in two sittings. It has a badass 12 year old girl who finds out that she is an Indian Princess from another dimension when her parents are eaten by a demon. It is her job to get them back.It is hilarious, full of puns, rhymes, word play and...

Oooh gurl! Where can you get a kickass heroine who is an Indian-American version of Buffy Summers and has the comedy of a Rick Riordan Percy Jackson series? Well, Kiranmala and her Kingdom Beyond upcoming series, of course. Here our 12 year old heroine is so embarrassed about her culture that she is shocked to learn she has a greater destiny to battle demons and monsters that are part of Indian mythology and folklore. Finally, a series that is ge...

Fabulous book! I read an ARC of the book, so there may be changes in the final version. I loved learning about Indian folktales in this enticing and easily relatable tale (what 12-year-old hasn't thought her parents are weird at times?). The book keeps up a good pace, has interesting characters with many layers, and a compelling storyline. Amidst the tension, there are many LOL moments that lighten the mood. The book has a good balance of action ...

"It was only when I admitted to myself all of who I was that I was able to find my deepest power."A story filled with humor, wit, action, tradition, and heart. Don't miss this engaging story by @Sayantani16 coming out at the end of February. @Scholastic

Loved the tone of this book and all the mythos. How long do I have to wait for the next book???

Indian mythology + Riordan-esque humour. So fun!

@kidlitexchange #partner5/5 for THE SERPENT's SECRET by @princesskiranmala and published by @scholasticinc; thx for the ARC for #kidlitexchange. All opinions are my own._*_*_*_*_*What would you do if you came home from school on your twelfth birthday to find your parents missing, a rakkhosh (demon) waiting for you and two princes with flying horses who insist you really are a princess? _*_*_*_*_*Swipe for the back of the book!_*_*_*_*_*I don'...

Fantasy is not my jam, but I do enjoy folklore, and I'm starting to get into more middle-grade books. I loved the modern, feminist point of view of Kiranmala, the protagonist, and I enjoyed the refreshing use of modern dialogue in a fantasy novel. I am thrilled to know that this will be a series, and am eager to see how Kiran returns to New Jersey after she has battled demons, encountered Einstein, and come to terms with her own status and powe...

This book was a lot of fun! I enjoyed Kiran's spunkiness and bravery though she was scared at times. The banter between her and Neel was funny, and Lal's attempt to sound princely was really amusing. I loved the author's easy insertion of Bengali mythology without bogging down or overly complicating the story. I'm eagerly anticipating the next installment.

The story: Kiranmala gets something unexpected on her birthday: a rakkhosh--a type of demon from the mythology of India--attacks her house and wants to eat her. Luckily, a couple of handsome prince also come along to rescue her. Kiran finds out that she's the daughter of the Serpent King (kind of a downer) and that time is running out to find and rescue her adoptive parents from New Jersey. Good thing she also came into some unexpected powers! Wh...

Kiranmala finds herself on a whirlwind of an adventure when, on her twelfth birthday, she comes home from school to find her parents swallowed by a black hole, a rakkhosh demon eating their kitchen (yes, the kitchen itself), and two princes ready to whisk her away to another world and rescue her parents. The ensuing adventures reveal to Kiranmala that she is, in fact, a princess, sometimes birds talk, and the lamest most average riddles actually ...

Twelve-year-old Kiranmala has always brushed aside her parents strange stories. They'd tell her she was a powerful princess from a far-away land who washed up on the shore when they found her. Her parents let her soak in the moonlight through her bedroom window devoid of curtains. Little did she realize that it was all true...and more! On her 12th birthday, a demonic being crashed through her house, abducted her parents, and set a curse made lo...

This was a really fun read. I read an advance copy a friend had given me. It moves along really well. I was dreading some dragging in the more intense parts, but Sayantani Dasgupta shows that she knows how to avoid that trap. She includes a lot of sarcastic humor that the middle school age readers will enjoy.

This is a fantastic book about Kiranmala, your average middle schooler living her life in New Jersey. That is until her parents go missing and a giant rakkosh shows up in her house and tries to eat her. Then she is off on a crazy adventure with two princes in an attempt to rescue her parents and learn her true identity. Students that liked Rick Riordan will love these books.

LOVED THIS BOOK! All the humor and action of a Percy Jackson novel, with a RAD female character of color. I loved all the characters and how the book is inspired by Bengali folktales! Can't wait to read the next book in the series. Perfect for grades 4th through 8th.