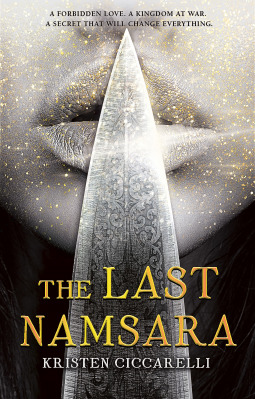 In the beginning, there was the Namsara: the child of sky and spirit, who carried love and laughter wherever he went. But where there is light, there must be dark—and so there was also the Iskari. The child of blood and moonlight. The destroyer. The death bringer. These are the legends that Asha, daughter of the king of Firgaard, has grown up hearing in hushed whispers, drawn to the forbidden figures of the past. But it isn't until she become...
---
Details The Last Namsara (Iskari, #1)
Title
The Last Namsara (Iskari, #1)
ISBN

9780062567987

Author

Kristen Ciccarelli

Release Date
Oct 3rd, 2017
Publisher

HarperTeen

Language

English

Genre

Fantasy

,

Young Adult

,

Dragons

Rating
Reviews The Last Namsara (Iskari, #1)
3 1/2 stars. Finally, a dragon fantasy YA book that doesn't s—smell bad. It does show that this is the author's debut novel, from how careful she is being in her writing (take risks, madam!), but it's a worthy debut. The idea of telling stories to dragons fascinated me. I mean, the dragons listen! They even speak. They have a brain, like there could be a whole community of them living next to the humans. Except Asha—the dragon slayer—...

The most simple thing I can say is this is the best book I have ever read and Kristen Ciccarelli is now my favorite author.Her story and her words have so much beauty, and love, and passion, and adventure. By the end I gasped every 5-10 pages and got goosebumps every 10-20 pages.There are not many books I would say this for, but pre-order this now because your soul has been waiting for a story this beautiful.

Release date: October 3, 20172.5 stars. This one is kind of hard to review because I had a feeling the whole way through that it was a story I should like and normally WOULD like, but just could not get into it. And after 2 months of forcing myself to finish it, I'm just... confident that this was not really for me. That's not a judgement on the book itself or the author by any means! Just me. I think the author created a complex world and added ...

Meet your new fantasy obsession! Magical, enchanting, gut-wrenching, amazing, badass, inventive, dragon-y... :)This book will destroy you. Enjoy. *full review closer to release*

I decided not to re-read the premise prior to picking up The Last Namsara but to go in completely blind, and it was the best decision I could've made. This debut took me by surprise in the way it drew me into its world of dragons, gods, and magic stories. I WAS SO DOWN FOR THE DRAGONS. I definitely got some How To Train Your Dragons vibes from this, guys. Move aside Eragon, The Last Namsara has come to claim your place.At first glance, The Last N...

I should have waited closer to publication day to read this but I was anticipating it too much to wait that long. Im always on the look out for great dragon books and the fact that this was also written by a Canadian author made it to the top of my TBR. I absolutely loved the little stories through out the book and the power they held. The concept was just amazing. Using stories to lure dragons was fascinating and the Old God plot line intrigued ...

The book opened with the intriguing line, "Asha lured the dragon with a story", and I was pretty much sold from this point forward.Asha is the daughter of The Dragon King. Responsible for the dragons that burned her city, murdered her mother, and left her with a disfiguring scar, she is both feared and loathed by her people. It is only her closeness to the throne that keeps her from becoming openly ridiculed, or worse. By once bringing the destru...

This is everything I want in a book and more. I love this.My fiery queen, Asha.An asshat (putting it nicely), Jarek.And my smol cinnamon roll, Torwin. - - - - - Checkout more reviews on my blog! https://omgbooksandmorebooks.blogspot...This book is everything I want in a book and more. We have a MC who is strong, fearless, unemotional, hard set in her ways but she meets someone who shows her the truth of the world she lives in. She slowly breaks d...

I received this copy from the publisher via Edelweiss, in exchange for an honest review. Thank you!WOW WOW WOW!!!!!!! What a gorgeous story!!! This book immediately is one of my top picks for 2017! Review to come.

The Last Namsara is absolutely fantastic. Amazing characters, tons of action and dragons! Its perfect for all YA fans.As a little girl, Asha was burned by the first dragon. Now she's made it her mission to slay all the dragons in her land, including the one thats burned her. The only way the King will let Asha annul her marriage to Jarek, the man that saved her life, but has continued to make it miserable every day since, is if she kills the firs...

you can read this & other reviews on my blog!---So. This book. Wow, I am blown away. Ciccarelli really has beautiful writing. And the romance? So, so good. Sort of slow burn, but full of the best interactions. I am 100% trash for it already.The dragons are some of the best part of this book, which might seem a bit weird, considering the main character is a dragon hunter. But fret not, I don't think many will anticipate the direction this book goe...

It took maybe a page and half for me to know this book would be a blockbuster! It's got everything I love in fantasy: lush writing, rich world-building, and politics and action with just the right amount of forbidden romance 😍 I'm warning you: don't start reading unless you're prepared for THE LAST NAMSARA to steal your heart, your breath, your whole afternoon as you speed through the pages! And then it leaves you gasping for more, namely the ...

Review also found on my blogThis is one of those books that started off very strong but dragged on from the middle to the end. There was an unremarkable plot matched with unremarkable characters not to mention the "reveals" about Asha's past weren't hard to see coming.I will give the author credit for the world building and pacing as these moved along nicely and set up the scene really well. I also liked the dark feel surrounding the whol...

WOW. This book reminds me of the epic fantasies I loved growing up. The ones that have detailed mythology, gasp-worthy moments, and the type of hero I crave: realistically flawed, achingly vulnerable and utterly brave.BONUS: Thar be dragons. And not just some slight mention - it's the real deal. And that's as specific as I can get :)If you love adventure, romance, dragons and rich, beautiful fantasy, then this is the book for YOU. Highly recommen...

This is an INCREDIBLE book. It has everything my heart wants: adventure, strong heroine who learns how to be comfortable in her skin, dragons, the sweetest romance (forbidden!) and incredibly writing. I highly recommend it!!!!!!

Full spoiler-free review now on my blogWith her debut novel The Last Namsara Kristen Ciccarelli manages to create a story that takes a step beyond the usual generic YA fantasy story, but hasn't completely grown out of it.Apart from Asha, who is portrayed really well and has a depth to her, there were a lot of interesting characters. We have Dax, Asha's brother, who is the heir to the throne and has lived a long time in the enemy kingdom. Then the...

True Rating 4.5 stars!!In The Last Namsara, the main character Asha grew up being hated by her people. She was the daughter of the Dragon King, a princess, but it also was because of her that her city was burned, her mother was killed, and she was disfigured. It was because of her that the telling of stories became forbidden. For to tell a dragon a story gave it the power of fire, without the stories dragons were left without dragonfire. Asha had...

Fantasy worlds are particularly obsessed with the notion of dichotomy, of division and contrast, of the delineation between light and darkness. The Last Namsara explores these ideas in a particularly compelling way through its protagonist, Asha. Named by her father as the world's next Iskari, death bringer and destroyer, Asha is widely feared and isolated from the people of Figaard. As the readers watch her whisper forbidden tales and hunt myth...

"Once there was a girl who was drawn to wicked things.Things like forbidden, ancient stories.It didn't matter that the old stories killed her mother. It didn't matter that they'd killed many before her. The girl let the old stories in. She let them in eat away at her heart and turn her wicked." I came for the dragons, I stayed for the story. I'm not going to lie, the promise of dragons is what immediately drew me into the story. But,...

This book is magic. The writing is as nuanced as Marie Rutkoski's, the characters as endearing as Leigh Bardugo's, and the emotions as well drawn as Laini Taylor's. The world is lush yet raw, and love and brutality are rendered unflinchingly. ALL THE STARSSSSSSS. Also, A+ couple. And complex dragon and human relationships <333

As a contemporary fiction writer, I love reading YA fantasy for the escape to new and magical worlds. So The Last Namsara, the first in Kristen Ciccarelli's Iskari trilogy, tops my list for must-read 2017 debuts. Releasing in the U.S. in Fall by Harper Teen – though it's already contracted to release in 10 other countries worldwide – The Last Namsara follows Asha, who, as a young girl, spoke aloud age-old stories with the power to summon ...

I got sent this book for free by the lovely Stevie Finegan over at Gollancz (Orion Publishing). It's an uncorrected manuscript proof. I got it for free and I read it for free. This is my part of the generous exchange: a review. Boy, oh boy. This book. I have a hard time figuring out how I can explain what I feel and why I feel it. This book is good but not amazing. It's clearly a debut novel which has both pros and cons. About 90 pages into the s...

*ARC kindly provided by Netgalley and the Publisher in exchage of my honest review* As his eyes closed, she told him one last story. The story of a girl who hunted dragons to soothe the hurt in her heart. The story of the dragon who changed her. This book lured my interest thanks to its gorgeous cover, an interesting premise, and the promise of dragon & storytelling – honestly, a match too captivating for me to resist.It was a fast reading tha...

Guys, DO YOURSELVES A FAVOUR and add this to your to read shelves now. This book is fucking mint, I'm so surprised by it. The last dragon book I read made me cringe so hard I almost dropped my Kindle, so I've been wary of dragon books ever since. But I'm SO pleased I requested this oh my god.The Namsara is a child of light and life; the Iskari is a child of dark and death. Asha is the king's daughter, and his most fearsome dragon hunter. She is f...

I'm so madly in love with this book. So so so in love.Asha is the Iskari, the deathbringer. It's her job to fight dragons and to bring their heads before her father, the king. It's a dangerous life; if she survives the poison of a dragon's fire, she still has to face the leeching power of the forbidden old stories she tells and the choking hands of her jerkface betrothed.It's a world where there are no good and bad choices, only hard and harder o...

I liked a lot about this book. Dragons are hot right now and this was another exciting read featuring them. More review to come. No love triangle. A settled ending, which surprised me a little bit, because this is supposed to be part of a series. I'm curious what that will entail.

Check out more reviews @ Perspective of a Writer...Asha is the Iskari, an infamous dragon killer, who detests the power hungry commandant to whom she is betrothed. As the daughter of the king of Firgaard she must make up for her mistakes and part of her punishment will be to become his bride... unless she can bring her father the head of Kuzo the most powerful dragon in the land. As an ancient God interferes in her plans she must also deal with a...