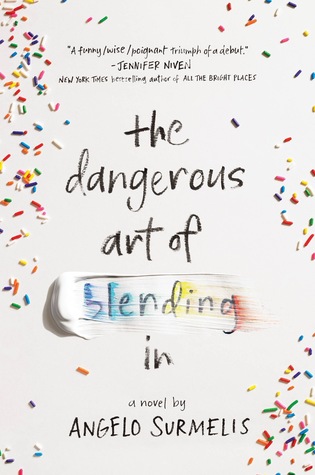 Seventeen-year-old Evan Panos doesn't know where he fits in. His strict Greek mother refuses to see him as anything but a disappointment. His quiet, workaholic father is a staunch believer in avoiding any kind of conflict. And his best friend Henry has somehow become distractingly attractive over the summer. Tired, isolated, scared—Evan's only escape is drawing in an abandoned church that feels as lonely as he is. And, yes, he kissed one gu...
---
Details The Dangerous Art of Blending In
Title
The Dangerous Art of Blending In
ISBN

9780062659002

Author

Angelo Surmelis

Release Date
Jan 30th, 2018
Publisher

Balzer + Bray

Language

English

Genre

Contemporary

,

Young Adult

,

Glbt

,

Fiction

,

Queer

,

Romance

,

Realistic Fiction

,

Health

,

Mental Health

,

Young Adult Contemporary

Rating
Reviews The Dangerous Art of Blending In
I desperately wanted to love this book and I'm actually wondering if 3 stars is too high of a rating. First off: major trigger warnings for physical and mental abuse as well as homophobia. I couldn't connect with Evan. He seems like a good guy in a shitty situation, but it felt like I never actually got to know him. I hated Evan's mom and his dad isn't any better as he just lets it happen. As much as I wanted to love the romance part of t...

The Dangerous Art of Blending In is a new take on the standard "Gay in a small town" narrative, because it's not about coming out as gay, but coming out with the truth about an abusive parent. I use the phrase "at it's core" a lot in reviews, because I find that the core of the story needs to be strong enough to build a story around it. Soft/weak/boring cores lead to lackluster stories and I found The Dangerous Art of Blending In's core to be sp...

Pretty excited to get to post one of the first reviews for this wonderful book! Angelo has written something that is so impactful, heartbreaking and needed in our world (and on YA bookshelves). I cannot recommend this book more highly. It is so damn good.

The Dangerous Art of Blending In is a really tough book for me to review because it is about such a dark subject matter and also, without going into too much detail, it hit very close to home and it was triggering. I had to keep putting the book down because Surmelis' wrote certain scenes so well that I had to step out of the story for a bit.The main character, Evan, is Greek-American, gay, in the closet, and is being raised in an abusive househo...

I wanted this to be My Book. The one that I can't wait to get into the hands of kids who need to see something different and need to see themselves. This is that book. It's a tough one - it's HARD and there's no easy answer found at the end but it is true. Evan is like so many kids and yet he's singular. The trials he goes through are not simple and not everything gets solved. His story in a lot of ways begins at the end for him. Very very good.

Have you guys ever reblog those tumblr post about books that tear your heart being your favorite? The one about the mom asking the person what their favorite book is? the sad one? they say, and the person replying, "WHICH ONE?" You know, because there are so many favorite, sad books?Yeah…I can't relate.I'll 100% admit it. I am the biggest wimp in the world. I just can't. Listen, I could read it, but I probably won't ever pick up the...

I really enjoyed this book and wanted to sit and read it in one sitting, but the further I got into the book the quicker I realized that wasn't an option. This book deals with some heavy stuff and it is handled well. I had to stop reading for a while several times because my emotions were getting the best of me. The thing that upset me the most was that I know this kind of stuff happens and real life and it makes me so angry. Evan is so likable...

This was a hard, emotional book to read but one that, when I was done, felt like I had just read something very important. It wasn't just a coming out story about a boy finding his sexuality but also about telling the truth about an abusive parent. I believe this was the first book I've read with an abusive mother toward a son and it was chilling(as it would be no matter what) to read how much this mother hated her son.Evan was the type of charac...

Oh man, don't be fooled by this fun cover — THE DANGEROUS ART OF BLENDING IN will break your heart in the best way. Evan is a Greek-American and senior in high school, but he's also struggling with defining his sexuality. While not yet out, he's been having strong feelings for his best friend, Henry. But Evan also hides a tragic secret from his friends. His mother is both verbally and physically abusive, and his father, while empathetic toward ...