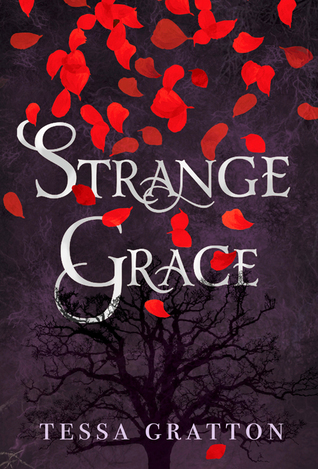 Once, a witch made a pact with a devil. The legend says they loved each other, but can the story be trusted at all? Find out in this lush, atmospheric fantasy novel that entwines love, lies, and sacrifice.Long ago, a village made a bargain with the devil: to ensure their prosperity, when the Slaughter Moon rises, the village must sacrifice a young man into the depths of the Devil's Forest.Only this year, the Slaughter Moon has risen early.Bound...
---
Details Strange Grace
Title
Strange Grace
Author

Tessa Gratton

Release Date
Sep 18th, 2018
Publisher

Margaret McElderry Books

Language

English

Genre

Fantasy

,

Young Adult

Rating
Reviews Strange Grace
ARC provided by the publisher via Edelweiss in exchange for an honest review. "I fell in love with the forest. And the forest loved me back. And so we traded hearts. Mine is here, larger and stronger than it could have been in the small cavern of my body" I've read over one-hundred books so far in 2018, and Strange Grace is easily my absolute favorite. And I anticipate that it will be my favorite book of 2018 come December 31st, too. What...

"This valley is made on love, little bird. Find love. Seek it, always. That is where our power resides." In the town of Three Graces, no one is ever injured or killed. To achieve this, the town must sacrifice a boy every seven years — but this year, the sacrifice comes early. Following an angry boy, a saint, and a witch, this book is a weird and magical journey. →the good stuff←I memed in this First of all, god, you guys, the body horr...

Have you ever realized you were sitting reading with one hand covering your mouth?That's how large parts of this book were for me. Strange Grace was such a beautiful, eerie, twisted, and compelling story. The haunting atmosphere of the Devil's Forest with its whispering creatures, shadows over your shoulder, and echoing laughter of the devil will chill your bones while you read – while somehow still coming off as an inspiring story about lo...

In a town free of illness or bad fortune, a deal has been struck with the devil. Their easy living comes at a price, a saint who enters the woods every seven years, seldom to return. What happens in those woods is a mystery. We follow a trio of amazing characters united in their love for one another, Mairwen, a Grace witch; Rhun, the expected saint; and Arthur, a moody outcast who will each have a role to play as the devil demands a heart be sacr...

View review on my blog, Library in the CountryReview copy generously provided by the publisher via Edelweiss.Strange Grace was such a beautiful tale about love and sacrifice, with a wonderfully eerie and unsettling twist to it. This is the PERFECT Fall read and perfect if you're looking for something to sweep you up and cradle your heart.Many generations before Mairwen, Rhun and Arthur were born, their village of Three Graces made a bargain with ...

LO AMÉ.Es perfecto.Una de las prosas más hermosas, poéticas y mágicas que he leído. En serio, toda la magia de este libro, que es bien, bien primitiva y llena de poesía, viene de la mano de la narración.La historia es tremendamente interesante, y del romance mejor ni hablemos porque mi corazón no puede con tanto.Impecable.

Thanks so much to Simon and Schuster Canada for providing me with an eARC of this via NetGalley! Strange Grace has such a compelling, eerie premise: every seven years, a boy is sent into the Devil's Forest as a sacrifice to allow the village and its occupants to remain safe and prosperous for the next 7 years. Except, one day, this spell is inexplicably interrupted 3 years into the 7 year interval. THE MYSTERY. THE SUSPENSE. And I gotta admit, ...

ARC provided by the publisher/Edelweiss in exchange for an honest reviewBuddy Read with Melanie @Meltotheany | Julie @Pages and Pens | Candace @ Literary Dust

This is a really hard book for me to review. I'm going to do my best, but it's a book I think you really need to experience for yourself.In the village of Three Graces, no one is sick. The village is perfect: crops never die, no one dies unnaturally, people heal from horrific injuries in just days. This is all achieved by a deal with the Devil of the forest made hundreds of years ago. In order to maintain that bargain, the village must send their...

Do you ever read a book where the whole time your mouth kind of gapes open and your eyes are a little bigger than they should be because what dafuq did I just read? Tessa Gratton's Strange Grace is the definition of dark fantasy and a book that surprised me over and over again.This novel is an intense story wrapped up in just a whole lot of f**kery. The first half is a little slow, a little drawn out, building and building to the main event: the ...

You can find this review and others on my blog shades of paper "Every seven years their best boy is sent into the forest from sundown to sunrise, on the night of the Slaughter Moon. He will live or die on his own mettle, and for his sacrifice the devil blesses Three Witches." I cannot tell you how excited I was of this upcoming release, because not only the premise sounded epic and totally right up my alley, but also the reviews I saw about...

An arc of this book was sent to me by McElderry Books (Simon Teen) in exchange for an honest review. All thoughts and opinions are my own.Rating: 4 / 5— writingAn absolute masterpiece. Tessa Gratton's writing is by far one of my favorites that I have ever read. It has a dark vibe with a magical tone. It was a bit slow for the first half of the book, and the ending half was a bit of a rushed mess, but the writing in general was pretty good. Th...

Every single thing I've ever wanted is in this book and I honestly don't know what to do with my life now that I've finished it. "Strange Grace" tells the story of a village that knows no sickness, no famine, no pain all thanks to the bargain made 200 years ago between a witch and the devil and will remain as long as they keep sending their best son out into the forest every seven years with no promise of his return. This time the hunt ...

I received an e-ARC from Edelweiss in exchange for an honest review. Review can also be found on *Milky Way of Books*This scary, magical, amazing, detailed, dark, twisty and romantic book is worth every adaptation it can get! As I mentioned on Twitter: "Princess Mononoke meets the final story from Fantasia 2000 with a strange dark twist".Mair, Rhum, and Arthur live in the fictional village of Three Graces, where every seven years, their best boy ...

🌸🌸🌸🌸🌸 (5.00/5.00)Strange Grace is one of the oddest books I've ever read (and I read a lot of odd books) and I loved every word of it! It's eerie and whimsical, definitely a very atmospheric read, and filled with beautiful writing and the most wonderful set of characters anyone could wish for. This was my first Tessa Gratton novel and I must say — I'm impressed. More than impressed: I'm in awe. And my love for Mairwen and...

Once, a witch made a pact with a devil. The legend says they loved each other, but can the story be trusted at all?In Three Graces there is no illness, no tragedy, no bad fortune. The price for a perfect existence? Every 7 years when the Slaughter Moon rises, the best boy is anointed as the saint and sent to run into the Devil's Forest where he will either die or emerge forever scarred. But this year the Slaughter Moon rises early, and when the...

*Thank you to Netgalley and the publisher for providing a copy in exchange for a review. My opinions are honest and my own.I've had my eye on Strange Grace for months, so when I saw it was available to request on Netgalley, I had to request it. Well… at least I don't have to preorder it anymore.The weird thing about this book is that despite not liking a single thing about it, I still want to give it 2 stars at the very least. And I skim re...

See Full Review On My Blog: Between Folded Pages ARC provided by the publisher/Edelweiss in exchange for an honest review.This book was everything I want in a book about witches! The writing style is beautiful and atmospheric. Strange Grace captures the feeling of being inside a dark forest perfectly along side a corrupt village. This is the perfect fall read, Three Graces is a small village, where no harm comes to the villagers. The people do ...

ARC provided by the publisher via Edelweiss in exchange for an honest review.Minor spoilers are below, and I'd suggest reading the synopsis before diving into my review.5/5 stars for Strange Grace! I was a little nervous going into this one, mainly because I DNF'd Queens of Innis Lear by Gratton. I enjoyed her writing but I think it was just the wrong time for me to be reading that book - I couldn't get into it. That being said, I had absolutely ...

*This ARC was provided to me by Netgalley in exchange for an honest review*Strange Grace is a book about a town that made a deal with a devil. Right off the bat I thought the idea for this book was very unique and it was definitely something I wanted to get my hands on. When first starting this book I have to admit that I was sucked in by the atmosphere. The beginning was intense and I liked how dark and beautiful Three Graces sounded to be. Some...

Many thanks to Edelweiss Plus and the publisher for providing me with an eARC of this title for review. All opinions are my own.Actual rating: 4.5/5 Stars. I really, really liked this take on dark fantasy. It reminded me, at times, of the original fairy tales, the ones with dark lessons and real monsters, and gruesome lessons for children. Because while the people of Three Graces valley are content with their deal with the devil-every 7 years, du...

The perfect October read!! I loved the premise and the world building! The characters were surprisingly diverse and complex and the story itself really challenged gender/sexuality norms and expectations. The narration hops between protagonists and timelines, which I felt really added to the story! This creepy read really makes you feel the "The Clock Is Ticking" vibes as you read, and I couldn't wait to get to the end. Strange Grace feels a...