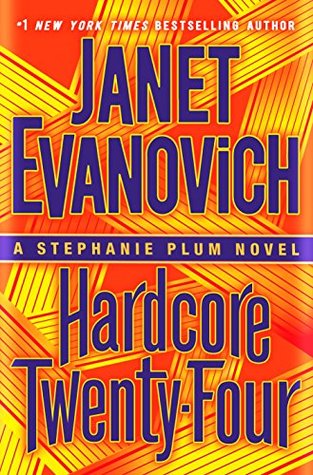 Janet Evanovich's #1 New York Times bestselling sensation Stephanie Plum returns in her twenty-fourth thriller as mutilated corpses litter the streets of New Jersey...Trouble comes in bunches for Stephanie Plum. First, professional grave robber and semi-professional loon, Simon Diggery, won't let her take him in until she agrees to care for his boa constrictor, Ethel. Stephanie's main qualification for babysitting an extremely large snake i...
---
Details Hardcore Twenty-Four (Stephanie Plum, #24)
Reviews Hardcore Twenty-Four (Stephanie Plum, #24)
After Reading: Zombies. Are you kidding me???? About five years too late on that trend (in my opinion) and five times too ridiculous. Once again... no character development, no growth, same old same old, ping pong between Ranger and Morelli and add a Diesel just for kicks. It has been so long since his last appearance I remember nothing about him and I don't read the Wicked series, so it just seemed ridiculous to me. At least she only totaled two...

I finally figured out the target audience for this series! My younger cousin is trying to read again--she has a four-year-old and a two-year-old, so I'm doubtful for her chance of success--so I introduced her to this series. To be completely honest, I took three things into consideration when suggesting it: one, in the early part of the series, I always laughed out loud at least once a book, if not more; two, they have a low mental commitment val...

"It's filled with raccoons. They were eating cereal and stuff and rearranging the furniture."These books are like a movie-snack: popcorn, candy, you get the idea. I laugh and smile every time that I read one.

A fast, light, and fun read. Stephanie is all that we are and all that wish we could be: insecure in her looks and in her abilities, yet trustful and secure in her relationships. She's fearless and independent, with a loyal sidekick and protective men in her life. She questions her relationship status at times but is confident she is exactly where she needs and wants to be at this point in her life. She is able to eat all the junk food she want...

Oh, the usual Stephanie Plum book. Half the book is her and Lula eating enough junk food to feed a college frat house and the other half is her chasing after some dumbass criminals and totaling cars - often Ranger's cars... "Bad news," I said. "It's about your Lexus." "One of my patrol cars drove by it an hour ago and said it was being circled by vultures." "There was an unfortunate incident with a dead groundhog." "I didn't...

Boring, sick of Evanovich formula, disgusted with StephanieOne of your friends makes an unexpectedly hilarious joke at just the right moment, and everyone laughs until they're leaking bodily fluids. Then the moment passes and everyone gets over it, but the friend liked the attention and keeps trying to tell the joke over and over again or reference it or try to tell similar jokes to the point of seeming desperate for a reaction. In my opinion, ...

🌟🌟This was the first time I've been let down by a Plum book. Most of my friends in various Stephanie Plum groups admit they stopped reading the series somewhere around book 12. I thought that was short sighted and I still had a lot of fun reading about Stephanie's antics even though Janet never makes any real headway in a permanent love interest direction. Up until this book I would have described myself as a Plum. Not necessarily a Babe or...

When I opened this book, the 24th in the series featuring offbeat bounty hunter Stephanie Plum, it was not without a bit of trepidation. The previous installment, Turbo Twenty-Three, was so lackluster that I gave it just 3 stars (and grudgingly at that). Aside from the same old, same old characters who just can't seem to grow up, the story itself was borderline silly.But alas, my hope of improvement just wasn't to be. Not only is Stephanie still ...

3 starsThere are still some laugh out lines in this continuing story of Stephanie Plum, bail bond enforcement agent. But the formula is getting worn out. She is still seeing Ranger and Morelli, but can't decide between the two. There is a new man in her life, Diesel, who comes and goes as he pleases, sleeping in her apartment periodically, even though he doesn't have a key. If you are a fan of this series, you will probably like it. Lula, Stephan...

Binge read it in 5 hours! I so needed the laughs from this book and there are plenty of them. Lulu had me rolling. Grandma Mazur is more hysterical than ever. Joe is still overworked but sexy. Ranger is still mysterious but sexy. Diesel is, wow, what can I say? I love Diesel!! Stephanie has her hands full for sure! Can't wait for #25. Looks like it's gonna be another great one!

In the latest book in this series, bounty hunter Stephanie Plum and her sidekick Lula are knee deep in snakes and zombies. I read this series because it is the closest I get to slapstick comedy. The scenes and conversations are outrageously funny. Stephanie's grandma, who has to be 90 years old, meets a new boyfriend online and his picture shows him to look exactly like George Hamilton. As usual, Stephanie goes through cars as fast as Lula goes t...

I had been missing Stephanie Plum, and Hardcore Twenty-Four was our perfect reunion. Stephanie's off-beat family and healthy list of suitors always makes reading Janet Evanovich's stories entirely enjoyable.The only bad thing about finishing this book today is that now I have to pretend to be patient while I wait for book #25.

Despite being on my author TBR pile for ages and this being the 24th book of the series it's actually the first one I've read. It's a fairly short book but quite the page turner so it's a quick read. I found it easy to get into the characters. They felt fully formed and well rounded. I loved gran. I could happily read a book of her stories alone. The story line is bonkers (now wondering if they're all like this?) full of zombies and garden gnom...

I had a heck of a good time with Hardcore Twenty-Four. I was ready just about ready to give up on Stephanie Plum but this got my right back on track. The Zombie angle was a lot of fun and Grandma Mazur and Lula were in their best form and made me crack up a few times. One of the best books in this series. A fast and super fun read.

2.5 stars, to be kind for Christmas Day. The good news is that Stephanie has found new ways to destroy Ranger's cars, amusing him and his Rangeman staff, Lulu continues to use her body to subdue their quarry, and Stephanie is kind to a pet boa constrictor, whose owner is jailed following his capture. On the other hand, zombies running amok in the Burg? Silly for sure, but the local residents would never stand for it. And somehow, Evanovich was un...

Stephanie Plum books remind me of Thanksgiving because they always come out this time of year. All the things that remind me of home were in the book. Lulu and her outrageous clothes, Grandma Mazur going to a viewing with a gun in her purse, Stephanie destroying a car, Stephanie's mom nipping at the alcohol and of course deciding between Morelli or Ranger. Diesel is in this one too and he is always fun.If you are a fan of the series, you will lov...

I have been a fan of the Stephanie Plum series since I picked up the first book, but I have to say that I think this book makes it seem that the series is running out of steam and becoming so filled with repetition that you could read any book in the series and you'll have read EVERY book in the series.This time around Stephanie finds herself taking care of a snake when she brings in one of her FTA bounty pickups. If that wasn't enough, she's app...

I have a confession to make-- I do not care who Stephanie will choose for her forever love interest, or, I have to admit, if she ever chooses.That being said I want to state the reason why I picked this book. For every book I read there are probably 10+ books that I desperately want to read but put on the side of a very, very long wish list because I see something in the description that I need or want at the moment. With the Stephanie Plum books...

You know when you can just read a book so quickly that instead you end up taking almost a full week to finish it? That.If you know about Stephanie Plum then you know about Stephanie Plum.This is one of my favourite series despite my touch and go moments with continuing.Yes character progression is basically now a myth in this world, and yes we all know the formulaic sequence of events so well we could recite it blind folded and hanging upside dow...

I have read every Stephanie Plum novel since One For the Money made me laugh out loud in 1994. Sadly, Hardcore Twenty-Fore did not so much as make me smile. What made the Stephanie books so great was how down-to-earth they were, with great characters doing hilarious and ridiculous things. Readers were enthusiastically divided between Morelli lovers and Ranger worshippers. And the plots were crazy, though to me they were secondary to the character...

When I pick up a Stephanie Plum novel I'm not expecting a novel that's transcends me or has some poetry in its prose. I'm looking for wit, irony, something engaging and simplistic or even slightly unrealistic. Hardcore 24 met my expectations and kept me highly entertained. Woo hoo, that's why I continue buying these novels! A perfect read after a hugely disappointing one.

Hardcore Twenty-Four is your typical Stephanie Plum story. It revolves around two main "skips" that Stephanie and Lula are tracking with some "Zombies" thrown in.I read all of Janet Evanovich's books because they are really an easy, "No Brainer" read....pun intended.There wasn't as many funny parts in this book and I think that is what most people who read this series is looking for......that and Ranger and Morelli. I am a Ranger fan and even tho...

'He walked me to the door, leaned in and kissed me. Friendly. No tongue. No groping. A little disappointing.' So much fun as our favourite bounty-hunter tackles zombies (stick with it, it all makes sense in the end...), a giant snake, and not one, not two, but THREE hot guys! With Lula along for the ride and Grandma Mazur almost involved in a pensioners' swingers club, I giggled inordinately throughout this. Oh, and for the record, I'm a Ranger g...

Will I still read these books? Yes. Do they need an update? Definitely.1) Why is Diesel in this book? Not only is he barely in it, but he brings a magical realism aspect that is missing from literally every other book in the series except the between the numbers ones. It's not interesting; it's actually kind of annoying. Not only is he yet another attractive man Stephanie wants to sleep with (and for some reason is attracted to her despite us bei...

I've been down on the last few books in this series, I keep hoping they will return to how good they were at the start. But it seems like the books are becoming a parody of themselves, everything is over the top and the characters stereo-typical. I also want Stephanie to get her shit together on the job front, to pick between Ranger and Morelli, even it's the guy I don't want her with. With this book it seems there's now a distant 3rd guy, not su...

We need to talk about Janet Evanovich.I loved the Stephanie Plum series. The first 10, 15 books were great. Not realistic, mind you, and not great art. But they were entertaining quick reads, and they were funny. I even stood in line at a bookstore for hours to have her sign my copy of Sizzling Sixteen. I tracked down an out-of-print book of short stories on ABEBooks.com because there was a Plum story in it. I even read the weird between-the-numb...

You know what you get with a Janet Evanovich "Stephanie Plum" book. An independent, pretty girl, a couple of hunky guys – Moretti and Ranger - to team up with, and an adventure full of mystery and silly zaniness. Solving the mystery usually involves visiting different locations, lots of overwhelmingly crazy characters, and comical situations throughout the quest. There is lots of teasing and innuendo between the Stephanie and the hunky guys...

Lots in this book and you won't want to miss it if you are a Stephanie Plum fan. Steph and Joe are on (again) but don't count Ranger out, and Diesel has made a reappearance, and they all want Stephanie! Lots of cozy sex and, of course, Stephanie totals a car, or two. Yeah, I think it was just two this time, maybe it was three, but who's counting. I wish I could be a fly on the wall when Ranger collects. Be still my heart. Can't wait for Twenty-Fi...

Another fun and sassy book featuring Stephanie PlumThis book involved, zombies and a snake. As always Stephanie & Lula embark on their regular antics. Stephanie kills a few vehicles and has a tender heart and lets people take advantage of her.Zero Slick, one of the characters is just like his name has. The gnomes are outrageously hilarious and the book is just plain fun. Diesel makes an appearance in this one and Ranger comes into play a few time...