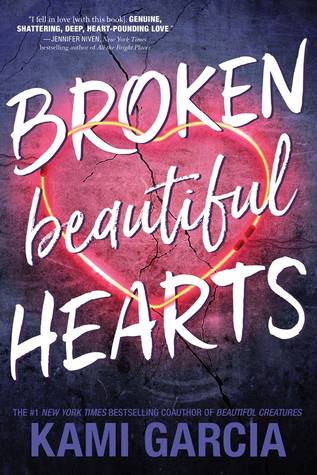 Before, Peyton was a star soccer player with the perfect boyfriend, Reed. Now, she has a torn knee ligament, a scholarship on the line, and a shattered sense of self. No one believes Reed pushed her, causing her injury, and Peyton just wants to leave the trauma behind. Living with her uncle and twin cousins in their small, football-obsessed town seems like a great escape plan. There, Peyton meets Owen—high school classmate and local MMA fighter...
---
Details Broken Beautiful Hearts
Title
Broken Beautiful Hearts
ISBN

9781250079206

Author

Kami Garcia

Release Date
Feb 6th, 2018
Publisher

Imprint

Genre

Contemporary

,

Young Adult

,

Romance

,

Sports and Games

,

Sports

,

Young Adult Contemporary

,

Realistic Fiction

,

Teen

,

Contemporary Romance

,

Sociology

,

Abuse

,

High School

Rating
Reviews Broken Beautiful Hearts
4-4,5 STARS Kami Garcia delivers a poignant,heartwarming and sweet story!I was hooked from the beginning and there were many things I enjoyed in this story!The writing was beautiful, the plot interesting and the characters were great!I haven't read before a book from Kami Garcia and I'm happy that I finally did it, because I loved it!Everything about it felt realistic and I could easily keep up with the story!Peyton was a difficult heroine in my ...

I was really excited to be contacted to review the audio book! For awhile I didn't care for audio books but I've come to realize that they are so convenient. The narrator is Brittany Pressley—whose narrated books from The Heir by Keira Cass to Bella Frost and Carolyn Brown. The words from Broken Beautiful Hearts as heard from Brittany, is beautiful, as she was really able to catch the essence of the book. The story started off strong but my...

Fun read with a hero that I loved!!!

I love Kami Garcia's books and I love YA contemporary so it was a no-brainer for me to add Broken Beautiful Hearts to my TBR pile. I had heard mixed things about it; however, I was hopeful that I would enjoy it. As it turns out, I'm so glad I gave Broken Beautiful Hearts a try. This book is the perfect combination of heartbreaking and heartwarming. I laughed, I smiled, I cried...I honestly wish it would've went on for ever, that's how much I enjo...

Although this story had a lot of movement and pull to keep me reading, it wasn't enough to mask weak characterization and an unbelievable turn of events. I appreciated the attention brought to violence in relationships, but other than that this book breaks no new ground. It's sadly predictable in every way.

RTC.This was definitely more than just its fluff. :)

4.5 CocktailsI loved this story. Full review to come.

I'm so glad our Teen Library Council is a Teens' Top Ten book group. When I opened the box of ARCs from Macmillan, I couldn't wait to read this contemporary romance myself. I would suggest it to fans of Katie McGarry. I especially loved the idea of imperfect days and happily even afters.

I was stoked to read this book because like Peyton, I was involved in an accident caused by someone else that ruined my knee and life. I thought I could relate to her. I thought this story would be powerful and inspiring, but I was wrong. I didn't finish at 30% because the story and characters were awful. The story started off with Peyton reminiscing about her boyfriend of seven or so months and how he illegally fights underground for money. Sh...

I can sum Broken Beautiful Hearts up quickly: the main character, Peyton is a rising star, amazing soccer player headed to her dream college. Then she finds out her fighter boyfriend is abusing steroids, confronts him, he goes into a rage and pushes her down a flight of steps outside a party. Peyton tells everyone, including her boyfriend's sister who is also her best friend, what happens but nobody (other than her mother) believes her. Then the ...

Broken Beautiful Hearts promised that it would break my heart and put it back together again, and it did just that. This book was an emotional roller coaster that was full of so many interesting twists and turns. Reading this book reminded me why I love Kami Garcia's writing so much!A large portion of the plot focuses on abusive relationships. I have no personal experiences with abusive relationships, but it is so important to have these topics b...

All I have ever read by Kami Garcia is the first couple of books in the Beautiful Creatures series. I haven't read any of her other YA standalones or series. I was very interested in getting this ARC from Netgalley so that I could see if I like her contemporary - since I know I like her fantasy/paranormal stories. I wasn't disappointed! This book read like a true young adult - Peyton's life is shaping up nicely - she has it all… an accept...

I loved this book!! This was my first book by this author and I loved every second of it. While it's ya it's more of a mature ya. This deals with a very difficult subject matter that happens at the teen level that no one talks about or reports. Abuse by a boyfriend/girlfriend. The author finds an amazing balance in this book, while she talks about a serious subject she does interject humor to lighten the book up some. I plan on having my 18 y...

Wow! I couldn't put this book down! I read it in two days. I did read Beautiful Creatures by Kami Garcia and Margaret Stohl and I and wasn't the biggest fan of it, but Kami Garcia knocked this one out of the ballpark! I totally recommend if you are in need of a good contemporary book. It was interesting and different! I was very lucky to have this as an ARC.

Review closer to release date.

Good plot and nice touching story. Review to follow

Could not put this one down! Perfect book to read on a snow day! Full review to come on Lisa Loves Literature.

First let me say I've been on this contemporary kick lately, and enjoy reading some lighter fiction. I will really try to avoid any spoilers, but caution. That being said...There were so many things that annoyed me with this book. I'm not saying you can't have a good contemporary book, or that there isn't any good fiction out there, but this book annoyed me on a lot of levels. The writing was not strong throughout this book, it had it's moments, ...

Oh, goodness. Broken Beautiful Hearts has much of the emotional writing of the Beautiful Creatures series, but with real-life, non-paranormal-inspired drama for a change. (I know I'm behind on my Kami Garcia books--that's going to have to change!)Peyton and Owen are a great couple, once they finally get all of their secrets out of the way--and OMG, do these two have secrets. Each of them nearly let them destroy themselves and each other, but in...

I have long been a fan of Kami Garcia, and when I saw the synopsis of this book, I had to read it. It's not your typical YA contemporary romance, it has a great deal of substance and depth.Peyton is a smart, intelligent, and strong girl. She lost her father in the Middle East, but she doesn't let that stop her ambitions. She is so excited when she gets her acceptance to the school she has dreamed of going and playing soccer. She is eager to s...

*Book Received in Exchange for Honest Opinion/Review*This book, come at me YA feels! I knew the plot line...by half way through the book I knew how things were going to play out but damn if that mattered because by then I was already consumed by these characters. I put the book down to sleep and spent the entire day at work thinking about Owen and Peyton, and being totally productive *cough, cough*. In all seriousness, I adored this story and lov...

Peyton has a wonderful future ahead of her. The just got into a great college along with a starting position on their women's soccer team. Everything is going great. That is until she discovers a horrible secret her boyfriend is hiding. When she confronts him he does the worse and manages to change her whole future. Once things change irrevocably her mom makes her move in with her uncle and her cousins. Knowing she only has to survive this new ...

Broken Beautiful Hearts*received an arc in exchange for an honest review**5 ⭐⭐⭐⭐⭐A great book that you won't want to put down. Two people will be faced with losing their dreams and what are they going to do to make sure they don't lose each other. They will be faced with challenges and have to find strength in not only each other but themselves. Kami Garcia weaves a heartwarming story that will have you wanting more.Peyton was on he...

Note: This review contains NO spoilersI loved this story. Broken Beautiful Hearts is a poignant and riveting story of heartbreak, betrayal, and second chances. Secrets has a way of coming out and hurting people. This story also tackles very real issues. I would also suggest reading the Author Note at the end of the story. This read kept me turning the pages as I followed these characters to the end of their emotional and troubling journey.Kami Ga...

Broken Beautiful Hearts by Kami Garcia is a full length, stand alone, YA, contemporary romance novel.Meet Peyton, shes in her senior year at high school, a successful soccer player, a popular teenager.Her boyfriend Reed has changed. From nice to mean and controlling, violent stalker.When he pushes her down a flight of stairs she cant believe it, and neither her friends.To escape the gossip she moves to her uncle and his twin sons. She attends col...

Received as an ARC from Netgalley in exchange for an honest review. While I didn't love the Beautiful Creatures storyline that much, I was excited to see a new book by Kami Garcia. And this one, I really enjoyed. The only thing I didn't like was the quick wrap-up. I'm not sure what I wanted exactly, I just felt like it wrapped up too quickly. I also enjoyed the author note at the end of the story. I think that really drove home the point of the b...

This was a great book. Very New Adult though as it was a tad graphic in some areas.There are multiple scenes of alcohol consumption and tons of fighting.The relationship that Peyton and Owen develop is awesome. I am not usually a fan of the "at first I hate you but now I love you" progression but it really worked for these two. Peyton's previous relationship lends a helpful hand for the reader to understand her timidness to develop feelings for s...

Thank you Macmillan for sending me a copy! I finished this in a few hours and I'm still processing my feelings about it. This book is by no means "bad." I just expected a lot more. I expected to be sobbing uncontrollably into my teddy bear by the end and it just didn't happen.I am hopelessly bad at predicting how books will end, but I called this one from the start. Was it romantic? Eh, sure. I was ok with it. I didn't find Owen as swoony as Peyt...