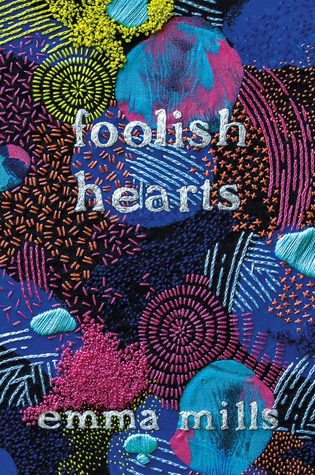 A contemporary novel about a girl whose high school production of A Midsummer Night's Dream leads her to new friends—and maybe even new love.The day of the last party of the summer, Claudia overhears a conversation she wasn't supposed to. Now on the wrong side of one of the meanest girls in school, Claudia doesn't know what to expect when the two are paired up to write a paper—let alone when they're both forced to try out for the school produ...
---
Details Foolish Hearts
Title
Foolish Hearts
ISBN

9781627799379

Author

Emma Mills

Release Date
Dec 5th, 2017
Publisher

Henry Holt and Co. (BYR)

Genre

Contemporary

,

Young Adult

,

Romance

,

Young Adult Contemporary

,

Fiction

,

Lgbt

,

Realistic Fiction

,

High School

,

Teen

,

Family

Rating
Reviews Foolish Hearts
Reread on January 23 2018: I loved it even more than the first time. I fell in love with all of the characters so much more. This has become one of my favourite contemporaries of all time.Original review, posted on May 8 2017: Oh my gosh, this book was so fantastic! I feel so light and happy after reading it. It may just be the funniest book I've ever read...I honestly don't think I've ever laughed out loud so much while reading a book like I did...

I'm between 3.5 and 4 stars on this one.Every so often, after I've read a number of thrillers, crime novels, or even emotionally draining books in a row, I seek out what I like to call a "literary palate-cleanser," essentially a book which appears to be a little bit lighter in tone and one which won't have me eyeing my neighbors and delivery men, expecting a crime to break out.The "palate-cleanser" term isn't meant to be a disparaging one—somet...

Full review posted:Emma Mills must have like a special sauce she consumes before writing a book bc the way shes able to craft these fluffy, emotional, heartwarming stories with important undertones is truly a work of art. THERE'S SO MANY AMAZING ASPECTS TO THIS BOOK WHERE DO I START???1. fantastic sibling rep: His eyes light up upon seeing the cookies. "Did you make them?""My sister did. They're just the break-and-bake kind.""Those...

This was so delightful. I sat down intending to read 50 pages and instead I read 270. I honestly cannot deal with how cute this book was gahhhhAlso, and I don't really intend to type up a full review of this, but I just have to say: thank GOD for this book about girls who are friends with each other and aren't competitive or jealous of their friends having friends. Thank god for these women being funny and loving and supportive. I love them. ...

4.5/5 stars"You need Google Maps to find your way out of my eyes, or at least a comparable navigation app"Hello, hi, I'm coming to you from riding the longest a roller coaster ride of emotions of 2018.Yes, we are like 4 days into the new year, but that's beside the point.This book was so damn cute!I read this book in almost one sitting, and I say almost, because for some unknown reason my boss thought my day job was more important than reading???...

3.5 stars. This is a real page-turner, perfect for reluctant teens. Granted, it's light and not the kind of read that will change the way you look at the world, but it will give you a few good laughs, warm your heart for sure and possibly encourage you to get closer to someone you care about.Claudia didn't mean to, but she overheard a breakup scene between Iris and Paige, who form the cutest couple in her school. Because she's been discover...

This was such an enjoyable novel to read!Prior to reading this novel, I had not read anything or heard of anything written by Emma Mills before. Due to that, I was unreasonably apprehensive going into this novel and I didn't have high expectations but I'm happy to say that I was wrong and that.....I LOVED it. I could go on endlessly about the author's style of writing. It was the perfect fit to me as a reader. The writing and story flowed so well...

I legit don't know if I read the same book everyone else did. I'm so confused by the hype. Let's start off this review by saying I'm clearly not the target demographic but also f*ck that cause the target demographic is smarter than this, too. Claudia (it took me a solid 75% of the book to even remember her name) is a naive, idiotic, and childish MC. She's truly awful the majority of the damn book. She's cruel to the love interest-like...

"I don't want to bond. I specifically want to not bond. What is the opposite of bond?""Alienate?""I want to alienate.""Well, you're pretty good at it."My heart is just so full right now guys. I can't even. My congested head did not appreciate the five bouts of crying but there was an even greater amount of literal laughing out loud that happened so I'll pop an extra sinus med for my troubles and call it a day. It was totally worth it anyway.>Gide...

I want to thank Macmillan US for providing me with this copy of Foolish Hearts. This didn't influence my rating or my review in any way.I can't believe I actually enjoyed my first physical ARC. With my luck, I was certain I would absolutely hate it. BUUUT, I absolutely adored it, if I could give Foolish Hearts – a thousand stars, I would. I hugged this book a hundred times and I laughed so much even though I was nursing a cold. I mean it, i...

It's been a while since a book made me swoon like really swoon and guffaw. Foolish Hearts grabbed me from the very start. If you want to laugh and fall in love with the characters, I would recommend this book.It's a great reminder for me, who haven't been able to churn YA for awhile, that there's still magic in this genre.

"In truth, we are rarely all on the same page. More often than not, they're all on one page, and I'm on a completely different one." This is the first Emma Mills book I've ever had the pleasure to read and I have to say I'm completely blown away! Foolish Hearts is a beautiful and honest story about love, friendship, forgiveness and acceptance, along with a clever parallel between the cast of Foolish Hearts and the cast of Shakespearean mast...

4 stars. I love Emma Mills' books! If I ever change my mind about YA contemporary, it'll be because of her and Kasie West. :D***Review to come***

This book was absolutely delightful, wonderfully lighthearted and diverse. I haven't read a YA contemporary in a while, and to be honest, I've gone off them as (although ya is getting better with representation and diversity) there are still a lot of problematic books out there, but I was pleasantly surprised with this book, and am so glad that I picked it up as soon as I got my hands on it. Foolish Hearts has a lot of things going for it, there'...

I feel like every time I finish an Emma Mills book I'm going to be saying it's my favorite... but OMG THIS BOOK WAS PERFECTION! I love it so much! No one does friendships and family like Emma and If you don't have this on your TBR list yet DO IT NOW!! FULL REVIEW I just love Emma Mills! I don't know how it's possible, but with each book she writes I find myself loving the new characters more than the last and that's saying a lot because I a...

You know that incredible feeling you get when you read the right book at the right time? And that incredible feeling you get when you encounter a character you find yourself identifying with in a really strong way? Well, combine those two feelings into one gigantic ball topped with giddiness, and swoons, and amusement, and you may find yourself with an idea of how much I loved FOOLISH HEARTS.I loved the cast of characters, and I loved the relatio...

Perfectly funny. Incredibly moving. This book captures the essence of living in the inbetween of staying put and moving on. Change in all its scary glory. But mostly it's about friendships, boy bands and Shakespeare. LOVE.Highly recommended

"What are you doing?""I'm gonna shoot him," Iris replies simply."Iris! You can't just shoot players indiscriminately!""He dumped you; he deserves to die.""That's--""In the context of the game," she amends. "His stupid character deserves death in the game."mind if i love them both with all my heart?? this book has some of the BEST friendships between girls and i love it so much holy shit our main character is so supportive to all the girls she com...

This is officially my favorite book from Emma and going on my top books of the year. I love love loved Claudia. She's snarky af and her inner monologue was fantastic. Gideon is adorable and goofy and the two of them were so much fun together. Really, the entire cast of characters is perfection. Plot wise, it was lovely. There are a few different plot threads, but it all went together so seamlessly. And somehow I'm completely okay with Emma'...

"Why, get you gone: who is't that hinders you?""A foolish heart, that I leave here behind. . . ." I received an Advance Reader's Copy from Macmillan in exchange for an honest review.I believe Foolish Hearts is a bit meta because the plot happens around a play production of Midsummer Night's Dream and the narrative itself puts the characters of Foolish Hearts parallel with the characters of Midsummer Night's Dream. When I realized ...

cute contemporary with teen drama.

File that under "makes me happy", because it did. I finally read my first Emma Mills book, and it may be love. Back in September, I shared a list of authors I NEED to read. Emma Mills was on this list, and I cannot believe it took me so long to read one of her books! This book was such a joy to read, and exactly my cup of tea.I am not quite sure where to start with my outpouring of affection for this book, but I am going to try.•Claudia was so ...

I don't understand how it's even possible Emma Mills managed to write a cast I love even more than the one in THIS ADVENTURE ENDS but I honestly loved this book so much I cried and then hugged it, because I'm really cool. I don't know if this is my new favorite book of the year but I do know it's in the top five. Reading it, I honestly can't believe how few YA contemps with a teen girl protag are about learning to love and value yourself and see ...

This book practically gave me a toothache it was so sweet. Emma Mills writes the most adorable characters in YA and you all should be reading her. There was one plot twist that made me super mad for Claudia, but no one else in the book seemed to think she had a right to be mad!?!!? Other than that... Perfection💜💜

"It's just easier to never start something than to have to see it end." 3.5 stars read full review here*full review include favorite quotes and a spoiler sectionFoolish Hearts was one of those books that I feel was just ruined by the hype for me. Because everyone seemed to be loving it so much, I went into expecting a phenomenal story, but what I got out of it instead is a mediocre story with some elements that I really enjoyed. So that's...