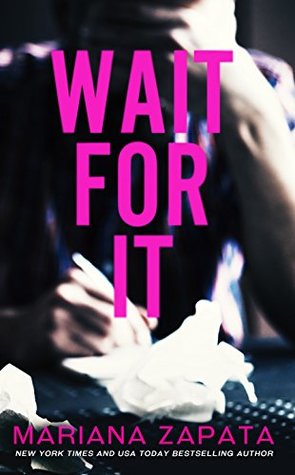 If anyone ever said being an adult was easy, they hadn't been one long enough. Diana Casillas can admit it: she doesn't know what the hell she's doing half the time. How she's made it through the last two years of her life without killing anyone is nothing short of a miracle. Being a grown-up wasn't supposed to be so hard. With a new house, two little boys she inherited the most painful possible way, a giant dog, a job she usually loves, more tha...
---
Reviews Wait for It
Low 4 StarsSo. I woke up on the wrong side of the bed today. Shocking, I know. What can I say.***Tangent Alert***At our last house, I had a door mat that said "GO AWAY."But Sir Handyman convinced me to lessen the mean and get one that says the ever cliche "Wipe Your Paws" at our new digs. But anyway. As I said, I am not feeling the Christmas spirit today. Or the review spirit, for that matter. So I have no actual idea what I am about to write her...

5 STARS Mariana Zapata surprises readers with the release of this story. I think her strengths are always found in her ability to write day to day scenes in her stories while building the excitement of the couple actually connecting. It's written in the same vein as her others as she takes you day to day with her characters building up the tension until the very end. Since her brother's death, Diana Casillas has been raising her two young nephe...

4.5 stars!!! "You can't always wait for someone else to do the right thing when you can do it yourself." After finishing Wait for It, I cried a bit. Why you ask? This is the last Mariana Zapata book I had to read, and it made me sad. Her books are so fantastic, and I've always looked forward to having a new one to read or listen to. I guess thank goodness there are always re-reads! I'm sure I'll be re-reading many in my future! Wa...

5 stars!Review at Of Pens and Pages You don't know what love was until someone was willing to give up what they loved the most for you." Mariana Zapata does it again! Wait For It felt familiar yet entirely new and refreshing. This book had everything I loved in her books and more. So much more. It had vibrant characters, the most wonderful slow burn you could ask for, an entertaining and authentic voice, and familiar characters we've met and lo...

4 Finding Your Own Idiot Stars* * * * Spoiler Free-Best Romance Semifinal Round-VOTE!!This book has everything a Zapata read usually has:Amazing Swoon Worthy Moments...Characters who jump off the page and you wish you knew them personally...Serious Life Lessons we all can relate to...An Extremely Slow Burn...And Heart...lots and lots of it.You will love Josh and Louie HARDCORE ❤❤❤ You will appreciate Diana and her philosophy of never lying...

4 stars! "You can't always wait for someone else to do the right thing when you can do it yourself." Mariana Zapata is the queen of the slow burn!Wait For It is the story of Diana, a young aunt who is raising her two nephews after the death of her brother and his wife. Moving into a new neighborhood, Diana meets her neighbor when she rescues his brother from being beaten up. From this point, their lives mix between family and friends and...

SO. I liked this book. I did. But.. I couldn't help but compare it to The Wall of Winnipeg And Me. I know that's a big no-no, but what I was looking and hoping for in this book was the same explosive and palpable chemistry Aiden and Vanessa had. And to feel that instant connection I did with those characters. This has the slow burn Mariana is known for. But FOR ME, the story felt like it was dragging. I was hoping for a slow burn romance and ...

There's something about Mariana…I'm convinced that Mariana has a magic pen (I'm not going to say fingers because that just sounds crude) for writing such awesome stories. If someone was to ask me if I liked slow burn romance stories I'd probably say no. Mariana Zapata's stories are an exception to the rule. Her stories are so full of heart and the characters have such passion and love that it seems inconsequential that her love storie...

I waited for it, I surely did. And although it was long, it was simply beautiful, unexpectedly and completely beautiful. Sometimes it's good to slow down, to give things time. I took my time with this book, after all it's fricken longer than most :-)) I'm not going to write a long review, as there are 1,000's out there already for this beauty however I need to say, if you can be patient, you HAVE to read this, you NEED to read this book. I love w...

➦I am soooo glad I picked this novel up before this year ran out. While Zapata's latest release Dear Aaron was a bit of a miss for me, this book I loved to bits. ➦It's a slow burn romance that carries tons of character development so, if you're a fan of those, grab it and run! lol And lock yourself in the room for a whole day while you devour it. While this book didn't quite top The Wall of Winnipeg for me, it will be a second favorite of min...

3.5 slow stars.While I enjoyed this one, I felt it dragged a little bit. The storyline was very sweet and everything but I found it a little "humdrum" = My own life, at times, is a bit humdrum. Same old ding dong every day. Work, laundry, dinner, exercise, drop son off for soccer, collect son from soccer, grocery shopping, glass of wine .... start all over the next day. So, when I read a book, I like to escape reality a bit.I really liked Diana. ...

This release was one of the best early Christmas presents this year. It took me totally by surprise and turned my day yesterday into a happy one.Knowing the authors books, she delivered exactly what I had hoped for.A slow burn romance, packed into 600+ pages (it's a guess;-). I had a smile on my face the ENTIRE time.The book was packed with everything I adore. Cute kids, strong and snarky heroine, a grumpy hot neighbor and wonderful supporting ch...

Re read 12/14 - 12/16/17 5 buttercup stars! Imagine my surprise when I learned about this book (TY Nissan) the day before it was released, I was in heaven. I couldn't have been happier "wait for it" met my expectations and had me captivated from page one. As always Mariana manages to create this fantastic and relatable characters that just makes you have all the feels. With her signature slow burn style that I love. Diana, is the guardian of her ...

I liked this, but didn't love it. I knew going in it was going to be a slow burn - MZ builds her stories slowly, weaving in layer upon layer and I love that, usually. And here starts my waffly thoughts, rather than a review. This time the slow burn was too slow and didn't really do much for me, I got a lot of the layers that I know MZ is going to give me, but the nitty gritty was missing. I didn't feel the romance between Diana and Dallas even th...

5/5 starsreread: 04/07/17 13/10/17My heart. Too many emotions. Overload. I loved The Wall of Winnipeg and Me by Mariana Zapata instantly, so I had equally as high hopes for this one and I was right, I am a sucker for a broken family and people going above and beyond for others. I immediately liked Diana when she was first introduced in The Wall of Winnipeg and Me but you see a whole new side of her in this book, she is more mature (and crass) but...

Check out this and my other reviews at My Blog, Facebook, Google+, Twitter and Pinterest★Book Basics★ Genre : - Contemporary Romance Series : - Stand Alone Love triangle? - (view spoiler)[No (hide spoiler)] Cheating? - (view spoiler)[No (hide spoiler)] HEA? - (view spoiler)[Yes (hide spoiler)] Would I read more by this author/or in this series? - Yes Rating - 5 stars★Review★You know what I hate about a MZ book, when I have finished...

3.5 starsI think we can all agree that Mariana Zapata is a master of the slow-build romance and an excellent author with the ability to make you read about every day mundane occurrences with the same avidness that you would read a nail-biting thriller.If you have not yet read anything of hers, I implore you to give her a try. Especially her The Wall of Winnipeg and Me book, one of my all time favourites. This book, for me, didn't quite reach the ...

4 "slow burn love" starsSome people in life got lucky and found someone great, the rest of us either took a long time… or not everAnd Diana Casillas was lucky enough...to find what everyone hopes to find at some point in their lives...and she makes it happenThis was another slow burn romance from a "slow burn queen" Mariana Zapata, and I found several points "close to home" that kept my interest, brought up funny memories as well as some sad on...

"I always thought you looked like mine, but you sure do fucking feel like you're mine, too."Breathe in.Breathe out.Calm. I am calm.FUCK!!!!!!!!!She's fucking done it again!!If I haven't already made this clear before, Mariana Zapata is one of the BEST storytellers EVER!!Her words! Fuck her words fucking hit me every single turn of the page.It's so real. To the silly nicknames to every conversation, it's just real life to me. I loved her other...

3.5 starsI'm a little bit conflicted on how to rate this; while I wasn't too crazy on the plot (what plot?), I love love love the characters in this book I'd rate a 5 for characters alone. So I settled for a 3.5. Things I dislike:The pace was a bit too slow, I think? I mean Kulti and Winnipeg were both slow but Wait for It is another level of slow and I was like "when are things going to happen?". There isn't much of a plot too, IMO? We see Diana...

4 -I actually "waited for it" and didn't kill someone- StarsTrust me; I'm not big on delayed gratification and I am also known to be a bit of an impatient cow when it comes to slow burns. So imagine my surprise when I knowingly went into a book titled: "Wait for it", penned by an author who is renowned for her super slow burn romances... and actually enjoyed myself! Did it blow me away? No. Did I get impatient while reading this? Yes. But in this...

I dunno what to say…The book was fabulous, but such a slow burn. I feel like I read it for the last 3 months…I might check in the mirror if I got wrinkles :-)Loved the heroine! I'll write smth serious after 10-hour sleep.

i heard there's a new drug being sold on the streets and it's called, "mariana zapata". Obviously, I had to try it because #curiosity. Let me tell you..........I've never been the same person again. I've been addicted ever since the first book dose.

https://romanticcynicblog.wordpress.c...Beware of Spoilers!Star Ratings:Heroine (Diana): 29yrs oldHero (Dallas): 41yrs oldPlot: 5/5Grovel: noneCheating: noneHEA: yes!Triggers: H is married when he meets h but has been separated for several years - nothing happens until after he gets divorcedAverage score: 5/5Best Line: "One day I would grow into my own person who didn't care about doing the right thing. One day when hell froze over."Worst L...

"What do you want from me?""Everything." I am never going to have enough talent at my disposal to fully express how much this book has changed me, how much it has shifted something in me and made me take note of every single word in it. Picked on a whim, I never expected to find this perfect of a story, never even hoped I would connect with it so profoundly and adore its characters so much, but I have fallen head over heels for Mariana Z...

First read: December 8-13, 2018Second read: (Audio version) February 20-22, 2018"5 - So worth the wait Stars!"I enjoyed my second reading/listening of this book so much more than the first.I think it's because I just finished re-reading some of Mariana's books, so this one followed right after The Wall of Winnipeg and Me where Diana was first introduced to me.Once again Ms. Zapata gave her readers a great story with amazing characters (especially...

I LOVED this book! Everything about it - the slow burn romance, the heroine who is raising her nephews, the standoffish hero with a big heart, the friendship before romance, the humor, the heartbreaking moments - everything in this book was complete perfection. This is a top pick of 2016 and it's going on my top 10 favorites ever list! It was amazing and I never wanted this book to end. I'm already looking forward to re-reading it and telling eve...

Fantastic characters, chemistry, and slow burn, as always! Loved it!!(full review to come)

"I already feel sorry for whatever poor bastard ends up with me some day, but he'll know what he's getting into. I don't hide it."This was another hit read for me from Mariana Zapata. So far all her books that I have read have been solid 5 stars and this one is was no different. I could not put this book down!While Wait for It was definitely high up on the "slow burn romance" meter, it was also so much more, hitting on many points t...