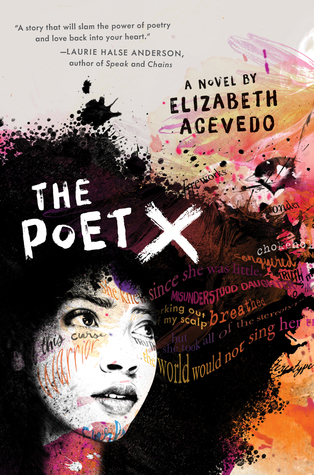 A young girl in Harlem discovers slam poetry as a way to understand her mother's religion and her own relationship to the world. Debut novel of renowned slam poet Elizabeth Acevedo.Xiomara Batista feels unheard and unable to hide in her Harlem neighborhood. Ever since her body grew into curves, she has learned to let her fists and her fierceness do the talking.But Xiomara has plenty she wants to say, and she pours all her frustration and passio...
---
Details The Poet X
Title
The Poet X
Author

Elizabeth Acevedo

Release Date
Mar 6th, 2018
Publisher

HarperTeen

Genre

Poetry

,

Young Adult

,

Contemporary

,

Fiction

,

Family

,

Realistic Fiction

,

Young Adult Contemporary

,

Coming Of Age

,

Romance

,

Religion

Rating
Reviews The Poet X
"Burn it! Burn it. This is where the poems are," I say, thumping a fist against my chest. "Will you burn me? Will you burn me, too?" I've always been fond of stories told through verse, and I love Elizabeth's poetry, so when I learned that she was writing her first YA novel, I knew I had to get my hands on it. I never once doubted that I would love it, but I didn't know it could mean so much to me. I didn't have a clue that I was ...

#ThePoetX was so beautiful that I didn't want to highlight it or dog ear pages, so I just took pictures basically every pageThis was the type of book where "I'll just do 50 pages" turned into finishing it in 2 readsI felt very emotional reading this book, not just because the story and the words themselves were so beautiful, but because I knew it was going to make so many teens who felt like no one cares about them or listens to them feel...

Before the review, I just want to let you know that there's an international giveaway for a copy of this book on the Blog Tour if anyone's interested! :) ***Actual rating: 4.5/5 'En voz alta, Xiomara' Stars*** The Poet X is a book you'll easily fall in love with from the first page until the end. It's profoundly meaningful and extremely poignant in the era of #OwnVoice and #Diverse. There's not a thing I don't like about this book, bu...

"Xiomara may be remembered as a lot of things: a student, a miracle, a protective sister, a misunderstood daughter, but most importantly, she should be remembered as always working to become the warrior she wanted to be." Tell me you did not get chills! I feel like it's really hard to review novels told in verse, because I always seem to become incredibly invested in the characters and I turn into a gushing mess. The Poet X is really no d...

Actual rating 4.5/5 stars. Review to follow.

THE POET X is a tour de force of a novel, utilizing Acevedo's signature slam poetry to craft a story of adolescence, family, and faith. Xiomara Batista, the cloistered daughter of a protective mother and "not there even though he is" father, yearns to express her voice and her truth. But that's difficult when her mother drags her to church at every chance, a church that emphasizes that women are worthless and that she sins just by...well, existin...

Find this and other Reviews at In Tori LexI absolutely loved this book. Xiomara (See-O- Mara) describes growing up in a body that has developed without her permission, in a strict religious household. Like many young girls Xiomara is given unwanted attention by leering men wherever she goes. Her mother  wants her to act and believe in what she did when she was young . Xiomara uses her writing and creativity to figure out what she wants and how t...

I finished this book in one sitting. A beautiful story with beyond beautiful writing, I feel so grateful I was lucky enough to get my hands of an ARC of this. The roller coaster of emotions I experienced while reading is indescribable. I can't wait for the rest of the world to experience this amazing story. Bravo Elizabeth Acevedo. You've found yourself a new fan.

Thanks to Edelweiss+ for providing an Arc4.5 stars to the Poet X.Some people throw blades, some chose words and they are as sharp as any knife sometimes.Xiomara's lyrics are intimate and insightful, honest, sharp and genuine. The whole story is narrated with a lyrical style, resembling poetry but keeping most parts like narrative bars. Lyrics from a song that can tell you a whole story. Sometimes it was a bit lacking of a complete world buildin...

The best books for young people I've read this year have all been about children of immigrants and the struggle to live up to their expectations - and about how the expectations are so foreign (pun sorta intended) to both the protagonists and the reader. This one is one of the best.

Wow. I tell you what, wow. Elizabeth Acevedo has crafted a gorgeous story in The Poet X, and Xiomara leaps off the page as powerfully as her verses. Acevedo challenges readers to live in the beats of Xiomara's words, to inhabit them as fully as Xiomara does, and to carry her honesty forward. I cannot wait to read whatever Acevedo has next in store.

absolutely brilliant! an intersection of culture, poetry and faith mixed with first love, friendship and comparing oneself to a sibling. powerful and heart breaking but a must read!

I am not a fan of the novel in verse. I usually run far, far away when one is offered to me. However, when I saw that the author narrated the audio, it piqued my interest and I figured was the way to go if I wanted to experience this story. And I was not wrong. This knocked me out. It was an emotional gut-punch of a book about a young woman's journey to self and coming to grips with familial expectations. I would recommend to anyone who wants to ...

This powerful novel in verse by acclaimed slam poet Elizabeth Acevedo is a must-purchase title for high school libraries and classrooms. Written in exquisite and raw poetry, the story highlights topics such as immigration, language, sexuality, religion and family in a completely relatable and thought-provoking manner. This may be an incredibly fast-paced quick read, but it will stay with me for a long, long time. The bilingual nature of the text ...

The Poet X is a standalone Young Adult novel told in verse.The narrator is almost 16 year old Xiomara. She lives with her parents and twin brother in Harlem.Her mom is very religious and she makes her do a lot of church stuff. But all Xiomara (pronounced C. O. Mara) wants to do is write poetry in her notebook.This is such a unique way to tell a story. But I was not sure if I would like it. But the story was very meaningful. And I could definitely...

Initial thoughts: The Poet X is the kind of book that shows teens that they're not alone, which is so important. Xiomara's experiences are of someone trying to find herself, trying to understand her beliefs and figuring out how to lead her life, all while these seem to be at odds with her parents' expectations.Since this is a novel in verse, the focus is almost exclusively on Xiomara, her thoughts and her perspective. That lends a lot of depth to...

I enjoyed this narrative voice. She is so alive, so inquisitive in her mind, it's hard to imagine her external quiet self.Family abuse is a subject that I struggle with, and this makes it a tough read in parts. Ultimately there is negotiation, compromise, and acceptance to a degree. Xio's triumph is inspiring.

THE POET X is stunning--it's the book I've most recommended to people, to buy in 2018. You'll be so captivated by Xiomara that you'll plunge through the pages, but it's definitely one of those rare finds that you'll revisit again and again. I cannot wait to buy it on audio!

Written in verse, The Poet X is a quick, but powerful read. Xiomara is trapped in a household where she has little to no say about how she wants to live. She lives in a house with a mother who is overly-strict and is extremely devout, meaning Xiomara is not allowed to have a boyfriend, cannot express herself, and is forced into confirmation classes when she is not sure where her beliefs lie. She has always loved writing poetry and happens to come...

I received this book as a part ofTheBengaliNomad's ARC Circulation group. "My parents probably wanted a girl who would sit in the pewswearing pretty florals and a soft smileThey got combat boots and a mouth silentuntil it's sharp as an island machete."Don't you love books about books? Then you must love poems about poetry. This book is a story of a girl who was raised to be submissive and humble; who was raised practically in a church and upon ...

Xiomara Batista is not the daughter her mother wants her to be. She needs to pray more. She needs to avoid boys. She needs to stopping speaking with her fists. What Xiomara does do quite well is write. She writes gorgeous poetry where she expresses all the feelings she can't say out loud. She writes about her mother, her twin brother, her best friend Caridad, and about all those boys that look at her curves and not who she really is. When Xioma...

I am emotional.Maybe this not intentional,There is no hint of denialThat this prose is sensational.I want to give it every starAnd it has set such high barIt will leave your mouth ajarThis book you need on your radarThe power of a voice unheardRadiates to the depths as it is pouredWords that leave nothing baredOut for the world, it roaredOBVIOUS RATING: 5/5 starsFull review to come, but trust me, you need to look out for this book because it is s...

The Poet X is a beautiful debut novel you do not want to miss this year. I definitely highly recommend this one.

This deeply powerful, moving, novel in verse hits unflinching at so many things - all from the beautiful, vibrant heart of Xiomara Batista; as she explores herself, and the the wider world during her sophomore year. Full of first love, and parental expectations, coping with a new body, questioning faith, Xio's voice is a burning brilliant fire. Her comments on being a person in a body rang loud and true, her heartbreak visceral, her faith was poi...

After seeing the author speak at the American Library Association Midwinter Conference this past weekend, I took this book home and devoured it in one evening. The writing, as you'd expect from a poet, is gorgeous and evocative, and anyone who has been a teenager struggling to find her unique voice will relate to the main character, Xiomara. Read it yourself and then give it to your teenage daughter.

This may be my favorite read of the year, though it doesn't come out till March 6th of next year. Lyrical and stunning, Acevedo perfectly captures the angst of awakening and the power of words to change lives and minds. Extraordinary.

Since I've always loved a well-crafted slam poem, I was naturally intrigued with Acevedo's ambition to create an entire novel from a series of poems - though the intrigue came with a little bit of dread. Even the best slam poetry hovers close to confessionalist angst. Would the author be able to avoid the minefield of melodrama? By and large, Acevedo has done so with aplomb and grace.She has realized the virtues of detachment and distance along t...

I was worried at the beginning because the verse was not strong and I'd say there are shining moments of beautiful verse and other times that I felt like the book could have been a novel not a novel in verse because it was verbose. The format obviously though complimented the main character Xiomara who is a budding poet but reluctant to perform her poetry because of the issues she's dealing with at home. Her mother is overly-protective and religi...