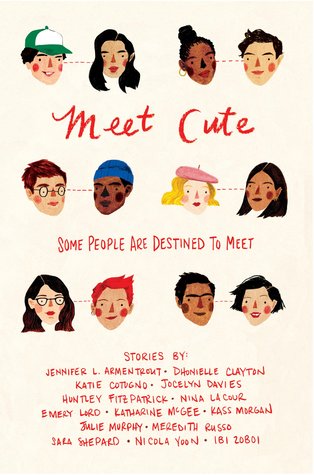 Whether or not you believe in fate, or luck, or love at first sight, every romance has to start somewhere. MEET CUTE is an anthology of original short stories featuring tales of "how they first met" from some of today's most popular YA authors. Readers will experience Nina LaCour's beautifully written piece about two Bay Area girls meeting via a cranky customer service Tweet, Sara Shepard's glossy tale about a magazine intern and a young rock s...
---
Reviews Meet Cute
Sometimes I just need to get sucked into a feel-good story and stay there until I'm finished. Thankfully, I accomplished just that with this anthology full of short bursts of sweetness with meet-cutes, butterflies, first impressions, and so much more. SourceJust some of my personal memorable stories from the book:• Nina LaCour's Print Shop:Funnily enough, this story opens with our main character, Evie, receiving her first job where she's set ...

SIEGE ETIQUETTE by KATIE COTUGNO4 starsPRINT SHOP by NINA LACOUR3 stars HOURGLASS by IBI ZOBOI4.5 starsCLICK by KATHERINE MCGEE5 starsTHE INTERN by SARA SHEPARD2 starsSOMEWHERE THAT'S GREEN by MEREDITH RUSSO3 starsTHE WAY WE LOVE HERE by DHONIELLE CLAYTON3.5 starsOOMPH by EMERY LORD5 starsTHE DICTIONARY OF YOU AND ME by JENNIFER L. ARMENTROUT2 starsTHE UNLIKELY LIKELIHOOD OF FALLING IN LOVE by JOCELYN DAVIES4 stars 259 MILLION MILES by KASS MORGA...

so it turns out love is a real and not fake thing that exists!! who knew? I certainly did notIt might be sort of horribly ironic that I rated almost half these stories a very mixed and very mediocre three stars. BUT there were some super great standouts, hm? Some that might… I don't know… warrant buying this entire collection?Okay. Somewhere That's Green by Meredith Russo was fantastic and important and so worth the read. Oomph by Emery L...

4.5 LOVED this! Definitely one of my new favorite YA anthologies! There were 4 stories in this collection I gave 5 stars to! Such an adorable, diverse and fun read!* I will be filming a review on this where I tell you my individual ratings for each story which I will then post to here!*

Average rating: 3.2/5My rating: 3/5This had such high points and low points, which is exactly how I feel after every single anthology I read. I think the concept of this whole collection was nice, but I would have liked a couple more stories from male perspectives - and a m/m story perhaps? Don't get me wrong, I loved how many f/f stories were in this, but I think it could have benefited from some other narrators. But let's get into my specific f...

I LIKE LOVE, OKAY.from an artistic standpoint, that is. i like romantic comedies. i like romantic subplots in my favorite TV shows. all the best songs are about love. i read an endless string of disappointing contemporaries because every once in a while, i find one that makes me feel something.i'm cynical and pessimistic and sometimes mean. i can be bitter and hardhearted. but i like love-related art.so i was excited for this book, and, to some d...

*Thanks to HMH Books for Young Readers for sending me an ARC of this book via NetGalley in exchange for an honest review.* Actual Rating: 3.54/5 stars Siege Etiquette by Katie Cotugno: 2 stars Unfortunately, I disliked both the POV of this story and the author's writing style. Siege Etiquette was cute, but I also think that it wasn't that interesting and I definitely wouldn't be interested in reading more of this story. Print Shop by Nina...

I don't normally read anthologies, but this topic of meet-cutes and all of these fantastic authors, I just couldn't resist. I read a couple of paragraphs of each story to decide if I wanted to continue. I read all of the stories except 4 of them and the stories that I did read were fantastic. Lots of great characters and clever set ups and representation. Some kissing, but looooooots of sweet moments. My ultimate favorite was JLA's story th...

***Review posted on The Eater of Books! blog***Meet Cute: Some People Are Destined to Meet by various authorsPublisher: HMH Books for Young ReadersPublication Date: January 2, 2018Rating: 4 starsSource: eARC from NetGalleySummary (from Goodreads):Whether or not you believe in fate, or luck, or love at first sight, every romance has to start somewhere. MEET CUTE is an anthology of original short stories featuring tales of "how they first met" from...

Thank you HMH Teen for providing an ARC in exchange for an honest reviewMeet Cute is a collection of contemporary stories about cute first encouters turned into romance. Not all people enjoy insta-love but once in a while, you'll want it if you're looking for something fluffy. The stories were hit or miss to me but my favorites were written by Katharine McGee and Sara Shepard (both were new to me authors). Overall, this is a nice and likable col...

2.5 starsI've come to the conclusion that I'm probably a soulless husk with a stone-cold heart.Which, if you met me IRL, that wouldn't be far from the truth.A bit of an overexaggerating, I know, but I certainly felt like one reading Meet Cute.I think I'm in the minority where I didn't like Meet Cute. When it comes to cute things to me, it varies. Red pandas are cute.*boop* So are dogs and cats. And even some romance is cute. Especially an...

This wasn't quite as cute as I was hoping it would be, but there were some gems mixed in so I'm not mad about it. SIEGE ETIQUETTE by Katie Cotugno - 2 stars PRINT SHOP by Nina LaCour - 4 stars HOURGLASS by Ibi Zoboi - 3 starsCLICK by Katherine McGee - 5 starsTHE INTERN by Sara Shepard - 2 starsSOMEWHERE THAT'S GREEN by Meredith Russo - 4 starsTHE WAY WE LOVE HERE by Dhonielle Clayton - 3 starsOOMPH by Emery Lord - 5 starsTHE DICTIONARY OF Y...

I was given a copy of this book in exchange for an honest review. Thank you NetGalley and Houghton Mifflin Harcourt Children's Books for the advanced reading copy of the anthology Meet Cute. The authors I have read from before are Nina LaCour, Katherine McGee, Julie Murphy, Sara Shepard, and Nicola Yoon. I can't wait to read the new to me authors in this anthology that I've heard wonderful things about like Jennifer L. Armentrout, Katie Cot...

The most appropriately named book of the year for 2018 might just be this short story anthology featuring some of the hottest YA authors. Whether you're looking for that first love or you're feeling a bit nostalgic, these twelve stories may just leave you feeling a little more "cutesy" inside.Thanks to NetGalley for an advanced ebook in exchange for an honest review.

Aw what a cute, mushy, adorable collection of meet cutes! There is a huge range of stories in here, bursting with originality and tons of diversity. Some of the stories were a little cheesy for my taste, but most left me with a smile on my face, and the characters fondly in my thoughts long after I finished the story. I think this book would make a very cute valentines day gift.Buy, Borrow or Bin Verdict: BuyCheck out more of my reviews hereNote:...

On average, I gave this book 3.70. It's not bad, but it shows that some of the stories weren't good. Some of them got 1/5 or 2.5, a few got 5/5 but that's because I'm more generous when I rate short stories because I rate both on the story and the potential it has to be a great book.I would like to say that this anthology still ended up disappointing me ... first because the cover is false advertising, you get a few f/f relationships, but most of...

My favourite stories were written by Emory Lord and Jocelyn Davies. They are the ones I'm still thinking about and would love a full length novel of and they get five stars, no doubt.What's great about this anthology is how much more diverse it is. In other anthologies I've read, there's been one token LGBT couple and that's it, but at least a quarter of the stories had LGBT protagonists. (Still waiting on that ace love story, though *sigh*). I a...

THIS REVIEW IS ALSO ON MY BLOG - CHECK IT OUT HEREThe Meet Cute anthology was an interesting one. There were so many authors and so many stories. Some I couldn't wait to end and others I wanted to be extended to fill the pages of a novel. For this review, I've tried to review each story featured in this anthology. They're quite short but I find it difficult to rate an anthology as a whole (3 is what I just figured was the average among thes...

I received an Advanced Reader's Copy in exchange for an honest review.I'm writing this with a sad heart because I was a bit disappointed with one of the early anticipated releases of 2018. Meet Cute promised melt-worthy stories that will make you yearn for your own meet cute. Sadly, I didn't get that feeling with all the stories.The main problem I had with this book is that some were written in second person point of view. It felt really aw...

3.5 StarsMeet Cute is just the anthology that I've been waiting for! This is an entire book featuring 14 incredible authors all about adorable first encounters. I personally enjoyed Jocelyn Davies, Kass Morgan, and Julie Murphy's stories the most. I would definitely recommend this book to those looking for a feel-good read.I adore the concept of this anthology. It is all about first meetings and, as the title promises, it is absolutely adorab...

The actual rating is 3.28 stars (based on individual ratings of every story)This anthology was one of my most anticipated release of 2018 and I honestly feel so let down right now. I expected to read lots of cute funny diverse meet-cute short stories, as the cover and all the ads told me. Some of these stories were like that, but overall, it's very disappointing.I am blaming the editior Jennifer L. Armentrout. First, she puts the worst story as t...

I loved Nina La Cour, Emery Lord and Julie Murphy's stories in this the most. So cute (it's in the name!) and uplighting and diverse. I'm obsessed with that cover too. What goals.

Full Review can also be found on Lair Of Books:https://lairofbooksblog.wordpress.com...*Thank you HMH Books for Young Readers, Netgalley, and all of the wonderful authors who contributed to this anthology for the early review copy in exchange for my honest opinionThis was such a unexpectedly wonderful read that left me feeling happy inside & in love with Romance haha! I'm going to need to watch Serendipity, You've Got Mail, Brown Sugar, Sleep...