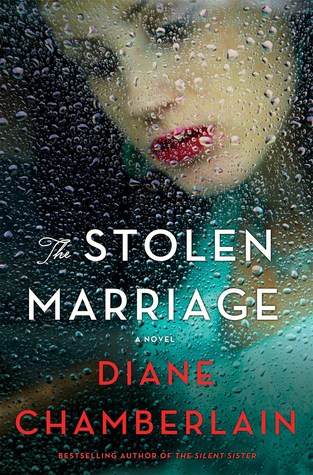 From perennial bestseller Diane Chamberlain, a compelling new novelIn 1944, twenty-three-year-old Tess DeMello abruptly ends her engagement to the love of her life when she marries a mysterious stranger and moves to Hickory, North Carolina, a small town struggling with racial tension and the hardships imposed by World War II. Tess's new husband, Henry Kraft, is a secretive man who often stays out all night, hides money from his new wife, and sh...
---
Details The Stolen Marriage
Title
The Stolen Marriage
ISBN

9781250087270

Author

Diane Chamberlain

Release Date
Oct 3rd, 2017
Publisher

St. Martin's Press

Language

English

Genre

Historical

,

Historical Fiction

,

Fiction

Rating
Reviews The Stolen Marriage
5+++++ STARS!!!!! This is the second time I've rated one of Diane Chamberlain's books 'more' than 5 stars!!! I thought "Necessary Lies", was phenomenal!! I STILL DO!!! Yet, "The Stolen Marriage" is absolutely my TOP FAVORITE. Diane Chamberlain got everything right!!! This is fiction - and historical fiction - and storytelling --- at its BEST!!! A DARN GOOD READ!!! Curl up and get comfy, because once you start reading--you'll get transported to an...

4.5 Stars!My reviews can also be seen at: https://deesradreadsandreviews.wordpr...Diane Chamberlain is one of my favorite authors. So I was very excited to read "The Stolen Marriage". I'm usually not a big fan of historical fiction novels but I always find that I am pulled in by whatever subject matter Ms. Chamberlain is writing about, and this time was no different.The book opens in Baltimore, Maryland in August 1943. Tess DeMello is celeb...

This is wonderful and compelling historical fiction by Diane Chamberlain set in the 1940s. Tess and Vincent have grown up in the same neighbourhood of Baltimore, Maryland. They are engaged, madly in love and their families are over the moon. Vincent has just qualified as a medical doctor, and Tess is in the process of becoming a registered nurse. A medical emergency in Chicago has Vincent volunteering his help, promising Tess that he will return ...

5+.+.+.+.+.+.+ WONDERFUL ENGROSSING UNPUTDOWNABLE STARS!Loved it all....from the very first page of the enticing prologue straight through to the Author's Notes at the very end detailing her in-depth research that made the characters and history behind the town of Hickory come to life.It's 1943 in Little Italy. Tess and Vincent have their whole lives planned out. He's a Doctor....She's a Nurse.....but all does not go as expected.....not by a long...

3.5 I am not going to rehash the summary of the plot for this book, you can read that on your own. This was another sisters read and my review is just what I wrote as my final analysis on the sisters thread for final thoughts. The year is 1944, and takes place for the most part in Hickory, South Carolina.I definitely think the last third of the novel was the best, we got to finally know the characters and what they are made of. Such different tim...

4.5 stars (rounded to 5 stars)This is my third Diane Chamberlain novel, and I have to say she writes fiction as well as anyone I've read. I could easily get in a rut and read several Chamberlain stories in a row. It's been about a year since I read my last one; it won't take nearly that long for me to read my next.The story is set in the mid 1940s, first in Baltimore, then in the town of Hickory, North Carolina. Tess DeMello had a good thin...

This novel starts with a young couple in Little Italy, Baltimore, Maryland in 1943, who have grown up together and are engaged. A situation happens, and then the story moves to Hickory, North Carolina, 1944 during the years when polio was first being treated. A really good historical novel!This was a real page turner! Secrets abounding! Thank you to NetGalley and St. Martin's Press for the ARC!

Wow ! Diane Chamberlain has a talent stirring for up a cauldron of emotions in her novels and her latest The Stolen Marriage is certainly a Story that will give many readers lots to discuss with its tightly woven and highly engaging and at times controversial storyline and I highly recommend this one for book clubs as there is lots here to make for a fantastic discussion. In 1944, twenty-three-year-old Tess DeMello abruptly ends her engagement to...

Thanks to Goodreads, the author, and the publisher, for the complimentary copy of The Stolen Marriage on sale 10/3/17. I was ecstatic to win an early copy of this book! 🎉 As I wrapped up reading, I went back and forth on a four or five star rating and decided it was an easy five for these reasons: when a book completely consumes my world (I read it in just a couple sittings), and I found myself transported to 1940s Hickory, North Carolina (jus...

I'm rating this one a 4.5 rounded up to a 5! I was surprised by how much I enjoyed this book. I don't read historical fiction often, and usually books with heavy drama are an automatic pass for me. Diane Chamberlain apparently just does it incredibly well. Some parts of the book are slower than others, but it never lost my attention. I didn't have a lot of reading time once I started it, but couldn't wait to dive back in. The author very clearly ...

The story follows Tess DeMello who is a 23 year old girl living in Little Italy, Baltimore, MD. She has been madly in love with her boyfriend Vincent since they were teenagers. They are engaged to be married and their families are thrilled. Vincent has just completed his residency at John's Hopkins and now he is Dr. Vincent Russo M.D. and Tess is preparing to graduate from nursing school. They are both preparing for their happily-ever-after!How d...

Diane Chamberlain is one of my favourite authors and I was delighted to receive a copy of The Stolen Marriage. I really love this book set in America during the Second World War. Tess a newly qualified nurse goes for a weekend away with her friend, after a few drinks too many she makes a mistake that alters the course of her life. An excellent historical novel. I would like to thank NetGalley and the publisher for for my e-copy in exchange for an...

3.5 stars. The Stolen Marriage is historical fiction with a mystery/romance element, set in North Carolina during WWII. In Brooklyn, 1944, Tess DeMello is deeply in love with her fiancé Vincent, a doctor working out of town. But Vincent keeps extending his trip and Tess is getting perturbed, so one weekend she and her bestie Gina take an overnight trip to New York City to see the sights. They go out to dinner with a couple of guys staying at the...

I received this book in exchange for an honest review from St. Martin's Press and NetGalley.I'll start by saying that I had really high hopes for this book. I really enjoyed Necessary Lies and was hoping this book would be just as good if not better. I struggled with this book. One thing I struggled with was that almost everyone is giving this book high ratings and I thought "Is it me?" but I realize that not every book is for everyone and what o...

4.5 Stars. Fascinating, bittersweet, and moving. Full review to follow shortly closer to publication date.

Thanks to NetGalley for an uncorrected proof of this book in exchange for an honest review Diane Chamberlain hits pure gold in her upcoming release that is sure to be a bestseller. At the forefront of our story is Italian-American Tess DeMello, living in Baltimore, a nursing student, Tess is engaged to her childhood friend, Vincent, a doctor that hopes to work in pediatrics and find a way to alleviate the polio epidemic. Vincent is sent to Chicag...

3.5 stars. It's so hard for me to rate this book. I found it had glaring flaws and yet I ripped right through most of it today. I think that tends to be my relationship with Diane Chamberlain's books. Set during WWII, the story focuses on Tess, who lives in Baltimore and is all set to become a nurse and marry her childhood sweetheart. Through events that I won't recount to avoid spoilers, her life is set off course and she finds herself in Hickor...

THE STOLEN MARRIAGE WRITTEN BY DIANE CHAMBERLAINThis is the second novel I have read and thoroughly enjoyed by Diane Chamberlain. This story was so addictive that I read it in two sittings. I was pulled into the character's lives from the very beginning and hated to put it down to get some sleep. Again Diane Chamberlain has done a terrific job in researching Hickory, North Carolina in 1944 during America's polio epidemic. The author renders this ...

Chamberlain has done it again. Historical fiction is usually not my forte, however, I will read absolutely ANYTHING this woman writes. I would read her grocery list. Tess is such a well fleshed out character and I enjoyed every page I got to spend with her. Just when I thought I had every last detail figured out, my jaw quite literally dropped. Another 5-star from a favorite author of mine.Thank you to St. Martins Press for an a copy of this nove...

I was so excited to get my paws on this book early thanks to a Goodreads giveaway win! Diane Chamberlain is one of my favorite authors and she did not disappoint with The Stolen Marriage. I always feel such a connection to the characters and as usual with her writing, I feel like I am transported to the time period of the story. Highly recommend!!

Loved it! I was totally absorbed in this story throughout the book. Most of the story was set in Hickory, North Carolina in the early 1940's while many men were fighting in World War II, polio was rampant, and racial tensions ran high. It was really interesting to me, as I live in North Carolina, to read about the polio epidemic and the role Hickory played in fighting it. I had been unaware. Henry Kraft, one of the main charactes, owns a furnitur...

Diane Chamberlain has done it again -- written a fantastic new book that will keep you turning pages until you get to the end. I have read all of her books and the new one is one of my top three favorites. Thanks to the publisher for an early copy of this wonderful book to read and review. If I could give it more than 5 stars, I definitely would!Tess and Vincent are the perfect couple. Living in Baltimore MD with their wedding only a few months a...

Tess loves Vincent and Vincent loves Tess. Vincent has just finished med school; Tess is in nursing school. They've known each other since they were children, and, now, a wedding is planned. While Vincent is in Chicago, helping out with victims of the polio epidemic which is sweeping the country, Tess and her girlfriend, Gina, decide to spend a girls' weekend in Washington, D. C.When they return to their homes in Baltimore, they are sharing a lif...

Stolen Marriage is a story about a young girl who is about to marry her first love and embark upon a career in nursing. It is everything she has ever wanted when one weekend her life is changed by one foolish and uncharacteristic event. Now Tess is moving away from her beloved home and close family and is thrust into a completely different life. The story starts in 1943 in little Italy and takes us across to North Carolina with all the racial and...

A fascinating read about how a community came together and built a polio hospital. With engaging characters who grow stronger and stronger through adversity, it's a book that pulls you in and inspires. Loved it!

Title: The Stolen MarriageAuthor: Diane ChamberlainPublisher: Martin's PressReviewed By: Arlena DeanRating: FourReview:"The Stolen Marriage" by Diane ChamberlainMy Thoughts....Indeed this was quite a interesting gripping historical romance story that this author gives the reader. We find Tess DeMello from Baltimore, Maryland around 1943 was once engaged to Vincent Russo [M.D.] but breaks off that engagement and marries a complete stranger named H...

4.5 stars. Review to follow

I love historical fiction, especially anything to do with the depression or world war II. It was the great equalizer if you think about it. Whether you were wealthy or poor you worried about your loved ones fighting in the war. You mourned and grieved those who didn't make it home. You learned to go without sugar in your coffee when your rations ran out, and all the money in the world couldn't save you from getting polio before the vaccine finall...