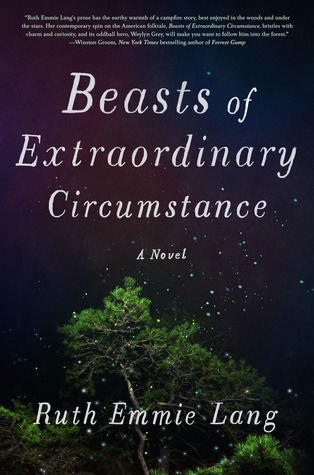 Orphaned, raised by wolves, and the proud owner of a horned pig named Merlin, Weylyn Grey knew he wasn't like other people. But when he single-handedly stopped that tornado on a stormy Christmas day in Oklahoma, he realized just how different he actually was.That tornado was the first of many strange events that seem to follow Weylyn from town to town, although he doesn't like to take credit. As amazing as these powers may appear, they tend t...
---
Details Beasts of Extraordinary Circumstance
Title
Beasts of Extraordinary Circumstance
ISBN

9781250112040

Author

Ruth Emmie Lang

Release Date
Nov 14th, 2017
Publisher

St. Martin's Press

Language

English

Genre

Fantasy

,

Magical Realism

,

Fiction

Rating
Reviews Beasts of Extraordinary Circumstance
*4.5 Stars!*Beautifully written with tons of magic and heart! This story was a warm hug and made me want to step out into nature and embrace all its magic and natural wonders.From the second we meet Weylyn we can tell he's different, but his distinct peculiarities are what make him special. He can somehow summon the power to alter weather conditions and has the unique ability to communicate with animals. Having lost his parents at a young age, ...

"Why do you do that?""Do what?""Take something beautiful and vandalize it with skepticism?"first of all, a million gratitudes to st. martins for sending me a copy of this book. it was on my radar as "looks like my kind of thing," but i've been trying not to buy hardcovers, especially hardcovers by authors new to me, until wealth finds me, so when they offered this unto me, i was all a-squeal.i knew i would like it, but i didn'...

🌲 5 Extraordinary Magical Stars for Ruth Emmie Lang's Beasts of Extraordinary Circumstance 🐺I LOVED this book so much more than I ever expected I would. I stayed up late into the wee hours of the morning because I couldn't bear to put the book down. I was genuinely disappointed when the final page was turned, to find that it was done. I will genuinely miss these characters and the whimsical, magical world contained within the pages of th...

4.5 stars.One of the factors that helps transform a very good novel into a great one is memorable characters. And while I've read a lot of books this year and over the last several years that featured characters I couldn't quite get out of my mind, it's rare to find a character as special, as incredible as Weylyn Grey, the main character in Ruth Emmie Lang's terrific Beasts of Extraordinary Circumstance ."Weylyn doesn't quite fit into the world ...

Meet Weylen Grey. Orphsned at the age of four, taken in by a wolf pack, loves nature in all it's permutations, needs to feel free, and has strange talents and beliefs. One day, he meets a young girl named Mary, and his life begins to change. Where this story will take him he doesn't know, but he is soon going to find out. This is Weylens story but also the story of all those he touches, and let's into his life I loved this story, the strangeness,...

4.5 Stars!This was a Traveling Friends read that I almost missed participating in as I didn't have myself a copy of this book but after popping into the first goal thread I knew that I had to rectify that immediately. The words magic, whimsical, and mysterious are definitely elements that I am attracted to so on my way to Amazon I went.BEASTS OF EXTRAORDINARY CIRCUMSTANCE by RUTH EMMIE LANG is an engaging, charming, heartwarming, and a mesmeriz...

5 Glorious, Heartfelt, Happy and Truly Magical Stars.Oh, how wonderful it is to read one final book in the year 2017 and have it be Ruth Emmie Lang's "Beasts of Extraordinary Circumstance." I loved this magical and altogether whimsical book with every fiber of my being and every breath that escapes me. My cup runneth over! Wevlyn Grey is a boy who is raised like no other. By wolves. He even calls one ma. His parents died in a snow storm, th...

This is - again - one of those books I was sure I would love but didn't. I enjoyed reading it but I just thought I would adore it. On paper it has everything I look for in books: whimsy, fairy-talesque writing, quirky characters with a human core, with a story spanning decades but something didn't quite click for me.This is Weylyn's story - an orphan raised by wolves, able to control the weather and speak with animals, a gentle soul with a heart ...

Weylyn Grey is an orphan boy raised by wolves whose talents include howling at the moon and controlling the weather. As a boy, his unique abilities are unwieldy; the same is true once he reaches adulthood. Startled by the strength and unpredictability of his power to manipulate nature, Weylyn abandons the woman he loves – fearful she'll suffer unintentional harm in his presence – and wanders from town to town, touching the lives of everyone...

5 magical stars to this story of Weylen Grey, who's parents died when he was young, and he lived with wolves.This is the story of the people he engaged with during his life, and the magic that occurred simply by his being... This story touched my heart!!!❤❤Forgot to mention...,this is also a love story!! 5 magical stars to this story of Weylen Grey, who's parents died when he was young, and he lived with wolves.This is the story of the ...

5 magical stars ⭐ ⭐⭐⭐⭐Beasts of Extraordinary Circumstance reads almost like a fairy tale. It is magical and whimsical story about boy named Weylyn who was orphaned at an early age and raised by a pack of wolves. He has magical powers which make it difficult for him to fit into the world. He is such a lovable character.The book is narrated by multiple characters, each telling a story of Weylyn crossing paths in their lives; weaving toge...

5 shining stars and a place on my 2017 favorites list! Every once in a while you come across a character in a book that grabs your heart and just won't let go. For me, Weylyn is that character. Weylyn has made a lasting impression not only on everyone he meets in the pages of this novel, he's made a lasting impression on me. What a perfect book to read at the end of a fantastic reading year. I read this as a buddy read with Susanne, which was...

My name is Weylen Grey, and I'm near-sighted, allergic to ragweed, and my feet are flat. I can't cast spells, I don't grant wishes, and I'm not sure if I can turn a frog into a prince, but I have no intention of finding out. Some people like to think I can affect the weather, but I'd still recommend a a good, old-fashioned umbrella for keeping the rain off. It's also been said that I can talk to animals, but if you want me to teach your dog to sp...

5 simply darling stars! I will get straight to the point-- I adored this book. As soon as I finished, I wanted to give it a big five-star hug. Beasts of Extraordinary Circumstance is the story of Weylyn Grey and the people he encounters throughout his interesting life. Weylyn is a unique and special character, leaving quite a lasting impression on the lives of everyone around him. This is a light, fun read full of adventure and *possibilities*. W...

Weylyn Grey is an utterly delightful protagonist: it is very hard not to fall in love with him.We meet Weylyn when he is ten year's old and living among a pack of wolves. He is certainly different from everyone else in this regard, but he also can control the weather – like extreme weather – but doesn't realize it. (Oh and animals also love him, kind of like Dr. Doolittle but not in an over the top silly way, but one that works within thi...

I received a copy of this book in exchange for an honest review.There are hints of many classic novels in this, including The Wizard of Oz and The Chronicles of Prydain series, with its depiction of a plucky young hero and a trusted sidekick. But Weylyn is slightly different from these characters, as Weylyn can control the weather. And bring plants back to life. And talk to animals. From the moment he was born, sprinkling the doctor with snow, he...

What an enchanting debut by author Ruth Emmie Lang. LOVED following the path of Weylyn, a unique boy raised by wolves, a mesmerizing character who touches the lives of numerous people. His character drew me in from the get-go. His rawness and honesty, the magical things that happen on the unexpected journey and the charge in atmosphere whenever he is around made me believe. I wanted to travel into the woods with him. Thanks to St. Martin's Press ...

Beasts of Extraordinary Circumstance follows the life of Weylyn Grey, from childhood through adulthood and beyond. It's a powerful story filled with kindness, love and magic. A story about how one person can influence the lives of so many. I can't even begin to describe how much I loved Weylyn, he is so selfless that it hurts. It's tragic and beautiful at the same time, every time you see him helping people you can't help but feel good, b...

I received an ARC of this book from the publisher/author after I requested it as a Goodreads Giveaway.I wasn't sure what I would think about this book because I don't always like fantastical elements but I found it charming and well-written, with several characters living unusual lives. A boy named Weylyn who lived with wolves, friends Mary and Lydia who influence his life in different moments, and a special pig who might have the ability to cont...

I won a copy of Beasts of Extraordinary Circumstance in a Goodreads Giveaway. 4.5A boy is born and when he takes his first breath, snow begins to fall. It's not a delicate snowfall but more like a sudden, blinding blizzard. The infant open his eyes, looks around and when he closes his eyes to rest, the snow stops and melts immediately. What's even more strange about this unexpected and brief snow storm? It's the end of June. This is our int...

3.5/5First Impression(s)At first, I thought this novel was going to be four stars—it's well-written and unique; but it started slowing down towards the middle/end, and (strangely) I wanted it to end already, which is never a good sign for a book-lover.PlotThere was a lot going on with the plot. From all the sub-plots to the main-plot, there was never a dull moment. So this was a good thing; I never felt bored. I also enjoyed how even though t...

This review can also be found at Carole's Random Life in Books.This was such a magical story. I don't read a whole lot of magical realism but it seems that I love them when I do read them. I am not sure that this book would work for every reader since there are a whole lot of strange occurrences but it worked well for me and I am so happy that I decided to pick it up.This book tells the story of Weylyn Grey. We don't learn his story from Weylyn. ...

Beasts of Extraordinary Circumstance attracted me as soon as I saw the beautiful cover. Although the beginning was a little bit slow, it was beautifully written and reminded me slightly of The Bear and the Nightingale, with its exploration of love, loss and family.It was a short read, but thoroughly enjoyable and is definitely perfect for cuddling up next to a fire with a blanket as you explore the magic that is Weylyn Grey.

A lovely character driven story, with a nice mix of literary fiction and light magical realism. Nothing too depressing except for one particularly sad event early in the story, so it's good choice if you're in the mood for something on the lighter side.I've been called magic, but I wouldn't use that term exactly. I like to think of myself as always being in the right place at the right time, or the wrong place at the wrong time. Very rarely am I ...

I can't remember the last time I read a book like this - it just thoroughly delighted me. I really enjoyed her writing style - especially noticing some of her word combinations. Loved the magic, loved a bunch of the chapters, and loved the way it was told through reach of their perspectives.

This book! It made me so happy. Beasts of Extraordinary Circumstance is magical. For me, there is no other word—MAGICAL. All caps and huge! And the center of this whirling, stirring, magical spell is Weylyn Grey. A character I adored at first sight. A character that readers watch grow, learn, wander, and live from a wild-haired boy living with wolves to a man lost in a web of loneliness and extraordinary circumstances on the verge of---well I w...

Do you guys ever read a book where you feel like someone wrote it for you?This book really affected me. When I flipped the last page of this book, I almost wanted to cry simply because this beautiful, magical story was over.I would recommend going into this book somewhat blind. I will say it spans many years and many locations, telling the story of a Weylyn Grey, a man who may have magical abilities, through the perspectives of the people he affe...

BEASTS OF EXTRAORDINARY CIRCUMSTANCE by Ruth Emmie Lang - I absolutely adored this book! First off, Weylyn has my heart. He's a boy who lost his parents and went to live with wolves. He has such a positive, sweet temperament that I just loved!! Then there is Mary aka Mary Jane and she is intelligent, fierce, and adventurous. And I mustn't forget Lydia because she is my favorite character! She's witty, smart, kind, and down-to-Earth. This is...

I opened my Kindle app yesterday on my phone and intended to skim a few sentences to remind myself what this book was about. A few sentences turned into me devouring this book by the end of the day... It made for a good read. The story and setting were especially intriguing and the characters were developed really well. I liked them all and they were easily relatable to the extent I thought they were capable of being related to. (Does that make a...