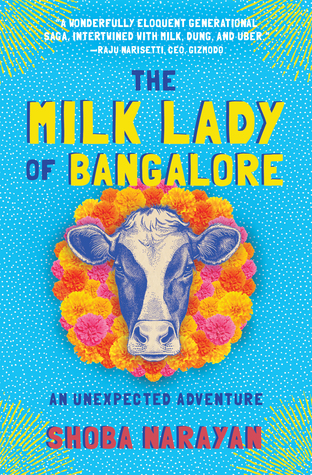 When Shoba Narayan, a writer and cookbook author who had lived for years in Manhattan, moves back to Bangalore with her family, she befriends the milk lady, from whom she buys fresh milk every day. These two women from very different backgrounds bond over not only cows, considered holy in India, but also family, food, and life. After Narayan agrees to buy her milk lady a new cow (she needs one and Narayan can afford it, so why not?), they set off...
---
Details The Milk Lady of Bangalore
Reviews The Milk Lady of Bangalore
Moving back to India, after twenty years in the states, the first thing Shoba encounters is a woman with a cow, in the elevator of the apartment building in which she and her family are moving. This is her first introduction to Sarala who will soon be her introduction to all things cow. Who would ever think a book about cows, their urine and dung, their milk and the benefits from drinking it straight from said cow, to be so fascinating? Yet,I was...

Some books enter into my life for the simple purpose of making me a more informed world citizen, and I am all for that. However, THE MILK LADY OF BANGALORE 100% did that, but also did the almost impossible and utterly charmed and entertained me at the same time. Narayan has taken a topic that seems to be incredibly simple (the life of the milk lady across the street from her apartment building), and has woven it into not just a rich look at life ...

This book was not what I expected. I saw in Book Browse that it was categorized as a "biography/memoir" and I somehow expected something different than what this book turned out to be. I thought it would be more of the typical type of memoir about some part of the author's life with a little informative data about Indian cows. It turned out to mostly about milk and cows interwoven into a little bit of the typical memoir type stuff. I did enjoy re...

**Note: I received a free ebook copy of The Milk Lady of Bangalore in from NetGalley in exchange for a review.****Spoilers ahead.**Through the theme of milk, author Shoba Narayan unexpectedly brings together aspects of modern India that I've never encountered in other works. And I say this as someone who briefly lived in India and who reads a great amount of Indian literature. This story spans a number of years after Narayan and her husband, both...

The price of milk, the price of cows, and the price of friendship, all are suberbly explored in this book. Some basis in fact, I believe, and Ms. Nayaran's mischievious sense of humor enlivens the narrative. Her research regarding the customs and traditions about cows, languages, and other 'only in India' information was a great plus. I thought the first half of the book could have been tightened a bit so a 4.5 rather than a solid 5. Hearti...

This was a delightful read! The cow in the elevator reminded me of baby camels in the back of a pickup I saw in Saudi Arabia. Ms Narayan has one foot in the States and one in India. That coupled with her language skills allow a glimpse into Indian life that one would never get just from visiting. She also generously sprinkles historical and cultural nuggets into the story to make it even more interesting.This book is about cows but really so much...

Not my cup of tea cow urine. There were parts of this book I found delightful -- particularly the insight into Indian culture both past and present. That said, I found the narrator problematic. It felt like she couldn't decide if she or the milk lady were the protagonist and she ended up keeping both subjects at arm's length. We only really get close to her with (view spoiler)[the death of her dog (hide spoiler)] which felt really out of place fr...

I'm lactose intolerant yet here I am reading a book about cows and milk. Hum? I thought this novel sounded interesting and that is why I asked to read it and interesting is what I got. I found out a great deal about cows but I also got an interesting story about a woman who packed up her family and took them back to India. Both Narayan and her husband were from India and they had family there. Looking out the window of her apartment one morning...

*An advanced reader ebook copy was provided by the publisher via NetGalley in exchange for an honest review*I loved reading Narayan's unique perspective on Indian culture. Though raised in India, Narayan spent 20 years in the U.S. before moving back with her husband and two children. Thus she can see Indian culture as both an insider and an outsider. I think this provides a great access point for readers like myself who are not Indian or Indian A...

I didn't expect to love this book so much or learn that much about milk from it. Not to mention, of course, the way India as a whole tends to treat cows, and why, and what they like to do not only with the milk, but urine and feces as well. Talk about versatile functionality!Written with Narayan's journalistic expertise, this book truly makes India come to life. Its social groupings, expectations, and lifestyle all converge to create a colorf...

For this one, I was split between a 2 star and 4 star. This book was weird in several different ways. Firstly, who writes a book on cows? And then who reads it? :PIt felt like the author was fairly obsessed with her new found love/respect/info-overload on cows and she wanted to share it with the world. Her audience was clearly lives in the US but ironically those are the bunch of folks who will not relate to her story-telling. I'm not sure if I l...

Wow! "The Milk Lady if Bangalore" transported me back to 2010 when I had the pleasure of spending over a week in Bangalore. I only wish this book had been written then because the author provides so much insight into the ubiquitous cow found on the streets of Bangalore. Upon first spotting the cow, the tourist can be found staring with his/her mouth agape, but after several days, the cow is such a "normal" part of Bangalore, that the tour...

This non-fiction gives lot of information on life in India. It helped me understand why the cow is sacred to Hindus and how this impacts life. I read this for Book-browse and was given a pre-publication copy. Had I not agreed to read this book, I am not sure I would have continued. I would have enjoyed more narrative than this book allows, but did learn a lot from reading it.

Shoba Narayan describes a part of India that I would love to visit. She is New York educated journalist but was born and raised in India. She moved with her family to Bangalore so she could reconnect to her Indian culture. Bangalore is a place where people of different religious beliefs can peacefully coexist. I never thought a person from a Christian faith and a person from the Hindu faith would ever get married without receiving scorn. I would ...

The author, a naturalized American returns to Bangalore, India and explores the eccentricities of her culture with humor and complete self-awareness. I originally selected this book because I thought it was a work of fiction, and the idea of the story sounded quirky enough to capture and maintain my interest. But after further reading, I was pleasantly surprised to find the story a true account of the author's return home.As one who is endlessly ...

Okay. So, I enjoy reading books about India, Indians, Indian-Americans, Indian food, history, and the society. I'll never get to India because I couldn't deal with the climate, so reading about the country, its people, and eating the food at restaurants here have to suffice. Shoba Narayan's, "The Milk Lady of Bangalore: An Unexpected Adventure", which is a combination memoir and a look at a slice of life in today's India.Shoba Narayan was born in...

I received an ARC from the publisher in exchange for an honest review.The Milk Lady of Bangalore is a charming and eccentric blend of memoir and non-fiction told through a bovine lens. While providing a unique and quick peek into India's cultures, religions, history, caste system and languages, it is also a simple tale of a friendship that crosses many of these apparent barriers. Narayan never preaches and manages to avoid dry informational passa...

Thank you to Netgalley and the publisher for an advance copy of the book in exchange for an honest review. I thoroughly enjoyed Shoba Narayan's memoir. First of all it was the milk: sweet, fresh and healing milk. Milk is friendship and family; connection and compromise; nourishment and nostalgia; reconnection and remedy. The milk was as sweet as Shoba and Sarala's budding friendship. The it dawns on the reader: "The milk is so good because ...

What you have here is a delightful story mixed in with everything you might want to know, or not, about the cows of India. How important and integral they are to Indian culture. This is written by an Indian woman who came of age in the United States and returns to Bangalore with her husband and two daughters so they can experience the Indian culture and be near relatives. The author befriends the local milk lady from whom she buys fresh milk ever...

This was an unexpected and delightful surprise. Narayan has written a light and informative book about modern India and, well, cows. She's got a terrific voice that never condescends. It's less a memoir than a story of a unique friendship with Sarala, the milk lady and of Narayan coming to terms with her return to India. India's a big subject (it's a big country). Narayan wisely chose a small subject and details it wonderfully. Thanks to Netgalle...

COWS !!! Who knew???What a delightful and "unexpected adventure". The author's return home after years in NYC offer a perfect opportunity to educate both her daughters, AND us on some of the more interesting customs and beliefs of the Hindu religion specifically and India in general. Cows are an integral part of everyday life and we learn why through Narayan's friendship with the milk lady, Sarala. Their daily interactions give an insight into th...

I really like this book and the writing style of Shoba Narayan. Her writing style is easy to read and humorous. I was also fascinated with the information and culture she sprinkled throughout the book about Indian and Hinduism culture and history. She and her husband was born in India but went to college and lived in the States before returning to India, which makes her relatable to both cultures. I look forward to reading more books from this au...

An "udderly" delightful story about cows, friendship, family & culture. Narayan's writing is a marvelous mix of Mary Roach and Sy Montgomery, two of the finest nonfiction writers on the planet. Narayan explores the biology, mythology and evolution of bovines, especially their place of prominence and reverence in Indian culture and life, weaving a beautiful tale of family along the way.

Not exactly the book I expected but once I started reading I was enthralled! I learned so very much about life in India, milk, Hinduism and so much more. Shoba is a personable writer. She captures the character of the people and situations she writes about. I felt more like I was reading a fiction story than a memoir.

I actually liked this book a lot. I found it to be really charming and eye opening.

I found this book very interesting in its coverage of why cows are so important in Indian culture and how that manifests itself in daily life. The author as an Indian woman who also had lived in the USA had a unique perspective of both understanding the importance of the cow and also understanding why those outside of the culture don't get it.

Charming read but thought it was a little rambling. Some scenes in the book seemed rather forced and contrived, with the author trying to be charming self-consciously. That being said, I enjoyed the research bits about species of cows in India, grades and types of milk and everything about Bangalore.An fun read for a lazy evening.

Charming and informative! After 20 years in NYC, Shoba moves her family back to her native India where she befriends her local milk lady. As Shoba becomes increasingly obsessed with cows, milk, and other cow by-products she takes us on a journey of self-discovery and milk-discovery. Most interesting was Shoba's exploration of her own culture. India is a fascinating mix of urban and rural, where generations, technology, and expectations blend toge...