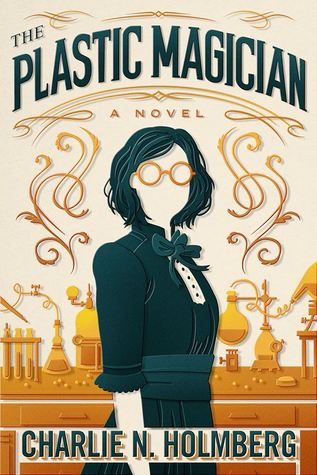 Wall Street Journal bestselling author Charlie N. Holmberg returns to the enchanting world of The Paper Magician.Alvie Brechenmacher has arrived in London to begin her training in Polymaking—the magical discipline of bespelling plastic. Polymaking is the newest form of magic, and in a field where there is so much left to learn, every Polymaker dreams of making the next big discovery.Even though she is only an apprentice, Alvie is an inventor at...
---
Details The Plastic Magician (The Paper Magician, #4)
Title
The Plastic Magician (The Paper Magician, #4)
ISBN

9781542047913

Author

Charlie N. Holmberg

Release Date
May 15th, 2018
Publisher

47North

Language

English

Genre

Fantasy

,

Magic

,

Young Adult

,

Fiction

Rating
Reviews The Plastic Magician (The Paper Magician, #4)
I had really enjoyed the Paper Magician series, so I was pretty excited to see there was a spin off. I liked Alvie well enough. She's super smart and passionate and I enjoyed reading her dedication to her magic. Ethel and Bennet were fantastic and supportive secondary characters and I could have read a million more scenes with them. Oh and the brief scene of Ceony and Emery was just perfection. Plot wise it was just okay. I didn't get caught ...

Thanks to Netgalley and 47North for providing me with a copy in exchange for an honest review!Holmberg's Paper Magician series did something really cool: it introduced a very unique and very fun magic system. This standalone follow-up/spin-off book follows the adventures of Ceony in the first three books and this time, it's through the very poor-sighted eyes of Alvie, a fledgling Polymaker (plastic magician) who is taking an apprenticeship in Eng...

Thank you Charlie Holmberg and NetGalley for the opportunity to dive back into this magical world. This is truly one of my favorite series, and I am so happy I was able to read another story. The Plastic Magician is a spin off, which takes place after the events of The Plastic Magician trilogy. I believe that you could read this as a stand alone, but wholeheartedly recommended doing the trilogy first. We meet a brand new character ( Alvie ) who i...

The Paper Magician trilogy holds a very special place in my heart - and I'm only too pleased to add this next book into their illustrious company!Alvie is a complete departure from Ceony (who has a very satisfying cameo!) - she's logical, mathematical, quite the overthinker and very much in the scatterbrained genius mold when she's working. (view spoiler)[ One of my favourite lines happened to be the last and it sums her up perfectly; After all, ...

Note: While this is listed as part of The Paper Magician Series, this novel can stand on its own. While the world-building isn't as extensive in this novel, there is still enough information that one could start with this book not having read the full Paper Magician series. Characters from that series do pop up in this book, but none of the main characters have major roles in this book.Probably more like 3.5 stars. Full review to come. I received...

I received this book for free from NetGalley in exchange for an honest review. This does not affect my opinion of the book or the content of my review.This review does contain marked spoiler. However, the book has not been released yet, so read at your own risk.I really enjoyed revisiting the much beloved world of the Paper Magician in this triumphant sequel to the original trilogy. In the Plastic Magician, main character American-German Alvie Br...

I received this book through Netgalley and am providing my honest review. I haven't read the Paper Magician trilogy before reading this book, but I feel like the book was separate enough from the trilogy that I could easily read it and understand the world. The first 10% or so of the book I was confused (mostly curious) about what the magic system was like and I think that reading the other books would have helped with that, but I learned quickly...

I have to admit, I enjoyed this installment the most out of all the books in the series thus far. Alvie was such a great character and I found her so much easier to connect and relate to than the character of Ceony in the other books. Ceony seemed to mostly annoy and frustrate me, whereas Alvie was delightful!She's smart (like, really really smart), clumsy, bold, adventurous, hardworking, plucky, brave, curious, and most of all - she really, RE...

I received a free copy from NetGalley in exchange for an honest review.The Plastic Magician is a spinoff of The Paper Magician Trilogy. I really enjoyed reading Alvie's story and the discoveries being made, and learning new things about the different forms of magic. I loved seeing characters from the Paper Magician trilogy, which made it even better. When I finished the book, I wanted more and was hoping that maybe there will be.

I received this from NetGalley in exchange for an honest review. I adored the world created in The Paper Magician Trilogy and am super excited to be able to return to it. Alvie is adorable and believable as the heroine and new plastic magician apprentice and her brain and smart thinking are admirable. Bennet was also cute and his and Alvie's interactions had me cheering for them from the start. Love, love, love this edition to the series.

This book is a return to my favorite Holmberg books. I adored The Paper Magician and hoped the return to that world would live up to my expectations. It did! I liked that it carried on in the world with a new character, Alvie. (But we get a cameo!) Alvie's a great character and the story is entertaining and a fun read. It's not intense action or deep romance; expect a light and enjoyable romp through a world we love. (Thanks to NetGalley for...

*ARC in exchange for an honest review*Before I start this review I want to make some things clear: This is a spin-off of The Paper Magician trilogy. So, you better read those books first if you want the full package. For me, this book was much better than the other three book. So, actually, it's completely fine if you decide to not read the other three books, or read them afterwards or only read the first book or whatever floats your boat. Beca...

Mind-tingling and so original. Ever since I read the Paper Magician trilogy by this author, I've been enchanted by her world of magic based on the use of materials such as paper. What an exciting surprise it was to discover a new story in the same world! The Plastic Magician is lovely and stimulating on all levels. Alvie, the young American female lead, is delightfully obsessed with numbers and measurements, wears pants despite the ladylike norm,...

I thoroughly enjoyed this new addition to Charlie N. Holmberg's Paper Magician world! For starters, I loved the main character Alvie. She's slightly awkward but self-assured and intelligent. I definitely related to her inner thoughts spiraling into solving various problems and forgetting to hold a conversation.And I was happy to see an MC that wasn't a wimp but didn't have a hero complex. To be completely honest, near the end of the Paper Magicia...

The Plastic Magician is just what I've come to expect from this series; a polite fantasy of manners with a plucky protagonist and some gentle intrigue.Alvie is a genuinely unique heroine. She can be a little frustrating, both to the reader and other characters in the book, with her lack of social graces. But she's also extremely intelligent, curious, and forthright. The mentorship between her and Magician Praff is really uplifting and refreshing ...

I've received an early copy from the publisher via NetGalley, thank you!The Plastic Magician follows The Paper Magician Trilogy, but it can be read as a stand-alone. I love the setting - an alternative world around 1900 with a very unique magic idea. Magicians bond themselves to one man-made material which they can manipulate and use in many ways. I think, that's what I enjoy in a fantasy novel the most: A world that is close enough to ours, so t...

Delightful story with wonderful characters.

This was super cute! Full review to follow shortly.

I really enjoyed this book! It's a light, fun read that will delight any fan of The Paper Magician series. It had my heart thumping in anxiety several times and made me laugh aloud more than once. I even teared up at the end over an unemotional scene because the magic system Holmberg creates within these books is absolutely beautiful. I received an advanced copy of The Plastic Magician in exchange for an honest review, so I might as well mentio...

This book, a delightful spin-off of The Paper Magician trilogy, was just charming. Sometimes a sweet story about a klutz with a passion can just be a sweet story, and it doesn't need a ton of filler, or shocking plot twists, or cliffhanger endings. Not a long read, but perfect for a rainy or snowy day when you're all cozy inside, maybe with a crackling fireplace and a pet to keep you company. That's the kind of feeling this book gave me.Thank you...

*contains minor spoilers, mainly for the first half of the book. Nothing very major so I've left the spoilers tag off but you have been warned***I was provided with an early copy of the book on behalf of Charlie N Holmberg via NetGalley in exchange for an honest review**Charlie Holmberg invites us back into her fantastical world for another magical adventure. We see the world through the eyes (and glasses) of Alvie Brechenmacher. A young Americ...

I practically screeched for joy when I got an email from Netgalley saying that my ARC request was accepted for The Plastic Magician (in return for an honest review). Charlie N. Holmberg is one of my favourite authors, and the first book I read by her was The Paper Magician, so to see her continue one of my all time favourite series was a huge thing for me :) Where The Paper Magician was delicate and dainty and easily likened to an origami rose, T...

I received an advance copy of this novel in exchange for a review. Thank you to NetGalley and Charlie N. Holmberg for making that possible!! Warning: while I tried to avoid spoilers, some of this review may get a little spoiler-y, so read at your own risk!I loved The Paper Magician series, so when I saw that there was to be a new story set in the same world I was immediately excited. The Plastic Magician introduces us to Alvie Brechenmacher, a Pl...

Alvie Brechenmacher is a young woman from Ohio who has been accepted in the new magical discipline of Polymaking. She travels to England to meet her new master Marion Praff who is one of the most famous of the polymakers. .Traveling through mirrors, on ferries, and on the train is makes a long hard day that isn't helped when a "helpful" stranger who introduces himself as Magician Ezzell, also a polymaker, encourages her to get off at the wrong tr...

Overall impression: A delightful journey to an alternate-reality England, where magic-made technology merges with the charm of the early 1900s, The Plastic Magician is a welcome return to the world of The Paper Magician series. Note: While fans of The Paper Magician series will enjoy delving into Holmberg's richly imagined world, new readers can easily begin with The Plastic Magician without reading the trio of books that precede it.Perfect for: ...

Is there such a thing as cozy fantasy? If so, The Plastic Magician would be a shining example of the genre. The book is so cozy, heartwarming and wonderfully written.The Plastic Magician is a standalone spin-off from Holmberg's Paper Magician series and is totally readable by itself. Even if you've never read the Paper Magician series (you should though, it's great!) you'll still be able to enjoy The Plastic Magician. I love stories with ...

I received this from Netgalley for an honest reviewI'm so happy to have another glance into this beautiful world. This the me we follow Alvie an American that goes to London to spend her apprenticeship training in Polymaking. I loved Alvie! She's unapologetically nerdy and it was amazing to see a character like her to on the page. Her excitement for learning and math and building was infectious. The relationships with in this book were so sweet. ...

I was so excited to get approved for this book. I knew this was the fourth book in a series, so I read the first three to get caught up. Little did I know, this is a companion novel. It doesn't follow the main characters of the trilogy (although there are cameos, and one of the supporting characters gets a lead role here. Yay!). That said, I think my reading experience was better because I read all four in order. The Plastic Magician is about A...