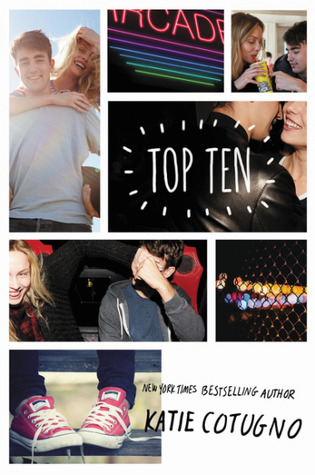 Ryan McCullough and Gabby Hart are the unlikeliest of friends. Introverted, anxious Gabby would rather do literally anything than go to a party. Ryan is a star hockey player who can get any girl he wants—and does, frequently. But against all odds, they became not only friends, but each other's favorite person. Now, as they face high school graduation, they can't help but take a moment to reminisce and, in their signature tradition, make a t...
---
Details Top Ten
Title
Top Ten
ISBN

9780062418302

Author

Katie Cotugno

Release Date
Oct 3rd, 2017
Publisher

Balzer + Bray

Language

English

Genre

Young Adult

,

Contemporary

,

Romance

Rating
Reviews Top Ten
I've never read a Katie Contugo book before but I was happy to try it out when I received an ARC from the HarperCollins Canada Frenzy Presents event, and it was an enjoyable read! Cute, fun, and refreshing. The ending took me by surprise, but definitely in a pleasant way. I will say though, I had a lot of trouble with connecting to the characters and the storyline I think partially due to the episodic format of the story.

Release date: October 3, 2017DNF. I think a lot of people might like this as a light summer story, but I didn't care enough about the characters to finish it. Gabby and Ryan have been best friends throughout high school. They sleep together at the start of the story and then get in a fight over whether it meant anything. Then the story jumps back to freshman year and shows their history. The writing is fine but it was definitely hard to get into ...

I received a copy from HarperCollins via Edelweiss in exchange for an honest review.I'm not sure how to go about this review because I was confused 80% of the time so I'll break it down with what I expected vs what I got from this book.What I expected:1.A light romance read that will make me feel fuzzy. I wanted a light read that will make me squeal and smile really big whenever I thought about it.2. Best friend to lovers trope. As much as I ...

I won this through a First-Reads Giveaway. I so wanted to like this book. The write-up seemed promising. I hadn't read a YA in awhile and was ready for a light (maybe at times dramatic-love story.) I'm sorry but I did not really feel the "love" in this book. I couldn't get into the characters very much. I did not like Gabby at all and Ryan was just ok. I'm not even sure I'd call this a true "romance." I did not care for the sub plot romances. I d...

Katie Cotugno's books always have a way of surprising me. She develops these realistic and flawed individuals and we follow them through their daily lives. We see the beauty, tragedy, and monotony of their lives and get to experience it along side them. Top Ten is another solid installment that showcases the importance of friendship, what it means when that friend becomes more, and what happens if it doesn't work out. Things I Liked :There wa...

I really wanted to like this book, but I just couldn't connect with it unfortunately. There were too many timelines going on at the same time, and it became very confusing. I felt like because of the constantly shifting timeline, there ended up being some loose threads that were never resolved. The current timeline for Ryan and Gabby also ended up feeling pretty rushed and just not fully fleshed out. I really enjoyed the characters and thought th...

*An arc of this book was sent to me by the publisher HarperCollins via Edelweiss in exchange for an honest review.*Top Ten is a book set out to release on October 3, 2017. It follows the story of Ryan and Gabby, two very different best friends that at certain points of their friendship spark up feelings for each other. These two make a list of the Top ten moments of their relationship based on their four years at high school, changing from dual p...

3.5I think Top Ten was a very interesting introduction to Cotugno. It was told in an episodic format that I personally really enjoyed. It alternates between the four years that the two main characters have been friends. I didn't find it as confusing as others did and personally thought it served the type of story really well.I also loved some of the topics and diversity that were included in this story. Gabby has severe anxiety and identifies as ...

This is a case of "it's not you, it's me", because this just wasn't a "me" book - but I do recommend it for the following reasons:- bi protagonist with anxiety!- cute contemporary story- accurate representation of high school- the! best! family! - focus on sports (hockey)- unique method of storytelling (dual point of view, told throughout four years of high school) - very fast readWhy did I not like it? Let's see. - I had no love for either of th...

Just a perfect real life book. Review to come way closer to release date.

This review also appears on Happy Indulgence. Check it out for more reviews!Thank you to HarperCollins Canada for providing a review copy of the book. All thoughts and opinions are my own.Top Ten is a novel that exceeded all of my expectations. I was not a fan of Katie Cotugno's 99 Days at all (in fact, I pretty much hated it) so I tried to go into Top Ten with an open mind and ended up really enjoying it. It's also no secret that I love the ...

Here's the thing about TOP TEN - It's a quieter contemporary that is about two people who are important to each other and some of the most significant moments of their relationship and lives. In true Cotugno fashion, it certainly managed to weave in those complicated, imperfect characters and feelings and I appreciated that a fair bit. I do wish I'd been a touch more invested in the characters, but I still liked it overall.

This started okay, then it wasn't, but it eventually recovered. So I'm rating this 2,5 stars, rounding up 3 because it was well written and I understood the (good) message intended. Still, it got close to a 2. In other words, it gets better, just not that much.This book is about Gabby and Ryan's friendship as told in a non linear manner, listing the top-ten moments through four years from when they met in freshmen year until the present, after th...

You can find this review and others on my blog http://www.shades0fpaper.wordpress.com "I'm not kidding, though; I do really like those lists. I make them in my head sometimes, if I'm bored or whatever.""You do, huh? Like what?""Top 10 things about this party," he said immediately. Okay, I honestly don't know how to describe my experience reading this book. I read another Katie Cotugno's novel this year, and even though it was...

Review can also be found here: https://samanthascw.wordpress.com/201...I finished this book in a sitting (actually two sittings) and I really enjoyed it, but not for the typical reasons you'd think it was for. Yes, like any other YA novel, it was cute and swoon-worthy and I loved that part of it, but mainly, I loved the book for the topics that were discussed in it.First up, this book gets points for the mental health spotlight. One of the main...

*4.25 Stars*Prior to sinking into this book, I had heard a lot about Katie Cotugno and her light, fun books. Eager to find out what makes everyone rave about her stories, I requested Top Ten right away when I saw it on Indigo's ARC newsletter.After having read this, I can totally see why people love her writing so much. I adored this book! Although it may not have been the most original of story topics, the two protagonists were fantastically w...

I wish I could love this book more. It's a good premise but the characters lack depth. The writing is okay. It's weird that the non linear narrative didn't work out for me this time, because I usually love them in books. However, I really loved the ending!

You can find the full review and all the fancy and/or randomness that accompanies it at It Starts at Midnight I read this book in one day. In fact, I kept reading chapters on my phone every chance I got, because it was so good. So let us discuss! The Things I Loved: Such a realistic portrayal of how different people anticipate the college situation. So many books present characters who all just want college to come ASAP, there's no worry about ...

Top Ten is a book about an unlikely friendship between two teens. Gabby has some major social anxiety that is so bad it pretty much cripples her and Ryan is a hockey star/social butterfly. Even though these two run in two completely different circles, and have two completely different personalities, they are the best of friends. Top Ten is the story of their top ten moments throughout their friendship.I was so excited to read Top Ten. It just sou...

Actual rating: 3.5 At the beginning of this book, I actually hated it because it sounded juvenile for people who are already going to college. In the first chapter, the conversation did not go smoothly and there were so many breaks for every speech that my head was already swimming by the time the chapter concluded. However, and thank goodness for this, it slowly warmed up to me - the speech improved and they sounded less juvenile towards the mid...

3.5/5 starsTop Ten is a Young Adult contemporary novel.It is told in alternating 3rd person POVs and takes place in a northern suburb of New York City.The narrators are Ryan and Gabby. The book starts on the day of their high school graduation. The book is a Top Ten list of moments in high school. Each chapter is one thing from the top ten list. The book goes back and forth in time as each thing on the list happens at a different point in high sc...

My first Katie Cotugno book! I really enjoyed the writing. The author really takes the issue of mental illness (namely anxiety and panic attacks) and really crafts a very interesting, realistic and often bittersweet story of friendship that is really important. But just as a disclaimer: If you are going into this novel with expectation of a "friends-to-more" romance you most likely will be disappointed. However, regardless of that, Gabby and Ryan...

Rating: 4.5 StarsI really loved this one, but you know, endings. Full review to follow BLOG | INSTAGRAM | BLOGLOVIN | FRIEND ME ON GOODREADS

This story has a good basis, but seems to fall flat and didn't keep my attention. However, I let my sister (who is 10years younger than me) read my ARC copy and she loved it. Telling me that is was very true to life and that she will be buying it once it becomes available.

I read this book in about three hours that I DEFINITELY should have been working but it was so good I couldn't stop. It was wondrous, with swoons and feels and hockey and anxiety and just buy this as soon as it comes out, k? You won't be disappointed.

Maybe 2.5 starsThe order the list was presented in was really distracting and didn't help the story, or my connection to the characters. Despite that, I did enjoy the story, just not quite as much as I had hoped I would.