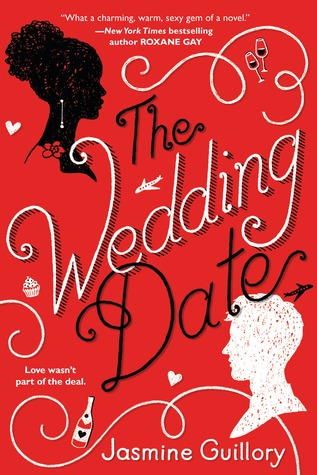 A groomsman and his last-minute guest are about to discover if a fake date can go the distance in a fun and flirty debut novel.Agreeing to go to a wedding with a guy she gets stuck with in an elevator is something Alexa Monroe wouldn't normally do. But there's something about Drew Nichols that's too hard to resist.On the eve of his ex's wedding festivities, Drew is minus a plus one. Until a power outage strands him with the perfect candidate for ...
---
Reviews The Wedding Date
What a charming, warm, sexy gem of a novel. I couldn't put The Wedding Date down. I love a good romance and this delivered from the first page to the last. Alexa Monroe is a great heroine—smart, funny, and full of the anxieties women know intimately. And when she meets the handsome doctor Drew Nichols in an elevator, it's the beginning of an adventure in falling in like and then lust and then love. It was also nice to read a fun novel about...

SO GOOD, definitely one of my new favorite romances!- Interracial relationship (black female and white male protagonists)- Fake to real relationship trope (one of my faves!)- Explicit practice of safe sex- Alexa works for the mayor of Berkeley and she is trying to obtain funding for an arts program for underprivileged youth. Author has a background in law, as does Alexa, and it shows.- Drew has to check. his. privilege. many times in the book and...

4 stars!!!The Wedding Date by Jasmine Guillory is charming, sweet, and downright adorable! I had trouble believing this was a debut novel- it was so well written and a pleasure to read! Alexa and Drew meet in an unconventional way. They're stuck together in an elevator. Being stuck together leads to them going to a wedding together. After that, this couple just can't seem to get enough of each other. Drew is a pediatric surgeon from LA and Al...

Contemporary-A-Thon challenge #6: read a diverse contemporary -COMPLETE!This was mega cute. A little corny at times, but honestly what new adult romance isn't a little corny at times? Would definitely recommend for someone looking for a fast and fun read set in the Bay Area!

I'm so glad I got stuck in that elevator with you." she said."Me, too." The Wedding Date is an adorable romance about two people who aren't quite sure how to navigate a "relationship" that was never part of their plans. With a cuter than cute meet-cute, you'd expect things to go smoothly. But when you put together two people who aren't in their element, things are bound to get complicated.It's serendipitous when Drew Nichols and Alexa Mon...

4.5 stars! You know how they always say never judge a book by its cover? Sometimes THEY'RE WRONG. Because this cover is cute AF and so was this book!!!! Such a refreshing read, I enjoyed it so much!The Wedding Date is about Alexa, who when visiting her sister in a hotel gets stuck in the elevator with a hot guy, Drew, when the power goes out. Right off the bat they hit it off and Drew asks Alexa to be hit date at a wedding the next day and she ...

This was an adorable romance with my favorite Fake Dating trope!❉ Couple meets stuck in a elevator❉ Guy needs a date to his ex's wedding ❉ Cue adorable and awkward situations❉ Interracial couple, Alexa is black and Drew is white❉ Both characters have established careers that they are passionate about. Drew is a doctor and Alexa works for the Mayor❉ Discussion around body image and beauty standardsA few complaints would be that the sex...

Another great book to read near Valentine's Day! Steamy, romantic and def. swoonworthy!

LIVE AMAZON https://www.amazon.com/Wedding-Date-f...4.5 stars The Wedding Date was exactly what I needed and even more.The writing was beautiful and the story refreshing.The Wedding Date was fast paced and lighthearted!I adored Alexa and Drew.Alexa is smart and funny.Drew is charming,sweet,cute and kind.I really like how they met and I enjoyed that they start first as friends.They have some flirty,funny and sweet moments. Their romance felt reali...

NOW AVAILABLE!This is not the type of book I generally seek out. I like romances, but I usually prefer either historical romances or paranormal ones - something not set in our world, present time. However, after reading Roxane Gay's review, I decided to request it from Netgalley.This is a contemporary romance and I've heard words used to describe it like "charming" and "cute" and I think that works. Alexa goes to see her visiting sister in her ho...

Very adorable and sexy romance! I loved that this got right into things and began with the wedding and then let us watch how things unfolded after the fake date. For the most part, this was compulsively readable but I felt this maybe dragged on a little too long in the middle.The main character is African American (ownvoices) and there is fat rep. It does toe the line of having some body image issues go away due to the love interest, but with the...

2.5, it's not that terrible a 2-star.Alexa and Drew meet while stuck inside an elevator and they start talking. Drew is really handsome but his ex-girlfriend not only is to marry his best friend but also he was called to be the best man. To make things worse, he's dateless. As an impulse, Drew ends up inviting Alexa to play his girlfriend for the weekend.This book all happened in the first quarter. I wasn't that excited but it could have been a g...

Alexa Monroe found herself trapped at a hotel elevator with a handsome, charming Drew Nichols. The incident led to a wedding date, a pretend relationship which quickly escalated into something more. The Wedding Date charmed me from beginning to end. The best part about this book was easily the heroine! She's gorgeous and competent as hell but also strong and vulnerable. Alexa Monroe was everything I love in my romance book heroines. Another ele...

After reading The Wedding Date, I created my "Favorite Reads of 2018" shelf on Goodreads and promptly added this book to the list so that should tell you how well things went.Over the years, Fake Dating & I have had a rocky relationship. Plots revolving around Fake Dating are an easy way to get me intrigued, but they tend to fall short in actuality. Was that the case with The Wedding Date? Definitely not."She glanced up at the ornate clock over t...

When Alexa and Drew end up stuck in an elevator together, they quickly hit it off, and Drew ends up asking Alexa to be his fake girlfriend at his exes wedding. She agrees, and sparks fly. Despite living in different cities, Alexa and Drew continue to see each other. Even though Drew made it clear that he "doesn't do relationships", this feels different. He can't stop thinking about Alexa, and likewise, she can't stop thinking about him either. A...

I absolutely loved this synopsis and was quite eager to get to this story. I love love loved Alexa and Drew. She's smart and driven. He's charming and charming. Together they're all sort of flirting and banter and sweetness. I loved their weekends together. And can we please get a book about Carlos? He was fantastic. Plot wise, it was what I expected: a lot of them speculating about what the other is feeling or thinking, but not actually as...

This is normally not my kind of jam, but I will read anything that Roxane Gay tells me to read. This was so corny and formulaic that, if it weren't written by a black woman, it would have already been adapted into a Kathryn Heigl movie by now. And yet, it was a surprisingly sexy, fun palate cleanser.

This was a cute, steamy, fun, and quick romantic read. Honestly, it was the perfect Valentine's Day read but it would be a fun read any time of the year. In the need of a book that reminds you of that perfect romantic comedy movie? This is the one to pick up. It really reads as if it was a romantic comedy that you'd be seeing on the big screen. I'd vote for this movie adaptation for sure! Both of the main characters are likeable and there is an o...

This might be the first romance book that I've ever truly read sans any irony... And I LOVED it. The two main characters, Alexa and Drew, are amazing. I adored them. I really appreciated that both of them had full, rich lives and great friendships outside of their romantic relationship. The fact that they had such full lives made me root for them even more. They weren't without flaws, but you can't help but love them because they feel so real. Al...

Because I am an honest reviewer I'm going to say up front that this is a 3.5 star review leaning toward 4 because while utterly scrumptious in many ways it does have a few problems that make the good stuff, and there is a lot of good stuff, a little less yummy.I believe this is Jasmine Guillory's first novel and my hat is very much off to her for a really very brilliant debut. She's created two immensely likable, totally enjoyable to read, and ve...

I am a sucker for wedding movies. The Wedding Date, Something Borrowed, Made of Honor…seriously I could watch those over and over again. When I heard about this book, to say I was excited is an understatement. Two people meet in an elevator and decide to go to a wedding together? I had to read it! Nothing exciting ever happens to Alexa Monroe. But the moment she gets stuck in the elevator with Drew Nichols, an extremely attractive man, she can'...

Maybe a 2.5? Because I'm trying to be more critical with my reviews this year. This book was a quick read but I didn't really feel the romance and nothing felt organic. My favorite thing about this book was that the main character is African-american. And it only slightly surprises me that I don't think I've read a cute-fun-women's-romance in which the main character is African American??? If I have, I can't remember. What constantly bothered me ...

★4 STARS★THE WEDDING DATE is the utterly adorable romance charming in both its story telling and delivery.It begins with a chance meeting between Alexa Monroe and Drew Nichols. Alexa is in town meeting her sister at the hotel in which she is staying. In a rush to get up to her sister's room she barely notices the stranger who is on board with her. That quickly changes when the power goes out and they become stuck.The stranger in question is...

My official review: "A fucking delight."

NB: I was sent an advanced reader's copy by the publisher but it has not affected the content of my review.So joke's on the publisher for this one because I was totally going to buy this book anyway, on release day even, but now I don't have to! Free book!! You guys lost my $8 or whatever!! Just kidding, I will probably still buy it. It was good!So the premise here is that Alexa and Drew meet by chance in an elevator when it stalls in a fancy hot...

Drew and Alexa meet on an elevator and since it refuses to go either up or down, they engage each other in conversation. With no place to go, Drew shares his dilemma and Alexa decides to help him out by posing as his girlfriend. So you can imagine the stir she caused at the wedding. A couple of people at the wedding aren't happy to see Drew with another woman but Alexa deftly handles their nonsense.Alexa and Drew throw caution to the wind and dec...

My new favorite adult contemporary novel of the year! What a fun, sweet, HONEST portrayal of two people falling in love. I felt like I knew these two characters from the beginning. As the story progresses, so did my attachment to them. As most love stories go, there will be hiccups along the way, and since I felt so invested in these characters, my heart broke right alongside them. But I was also cheering for their happily ever after, too. Mark y...