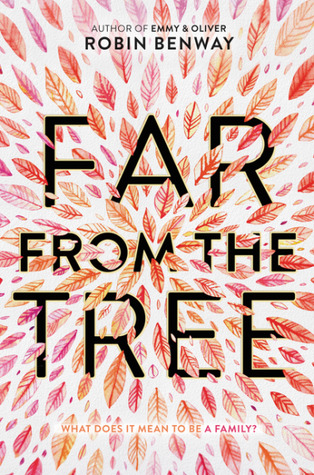 A contemporary novel about three adopted siblings who find each other at just the right moment.Being the middle child has its ups and downs.But for Grace, an only child who was adopted at birth, discovering that she is a middle child is a different ride altogether. After putting her own baby up for adoption, she goes looking for her biological family, including—Maya, her loudmouthed younger bio sister, who has a lot to say about their newfound ...
---
Details Far from the Tree
Title
Far from the Tree
ISBN

9780062330628

Author

Robin Benway

Release Date
Oct 3rd, 2017
Publisher

HarperTeen

Language

English

Genre

Young Adult

,

Contemporary

Rating
Reviews Far from the Tree
I just finished reading this book, and I honest to goodness cannot stop crying thinking about it. What a beautiful, raw, honest portrayal of families in a way I've never really encountered before. What an amazing sibling story. The relationships, the characters, the story - all just so wonderful, and this is def my fave Robin Benway book as of right now.

Me? Obsessed with a Robin Benway book? That sounds... like an understatement, TBH. Many hearts-in-eyes over FAR FROM THE TREE and with all of the complicated family-ness, tricky teenage situations, and scenarios unlike everything else in contemporary YA, I hope you'll love this one as much as I do.

4.5 starsThis book was so beautiful. It follows three biological siblings as they discover each other. They're all dealing with their own heap of issues and they're all such unique characters. I absolutely loved each of the siblings and I especially loved getting to watch them grow together as people and as family. Maya, the youngest, is a lesbian and I loved how accepting every character was of her sexuality. She felt so authentic and she was hi...

4.5 starsRobin Benway has once again made me into a snot-ridden, emotional mess. The feelings evoked by FAR FROM THE TREE are mighty and it is unlikely that any reader would be immune to the emotional content of this read. FAR FROM THE TREE is told from the POV of three siblings, Grace, Maya and Joaquin, each a biological sibling having just found one another. This book starts with a punch, the punch that is the impetus to these brothers and sist...

What a kick in the feels THAT was. <3

Robin Benway has just solidified herself as one of my favorite YA contemporary authors. Like, top three. Her books are what YA contemporary should be.This story follows three teens - Maya, Grace, and Joaquin. The three were given up by their mother as children and the story follows them meeting for the first time and reconnecting.I adored my first Benway book, Emmy & Oliver, and one thing I remember loving about it was the amazing friend group.Be...

THIS BOOK IS ALL HEART AND FEELINGS. I picked this one up on a whim, Indigo was having a pre-release sale and I thought "why not?". We follow three main characters, Grace, Maya, and Joaquin (Wok-keem), who all share the same mother but are unaware of each others' existence. Grace and Maya were adopted into different families when they were babies, and Joaquin has unfortunately spent the majority of his life in the foster care system. Each of the ...

This is one of the best family stories I've read in a long time. I loved Robin Benway's previous novel Emmy & Oliver, but Far From the Tree has proven that she's one of my new favorite and auto-but authors. My heart can't even handle how much I loved this book.

I wasn't sure what to expect going into this read but came out pleasantly surprised by what I had found.The book revolves around three young adults that were separated when their mother gave them up for adoption. They are able to reunite and each of them find out that their lives are not as perfect as everyone around them thinks it is. They each have their fair share of issues and they each have hidden secrets that they need to find the courage t...

This book was fantastic! Maya, Grace and Joaquin were all likable characters and I was captivated by their stories, both individual and as siblings. The ending was lovely and really warmed my heart.

This was such a beautifully character driven story. It's all about who is family and what it means to be a family. I LOVED Grace, Maya, and Joaquin. All three siblings were so easy to connect to. Each one is so resilient and strong, while allowed to be emotional and upset. The family dynamics we get to see were also great - I loved that there was a wide representation of family experiences. Each character is going through such an emotional journe...

Yet again, YET AGAIN, I am crying my eyes out and my chest feels full and empty at the same time. Can Robin Benway PLEASE never stop writing books?

FANBOY POV:As far as I know, nobody reads my reviews of Miss Benway's books anymore, because I have nothing but good things to say about her novels. I mean if you read her books, you know what I am talking about. CRITIQUE POV:The novel feels so real! Sometimes, I have to remind myself that it is fiction. That is the power of research. THE REVIEWWRITING STYLE:As a writer and a reader, I am a huge, huge fan of Miss Benway. Mainly because I want to ...

Three teens who share a biological mother get to know each other over the course of the most difficult few months of their lives.This one gave me a lot of feelings. Definitely one of my favorite YA books of the year.

oh my god i am SOBBINGif this isn't on your TBR yet PUT IT THERE

4,5/5This book broke my heart, filled it with warm fuzziness and then stitched it back together.

I'm such a sucker for well-written sibling stories, and I think this one is particularly exceptional because it also weaves in adoption, which is so, so difficult to capture in an authentic way. Loved this book.

Review Posted on Reading Lark 9/25/17: https://readinglark.blogspot.com/2017...High school hasn't gone the way Grace planned. She never expected one of the star athletes to fall for her nor did she expect to end up pregnant with his child before her Junior year ended, but life has a way of keeping us on our toes. Grace's life crumbles after finding out she's pregnant. She never hesitates though - she knows that she must put the baby up for adopti...

I received a complimentary copy of FAR FROM THE TREE through NetGalley. Thank you HarperTeen and NetGalley for making it possible for me to read this YA book.FAR FROM THE TREE is a book that will touch your heart in ways you never thought possible. This book is written in a way that every emotion possible can be experienced between its covers. There are times you want to jump up and shout for joy, sob for hours, scream your head off in anger, and...

*I received a digital review copy from Edelweiss*I wasn't sure if I was going to end up liking this book. I thought the beginning was a little slow and it wasn't until about 20% of the way through that I became invested in the characters and their stories. I really liked the characters and the different journeys they went on, both by themselves and with their siblings. Robin Benway did a good job in making the reader feel what the characters were...

Grace, Maya, and Joaquin are three teens who are struggling with new challenges in their lives. Grace just gave a baby up for adoption (Peach), Maya's adoptive parents are getting divorced and mom drink too much, and Joaquin has been in the foster care system his whole life and at almost 18 he has the chance to be adopted.The premise that brings these three strangers together is that they are actually sibling that were given up by their mother. T...

Far from the tree is the story of 3 teens who unknowingly all share the same birth mom, but each have enormous struggles of their own. Joaquin has been stuck in the foster care system his whole life, and is scared by the prospect of finally get adopted. Maya's adopted mom's drinking problem cause Maya to push everyone she loves away. Grace got pregnant at 17, and after dealing with the loss of giving her baby away she decides to find her bio fami...

The fact that she was adopted has never been a huge deal in 16-year-old Grace's life... until she becomes pregnant and ends up giving up her baby for adoption. As she searches for her birth mother, she learns that she has biological siblings: younger sister Maya, who was also adopted, and older brother Joaquin, who has spent his life in the foster care system. The three start to forge a friendship, but each is keeping secrets from the others. Whe...

Thanks to @harperteen @harpercollinsus and Edelweiss for the chance to read this e-galley.⭐⭐⭐⭐⭐/5 for the heartfelt story of three half-siblings who find each other amid life crises.Grace is an adopted only child who just gave up her own baby for adoption. Maya was adopted too, but her parents also had a biological child, leaving Maya to sometimes feel like an outcast in her own home. Joaquin was never adopted, but has the chance to now...

Super-soapy. Looks at adoption from a lot of angles. Exceptional depiction of the heartbreak of a teen mother giving up her baby for adoption... but I got pretty hung up on whether it accurately reflects the experiences and feelings of a kid in foster care. And the central premise - a young mother who gave up not one but three children - hmmm. I know a couple women who went through that once, and the experience was so traumatic that they could NE...

Sobbing. Sobbing!! This book hit me right in the feels. Maya was a little hard, but even she got me in the end. I wanted to adopt all three of these kids. This book made me want to hug my kids and love them and never let them go. The writing was great, funny at times, and heartbreaking in the best way. I loved it. Now I think I'll go wash my mascara off my cheeks.

This was a great book - also made me a little bit emotional, I'm not going to lie. Beautiful story about family, finding out who you are, where you come from and where you fit in.Full review coming closer to release date :)

One of the best words I can think to describe this book is heart-wrenching. My heart ached for all the characters and I just wanted to wrap them up and protect them from the world - and from themselves - at times. This was such a lovely and heartfelt look at families and all their variations, both chosen and biological. Robin Benway has this way of making you want to cry but she balances it out with a lot of humor so her books aren't sad. This ...