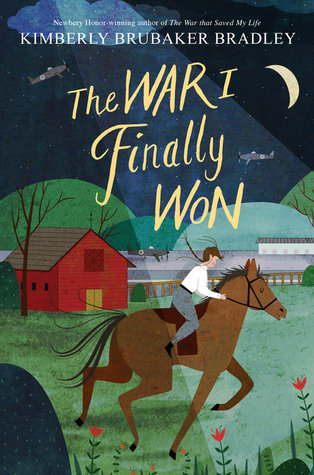 When Ada's clubfoot is surgically fixed at last, she knows for certain that she's not what her mother said she was—damaged, deranged, crippled mentally as well as physically. She's not a daughter anymore, either. What is she?World War II continues, and Ada and her brother, Jamie, are living with their loving legal guardian, Susan, in a borrowed cottage on the estate of the formidable Lady Thorton—along with Lady Thorton herself and her ...
---
Details The War I Finally Won (The War That Saved My Life, #2)
Title
The War I Finally Won (The War That Saved My Life, #2)
ISBN

9780525429203

Author

Kimberly Brubaker Bradley

Release Date
Oct 3rd, 2017
Publisher

Dial Books

Language

English

Genre

Historical

,

Historical Fiction

,

Childrens

,

Middle Grade

,

War

,

Fiction

,

Family

,

World War II

,

European Literature

,

British Literature

,

Young Adult

Rating
Reviews The War I Finally Won (The War That Saved My Life, #2)
I *loved* The War That Saved My Life and friends, this is a worthy sequel. I am in awe of Kimberly Bradley's ability to create characters that are so real, feeling emotions that are so raw that the reader can't help but feel them, too. The growth and development of these characters through the story is masterful. I just loved it. I wished it was longer, which was a thing I NEVER wish because finishing a book and marking it as "read" is one of my ...

Trying to put this review into words is so difficult. The story, the characters, the history...it was all done SO well. Kimberly allows us to see Ada to her core. She begins to help us understand the impact of neglect and abuse, the gravity of war, and depth of beginning to understand a concept that is too deep to put into a simple conversation with children. I cannot highly recommend this book enough. I cannot wait for Ss to have this book in th...

THE WAR THAT SAVED MY LIFE is a hard act to follow but I think I have liked this follow-up even more! The bonds of family and friendship are tested and strengthened again as the war continues to wreak havoc on Ada's life. Bradley does not shy away from writing about Ada's anger and confusion and her supporting cast is fully realized and allowed story arcs of their own. I was particularly touched by the portrayal of Lady Thornton, forced to live i...

Ada's voice is honest and authentic and true…A novel to curl up with on a rainy day; it took me back to the novels I read and loved as a child.'Steph Bowe, author of Night Swimming'Achingly lovely…Nuanced and emotionally acute.'Wall Street Journal'An inimitable, robust, yet lyrically written bildungsroman. Its gentle humour is poignant and heartwarming.'The Australian'Ada's transformation from an angry young woman into a confi...

When last we left our evacuees, Ada Smith and her younger brother Jaime, they had been taken away from Susan Smith (no relation), with whom them had been living after being evacuated from London, and brought back to London by their mother despite the constant bombing. Sure enough, one night during an air raid, they don't make it to the shelter because of Ada's severely clubbed foot, and in the midst of everything, Susan appears to take them b...

A beautifully told story. I was honored to have the privilege of reading an ARC of this book via the #bookexpedition group on Twitter. I didn't get to spend as much time savoring this book as I would have liked, so I will have to sit with it again when it is published.

5 stars isn't enough for the sequel to Ada's story. Beautiful from beginning to end!

While this book could be considered a sequel to the very well received first book, it also stands alone as a story about the hardships of war, the nature of grief, the process of healing, the definition of motherhood and self acceptance. Ambitious, yes but not heavy handed. The book opens with Ada receiving surgery to reshape her foot. Is she grateful, no, she is still full of anger and mistrust, the logical reactions to a child who was not only ...

I loved this one as much as the first. It's refreshing to read a story with complicated relationships where all interested parties learn from each other. We can all care about, love, and support each other, no matter the age.

I was honestly worried to read this because I love The War That Saved My Life so much and I truly didn't think a sequel could live up to it. I'm happy to report I was wrong. The character development in this book is beautiful. Ada is and will always be one of my favorite characters. Such a perfect addition to her story.

I didn't think a sequel could live up to The War That Saved My Life, but KBB has done a fantastic job of it. This book was as good as, if not better than, the first. I got to read an ARC of this, thanks to our fabulous school librarian, and I can not wait for it to come out for the students to enjoy!

The War I Finally Won is one of those rare sequels that not only equals the brilliance of the first book, but might even surpass it. This middle grade book continues the story of Ada, who is now having surgery to correct her clubfoot, and her new family and friends. This story does not shy away from the harsh reality of war and gives a very lifelike view of life during World War II England. This will be first on my list to purchase for my school ...

The sequel to The War That Saved My Life, The War I Finally Won is a magnificent portrait of the resilience of an abused young girl during World War I. In the first book Ada a child born with a club foot, sustained constant physical and mental pain from a mother who didn't want her. Life provides a second chance for her as she and her brother end up in the English countryside protected from the bombing occurring in London. Both her little brother...

I was fortunate to win an ARC of this book on Goodreads. This is another very sought after book at my school since I told students we were getting it early. Almost all the girls that I taught last year are in a draw to determine the order of the holds that have been placed. They are so invested in Ada, and with good reason. This book picks up shortly after The War that Saved My Life as World War II continues and the lives of Ada, Susan, and Jamie...

I have so many books to read that I normally just try to read the first book in a series; sequels are not a priority for me. However, I (and my students) LOVED The War That Saved My Life sosomuch that I HAD to read its follow up, The War I Finally Won. I am forever glad I did. This historical fiction about trust, bravery, and family will stay with me for such a long time. I daresay I may have liked it better than the first one - and that's saying...

Absolutely brilliant! Loved rejoining these characters and the new characters like Ruth who joined the family. Setting, character development, plot are all strong. If you liked The War That Saved My Life, this is a must read. From advanced reader copy.

I finished my ARC copy in one day. The War I Finally Won did not disappoint. Sometimes follow-up books seem forced and the feel of the original story is lost, but this is not the case.Many reviews call Ada a sad-sack (including my daughter) but I believe that she was still recovering emotionally and mentally from her childhood or lack thereof.

I can't believe I loved this sequel as much as The War That Saved My Life! So, so good.

I fell in love with Ada's story all over again. A must read! Great historical fiction!!

An exceptionally well-written book that was just as interesting as the first novel. Will be using it for book discussion group when published in the fall.Advanced Reader Copy

I think this is my favorite book so far this year. I could hug it. I could start right over at page one and read it again in another big gulp.The way Bradley explores how different characters process trauma and loss is masterful. Woven throughout the whole book there are also such strands of joy and beauty.

It was an absolute joy to return to Ada's story after reading The War That Saved My Life. Susan has taken charge of the children again and Ada's club foot is finally able to be surgically repaired. The story is more focused on Ada's emotional recovery after being abused by her mother for so long and the challenges she faces in trusting that she is worthy to be loved and cared for. She has also been neglected and doesn't always understand the word...

This was a two-star book for me the majority of the way through, but it earned an extra star since it ended with some much-needed character growth.Rants I wrote while it was still driving me crazy:-I texted my mom to ask if Ada had been such a sad sack in the first book, too. Her response was "yup, she sure was."-Ruth is a petulant, bitchy, unsympathetic teenager with less common sense than you'd expect from someone her age. People don't know abo...

This review is difficult to put into words. The War I Finally Won is a brilliant follow up to the War That Saved My Life. The book begins right before Ada is rolled into surgery to fix her club foot. Her newfound freedom following her recovery is heartwarming as she discovers and explores all of the things she is now capable of. As the war continues, Ada and her companions must endure many hardships but always seem to find the silver lining. She,...

⭐⭐⭐⭐⭐/5 for #TheWarIFinallyWon, an essential #mglit purchase. This one is out 10/3/17. Thx to @reader4evr for sharing her ARC with me! Love my IG #bookstagram community. 😍..5 things to know about this book:1. Yes, there needed to be a sequel. I thought #TheWarThatSavedMyLife was pretty perfect, but it's clear in chapter 1 of this book that Ada is not anywhere close to feeling secure despite being safe with Susan in the countryside. T...

This sequel to "The War That Saved My Life" was expertly written and an evocative continuation of Ada's story. Her clubfoot is fixed and her body can do things she has never done before, but her emotional growth is still stunted from her time in the city and Mam locking her in the cabinet and keeping her hidden.Readers who loved the first one will find as much or more to love about he second book in the series. Adults and teenagers will also find...

"You can know things all you like, but that doesn't mean you believe them." What a powerful and meaningful quote in The War I Finally Won, the highly anticipated sequel to The War That Saved My Life by Kimberly Brubaker Bradley..Ada's clubfoot has been fixed, but her relationship with Mam may never be. As the war around them continues, Ada, Jamie, and Susan are having to stay in Lady Thornton's cottage due to Susan's house being destroyed by the ...