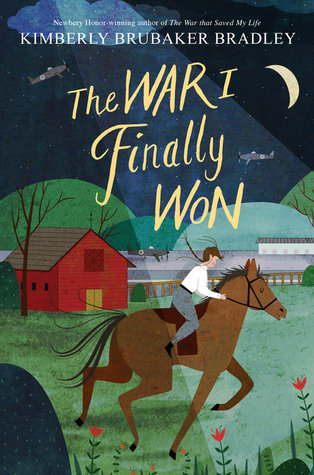 When Ada's clubfoot is surgically fixed at last, she knows for certain that she's not what her mother said she was—damaged, deranged, crippled mentally as well as physically. She's not a daughter anymore, either. What is she?World War II continues, and Ada and her brother, Jamie, are living with their loving legal guardian, Susan, in a borrowed cottage on the estate of the formidable Lady Thorton—along with Lady Thorton herself and her ...
---
Details The War I Finally Won (The War That Saved My Life, #2)
Reviews The War I Finally Won (The War That Saved My Life, #2)
I *loved* The War That Saved My Life and friends, this is a worthy sequel. I am in awe of Kimberly Bradley's ability to create characters that are so real, feeling emotions that are so raw that the reader can't help but feel them, too. The growth and development of these characters through the story is masterful. I just loved it. I wished it was longer, which was a thing I NEVER wish because finishing a book and marking it as "read" is one of my ...

Trying to put this review into words is so difficult. The story, the characters, the history...it was all done SO well. Kimberly allows us to see Ada to her core. She begins to help us understand the impact of neglect and abuse, the gravity of war, and depth of beginning to understand a concept that is too deep to put into a simple conversation with children. I cannot highly recommend this book enough. I cannot wait for Ss to have this book in th...

Resenha no canal: https://youtu.be/RWJABtug0yM :DAmei!Chorei!Feliz por saber o que aconteceu com Ada depois do primeiro volume.

Bawled my way through this one as well. Happy and sad, and adds a new dimension (or two) to Ada's war. (Both her personal war, and the actual war with Germany.) So interesting to see what it was like for children, on the ground in England. So much is written (or at least, most of what I've read) is either about children in America, or in Germany. So interesting to see how far along the war was for England before the US joined, and their attitude ...

THE WAR THAT SAVED MY LIFE is a hard act to follow but I think I have liked this follow-up even more! The bonds of family and friendship are tested and strengthened again as the war continues to wreak havoc on Ada's life. Bradley does not shy away from writing about Ada's anger and confusion and her supporting cast is fully realized and allowed story arcs of their own. I was particularly touched by the portrayal of Lady Thornton, forced to live i...

CHOREI BALDES, mas baldes mesmo, com essa continuação, escrita de maneira tão delicada e verdadeira. O amadurecimento da Ada e as coisas que ela precisa enfrentar pra aprender a viver livre de verdade, aprender a vencer a guerra dentro dela, é digno de nota. Vale cada página

"Love isn't as rare as you think it is...You can love all sorts of people, in all sorts of ways. Nor is love in any way dangerous."I've devoured this series within a week of "discovering" it, and now don't know what to do with myself. Thoroughly enjoyable and edifying. I would eat it if I could. I loved all of the historical elements that Bradley weaved into this story, an account of war in the English countryside from the perspective of a young ...

Whoa, one of the few books of this year I longed to return to and mourned its end. Ada's prickly voice shines. Lady Thorton more than makes up for the one-note Mam of the first book. A thornier Marrila Cuthbert.

A perfect historical novel. Kimberly Brubaker Bradley seamlessly combines WWII realities--ration books, fire watching, displaced Jewish Germans in the village (or the home), Anderson shelters, Land Girls, air raids, secrecy--with the fictional story of Ada and Jamie, orphans after their mother's death during the London Blitz, struggling to embrace and accept an unexpected, unconventional, long-suffering and ultimately supportive family. Great wri...

'With a satisfying yet realistic ending, The War I Finally Won is a great way to end Ada's battle.'Book Muse'Heart-wrenching and heartwarming at the same time…Ada's story tells us that there is hope, there are people of goodwill, and perseverance is always worth the struggle.'Good Reading 'This absorbing adventure, with its gentle humour and fearless characters, will captivate you. It is as exciting as it is poignant and wise and ...

IM NOT CRYING, YOU'RE CRYINGOH NO MY BAD, I'M CRYING. I'M CRYING SO MUCH. I'M CRYING SO MUCH IT'S MAKING YOU CRY TOO.BUT LIKE IN A GOOD WAY THOUGH.

Tenian razon , me gusto mas que la primer parte.me hizo reir y llorar.aun doy vueltas que poner por aqui.

When last we left our evacuees, Ada Smith and her younger brother Jaime, they had been taken away from Susan Smith (no relation), with whom them had been living after being evacuated from London, and brought back to London by their mother despite the constant bombing. Sure enough, one night during an air raid, they don't make it to the shelter because of Ada's severely clubbed foot, and in the midst of everything, Susan appears to take them b...

I waffled between three and four, but I'm feeling generous today and I don't believe in half stars so four it is. XD This was excellently written, with a much better plot than the last book. I did call the main plot twist from MILES away, but somehow that didn't detract from it. The storyline is still slow, like the last book, but it's much more complex and engaging. Plus, Ada's voice and character development was really, really well-do...

I can't even remember the last time I was brought to tears by a book, but I was profoundly moved by the beauty and sadness of this amazing audiobook (and its predecessor, The War That Saved My Life.)Read or listen to them both immediately, but don't say I didn't warn you. This is one of the best novels of 2017.

5 stars isn't enough for the sequel to Ada's story. Beautiful from beginning to end!

Personally sometimes I think you just need to read a WWII book and cry, and this is a FANTASTIC one to do that with. Also. Found families.

I find this series by Bradley to be seriously "unputdownable"! I love love love her writing and I love Ada's story. This was a start & finish in one snow day kind of book for me ❤ I find this series by Bradley to be seriously "unputdownable"! I love love love her writing and I love Ada's story. This was a start & finish in one snow day kind of book for me ❤️

The sequel to Kimberley Brubaker Bradley's Newbery-Honor-winning book The War That Saved My Life, this lovely children's novel continues the story of Ada, crippled from birth with a clubfoot and cruelly mistreated by her mother. Ada and her little brother Jamie have found refuge in the country with Sudan, a clever and sharp-tongued woman with a lot of love to give. She arranges for Ada to have the surgery she needs to correct her deformed foo...

I laughed, I cried. THIS is how you write a sequel. It's brilliant.

I didn't think a sequel could live up to The War That Saved My Life, but KBB has done a fantastic job of it. This book was as good as, if not better than, the first. I got to read an ARC of this, thanks to our fabulous school librarian, and I can not wait for it to come out for the students to enjoy!

I think this is my favorite book so far this year. I could hug it. I could start right over at page one and read it again in another big gulp.The way Bradley explores how different characters process trauma and loss is masterful. Woven throughout the whole book there are also such strands of joy and beauty.

This is the follow up to The War that Save My Life and dare I say I loved it even more. Ida was able to get her operation! The author packed in death, religion, and code breaking all in this book. If you haven't read the first one, you must! A true delight.

This book is so good. It made me cry and laugh till the end.

Absolutely wonderful. Even better than the first. Ada is one of my favorite characters in children's literature. Reading stories through her eyes is joyful. Other characters in the story, such as Susan, Lady Thornton, and Ruth, are just written perfectly. They are all broken in their own ways, but their stories are filled with hope - even as they don't realize it. I thought The War that Saved My Life should have won the Newbery two years ago, and...

A beautifully told story. I was honored to have the privilege of reading an ARC of this book via the #bookexpedition group on Twitter. I didn't get to spend as much time savoring this book as I would have liked, so I will have to sit with it again when it is published.

Oh so very good. I absolutely love these books, and I sure hope this isn't the last we'll hear from Ada, Jamie, and Susan

I loved The War That Saved My Life, and it is such a pleasure to revisit these characters in this sequel. The narrator is superb, again delivering Ada's conflicting rage and vulnerability with nuance and care. I love the way she says 'Butter'. I'm only part of the way through, and I've already cried three times.

This was excellent. And one of those books where I read the sequel years after the first one and didn't feel frustrated the whole time by not being able to remember the first book.

I loved this book. The sequel was just as good or maybe even better than the first. This is a must read for fans of the first book or for readers of children's literature.