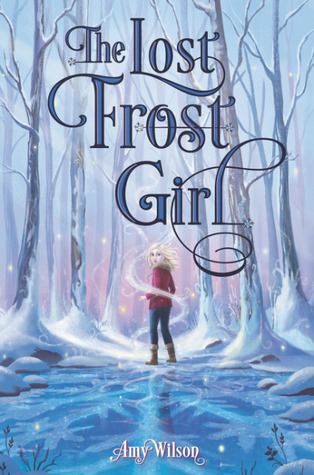 From debut author Amy Wilson comes a story brimming with heart about a normal girl who discovers that she is really Jack Frost's daughter—with winter powers of her very own. The Lost Frost Girl is an enchanting modern-day fairy tale about family, friendship, and the magic of embracing who you are meant to be.Owl has the kind of mom who would name her Owl, a dad she's never met, and a boy who gives her strange looks at school—but Owl has c...
---
Details The Lost Frost Girl
Title
The Lost Frost Girl
ISBN

9780062671486

Author

Amy Wilson

Release Date
Nov 7th, 2017
Publisher

Katherine Tegen Books

Language

English

Genre

Childrens

,

Middle Grade

,

Fantasy

Rating
Reviews The Lost Frost Girl
E ARC from EdelweissEnjoyed, but probably won't buy because I don't have a lot of fantasy readers. This is the strongest contender for one I might purchase. It starts in the "real" world, has a few friend and family problems, and has a fairy/folk tale connection. Still, the same can be said of Houts' Winterfrost, Prineas' Winterling, Constable's The Wolf Princess. or Rudnick's A Frozen Heart, none of which have been circulating very well.

(Review of digital ARC from EdelweissPlus) This librarian of 4th/5th graders will definitely be buying this book for at least one of her libraries! Fantasy is my genre and while I generally lean more towards dragons and darker magic, this piece of fantasy was outstanding. What a great concept-- Jack Frost and the North Wind battling with the Queen of May and the Earl of October with the Lady of the Lake trying to stay out of the ruckus and Mother...

Fun fantasy story about Jack Frost and his daughter.Owl has always wondered about her father. Her mother has been telling her bedtime stories for years and Owl always assumed they were made up. When a boy at school starts looking at her strangely and Owl starts to notice frost particles appearing around her, she becomes a little worried. Determined to get to the bottom of it, Owl discovers she is Jack Frost's daughter. What follows is a battle be...