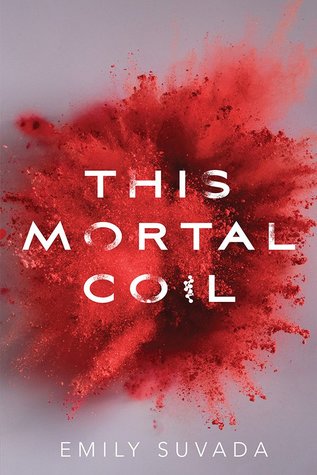 Catarina Agatta is a hacker. She can cripple mainframes and crash through firewalls, but that's not what makes her special. In Cat's world, people are implanted with technology to recode their DNA, allowing them to change their bodies in any way they want. And Cat happens to be a gene-hacking genius.That's no surprise, since Cat's father is Dr. Lachlan Agatta, a legendary geneticist who may be the last hope for defeating a plague that has...
---
Details This Mortal Coil
Title
This Mortal Coil
ISBN

9781481496339

Author

Emily Suvada

Release Date
Nov 7th, 2017
Publisher

Simon Pulse

Language

English

Genre

Young Adult

,

Science Fiction

Rating
Reviews This Mortal Coil
Emily Suvada has written a brilliant dystopian science fiction thriller set in a future where humanity is threatened by a deadly plague that has people exploding into toxic Hydra clouds. Catarina Agatta is a talented hacker, 'bobcat', working with The Skies resistance movement against the monolithic Cartaxus Corporation. She is the daughter of the most able scientist in the country, Dr Lachlan Agatta, working on a solution to the plague. He and h...

Well wow this was not for me. I read a lot of books. More than, like, five okay, so this literally felt like a remix of a ton of other sci-fis to the point where I was actually giggling because it was so obvious to me what would happen. HOWEVER. That could be just me, considering...ya know. My voracious book appetite. But it was so long, and I was so bored that I really am quite peeved right now. Because the cover IS great. The cover is exactly w...

((2.5 stars, rounded up for THAT plot twist)) hoo boy this is going to be a bitch of a review to write. i don't think i've ever been so conflicted about a book in a while. i'll start with the stuff i liked first. the plot and the concept was excellent. there have been no shortage of apocalyptic plagues in speculative fiction, but both the concept of the virus itself and the circumstances surrounding it were extremely original. i mean, bodies expl...

I finished this book a while ago and totally forgot to write a review for it OOPS ITS FINE Basically, this book was beyond fun and sooOoOO interesting guys. It gave me slight The Darkest Minds vibes and I'm not really sure why it just did xD it's like a sci-fi tech version of The Darkest Minds. I just had a few problems with the characters and the plot was a bitttt slow at some points. But, overall, it certainly kept me reading and entertaine...

Actual rating 4.5 stars.I have read a slew of post-apocalyptic novels in which a deadly virus has wreaked havoc and culled the majority of our species. What ordinarily happens is that a portion of humanity devolves into zombie-like creatures, another into opportunistic gangs, and a lone few are left to somehow save the world. That is exactly what this novel does. But where as many of the other titles I have read perform to their stereotypes and d...

Thank you Penguin Australia for sending me a review copy. All thoughts are my ownWOW WOOOOOWIN SHOCKWASNT EXPECTING THIS IT WAS A CASUAL DYSTOPIAN AND I WAS BORED BUT NOW NOW IM IN LOVEfull review when i'm home in a couple weeks

4.5 starsWow, this was a blast! (You know, because the Hydra virus makes you blow up and stuff? ... no? Screw you, that was funny.)This Mortal Coil was such an insane ride from start to finish. It was wild, it was gruesome, it was bloody and fantastic and bloody fantastic. You have no idea what's going on half of the time, and when you finally figure it out you actually know even less - but it was awesome. I had a very hard time putting it down a...

This Mortal Coil by Emily Suvada is a refreshing new dystopia/sci-fi/post-apocalyptic story that grabbed me from the start until the very end, and left me gasping with the many twists and turns.What immediately grabbed me from the start and impressed me was the writing style. From the very first line, it intrigued me. The writing is vibrant and colorful, and I absolutely loved it. If a book can grab me with the writing, it says a lot, and this b...

Another amazing YA scifi book this year! Wow. I'm usually terrible at knowing what the Hip Young Teens will be into nowadays but this is a well-written, compulsively readable spiritual successor to ..*dramatic music* The Hunger Games.

There's no gene for Run Like Hell…Or is there?Stop the presses I've found my new YA trilogy obsession with Emily Suvada's "This Mortal Coil" a fast paced, intricately woven, brilliantly fascinating and best of all intelligent and addictive thriller.Actually I'm assuming trilogy I guess it may end up being more but this is definitely book one and what a book one it is. For a start we have genuinely likable characters, none of whom ar...

Shoutout to my BFF for sending me an ARC of this.I am SHOOK. People, get this on your TBR list. This Mortal Coil is the perfect blend of disturbing, post-apocalyptic, techie sci-fi (too many adjectives?) action with enough twists to shock even the most intuitive reader. I don't even know how to go about writing a concise synopsis for this novel because there's just too much to digest.Catarina is a talented hacker and the daughter of a legendary g...

ohmygod this is probably my favorite sci-fi YA novel in 2017, probably my most favorite ever. I love the complexity and the science behind it. I'm so glad I found this book and I wait eagerly for book 2 ❤ ohmygod this is probably my favorite sci-fi YA novel in 2017, probably my most favorite ever. I love the complexity and the science behind it. I'm so glad I found this book and I wait eagerly for book 2 ❤️

This book deserves a victory dance for awesomeness. But I'm actually too shocked to move right now. This Mortal Coil is mind-blowingly awesome. Prepare yourselves, I'm afraid this is going to be one of those gushing, I-just-loved-it-so-much reviews. But this book totally deserves it.This Mortal Coil expertly combines breathtaking world building with endless action, insane plot twists that just keep coming, and some seriously amazing characters. A...

One of the best sci-fi books I've read in awhile. It's high-energy, tech-driven but well explained and something I didn't want to put down. Highly recommend

WOW. This book destroyed me on so many levels. I have not read such a masterfully crafted plot in a long time, Emily Suvada is a genius. Each plot twist was a shock. The ending of This Mortal Coil is a place I would have never expected from the beginning, and it is so so good. This book is provocative and stunning, I need a finished copy NOW. And the sequel. And the rest of the books in this series.

"There's no such thing as right anymore - that ended when the plague hit. Sometimes we need to do awful things to stop worse things from happening. You're still thinking in terms of right and wrong, but this is war, and the rules have changed." I don't think I've ever had such mixed feelings about a book in my entire life. On one hand, I LOVED so much of it - the world building, the high stakes, the grey morality, the desperate tone ...

Sci-Fi, Romance, Dystopian, YA, Thriller – this one novel covers a wide spectrum of interests to please the masses. Throw in some villains, heroes, plagues, and conspiracies on top of the multi-genre and you are not going to be bored with this unpredictable story with its plot twists and depth. You can tell from the writing style and detail that Suvada put time and effort into research as the believability factor was high considering the type o...

Original Post: http://booknauthors.blogspot.com/2017...Catarina Aggata is the daughter of the renowed geneticist, Dr Lachlan Aggata. When a dangerous plague attacks the world, Lachlan Aggata creates such vaccine that can finish this deathly plague. Catarina gets the news of her father's death through a soldier of Cartaxus, Cole but she doesn't beleieves him entirely. Now it's in Cat's hand to find & unlock the vaccine so as to save the humanity w...

I adore this book. It's everything you could ever want in a sci-fi novel: inventive, smart, poignant... The science and technology is brilliant, the characters are dynamic, and the prose is beautiful. This will be your new favorite book. November can't come quickly enough.

Set in a future where humanity has been devastated by a terrible plague and implanted tech is the norm Emily Suvada has created a story which is clever and complex as well as being emotional and gripping. The plot is smart and intricate and I very quickly connected to the characters especially the main character Cat. I don't want to give too much away but I loved the twists and turns and the big plot twists towards the end are superb. I cannot wa...

I had the pleasure of reading This Mortal Coil in its beta stages, and wow - what an incredible ride. Literally. A thrilling race against time and disease until the very end, with a badass bio-tech hacker female lead. A total page-turner. Everything about this book is badass. READ IT!

There are a very short handful of books that stand out to me this year, and this is one of them. The setup is like a lot of dystopian YA thrillers-- a deadly virus takes over the world, rather zombie like virus, but the dying explode, making transmission even higher. Cat is the daughter of an esteemed scientist who is the world's only hope for making a vaccine, but he and his protege are taken away from Cat in the first few pages of the book by C...

I am officially a This Mortal Coil evangelist. I am ride or die for this book. You like sci-fi? Romance? Detailed (but thankfully fictional) science? Apocalyptic fiction? Government conspiracies? Family drama? Romance? Bad boys? Plagues? Unexpectedly graphic things? Unpredictable yet perfectly set up plot twists? Yelling at books? Pretty covers? Then this book is for you. This Mortal Coil is, hands-down, the best book I've read this year, and I'v...

I wish I could give this book more than 5 stars because it was that good. It is not often that I find a book that makes me want it to never end but this book did. It was such a good book. It had depth beyond what a lot of Young Adult books attempt. The author clearly did her research into these subjects and it shows. My only regret is that it is an ARC and now I have to wait even longer for the sequel. Seriously though this book just earned a spo...

Oh. Em. Gee. This, right here, is my favorite sci-fi/dystopian in AGES. From the very first page, I was enthralled. And I was worried that the scientific aspects would be tough to follow. But, Suvada did a fantastic job of making something so complex, SIMPLE. Understandable. I loved the apocalyptic story. This was a whole different take on "illnesses." It felt a little like a zombie book, but also mixed with some aspects of The 5th Wave. But plea...