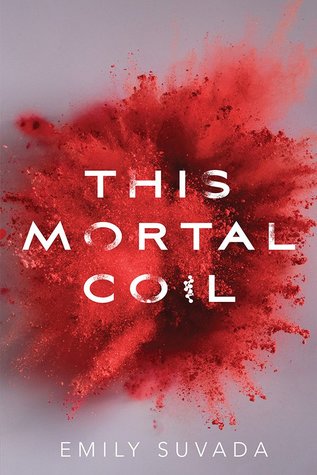 Catarina Agatta is a hacker. She can cripple mainframes and crash through firewalls, but that's not what makes her special. In Cat's world, people are implanted with technology to recode their DNA, allowing them to change their bodies in any way they want. And Cat happens to be a gene-hacking genius.That's no surprise, since Cat's father is Dr. Lachlan Agatta, a legendary geneticist who may be the last hope for defeating a plague that has...
---
Details This Mortal Coil (This Mortal Coil #1)
Title
This Mortal Coil (This Mortal Coil #1)
ISBN

9781481496339

Author

Emily Suvada

Release Date
Nov 7th, 2017
Publisher

Simon Pulse

Language

English

Genre

Young Adult

,

Science Fiction

,

Dystopia

Rating
Reviews This Mortal Coil (This Mortal Coil #1)
Emily Suvada has written a brilliant dystopian science fiction thriller set in a future where humanity is threatened by a deadly plague that has people exploding into toxic Hydra clouds. Catarina Agatta is a talented hacker, 'bobcat', working with The Skies resistance movement against the monolithic Cartaxus Corporation. She is the daughter of the most able scientist in the country, Dr Lachlan Agatta, working on a solution to the plague. He and h...

2 1/2 stars. This was… interesting, and also not my type of book, and kind of disappointing. I honestly think This Mortal Coil is bit of your typical plot-twisty-but-not-very-quality YA sci-fi , and although some things stood out, I just didn't love it.The obvious upside of this book is that it is just... really wild. The broad concept of worldbuilding is sort of terrifying — I mean, a disease that causes people to explode and leads thos...

"There's no such thing quite as dangerous as an Agatta's best intentions." The beginning was intense and fast-paced but as it went on, the book really lost stream. Of course the length doesn't help (420 pages) but it went off the rail for me when her martyrdom kicked in. I was all 'Whoa, don't do this to me girl, this is not cool' But too late! It took hold and from then on her mantra was 'everything is my fault'... How tireso...

3.5* A world where a disease has taken over and people have tech installed in their bodies.It's fast paced, action packed, heavy on romance, and decently entertaining. Cool and unique world. I want to make it clear that it's DECENTLY ENTERTAINING and that there are a ton of books that are MORE entertaining / action packed so I don't really recommend this. I ultimately like this book now that I actually read the whole thing, but it sure is stupid....

((2.5 stars, rounded up for THAT plot twist)) hoo boy this is going to be a bitch of a review to write. i don't think i've ever been so conflicted about a book in a while. i'll start with the stuff i liked first. the plot and the concept was excellent. there have been no shortage of apocalyptic plagues in speculative fiction, but both the concept of the virus itself and the circumstances surrounding it were extremely original. i mean, bodies expl...

A great science fiction blend of post apocalyptic survival and genetic technology. It's like Warcross meets The Walking Dead.At times I thought this was just plain weird, and it is, but I enjoyed it.Content: Cannibalism. Plague/infection. Brutal descriptions of injury and self injury - not disordered self harm, but like needing to cut something out of a wound for survival.Audiobook: The narrator slightly mispronounced several words, but upon some...

This book was fantastic! At first, it seemed a bit cliched and stuff, but then it picked up and I couldn't put it down Genetics, coding, technology, big plot twists, fast paced, everything you could want in a sci-fi book Yyou can tell the author researched it all and knew what she was talking abouti'd definitely recommend if you enjoy ya sci-fi

I finished this book a while ago and totally forgot to write a review for it OOPS ITS FINE Basically, this book was beyond fun and sooOoOO interesting guys. It gave me slight The Darkest Minds vibes and I'm not really sure why it just did xD it's like a sci-fi tech version of The Darkest Minds. I just had a few problems with the characters and the plot was a bitttt slow at some points. But, overall, it certainly kept me reading and entertaine...

Actual rating 4.5 stars.I have read a slew of post-apocalyptic novels in which a deadly virus has wreaked havoc and culled the majority of our species. What ordinarily happens is that a portion of humanity devolves into zombie-like creatures, another into opportunistic gangs, and a lone few are left to somehow save the world. That is exactly what this novel does. But where as many of the other titles I have read perform to their stereotypes and d...

Checkout my full review + giveaway (ends 11/12) on my blog! http://omgbooksandmorebooks.blogspot....THIS BOOK! In my opinion this should be required reading for science classes because the science level in this book is beyond from what I've seen in any YA book. It's amazing. The cast of characters are so unique in each way. Cat and Cole seem to come from different worlds but they have so many similarities And the reader "thinks" they know what's ...

this was much better than I expected (sorry for saying nothing else about this book but I currently have no power and shitty reception and an injured dog so that's all for now)

THIS REVIEW (AND MANY OTHERS) ARE ON MY BLOGThank you Penguin Australia for sending me a review copy. All thoughts are my own.R A M B L EI went into this book with some low expectations. I'm not exactly sure why. I had requested it from Penguin a few months prior and had been really excited, but by the time I received it I was a little apprehensive. I'm not sure if it was just because I wasn't in the mood for a dystopian or what but I decid...

I received a copy of this book in exchange for an honest review.3.5 stars.If your father was responsible for the apocalypse would you try to set it right? That's the dilemma Catarina faces when a mysterious man shows up at her cabin after a virus wiped out most of humanity, and drove the rest underground, two years ago. But there's more to Cole than meets the eye - genetically enhanced to protect, he arrives to guide Catarina towards the cure the...

The earth is a desolate wasteland, a virus decimating humanity, survivors abandoned to starvation. Catarina Agatta is a survivor. Catarina is the seventeen year old daughter of the renowned geneticist Lachlan Agatta, a magnate and former Cartaxus programmer and genetic engineer, now recaptured along with his assistant to manufacture an antidote.Catarina has survived within the isolated Black Hills, a resourceful young woman evading Cartaxus captu...

Not bad at all. Was so into this book but there was so much underlying and bringing the girl Cole is missing up that you have a feeling what is coming when the big twist is revealed. As for some of the other characters, I honestly had a love hate with some, like Dax. However, this was a really good read. I was really entertained by this book. My quick and simple overall: very intriguing. It reminded me of a mix between Divergent meets the Walking...

3.5 stars- I loved the plot- it did feel like your average dystopian, but the idea of the virus was so original and the plot twists and tech made it feel different- the twists and turns kept you wanting to read more and more- the tech was so so cool? I loved reading about that- the romance was weird. It was unique and I liked it but there's a weird love triangle square and yet there isn't? Which is so confusing I know, but I can't say much else w...

4.5 starsExcellent. I loved the worldbuilding with all the built-in tech that people have for "genehacking". It was both brilliant and scary. The story was exciting and fast-paced, and I didn't see the ending coming. I'm absolutely in for the next book.

4.5 starsWow, this was a blast! (You know, because the Hydra virus makes you blow up and stuff? ... no? Screw you, that was funny.)This Mortal Coil was such an insane ride from start to finish. It was wild, it was gruesome, it was bloody and fantastic and bloody fantastic. You have no idea what's going on half of the time, and when you finally figure it out you actually know even less - but it was awesome. I had a very hard time putting it down a...

why do authors always ruin great premises with instalove and tropes ??

This Mortal Coil by Emily Suvada is a refreshing new dystopia/sci-fi/post-apocalyptic story that grabbed me from the start until the very end, and left me gasping with the many twists and turns.What immediately grabbed me from the start and impressed me was the writing style. From the very first line, it intrigued me. The writing is vibrant and colorful, and I absolutely loved it. If a book can grab me with the writing, it says a lot, and this b...

BANG! Did that roller coaster just stop for a while?Woah! I wasn't prepared for such a fantastically written sci-fi thriller.This book got everything. To name a few, I experienced some razor sharp action, last minute escapes, a lot of seriously great plot twists, powerful dialogues, humour, slow burn romance & that totally unexpected ending! Man! I wasn't prepared for that 😨In a sense, this book was just like a peel of onion! You have to keep ...

"There's no such thing as right anymore - that ended when the plague hit. Sometimes we need to do awful things to stop worse things from happening. You're still thinking in terms of right and wrong, but this is war, and the rules have changed." This was an interesting novel, should you always believe in the hype though? No, of course not, sadly this is my mistake time and time again, believe the hype because that's where my expectations ...

5 Out Of 5 "hacker-if-ic" STARSThis book is amazing, one of the best dystopian's I've read in a while and absolutely a new favorite.  For a book involving gene hacking, splicing, decoding and lots of technical terms and such this is completely comprehensible and seriously compelling.  It also depicts a plaque virus with walking dead-like creatures that will explode and then infect anyone in a certain radius, plus some crazy plot twists that wil...

There's no gene for Run Like Hell…Or is there?Stop the presses I've found my new YA trilogy obsession with Emily Suvada's "This Mortal Coil" a fast paced, intricately woven, brilliantly fascinating and best of all intelligent and addictive thriller.Actually I'm assuming trilogy I guess it may end up being more but this is definitely book one and what a book one it is. For a start we have genuinely likable characters, none of whom ar...

In the future we have learned to change things to our DNA like appearances as well as enhance our bodies through technology implanted into our bodies. Not only that, but through the DNA recoding they have been able to cure diseases and viruses such as flus. Until they come across one that literally has people exploding.This Mortal Coil follows the story of Cat, the daughter of reknowned gene hacker and a talented one herself. Unfortunately she is...

"There's no such thing as right anymore - that ended when the plague hit. Sometimes we need to do awful things to stop worse things from happening. You're still thinking in terms of right and wrong, but this is war, and the rules have changed." I don't think I've ever had such mixed feelings about a book in my entire life. On one hand, I LOVED so much of it - the world building, the high stakes, the grey morality, the desperate tone ...

I really enjoyed this one.This Mortal Coil is basically a dystopian/post apocalyptic/science fiction mixture. Our main character is a girl called Catarina who, when the book starts, lives alone. The world she lives in is two years into an epidemic of Hydra - a virus that has spread across the globe, killing people. There is no cure, but there is a short-term way of immunising yourself. In this futuristic world, gene hacking is the norm. Everyone ...