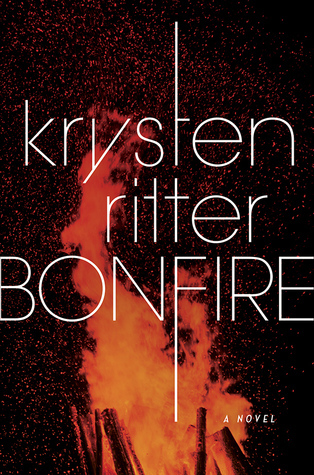 Should you ever go back?It has been ten years since Abby Williams left home and scrubbed away all visible evidence of her small town roots. Now working as an environmental lawyer in Chicago, she has a thriving career, a modern apartment, and her pick of meaningless one-night stands.But when a new case takes her back home to Barrens, Indiana, the life Abby painstakingly created begins to crack. Tasked with investigating Optimal Plastics, the town'...
---
Details Bonfire
Title
Bonfire
ISBN

9781786331021

Author

Krysten Ritter

Release Date
Nov 7th, 2017
Publisher

Hutchinson

Language

English

Genre

Mystery

,

Fiction

,

Thriller

,

Mystery Thriller

,

Suspense

,

Adult

,

Audiobook

,

Adult Fiction

,

Contemporary

,

Crime

Rating
Reviews Bonfire
Going into this book, I had no idea who Krysten Ritter was. It was only when I went to the Goodreads page just now that I realized she's an actress. So I had approached this as I would any hyped thriller with an enticingly fiery cover. Unfortunately, though, I found Bonfire to have a recycled plot that lacked a certain juicy nastiness I like in my thrillers.And isn't this a story we've seen a thousand times? Maybe it's just me, but I feel like I'...

Krysten Ritter rocks. Not only is she a total badass on Jessica Jones, and she rocked my world (and made me laugh out loud constantly) on her old television series Don't Trust the B— in Apartment 23 (still bitter it was canceled), but now her debut novel, Bonfire, is a really good read. I hate overachievers...Abby Williams couldn't get out of her Indiana hometown, Barrens, fast enough. Tormented by her childhood best friend Kaycee and her band ...

Solid 3.5 stars Bonfire is an addictive mystery about corporate greed and small town scandals. After 10 years of living in anonymity in Chicago, environmental lawyer Abby Williams returns to her tiny hometown Barrens, Indiana to investigate Optimal Plastics, a corporation that not only fuels the town's economy, but also saturates Barrens with its philanthropic efforts. Residents of Barrens are getting sick, and Abby believes their illnesses are...

Yes, Krysten Ritter is the star of Netflix's JESSICA JONES, but this thriller is damn good independent of its celebrity author. It's addicting and gritty and fast-paced. Hope you get obsessed too!

Impressive debut for Ritter! When you see a famous person crossing over into a medium they are not known for, you worry it could be cringe-worthy or a total disaster. But, she does a pretty good job jumping right into the middle of the mystery/thriller genre and does a lot better than some more famous books (I am looking at you The Girl on the Train).Now, all that being said, if this was the 10th book from a well-established author, some might no...

This is an atmosphere drenched and compelling crime debut from Krysten Ritter set in Barrens, a small town in Indiana. As children, Abby Williams and Kaycee Mitchell were best friends, only for Kaycee to turn on Abby with her coterie of friends at school. Hating her father and her miserable life, Abby is the one that got away. She lives in Chicago and is a environmental lawyer, returning to Barrens after a decade away, to investigate Optimal Plas...

This was a really strong debut and one of the better mystery/thrillers I've read in a while. Of course it had it's issues, though they were small and mostly due to editing in my opinion (the infamous "I released a breath I didn't realize I was holding" was used 3 times in the first half of the book...). Otherwise I found the characters to be strong, especially Abby our MC who is returning home to confront her past and a possibly corrupt corporati...

3.5 Back home to Indiana, is the last place Abby wants to go, a place where she was bullied daily. Now an environmental lawyer in Chicago, she is a confident, more centered person. When a case in her old hometown sends her and her team back to investigate a company that seems to have the town in it's pockets, she is sure she can handle it. But can she?Two different ratings for each half of the book. Very encouraging start, well written, seemed to...

This book exceeded my expectations! I've known the author Krysten Ritter from her work in the TV series Breaking Bad and Jessica Jones. So when I learned she had written a book I felt a little skeptical at first, but I am glad I put those thoughts aside and jumped into this novel.Abby Williams is an environmental lawyer that returns to her childhood town to investigate the area's most important company: Optimal Plastics. There have been claims in...

I was lost in the weedy and woody murky coulee with two of my Traveling Sisters as we read Bonfire. We started off intrigued by this story but soon became weighted down with a little too much drama and the dirty not-so-little secrets to this story. We became mentally exhausted and annoyed from it all and we just wanted to close our books and find a nice grassy spot to have a nap. However, our main character Abby was quite loud in our heads with t...

Such a fun debut novel! This premise of "the girl returning to her disturbing home town" has been done before, but I still found this incredibly unique. Review is up on my channel! Video review: https://www.youtube.com/watch?v=zdvJn...

Bonfire by Krysten Ritter is a 2017 Crown Archetype publication. A heavily atmospheric and absorbing crime story-When environmental lawyer, Abby Williams returns to her hometown in Indiana to investigate illnesses which could be connected to the town's life force and largest employer, Optimal Plastics, she immediately, regrets coming back. She soon learns her estranged father is quite ill, and she is flooded with childhood memories of her best ...

I really enjoyed this and would give it between a 4 and 4.5 ☆s. I was introduced to this book through Book of the Month Club (which, if you aren't a member of, you should be) - although I didn't select it in the month it was first offered, I ultimately got it in a later box after seeing it everywhere!This is the debut novel for Krysten Ritter, most well known as Jessica Jones in the Netflix original series of the same name. I was skeptical goin...

I was sooo excited when I found out Krysten Ritter was releasing a debut novel especially in one of my favourite genres. I am obsessed with her as Jessica Jones and loved the role she played in Breaking Bad.Shit, I loved this book. Ritter created such a dark, eerie atmosphere throughout, the plot is very fast paced and the characters from her new and past life are introduced thick and fast. I'm sucker for this type of format ever since I read G...

What a brilliant thriller. I devoured this in two sittings. I was slightly dubious/cynical about a celebrity writing a book, well shame on me as this had me hooked. It's a mix of Erin Brockovich, meets Mean Girls meets dark twisty mystery which enthralled me throughout as lawyer Abigail goes back to home after a decade to take on a huge corporation possibly poisoning her hometown where some demons from the past lie in wait too. Utterly gripping...

3.75 stars: I was pleasantly surprised by this! Thrillers can too often present overused tropes and plot turns based on convenience, not to mention sensationalizing mental illness and misogyny but thankfully there was none of that here (of course, there should be no bonus/gratuitous lauding or applauding things for not being misogynistic) . I enjoyed the focus on environment and law while also exploring the complicated relationships one can have ...

Probably one of the best celebrity-penned novels I have read. I wasn't sure what to expect, from just the synopsis, which suggested mystery thriller, political, and possibly also science fiction elements. And this feeling, of being on unsure footing with this book, continued to dog my entire reading of it. In the best possible way, this is a novel that has so many layers to it that it became impossible to categorise it as solely ever about one th...

4.25 Stars → I was impressed with Krysten Ritter's debut novel. I'm kind of out of touch with TV & movies, so I didn't realize the author was an actor until finishing. I quickly grabbed this title when I saw it was suspense and didn't pay much attention to the blurb. Anyway, I enjoyed it. Abby Williams is an environmental lawyer who's returned to her tiny hometown to investigate possible contamination by a plastics company with a whole lot of i...

2 Stars The dialogue is cheesy and people speak in metaphors, there's way too many subplots, conclusions are fast and abrupt being pulled from thin air, the protagonist has a weird gifted memory that can remember every childhood conversation down to the smallest detail (what is she; magic?) and everyday basic interaction seems to leave our sloppy unlikable protagonist breathless, like really? You feel the air has been knocked out of you again!! ...

Your problem, Abby, isn't that you can't draw. It's that you can't see. I was a bit hesitant when I first head about this book: a celebrity writing a suspense thriller? What could possibly go wrong?Well, let me tell you: so many damn things. But, but, Bonfire , surprisingly, was actually good. Wasn't great, but it wasn't bad either. We have the recycled trope of the main character, who is an environmentalist lawyer, going back to her hometown and...

Abby, a small town girl who left for the big city after high school, returns 10 years later as an environmental lawyer to investigate a plastics company suspected of polluting the town's waters. While there, Abby must face demons from her past: an estranged father, mean girls, bullying, and the long-ago disappearance of a friend turned mean-girl.The evil corporation story line failed to keep my interest and I had to force myself to not skim.  Th...

This is the story of Abby, who grew up in a town called Barrens, but ten years have gond by since she last was there. She returns to her home town as part of a small investigative team looking into a company called Optimal, which is the company that has made big investments into the community and is suspected of polluting the town's water supply.The whole book is told from Abby's point of view, so the reader is in Abby's head the whole time. She ...

I want to thank NetGalley and Crown Publishing for providing me with an eARC in exchange for an honest review. I appreciate this opportunity.I also want to give a shout out to Trang from Bookidote! Trang and I buddy read this book starting at the halfway mark. 😂 She offered great insight! Trang is an awesome blogger and new friend! She is so sweet and funny! Check her blog out and show her some love!😉❤🤗Synopsis: Abby Williams is a law...

GUYS. KRYSTEN RITTER WROTE A BOOK. Memories are like fire, and need only a little oxygen to grow. I have been a huge fan of hers since Veronica Mars days. I will watch anything she is in. So when I found out she was crossing into my favorite world, the book world, I was SO FREAKING EXCITED. I rushed to see if it was available on Netgalley. Then worried I wouldn't get approved. BUT THEN I DID. So of course I started it immediately. Im so excited ...

It appears that I am in the minority having not heard of Krysten Ritter before encountering this book. This may have something to do with the fact that she is American and I am British and she features on American shows that I haven't watched before. I don't mind this as this usually bodes well and means I don't have any expectations that others who know of her may have. It puts it on the same footing as the other books I choose to read - I will ...

thank you to netgalley and the publisher for a copy of this book to review.i requested this from Netgalley mainly from curiousity as i am a fan of Krysten Ritter's acting so wondered if she could also write.turns out she can, i was pleasantly surprised at how well this novel was written. it is a multilayered story with recurring themes of family, bullying, enviromental concerns and memory. in other words for her debut Ritter went with a go big or...

I would say this is the best novel by an actor I've ever read, but I'm not actually sure I've ever read any other novels by actors. Either way, this is good stuff, not just some indulgent vanity project. Ritter's debut is a pacy legal thriller which has Abby Williams, a young lawyer, returning home to Barrens, Indiana, where she's plagued by memories of a long-lost friend and finds a powerful corporation covering up evidence of corruption. Let's ...

When ... Marvel heroes, books, and real life mix; readers get a dazzling result!! 😍📚"It's as if the rules to the past have been rewritten, and I'm still learning the game."- Abby Williams* * * "They're all twisting my memories, making me doubt things I always counted on as true."- Abby Williams* * * "There are the people of the world who squeeze and the ones who suffocate." - Abby Williams* * * "I know now that there's...

This is very readable but I felt some things were set up and not fully taken advantage of except for how they advanced the central mystery of what happened to Kaycee. I do like the idea of Erin Brokovich confronting the fallout of childhood bullying, and would read the next book by this author. A few more questions in the spoiler tag:(view spoiler)[1. The narrator has a deep connection to some of the main characters but often feels too much like ...

3 starsCan we go home again, or maybe the question should be should we go home again? Abby Williams does just that, she goes home, but returns as an environmental lawyer digging into a possible case against a corporate giant company Optimal Plastics. She has been gone for ten years but remembers all the horrible things that had happened to her while growing up Barrens Indiana. She remembers the cruelty of her fellow students especially her former...