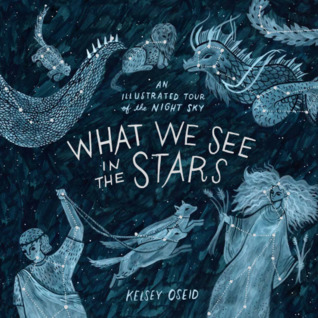 A richly illustrated guide to the myths, histories, and science of the celestial bodies of our solar system, with stories and information about constellations, planets, comets, the northern lights, and more. Combining art, mythology, and science, What We See in the Stars gives readers a tour of the night sky through more than 100 magical pieces of original art, all accompanied by text that weaves related legends and lore with scientific facts. ...
---
Details What We See in the Stars
Reviews What We See in the Stars
We took a family trip to a planetarium last year. The boy child swears that I liked it the most of anyone in the family. (I totally did) But it did give us the 'want to know more' when it comes to looking up at the stars. I snatched up this book when given a chance.It has images of the constellations... With little tidbits about each.A section on the moon. The sun. The planets. Cute little guidebook!Booksource: I received a copy of this book from...

MY BLOG: Melissa Martin's Reading List

Do you remember looking up at the stars as a kid, being told that is Orion's Belt, Casiopea's Chair or that is the Big Dipper, and all you could see were stars, not the picture the names suggested. And when you looked at reference books, they weren't much better help.This book is for the kid in us, as well as kids today. It is so cool. Well researched, well documented, and lovely pictures, showing which stars are supposed to represent what parts ...

3.5 stars.First up: The illustrations in this are gorgeous. The short paint strokes and the various shades of blue really capture the depth of space. I can only imagine how awesome they will look on the printed page, especially if glossy ink/paper is used. Overall, the information presented in this book is an excellent introduction to the constellations, planets, and other aspects of our universe. I found myself constantly comparing it to H.A. Re...

This is a really very good book, taking a lot of space science and stargazing, and presenting it in a very artistic way I would not have expected to enjoy as much as I did. Its focus is also very different to so many other books – for while it does define planets, meteors and so on for us, its bulk is taken with a survey of the entire collection of the constellations – not just the commonly known ones from the zodiac, but even all the piddly ...

What We See in the Stars is a beautifully illustrated hardback book with lovely shades of blue throughout. The front and back cover is gorgeous with lots of detailed images in different shades of blue and white. This book would be perfect for anyone who wants to learn more about constellations, planets, and other interesting facts about our universe. The constellations have a summary of the mythological story that help you to understand them bett...

What We See in the Stars by Kelsey Oseid is a free NetGalley ebook that I read in late September.How convenient that I've recently happened upon a telescope! This book contains Nordic sketchy Pointilist drawings alongside facts about astronomy (de Lacaille's tool-based constellations!) galaxy (a 'waxing' and 'waning' moon makes a little bit more sense now), and outer solar system (nebulas and two Pioneer crafts sent into deep space that carry eng...

I wanted to read up more on astronomy before diving more into astrology. I'm glad I did. Not only did I fulfill my wilderness prompt for the pop sugar challenge (space does count if you read the definition in the dictionary which I was so happy about) but I learned more of the stories of my Greek ancestors and thus the root to my own interest in the stars. The illustrations in this book are beautiful, but can be a tad confusing at times. I would ...

The illustrations are beautiful, those alone could be 5 stars. And they make you want to read the story they're telling.This is a great book for anyone but, of course, especially astronomy fans of any level and of any age. I can't say I'm a big fan of the subject (sorry mom!); but I do love mythology and the little tie-ins on the origins of the constellations was definitely my favorite part. I received this book from Blogging for Books for this ...

The illustrations are mesmerizing and magical, but the formatting of the book kinda threw me off. It feels more like a text book rather than a light graphic novel. I think it might be better if it's made into a kind of story, like a parent-children or campfire story, which is what I expected from this book.

"For most of human history, our understanding of the cosmos was based not on scientific evidence, but on our direct observations of the night sky as we gazed up at its sparkling, dark expense. To this day, the constellations are still useful to us Earth dwellers. They are a way for us to understand an incredibly complex 3D cosmos in two dimensions."

This book is beautifully illustrated and also very informative. I expected it to be nice to look at, but I also learned lots of fun facts about the universe![Free ARC from Net Galley]

"What We See in the Stars: An Illustrated Tour of the Night Sky" is a very enjoyable book for adults and kids alike that will take you on a journey across the night sky. It introduces the reader to the constellations, milky way, our solar system and other celestial phenomena with clear explanations about their behavior, interactions and mythological references.Explanations are short and sweet, just enough science to understand what we are tal...