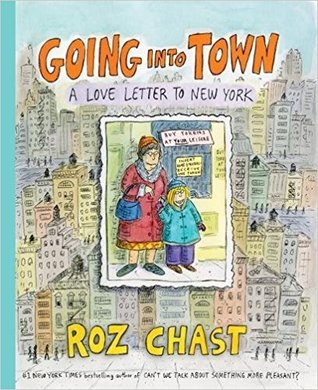 From the #1 NYT bestselling author of Can't We Talk About Something More Pleasant?, Roz Chast's new graphic memoir--a hilarious illustrated ode/guide/ thank-you note to Manhattan.A native Brooklynite-turned-suburban commuter deemed the quintessential New Yorker, Roz Chast has always been intensely alive to the glorious spectacle that is Manhattan--the daily clash of sidewalk racers and dawdlers; the fascinating range of dress codes; and the price...
---
Details Going Into Town
Title
Going Into Town
ISBN

9781620403211

Author

Roz Chast

Release Date
Oct 3rd, 2017
Publisher

Bloomsbury USA

Language

English

Genre

Sequential Art

,

Graphic Novels

,

Nonfiction

,

Humor

,

Autobiography

,

Memoir

,

Travel

,

Comics

,

New York

,

Graphic Novels Comics

,

Funny

,

Biography Memoir

Rating
Reviews Going Into Town
If you love Roz Chast, or New York and have perhaps developed a soft spot for graphic art books ......secretly knowing "Can't We Talk About Something More Pleasant" is when your love, appreciation, and admiration, for 'graphic art' books first grew.....then there is no reason you won't enjoy this book too: "Going Into Town"....a love letter to New York. I wasn't rolling on the floor - laughing and crying - hysterically like I di...

Roz Chast grew up in Brooklyn (before it became trendy) in the same neighborhood that I did; in fact, we even attended the same high school. So I laughed out loud when she describes the destiny she avoided: commuting every day to Manhattan wearing beige support hose and clinging to a subway pole.Fortunately, Roz Chast evaded that fate and did move to "the city." But like many city dwellers. she eventually moved an hour north of the city. When...

I wish I had read Roz Chast's "Going Into Town: A Love Letter to New York" before my recent trip to New York City! While not a guide book in the strictest sense, there is actually a lot of information and good advice packed in here! Not to mention humor! I'm a long-time fan of Chast's work ("Can't We Talk About Something More Pleasant", brought me to tears – it was so close to my own experiences) and so it was a treat to dive in...

Cartoonist Roz Chast - whose work has appeared often the The New Yorker and in previously published books - seemed to strike gold in her last book of cartoons, "Can't We Talk About Something More Pleasant". That book, which was about the aging of her parents and how she coped with it, "spoke" to many, many people in my age group, who often had elderly parents we were responsible for. And, the book reminded US of OUR coming problems, as WE aged. "...

I was lucky enough to get an advance reader copy of this book. As someone who grew up an hour and a half from Manhattan a decade or so after Roz Chast, and who worked in Manhattan in the mid 80s, I read this with special fondness. But even if you've never been to Manhattan you will enjoy this book because of Chast's LOL-class humor and her delightful, detail-focused illustrations. The ARC is in black and white with a color insert (the final book ...

It's possible I may have shrieked loudly in astonishment and wonder when I opened the library's latest box of advanced reader copies and saw this on top. My coworkers came running in alarm. "What? What's the matter?"I held up the book in wordless joy. They rolled their eyes at my fangirling. I took the book home and delighted in each and every page. I can't wait to order it for our branch. I'm going to pass this copy along to another big Roz Chas...

This illustrated book (natch), that grew out of a city guide Chast had created for her then-college-bound daughter, won't entertain Generation Z as much as it will the parents — it's one of those books that they'll enjoy more than (and thrust upon) their offspring.

I vividly remember my first trip to New York City as an adult, visiting my friend Mary. I remember her explaining the subway system to me, although I found it pretty intuitive and could quickly get around on my own, using just a tiny credit-card sized map I pilfered from a hotel room. I remember after I moved to New York, figuring out that Q buses go to Queens and M buses go to Manhattan, and figuring out that the street/avenue numbering system i...

A delightful journey into Manhattan from a native New Yorker who hasn't been made jaded by time. The maniacal, odd, and hilarious illustrations (which Chast is known for) are augmented by a narrative originally created for her daughter's move to Manhattan from the suburbs. This is officially a coffee table book in my house.

For All of Us Who Understand Roz Chast's Love of New YorkAs someone who was raised in New York, but who no longer lives there, I fully appreciate Roz Chast's sentiments. My annual trips, with visits to the museums (especially the Met) and the Broadway theaters are always one of the highlights of my year. Fans of Roz Chast's will fully enjoy her illustrations and the many resources she provides for successfully navigating the city. This book...

I just love Roz Chast. Always a wonderful antidote to the daily grim news. This is more straightforward than her usual zany stuff. It really is a love letter to Manhattan, a primer that those who don't go there much would truly find useful. Fun!

Roz Chast, a long-time cartoonist for The New Yorker, presents a guide to New York for the uninitiated. Although she decamped to Connecticut when her children were young, Chast retains a fine eye for city phenomena to love and to love to hate. Actual rating: 3.5

Roz Chast is a national treasure. When her daughter moved from suburbia, where people own trees, to Manhattan, Chast gave her a short guide to finding her way around town. This is the augmented version, which might be useful but is inarguably funny and touching.

Fun book about NYC. Living across the river from Manhattan, it was easy to relate to this hilarious look at everything about New York. A travel guide of sorts, I thoroughly enjoyed it in one sitting!

Super fun & quick read. Any time I have a patron looking for NYC travel guides, I'll also make sure they get a copy of this & read it first!

This is a cute cartoon book that tells you what you need to know about New York - like the streets, the subway, the restaurants, museums, etc. It is a good basic primer about the city but not boring. I received a free copy from Goodreads but my opinions are my own.

Entertaining book about New York. Liked the authors sense of humor and there were educational aspects to the book. I haven't been to NY myself but after reading this book there are a few places I have not heard of that I am interested in visiting now. This copy was an ARC so the photos were in B&W and the book is set to be in color, would be interesting to see the difference although the illustrations are engaging. Fast, easy read on a lazy after...

This book was thoroughly delightful (not a term I typically use!). I received a Goodreads advance reading copy, and I was really excited because Roy Chast has been my favorite cartoonist for years, and because NYC is an important part of my family history. This book was lots of fun, but also touching and perceptive. I am looking forward to sharing it with my extended family, most of whom were born and lived in New York, or are more recent convert...

It's good, it's just too short (like, read it in one sitting no problem short). Roz has a keen wit and has been living in the city for a while; someone like that has got to have more stories to tell. I want more overheard conversations, more recommendations, more lambasting of clueless tourists! Fine print: this was an ARC. The illustrations are black and white on newsprint-ish paper, but the final cut is going to be color on glossy pages.

I received this book as an ARC from the Erie County Public library, where I work. The novel is perfectly witty, a little tongue in cheek, and simultaneously self-aware and whimsical, just like New York. I will without a doubt be purchasing this as a gift for a friend who will be making the move to Manhattan soon.

I was lucky enough to be able to read this advanced copy. It was a wonderful love letter to New York and I can't wait to be able to see it in full color.

Roz Chast's graphic memoir, Going Into Town: A Love Letter to New York, is exactly what you would expect: a charming and idiosyncratic Chastian twist on the time-honored "guide/ode to New York City" format. The subjects covered here aren't anything we haven't seen before, especially if you live in New York, but it's Chast's renderings of these topics that make this book such a delight to read, not to mention look at.The comics on ea...

This review is based on ARC, so most of the pictures are black and white except for the first 8 pages, which are also on glossy paper. It's the frills free review copy.This is a handy little guide the author made for her college aged daughter who was going off to college in Manhattan. It's full of nice little facts about Manhattan but what moves it beyond a guide is the funny observations and reminiscences about Chast's life in Manhattan. Most of...

"Going Into Town" strikes me as a cash-in on the well-deserved success of Roz Chast's previous book, "Can't We Talk About Something More Pleasant." Quite frankly, if anyone deserves to cash in, it's Roz Chast. She is a national treasure. "Going Into Town" is a quick read with some witty observations, but nothing that will stick with you. If you liked her previous book, you will probably find this book a little slight. If you prefer her single-pan...

There are so many reasons to buy this book...the illustrations are hilarious; the text is good too. It's fun to just sit on the couch and look at it. It's definitely a great coffee table book.But...if you know someone coming to New York to school or even a visit, this is a great book. It explains how to negotiate the streets, the subways, the slow buses (you've been warned). Don't ever get on an empty subway car!Here is the perfect unexpected gif...

As someone who has lived in New York for his entire life, I am someone who is still not completely familiar with Manhattan. Every time I go there, I love it but I don't feel super confidant about going there on my own. Roz Chast's graphic novel serves as a guidebook to the city with adorable illustrations and easy to follow instructions and tips. I especially enjoyed the section on the subway system, which is something that baffles most people wh...

Many kids (and parents) at school are about to go to NYC for their very first time next month when the band marches in the Macy's parade. They're all excited, and I'm excited for them. (It's been bringing back memories of my first trip to NYC in Jan 1991.) This is a new fun little book (just published) as the author/cartoonist introduces NYC to the reader. I laughed out loud in spots. It takes about 30 mn to read and enjoy.

After Chast's previous book was a massive critical and commercial success, I think her agent must have said, "We can get a deal for another book! Whaddaya got?" This is a meandering sorta-memoir built around a few New Yorker cartoons. So it's nowhere near as good as the previous book, but it is funny and charming and eccentric.

I am not a native New Yorker (I only find myself visiting occasionally since my daughter has chosen to live there) but I am an unabashed Roz Chast fan. I expected this to be fun and informative and I was not disappointed. A total delight.