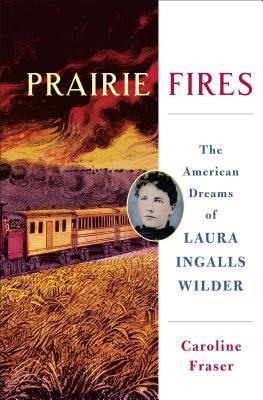 The first comprehensive historical biography of Laura Ingalls Wilder, the beloved author of the Little House on the Prairie book seriesMillions of readers of Little House on the Prairie believe they know Laura Ingalls--the pioneer girl who survived blizzards and near-starvation on the Great Plains, and the woman who wrote the famous autobiographical books. But the true story of her life has never been fully told. The Little House books were not o...
---
Details Prairie Fires
Title
Prairie Fires
ISBN

9781627792769

Author

Caroline Fraser

Release Date
Nov 14th, 2017
Publisher

Metropolitan Books

Genre

Biography

,

History

,

Nonfiction

,

Writing

,

Books About Books

,

Historical

,

North American Hi...

,

American History

,

Autobiography

,

Memoir

,

Biography Memoir

Rating
Reviews Prairie Fires
I received this book through the LibraryThing Early Reviewers program.When I visited Laura Ingalls Wilder's farmhouse and museum in Mansfield, Missouri, last year, it felt like a pilgrimage to me. Seeing Pa's fiddle, walking where Laura walked, was a soul-deep experience for me. Her Little House books had a major impact on my life and making me the author I am today.I have read several biographies of Wilder over the past two years, including the ...

My father was a young man when the Depression hit, in 1929. And although the line of work he was in, first building movie stars home, and then working for the studios building sets, did not suffer, the rest of his family did. He was, if not the sole supporter of his family, of his four, then three brothers, and parents, he was at least the main breadwinner. This effected him for the rest of his life. He knew how to pinch pennies like it was no on...

This book, written by the editor of the Library of America edition of the Little House books, is a thoroughly researched biography of not only Laura Ingalls Wilder, but of her daughter, Rose. Using unpublished manuscripts, letters, financial records and more, Caroline Fraser gives fresh insight into the life of a woman beloved to many, and whose life everyone has known about through the Little House books. I found this book to be fascinating. I h...

Fraser has done exhaustive research into the life and times of Laura, husband Almanzo, daughter Rose, and other figures that were involved in their lives, which has resulted in the most complete and unvarnished biography of LIW ever published. Also included are 80+ pages of extensive footnotes of books, unpublished documents, letters, and more, which are almost as interesting as the main text. As a huge fan of anything Laura Ingalls Wilder, I was...

I was initially intimidated by the sheer size of this book, but I needn't have worried because it's fast paced and fascinating. Like most kids I grew up reading and LOVING the Little House book series. It filled my imagination and I found myself returning to the series again and again. The detail, rich illustrations, simple storytelling, and perseverance has lasting impressions on millions of readers. Many sequels, spin offs, biographies, and his...

Y'all Rose Wilder Lane was THE WORST.

This is an excellent biography of a dearly loved children's author, Laura Ingalls Wilder. Well documented and detailed, Caroline Fraser has filled in gaps that other biographies and books about Wilder have not covered. One question that Fraser answered was what was Pa doing during the Civil War. Charles and Caroline Ingalls were married in 1860 and Mary was not born until 1865 and I had wondered if Charles had fought in the War. The short answer ...

Laura Ingalls Wilder amazed and delighted generations of children and adults with stories of her childhood. Caroline Fraser gives us a comprehensive look not only at her life but what was really going on in the world around her. She takes us from the beginning in Minnesota to the prairie and from the easy times, which there weren't many of, to grasshoppers, fires, crops going under and Pa's big dreams. Laura had to work at an early age especially...

Thanks to a kind Metropolitan Books's publicist, who graciously sent me an advance copy, I was able to unhurriedly read Prairie Fires by Caroline Fraser. It's been almost twenty years since the last biography of Laura Ingalls Wilder was published. Fraser's book is a compelling read. The author deftly meshes the background of American history into Wilder's story. The notes are extensive and I found myself more interested in those than some of the ...

I have loved reading the stories and newspaper articles of Laura Ingalls Wilder since I was old enough to read. The subject matter of Prairie Fires was of huge interest to me but I approached it cautiously. Would it strip away all the bonnet wearing, fiddle playing notions I had romanticized in my head? No, it didn't. In short, it gave a true historical look at Laura's life that I had only read glimpses of before. I loved this book. The one thing...

I received an ARC of this book from Netgalley for free in exchange for an honest review. I savored Caroline Fraser's biography of Laura Ingalls Wilder. As a life long devotee of the Little House books, I am always interested in learning more about the real stories and people that populated the novels. I really appreciated Caroline Fraser's willingness to uncover the woman behind the stories - a woman who was temperamental, imperfect, and heavily ...

Never out of print, made into a television show, Laura Ingalls Wilder's "Little House" books are a well-known part of American culture. If you've read "Pioneer Girl: The Annotated Biography" you may not think "Prairie Fires" would have anything left to tell. But it does, very much so. Caroline Fraser has done a tremendous amount of research in order to provide historical context for Laura Ingalls Wilder's life and writing. And there's so much her...

I read an advance copy and was not compensated.