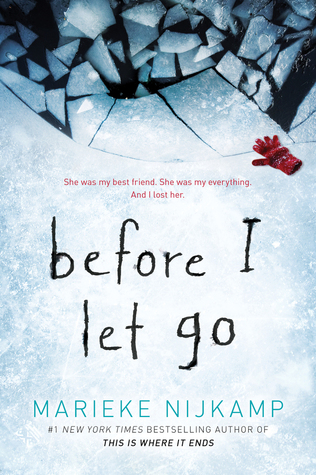 Best friends Corey and Kyra were inseparable in their snow-covered town of Lost Creek, Alaska. When Corey moves away, she makes Kyra promise to stay strong during the long, dark winter, and wait for her return.Just days before Corey is to return home to visit, Kyra dies. Corey is devastated―and confused. The entire Lost community speaks in hushed tones about the town's lost daughter, saying her death was meant to be. And they push Corey away li...
---
Details Before I Let Go
Title
Before I Let Go
ISBN

9781492642282

Author

Marieke Nijkamp

Release Date
Jan 2nd, 2018
Publisher

Sourcebooks Fire

Language

English

Genre

Young Adult

,

Mystery

,

Contemporary

Rating
Reviews Before I Let Go
I'm not really sure how I feel about this book. One the one hand, I was really invested in it. On the other, it's not particularly the best story I've ever read. Nonetheless, it was interesting and I'm happy I read it.CW: bipolar disorder, suicide, death, griefHonestly, it's hard for me to identify what my likes and dislikes are for this story. I had a similar experience with Marieke Nijkamp's other novel, This Is Where It Ends where ...

The level of mediocrity here is just astounding. Given how ranty this review is, maybe I should one star this, but I honestly just don't have the fucking energy to hate this book. It's too mediocre to deserve hatred. Before I Let Go is a cliche story that tries to be something more but is not fooling me. I'm going to full-out explain everything I disliked and liked about this book, but really, I should replace the whole review with "read Tess S...

When Corey moved away from her home town of snow covered Lost Creek, Alaska she promised her best friend, Kyra, that she would always stay in touch and always be there for her. As with most teens though Corey's new life and new friends she made after her move kept her busy so she wasn't the best with keeping in touch with Kyra. Corey did have plans for returning to Lost Creek very soon though and finally seeing Kyra again. Unfortunately Corey rec...

I'm... not sure how I feel about this book.On the one hand, it has a very interesting premise. Sure, at its base, this storyline has been used a lot. But every author adds something different. In the case of Before I Let Go, I really enjoyed the Alaskan setting, as well as the eerie atmosphere it provided. There's also the matter of diverse representation: pansexual, asexual (though I felt like she was more aromantic?), gay, bipolar disorder. I d...

2 starsWith a setting in a small Alaskan town, you would expect Before I Let Go to have some atmosphere of a small-town mystery surrounded by snow and dreariness. But just like Girl in Snow, Before I Let Go doesn't have that appeal as well as having boring characters.Before I Let Go is at best (in my opinion) a mediocre book. I know I might be sounding mean, but there was nothing appealing about the story or characters. It's bland and doesn't rea...

I have no clue how I actually feel about this book... Actual rating 3.5/5 stars. I think...Set in the isolated community of Lost Creek, Alaska, this is the story of once-best friends Corey and Kyra. Corey has returned to her former home only to find herself labelled an outsider. But struggling to fit in is the least of the troubles she faces here. In her absence Kyra, the best friend she left behind, slipped below the ice that enshrouds their sma...

⭐⭐⭐ / 5My reviews and (maybe) some other random thoughts can also be seen at https://readingbetweenwinessite.wordp... ____________________________________________________________First of all, I love the cover of this book. It is so beautiful and fitting. Sourcebooks Fire sent me Before I Let Go as a bonus book with As You Wish and I was very intrigued by the plot. Unfortunately, this book just wasn't as great as I was hoping it would be. Be...

To be blunt, this book just isn't good. In order to build a growing sense of unease, a good storyteller will slowly build from "things seem pretty normal here" to "WTF is going on?!" Unfortunately, this story starts at the latter and stays there, effectively killing any tension. The events are incredibly repetitive. I think the main character, Corey, has the same conversations with others and with herself about 76 times.There is absolutely zero c...

An ARC has been offered by the publisher in exchange for an honest opinion"Hers is a story that deserves to be told. Hers is a story that deserves to be heard. It's the story of a girl who believed in heroes and wanted to be one herself. Who saw stories in the world around her, and who regaled an entire Alaskan town with them. And hers is a story of how they started to believe her. "4,5 "eerie" starsThis book will be hard to review with...

It sucks when bad things happen to good people. When blame can't be assigned, when that-which-is- terrible isn't exactly someone's fault, but maybe everyone could have done something a little differently to avert the tragedy...well, that's just real life. Ms. Nijkamp displays life with a mental illness in a heart-felt, honest, hard-to-handle way that sticks with the reader long after the story has been told.

I nearly gave it three stars, because I liked bits and pieces of it, but overall I wasn't really enjoying myself and there weren't enough bit that I liked. This book was okay.The premise sounded good, I was keen for a murder mystery, but it wasn't really a 'murder mystery' book if it makes sense. It was more of a suspense novel, but that didn't really happen until near the end. It also felt like they tried to throw in some magical realism and a b...

Thanks to the author and Netgalley for providing me with a copy of this book in exchange for an honest review.The best part of this book, for me, was the setting. I truly hope there are not many towns like Lost Creek around. The town and the people in it gave this book a pretty creepy vibe. I believe this is a likeable book for a lot of people, everyone can find something to bond with in this book and feel satisfactory at the end.A longer review ...

A young adult story of friendship, loss and the search for the truthSUMMARYAs she was moving away, Cory promised her best friend Kyra that she would always stay in touch and be there for her. But just days before Cory is to return for a visit to the remote village of the Lost Creek, Alaska, Kyra dies. Cory is devastated and confused. When she arrives in Lost Creek things are different. The entire community is whispering about the town's lost da...

Trigger warnings: mental health, death of a friend, fire, drowning, suicide. I've been excited about this book for the better part of a year now. I mean...a YA thriller set in Alaska? Uh, YES. *grabby hands*Unfortunately, what I got was...confusing, to be honest. It cuts back and forth in time CONSTANTLY, both in the actual narrative but also in letters and notes and diary entries that were never sent. The story was...trying to be too many things...

It will be very difficult to write a spoiler-free review of this book, but I will in due time. For now, suffice it to say that I liked this MUCH better than 'this is where it ends', though I can't say I cared that much more about the characters. It was a page turner and I polished it off in one sitting (about 4 hours). This YA is worth the read, and I have a feeling much younger readers (who get less wrapped up in a need for in-depth characteriza...

This ARC was provided by NetGalley in exchange for an honest review.Before I Let Go is one of those books that has an amazing cover that will automatically pull you in. In all honesty, I didn't care what this book was about after I saw it. I assumed it would mention a murder, or two, but was just so intrigued that I just had to have it. I also have zero regrets about doing this.Not going to lie, this book definitely had it's ups and downs. At lea...

*sighs* If I had two words to describe the experience of this book, they would be "ultimately unsatisfying." This book had me for a time and then it quickly lost me. I will give credit where credit is due: this is a better novel than Nijkamp's debut novel, "This Is Where It Ends." It's easy to read through and ultimately won't take you all that long for the notation of the prose (in my case, the audiobook that I picked up helped), but the sheer r...

I'm not going to lie, it was the cover image that initially drew me to Before I Let Go. It immediately grabbed by attention and prompted me to read the description, which further intrigued me to request a copy.It took me a little while to get into this book, but slowly and surely, the way Nijkamp used language really hooked me. I loved the storytelling itself; the writing style, tone, and atmosphere created all really worked for me. I also quit...

2.5 starsI almost gave this three stars, because there were times when I enjoyed it. Those moments just didn't happen often enough. I was so excited when I heard about this book almost a year ago. I couldn't wait for it to release. Once it released and I read early reviews, I hesitated. Every time I saw this book at the library, I felt drawn to it, so four days ago, I finally gave in and read it. I'm disappointed. First of all, the book goe...

Toen ik vanmorgen mijn Facebook opende zag ik dat ik een giveaway van dit boek had gewonnen. Grappig.. want ik had hem net van de bieb gehaald en ik was ontzettend benieuwd!-----------------------------------------------------------------------------Marieke did not dissapoint! Voor ik je loslaat is een dramatisch en mysterieus. En zit vol doorgeslagen gekkies. En ik vind het helemaal mooi.----------------------------------------------------------...

She moved away from the small Alaskan town that was home and left behind her best friend. Corey had good intentions, she never planned on ignoring Kyra's attempts to say in contact. She never meant to turn her back on the lonely, tormented girl the town feared, the girl who suffered from mental illness. Now she is back, because Kyra is dead and no one will tell her what really happened, yet the town has changed. They are almost cult-like in the...

Thanks to Sourcebooks Fire via Netgalley for the free review copy of this book in exchange for my honest opinion.I'm going to be blunt here and just come out and say it - I did not like this book, and I'm hugely disappointed. I read the synopsis, and immediately knew I wanted to read "Before I Let Go". It sounds like it would have everything I love in a book - suspense and mystery, a strong female friendship, a fast-paced plot, and an incredible ...

Wauw, wat een sterk boek. Ontzettend spannend en huiveringwekkend creepy, enorm meeslepende setting en een hele authentieke sfeer. En dan dat verhaal... ik had echt geen idee welke kant het op zou gaan en ik vind het erg knap hoe Nijkamp het heeft opgezet: het geeft veel stof tot nadenken over het duistere stukje van het menselijk karakter en wat zich in een gehucht kan afspelen. Chilling. Dit boek krijg je voorlopig niet meer uit je hoofd. Klein...

CP Benefits - I have already read and loved this

Hier kan je mijn uitgebreide recensie lezen over Voor ik je loslaat: http://nerdygeekyfanboy.com/recensie/...Even korte review, uitgebreide recensie komt op mijn blog:- fijne schrijfstijl - het hele dorp is ontzettend frustrerend - hele verhaal voelde onbevredigend aan- de manieren waarop werd verteld (zoals script-vorm) waren onlogisch - de manier waarop diversiteit werd gestopt in het boek was prima (subtiel, alsof seksualiteit gewoon iets van ...

I read the last book from Marieke Nijkamp and really liked it, I had high hopes for this one, but unfortunately it does not measure up.I rounded this rating up from 2.5. I liked the short chapters and the underlying story about mental health but parts of it were a bit strange. When the town grabs onto this teen and uses her manic episodes to heal themselves and the town, it was difficult to understand. How parents went along with this was a huge ...

This was heartbreaking. This was beautiful. This story needed to be told. I will never forget these characters, this town, this book, this story, these emotions I felt while reading it. That's all I can process right now.

3 "Intriguing, but confusing" starsARC via NetGalleyThank you, Sourcebooks Fire!I requested this book on NetGalley because I wanted to give this author another chance, and see if I was the problem since I one-stared her bestselling debut, This is How it Ends. The good news is I liked this a lot more than the author's previous book. The not-so-good news is that this book could've been a lot better.Before I Let Go is the story of Corey and ...

Thank you to Netgalley and SourceFire books for the chance to read this novel. I'm only sorry I couldn't leave a positive review.Beware: this will be the most brutally honest review I've written.I had to finish reading Before I Let Go simply because I couldn't believe someone could intentionally write a book this poor. This book was so bad, I considered enlisting my husband to write my review for me because his brand of honesty is far more hilari...