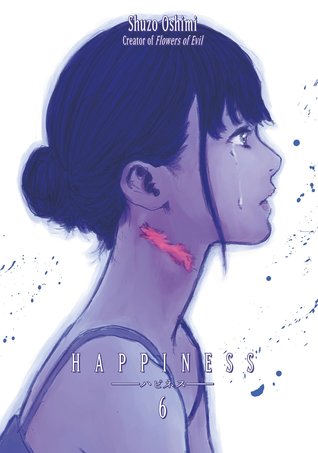 A supernatural story of sexual awakening, growing up, and suburban vampirism, Happiness follows a dorky boy who is attacked by a girl in an alley. She sucks his blood and gives him a choice: life or death. He chooses life, but finds himself nearly overwhelmed by a new thirst and a fascination with the necks of his classmates... Praise for Flowers of Evil: "A shockingly readable story that vividly--one might even say queasily--evokes the fear and ...
---
Details Happiness, Vol. 6 (Happiness, #6)
Title
Happiness, Vol. 6 (Happiness, #6)
ISBN

9781632364838

Author

Shuzo Oshimi

Release Date
Dec 19th, 2017
Publisher

Kodansha Comics

Language

English

Genre

Sequential Art

,

Manga

,

Horror

,

Fiction

Rating
Reviews Happiness, Vol. 6 (Happiness, #6)
Oshimi's work is brilliant as always, but 90% of it consists of brooding, silent panels that portend something awful is about to happen, whch means it only takes twenty minutes to read a 200 page manga. And now I have to wait five months for the next volume.

(NOTE: This review is for the entire manga series and not each individual volume)To me, "Happiness" felt a lot like John Lindqvist's "Let The Right One In" if it had been created as a Japanese manga. The premise of the two stories is essentially the same: boy meets girl, girl turns boy into a vampire, then boy has to navigate the various complexities of adolescence while simultaneously coming to grips with his newfound, supernatural physiology.Wh...