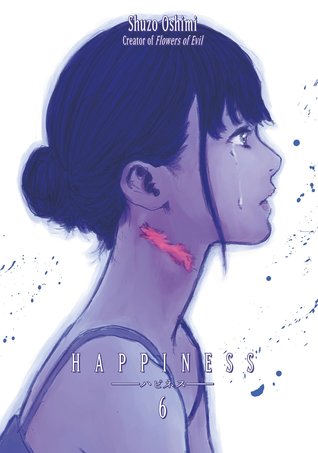 OLD SCARSYears have passed since Yukiko Gosho's last horrific encounter with Makoto, and the wounds to her body and mind have healed--but imperfectly. When a charming coworker attempts to draw her out of her shell, she must confront the lingering effects of what she witnessed as a teenager. But can the past stay buried?
---
Details Happiness, Vol. 6 (Happiness, #6)
Reviews Happiness, Vol. 6 (Happiness, #6)
After lots of beautifully constructed brooding and blood in most of the first five volumes, a surprising thing happens near the end of the fifth volume: We jump years ahead into the future, where what we think of as a relatively minor character, Yukiko Gosho, works in an office, living her simple life with her mother, seemingly forever traumatized by the events of the past, all that vampire jazz. And killing. And the loss of friends. It seemed li...

Damn...now I'm all caught up with the released volumes...

Oshimi's work is brilliant as always, but 90% of it consists of brooding, silent panels that portend something awful is about to happen, whch means it only takes twenty minutes to read a 200 page manga. And now I have to wait five months for the next volume.

Fuck how dark can this manga go??