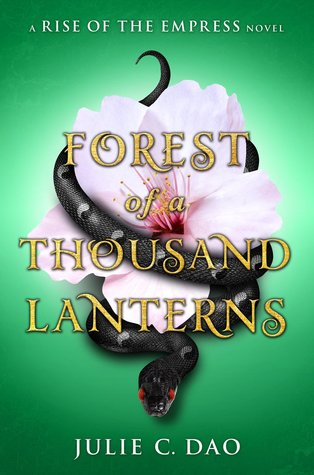 An East Asian fantasy reimagining of The Evil Queen legend about one peasant girl's quest to become Empress--and the darkness she must unleash to achieve her destiny.Eighteen-year-old Xifeng is beautiful. The stars say she is destined for greatness, that she is meant to be Empress of Feng Lu. But only if she embraces the darkness within her. Growing up as a peasant in a forgotten village on the edge of the map, Xifeng longs to fulfill the destiny...
---
Details Forest of a Thousand Lanterns (Rise of the Empress, #1)
Title
Forest of a Thousand Lanterns (Rise of the Empress, #1)
ISBN

9781524738297

Author

Julie C. Dao

Release Date
Oct 10th, 2017
Publisher

Philomel Books

Language

English

Genre

Fantasy

,

Young Adult

,

Retellings

Rating
Reviews Forest of a Thousand Lanterns (Rise of the Empress, #1)
"Beware, Xifeng, of magic that comes too easily. There is a price for everything, as she learned and you, too, will learn. Some magic requires blood. Other magic requires a piece of your own self and eats away at your soul." 4 1/2 stars. In short: Forest of a Thousand Lanterns is an East Asia-inspired fantasy in which a young woman chooses ruthless ambition and power over the love of a hot guy. Halle-freaking-lujah.I should probably say this ...

I adore an anti-heroine story, and Julie C. Dao achieves this with flying colors in a lush, richly developed fantasy world of myth, monarchy, and magic. Xifeng is an unusual and wonderfully complex protagonist of ambitious agency--I couldn't stop reading about her journey! Go pre-order this beauty immediately.

I totally missed the memo that this was an anti-heroine story, so I had a stupid grin on my face while everything unfolded. I love anti-heroines when their journeys are heartbreaking, yet completely understandable with clear motivation. And this whole thing was so well done! "Your beauty is all you are, and all you have. Your only weapon." First of all, the East Asian magical world is straight up gorgeous. The rich, detailed worldbuilding and str...

Forest of a Thousand Lanterns is a dark and gruesome, !!!East Asian!!! fantasy about Xifeng, a beautiful peasant girl who has always been told that she is destined for greatness. Xifeng is raised by her abusive aunt/Guma who longs to fulfill Xifeng's destiny, the cards have predicted. They show Xifeng's future full of power and as Empress, but with great power comes great sacrifice and difficult obstacles to pass. Sick of her aunt's abuse, Xifeng...

Guys! This is my book and I am over-the-moon joyful that I get to share it with you all next year! The story combines everything I love: strong women and the complex relationships that shape them; the struggle between choice and destiny; a lush palace setting and handsome, brooding men; and a powerful, dark, tortured heroine I think of as a combination of Wu Zetian (the first and ONLY *ruling* Empress of China), Anne Boleyn, and Scarlett O'Hara.P...

Full review postedI don't think this book is TERRIBLE, I just think that the synopsis DECEIVED me and I've faced too much betrayal from my loved ones books to continue being a victim to such treachery I'm lying, I clearly never learn since I keep reading kasie west books Pros *this gonna be short oops- Asian setting!!!!!!!!- its pretty gruesome, so if you're into that it might appeal to you I guess :|- um…girl power but done like sneak...

WrensReads Review:An East Asian fantasy reimagining of The Evil Queen legend about one peasant girl's quest to become Empress--and the darkness she must unleash to achieve her destiny.How could I not fall under the spell of this book? HOLY BATMAN I cannot express how beautifully dark this book is. This book is a typical-folklore fairy: beautiful and hypnotizing and just brings you in with your words... but it's super creepy and probably going t...

I feel weird saying I relate to the main character because she's clearly the villain but I. FUCKING. RELATE.

"She was a monster, a bride of the darkness, and she rose to face her destiny as though it were the blood red sunrise of a new day." Ok ok I finally have time to write a review. I'd like to start off with a big loud pterodactyl screech that might convey how unique and amazing this book was. I am thoroughly impressed. The entire plot was so well thought out and the characters were beautifully written (even if some of them were brutal as hell... ye...

She was special, with every bite, every stream of blood spurting from her ravenous mouth. She was a monster, a bride of the darkness, and she rose to face her destiny as though it were the blood-red sunrise of a new day. This book is so gloriously BRUTAL. One word of warning, this book is certainly not for faint hearted, if you want a glint of hopefullness and happiness then go away because this book is certainly not for you. Forest of thousand ...

This was definitely slow to start, but I'm already absolutely dying to read the second book. I was invested in this book because I knew the main character was supposed to be ruthless, and I was not misled in any way. If you're looking for an origin story that's dark and twisty, this one is fantastic.

"In weakness, you find your strength. It takes no small amount of courage to open yourself up"Spoiler Free Review!Holy shit this was amazing! I have no idea what to think when I went into this... but not THAT! Firstly it's partly a re-telling that has set up the second book perfectly, then we have an anti-heroine (which I didn't even know about!), it's dark and twisted but so gripping. The progression of the book moved at a gradual pace, nothing ...

"Let no one stand in your way. If they face you, your beauty will entrap them. If they turn away, you will stab them in the back." Chalk up 'Snow White retelling from the POV of the wicked queen, set in imperial China' to the list of things I never knew I needed. Forest of a Thousand Lanterns is so vindictive and brilliant and and blade-edged in its message. "She touched her face. 'This is how a woman plays the game. It makes men weak and forget ...

Five-starring in advance because Julie is fabulous, her writing is fabulous, and diasporic authors have EVERY RIGHT to pen Asian-inspired fantasy without being cut down or degraded for it.

*rubs temples* I really wish I liked this because I was really looking forward to this, but, I'm sorry friends, I was not a fan (and at most, 'it was ok'). - First, I found the worldbuilding... weird. Indeed, it is Asian-inspired, but I felt liked what made it 'Asian-inspired' was superficial and inconsistent. I don't believe that the story should embody an essentialist notion of 'Chineseness'/'Asianness', but it should be consistent, immersive, ...

I've been watching a K-drama called Empress Ki, so now, I can't help but imagine Xifeng as Ha Ji-won and Emperor Jun as Ji Chang-wook.

3.5 starsAhhh, this was a pretty solid debut novel, and a great start of a promising series! Forest of a Thousand Lanterns is an East Asian retelling of the Evil Queen's origin story before she became Snow White's stepmother, and it is everything I wanted it to be.First of all, SHE DOESN'T BECOME EVIL BECAUSE OF A DUDE. I love my villains and I am a sucker for a good origin story, but my main pet peeve is when a female villain becomes evil becaus...

I cant say I was too surprised by how this story gripped me from the first chapter. Ive heard nothing but amazing things about it. The setting and culture were beautifully vivid and lush. I also thought the writing was fantastic. I wasnt sure if I was still into retelling but after reading this wonderful East Asian evil queen retelling I have hope there still some great ones out there.I probably would have finished it in a couple days had it be...

I am ALWAYS down for a YA fantasy and doubly down for one that draws inspiration from historic things like the Silk Road and East Asian cultures. Also, I have a weird love of "journey" books. This one literally journeys ACROSS NATIONS. Like, YES PLEASE. And you KNOW what comes with a story based on a trade route cutting through Asia: DELICIOUS FOOD! Don't even get me started on a retelling of the Snow White Fairy tale from the evil queen perspect...

**3.5 Stars**What's this? A book review? It can't be...After taking a 3 or 4 month break from reading I finally decided to pick up a book and it feels good to be back in the reading mood!I'm not normally a fan of retellings, but this is definitely the best one I have read. I tend to stay clear of them, but I'm always drawn to an eaten inspired fantasy setting and then an anti-hero main character as well? I mean how could I resist? Ultimately thes...

Oh, y'all are in a real treat with this one.---OFFICIAL BLURB:Magnetic, seductive, and alluring, Forest of a Thousand Lanterns is a lush, captivating read about the lengths to which we go to find our true destiny.

*3.5/5 stars* "She would bloom where she was planted and let her roots close around the throats of her enemies." I was always intrigued by stories of villains or anti heroes in fantasy books. And I think it's something the YA genre needs more of, because it has so much potential to be different from many other generic - or too similar - books in the genre. Coming into this book, I didn't realize it would be so reminiscent of Snow White from ...

Cards laid, prophecy spooled, again and again, realm of magic, rise of darkness, and though foretold completely astonishing layered consequences.My exact feelings while lingering on the last page were:Dark, twisted, still the magnificently interlaced era of never-ending enchantment. Metaphorically, the characters fasten together as pearls of a necklace with political thread dripping the blood. Smashed? Yes, completely I am! Once upon a time……...

5 stars!I went in this book totally blind. I did not even read the synopsis! The book was part of my first ever Fairyloot box and I remembered seeing good reviews everywhere. The monthly Fairyloot topic was villainous…Obviously there would be a villain but who would play the role? I looked at the synopsis only after having finished the book and I'm glad I did not read it sooner as it tells lots about the story!Now the plus side is that I'm ...

It always amazes me when there are actual problematic books out there (The Black Witch, the Continent, Sad Perfect, anyone?) and POC choose to shoot down other POC. Racism, seriously? You realize the author is East Asian and the publisher used the term to show the book's non-European and point to a different general area of the world?SMH. Sounds a lot to me like that Wattpad 1D fanfic chick screaming because the author is Vietnamese. She went off...

I'm lucky to have read this ms already, and I know y'all know how stingy I am with 5 stars, but THIS BOOK, oh how it deserves all ☆ FIVE dazzling luminous stars ☆. Yes, I am friends with Julie, but read for lots of friends and rarely do I put up a starred review, and rarer still FIVE stars. TRUST ME, you want this fantasy on your MUST HAVE list. With lush, gorgeous prose (without ever being overwritten), this book is atmospheric and haunting...

5 Words: Family, power, magic, control, love.I am IN LOVE. This book was excellent and far surpassed my expectations. It was everything I didn't know I wanted.I loved the writing, the story, the descriptions, the characters, the manipulation and deceit and control.I can't wait to read on!I managed to nab this from the book trade shelf at YALC, trading away The Bunker Diary and holding the beautiful green proof with glee. I hadn't heard anything a...