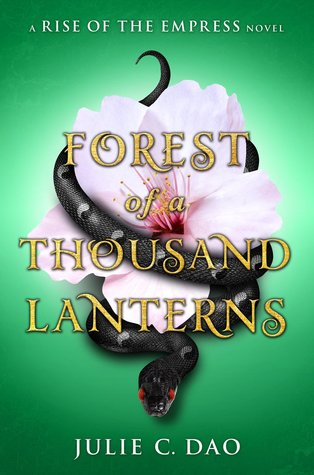 An East Asian fantasy reimagining of The Evil Queen legend about one peasant girl's quest to become Empress--and the darkness she must unleash to achieve her destiny.Eighteen-year-old Xifeng is beautiful. The stars say she is destined for greatness, that she is meant to be Empress of Feng Lu. But only if she embraces the darkness within her. Growing up as a peasant in a forgotten village on the edge of the map, Xifeng longs to fulfill the destiny...
---
Details Forest of a Thousand Lanterns (Rise of the Empress, #1)
Title
Forest of a Thousand Lanterns (Rise of the Empress, #1)
ISBN

9781524738297

Author

Julie C. Dao

Release Date
Oct 10th, 2017
Publisher

Philomel Books

Language

English

Genre

Fantasy

,

Young Adult

,

Retellings

Rating
Reviews Forest of a Thousand Lanterns (Rise of the Empress, #1)
I adore an anti-heroine story, and Julie C. Dao achieves this with flying colors in a lush, richly developed fantasy world of myth, monarchy, and magic. Xifeng is an unusual and wonderfully complex protagonist of ambitious agency--I couldn't stop reading about her journey! Go pre-order this beauty immediately.

Wow, that was amazing. I totally missed the memo that this was an anti-heroine story, so I had a stupid grin on my face while everything unfolded. I love anti-heroines when their journeys are heartbreaking, yet completely understandable with clear motivation. And this whole thing was SO well done! "Your beauty is all you are, and all you have. Your only weapon." First of all, the East Asian magical world is straight up gorgeous. The rich, detaile...

Guys! This is my book and I am over-the-moon joyful that I get to share it with you all next year! The story combines everything I love: strong women and the complex relationships that shape them; the struggle between choice and destiny; a lush palace setting and handsome, brooding men; and a powerful, dark, tortured heroine I think of as a combination of Wu Zetian (the first and ONLY *ruling* Empress of China), Anne Boleyn, and Scarlett O'Hara.P...

"She was a monster, a bride of the darkness, and she rose to face her destiny as though it were the blood red sunrise of a new day." Ok ok I finally have time to write a review. I'd like to start off with a big loud pterodactyl screech that might convey how unique and amazing this book was. I am thoroughly impressed. The entire plot was so well thought out and the characters were beautifully written (even if some of them were brutal as hell... ye...

Five-starring in advance because Julie is fabulous, her writing is fabulous, and diasporic authors have EVERY RIGHT to pen Asian-inspired fantasy without being cut down or degraded for it.

It always amazes me when there are actual problematic books out there (The Black Witch, the Continent, Sad Perfect, anyone?) and POC choose to shoot down other POC. Racism, seriously? You realize the author is East Asian and the publisher used the term to show the book's non-European and point to a different general area of the world?SMH. Sounds a lot to me like that Wattpad 1D fanfic chick screaming because the author is Vietnamese. She went off...

I am ALWAYS down for a YA fantasy and doubly down for one that draws inspiration from historic things like the Silk Road and East Asian cultures. Also, I have a weird love of "journey" books. This one literally journeys ACROSS NATIONS. Like, YES PLEASE. And you KNOW what comes with a story based on a trade route cutting through Asia: DELICIOUS FOOD! Don't even get me started on a retelling of the Snow White Fairy tale from the evil queen perspect...

I'm lucky to have read this ms already, and I know y'all know how stingy I am with 5 stars, but THIS BOOK, oh how it deserves all ☆ FIVE dazzling luminous stars ☆. Yes, I am friends with Julie, but read for lots of friends and rarely do I put up a starred review, and rarer still FIVE stars. TRUST ME, you want this fantasy on your MUST HAVE list. With lush, gorgeous prose (without ever being overwritten), this book is atmospheric and haunting...

I absolutely loved this dark, dark tale of palace intrigue and the war between love and ambition in the heart of one girl. Dao has a phenomenal imagination, and layers up the details of mythology and magic to create a truly immersive world that most strongly echoes imperial China, with neighbouring nations redolent of Japan and Russia.Take a moment at the beginning to read the pronunciation guide, so that you hear protagonist Xifeng's name in you...

5 starsFULL REVIEW: https://bookevin.wordpress.com/2017/0...UPDATE: 2/7/2017Just finished writing my review of this glorious tome. I don't know when I will be posting it. Probably closer to its publication date but I doubt my review will do the book justice!If you are hesitant to preorder this, don't. Just preorder it. You will not regret it, chicken nuggets!Initial thoughts:One of the best books I've read this year. Hands down. Dark, twisted and...

This was definitely slow to start, but I'm already absolutely dying to read the second book. I was invested in this book because I knew the main character was supposed to be ruthless, and I was not misled in any way. If you're looking for an origin story that's dark and twisty, this one is fantastic.

Here's a thing that basically everyone knows about me: I am not in this for anti-heroes.I LOVE THIS BOOK SO MUCH.Dao wrote such an incredibly complicated girl who is fully aware of what she's doing, and that absolutely sold it to me. I loved reading it, and I loved cheering for the blood (because, I am telling you: there is quite a bit of blood). IT WAS SO GOOD.The supporting characters were amazing and the world was amazing and EVERYONE JUST HAS...

Oh, y'all are in a real treat with this one.---OFFICIAL BLURB:Magnetic, seductive, and alluring, Forest of a Thousand Lanterns is a lush, captivating read about the lengths to which we go to find our true destiny.

I have been looking forward to FOREST OF A THOUSAND LANTERNS ever since I first heard about it, and I'm so thrilled to be able to say that it didn't disappoint! I enjoyed the story of Xifeng, an ambitious girl who desires to be Empress and won't let anyone or anything stop her, an antiheroine who I both admired and feared. I was immediately drawn into the atmospheric setting (especially the descriptions of food and places and outfits), hooked on ...

I had the privilege of reading a draft of FOTL, and it more than earned every one of those five stars! Get excited for October, y'all! I fell head first into Xifeng's world and didn't want to leave! The pages are full of excitement and intensity, and amazing characters. I still remember a scene where my jaw dropped and I literally squealed. Julie is a fantastic writer and story teller! Don't miss this book!

Dark, brutal and so different to anything I've read. I loved all of the rich descriptions and following Xifeng's journey. Loved it!

Forest of a Thousand Lanterns shines with rich characters, a fantastic and detailed worldbuilding thoughtfully written by an Asian American author, and a cunning protagonist who is the anti-hero you've been waiting for. Xifeng wants more than anything to be more than her little village and get away from her overbearing aunt Guma, and takes a chance to travel to the heart of the city and meet the Emperor. As she enters court, she has to navigate t...

Don't worry about the 1 star reviews. Some people will never be pleased. Keep up the good work. Cannot wait for this book!

5 Words: Family, power, magic, control, love.I am IN LOVE. This book was excellent and far surpassed my expectations. It was everything I didn't know I wanted.I loved the writing, the story, the descriptions, the characters, the manipulation and deceit and control.I can't wait to read on!Full review to come.

THAT COVER THO.Edit: Laughing at all the one star reviews calling the author racist before the book has even come out. "Only Chinese people can write Chinese inspired books!" Are you fucking kidding me. I guess if all I could write was terrible One Direction fanfic, I'd be jealous of the author too.

Wow, what a book. Y'all need this. Full review to come on my blog.

Read my full review of Forest of a Thousand Lanterns here!After waiting for this book for what felt like an eternity, I finally read it and holy crap—I'm in love. I mean, it's about The Evil Queen's rise to power BUT it's also set in a fantasy Chinese-inspired world. If that doesn't have you rushing to add it to your TBR, I don't know what will. Forest of a Thousand Lanterns is the tale of how the Evil Queen (a.k.a. Xifeng) gets her throne. It ...