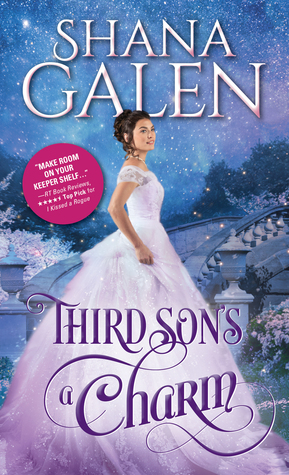 Ewan Mostyn thinks a job as a duke's daughter's bodyguard will be easy―but Lady Lorraine has a few tricks up her sleeve that spark an undeniable passion...Fiercely loyal to his friends and comrades, Ewan Mostyn is the toughest in a group of younger sons of nobility who met as soldiers and are now trying desperately to settle back into peaceful Society. Ewan trusts his brawn more than his brains, but when he's offered a job watching the Duke of ...
---
Details Third Son's a Charm (The Survivors, #1)
Reviews Third Son's a Charm (The Survivors, #1)
*DNF at 75%*Though most readers seem to really love this one, I struggled through Third Son's a Charm before finally putting it down for the last time after reading ~300 pages.I really enjoyed the male MC, who was the big, brooding type with a learning disability (one of my favorite themes in romance). The strong, silent hero is a weakness of mine, and I actually really liked the set-up to the story. It was interesting, if a little predictable, a...

I've given this a B at AAR.In Third Son's a Charm, Shana Galen introduces us to some of the gentlemen who will feature in stories of their own as her new Survivors series progresses. These men are closer than brothers; they served together during the Napoleonic Wars under the command of Lieutenant Colonel Draven in a unit that was given the toughest and most dangerous missions – those most likely to result in death. What started out as a co...

This was a huge mess and I can't believe I actually finished it. Most of my problem was with Lorraine, particularly in the beginning, but Ewan climbed on my blacklist as the story progressed, as well.Let me start with this: a woman who is desperately in love with a using jerk who won't give her more than slight pecks for affection and insists that they not do anything to offend her father and put that very large dowry in jeopardy? That woman is a...

Honestly.. Kind of boring. I was excited because Ewan was a big brute of a man. He was a soldier and he didn't speak. That's one of my favorite HR heroes! And I did like Ewan for the most part but lord Lorraine was a flipping idiot. I mean she was seriously TSTL. I don't understand how she made it as far as she did in life. It was so unbearably obvious that Francis was after her money and she wouldn't listen to anyone about him. Oh and she fell i...

Stayed up late (or early rather) to finish this ARC. I must say this is one of the best historical romances that I've read in awhile! A gruff, gentle giant of a hero who doesn't say much meets his match as he serves as bodyguard to a passionate, headstrong duke's daughter who won't STOP talking. 😂A bit of role reversal as SHE pursues him. Funny, sweet and definitely worth a read. Beautiful cover! 🌟🌟🌟🌟🌟 I received an ARC in excha...

ARC provided by Edelweiss and publisher in exchange for an honest review.Lady Lorraine is the youngest daughter to a duke. Lorraine has entered her second season and believes she has found love. Lorraine has good parents, but she's seems to be an after thought and growing up lacked attention and time from her mother and father. Hence when a gentleman pursues her and shows her time and attention, she believes she's in love. But what this gentleman...

This review can also be found at Carole's Random Life in Books.I had so much fun reading this historical romance! I have to admit that the cover of this book is what first grabbed my attention. I am always a sucker for pretty covers and the cover of this book is simply gorgeous. I have enjoyed Shana Galen's work in the past and this sounded like a good story so I knew that I would have to read it. It turned out to be a very enjoyable read that wa...

I loved THIRD SON'S A CHARM by Shana Galen! Our hero is Mr. Ewan Mostyn who is the third son of a...(the Earl of Pembroke). Our heroine is Lady Lorraine Caldwell who is the daughter of a Duke. Ewan and Lorrie are as opposite as night and day. She is an adorable, love starved chatterbox. He is a battle weary ex soldier who is a man of few words. Ewan is hired by Lorrie's father as a bodyguard. She thinks she is madly in love with her "perfect Fran...

I really enjoyed this book. The characters feel real, with real foibles and real issues. It's great reading about a hero with a learning disability that is able to function well without being able to read. The heroine is a real woman with realistic needs and passions. The secondary love story with the Duke and Duchess is a delight. I would have loved just a little more with an epilogue, but hope as this is the first in a series that I will get to...

I was so excited when Shana Galen decided to write a new series. I love all of her books. The Story is about Ewan Mostyn is in a group of younger sons of nobility who met when they were soldiers. Now he is offered a job watching the Duke of Ridlington's daughter.Lady Lorraine wants to be out of her fathers control. I hope you enjoy it as much as I did.

I'm sure you have experienced it: you are staring at pages that seem to never turn, rereading paragraphs, switching between books in hopes that something will click. It's a reading slump, and it is where I was before I picked up this book. I have read Shana Galen before and enjoy her writing, so I figured I'd give this book a go. That evening, I got over halfway through the book, and I finished it quickly the next day. Slump defeated, and a wonde...

Review For: Third Son's a Charm by Shana Galen Third Son's a Charm by Shana Galen is the First Book in the New Series Called "The Survivors". This is the story of Ewan Mostyn and Lady Lorraine 'Lorrie' Caldwell. Ewan is the third son of an Earl but more importantly he is one of a group of men who took jobs that few would because of the danger. Ewan was apart of a group of men who were Survivors! Now Ewan is leaving and fighting in a gambling hell...

Great new series from Shana Galen! I always love reading about a strong heroine becoming that strong heroine. Since the heroes are some really tough guys, I'm sure there will be lots of action and adventure in these novels. I liked the bond between the men and the side story within the story made me happy. I'm looking forward to the rest of the series!

The first story of a new series. Wonderful story. Ewan and Lorrie are great characters. Not typical or shallow But full of secrets and heart. The story is full of surprises. I enjoyed it very much and now I cant wait for the next one.

Third Sons A Charm brings together a powerful and charming romance that brings together the two most unlikely people into a solid foundation of love and wit…Third Sons A Charm is a story I was very anxious to read for quite a few reasons. First off, there were quite a few mixed reviews on this one so I was hesitant and probably why it took so long to actually read it but I stayed up until 3 AM reading this one, I just didn't want to put it do...

*I received a copy from the author in exchange for my honest review.An amazing start to a new series! I was hooked from the moment Ewan threw the man out and then once they met I knew it was going to exciting and different with them. I loved how they were together from the start with trying to outsmart each other. I did not expect the trouble she found herself in or how desperate the person was to do that. I actually held my breath when her fath...

One of the best historical fiction romances I've read in a while! Perfect escapism.The hero is silent and broody but also a bit broken. He has dyslexia which isn't something I've seen in historical romance before, but it works well here and makes you fall for Ewan even more. Lorrie is a spitfire girl, albeit naive and innocent and she's the perfect compliment to Ewan. He's her bodyguard but of course it turns into more.Not only did I love our two...

Third Son's a Charm was a wonderful start to a new historical romance series with a fantastic romance, a strong and silent hero, and a heroine determined to get what she wants.Ewan Mostyn, third son of the Earl of Pembroke, is trying to find a way to fit back into society as a former soldier in the war against Napoleon. When he's offered a position as the bodyguard of the Duke of Ridlington's daughter, he believes it will be an easy task. Lady ...

Great hist rom. The hero super intrigued me with his uber laconic ways- what made him that way? I had to find out. And the quirky heroine who drew him out won me over. Definitely reading on in this series if there is more to come :)

I enjoyed this romance, and its strength was the primary romance and main characters involved in it. It was well-paced and kept my attention through the end. There was a secondary romance also in the form of the heroine's parents, which did not take up much page space, but it was relevant to heroine's story and was a nice addition.The heroine, Lorraine, is the only daughter of a Duke and youngest child. She is in her second season and is very rea...

As the 1st book of the series, it features a different type of hero than the usual regency romance; a strong, silent type. Ewan being ridiculed for his learning difficulties at young, grew up to be a man of few words. However, that makes him being mistaken as only brawn but no brains which is far from the truth.There's not much to recommend the heroine, Lorri. I find her naively stupid. This only thing I like about her is her patience especially ...

What a charming book this one was. Likeable hero - large, muscly, taciturn, and sensitive. The third son of an earl, Ewan Mostyn was emotionally,verbally and physically abused by his father who dismissed his learning difficulties as stupidity and unworthiness. His past was heartbreaking as he fought cruel taunts and bullying especially from his cousin, who was favoured by his father in his stead. Ewan was deemed hero following his many great deed...

What a great series this will be! During the war with France, a group of 3rd sons were recruited for what we would call a special ops unit. Some of them survived and created the Survivors' Club. Most of them still have nightmares. Ewan Mostyn thinks himself a lackwit because he can't read. His nickname during the war was the Protector. He currently works as a bouncer at the Draven Club, a gaming hell. On his way to work he saves a woman, Lady...

Really enjoyed this book and would definitely recommend it if you're looking for a historical romance in the regency period. This takes place after the war against Napoleon. Ewan a third son and one of Draven's Dozen, a group of men who was part of a special unit during the war that managed to survive together, each with their own special set of skills. For Ewan, he was known as the Protector of the group for his brute strength. When the Duke of ...

Series: The Survivors #1Publication Date: 11/7/17This book was a wonderful breath of fresh air. The writing was excellent as was the pacing and character development. I can hardly wait to meet the rest of the survivors and see them find their HEA with just the perfect mate for them.I loved the characters in this book – especially Lorrie and Ewan, but I also loved her parents as well as the members of the Survivors who made appearances. I loved ...

What a great start to a new series! This was such a fun book to read and almost impossible to put down.Ewan Mostyn aka Protector aka the Viking is the third son of the Earl of Pembroke. He has returned from the war a hero, he was part of an elite group of men who took the most impossible missions and survived. Ewan is a man of few words and even fewer desires - a place to sleep, the opportunity to bash heads and food are all he really wants or ne...

Third Sons A Charm is the first book in the Survivor series and it is an excellent read. The series features soldiers from Draven's dozen, an elite group of military men who fought in the Peninsular War. These men were viewed as expendable as they were second and third sons of the nobility, so they were given the most dangerous assignments.Ewan Mostyn is known by his friends as The Protector. A man of few words; Ewan is best known for his stren...

Darlings, you know that historical romance is my happy place, but this book isn't my usual jam. It wasn't quippy and witty (though there is definitely humour.) But the pairing of the loquacious Lorrie and silent Ewan just worked. I loved the bodyguard angle and most especially, enjoyed having an alpha hero who struggled with dyslexia. Understandably, it really fuelled Ewan's sense of himself and his confidence levels. Lorrie was a great cou...

Brilliant storytelling and captivating characters! It's always wonderful when an author creates flawed characters who learn from their mistakes, grow, and transform in beautiful ways. Ewan and Lorraine were perfect together.I'm completely hooked on this world and want to read all of "The Survivors" stories.