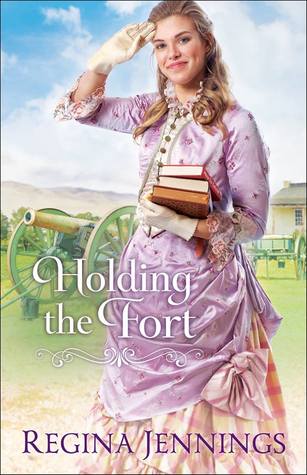 When dance hall singer Louisa Bell visits Fort Reno to see her brother, she is mistaken for the governess that the harried Major Daniel Adams is waiting for. Between his rowdy troops and his two daughters, he has more responsibility than he can handle alone. Eager for the opportunity, Louisa sets out to show the widower that she is a perfect fit.
---
Details Holding the Fort (Fort Reno #1)
Reviews Holding the Fort (Fort Reno #1)
Age Appropriate For: 15 and upBest for Ages: 15 and upI discovered Regina Jennings this year in reading Caught In The Middle. That book really impressed me. The next book I read by her, her very first book, wasn't my favorite. Sixty Acers and a Bride had some wonderful elements but some content that I didn't enjoy. Holding the Fort was fun and ranks between the other two books mentioned.Right off, I was a little worried about where this might...

3.5 starsWhile Holding the Fort wasn't my favorite book by Regina Jennings, I must admit it was a pretty adorable story. The first book in a new series, THE FORT RENO SERIES, it was engaging, fun, and easy to read. I ended up liking all the prominent characters: Louisa Bell, the dance hall singer. Her trouble-making brother, Private Willis. The rather endearing Major Daniel Adams, a widower and father. And the major's two daughters, Caroline and ...

Holding the Fort was a thoroughly delightful book! The story contained a nice balance of humor, serious dialogue, and questions of faith. I enjoyed the characters in this story, both the primary and secondary ones.Louisa was a likable character, even as she tried to uphold the ruse of being a governess. I appreciated that she kind of fell into that position and did not initially set out to deceive anyone. Once she found herself in that situation,...

'What did God think of her sitting in this chapel, pretending to be holy? He knew the truth. He knew she was no friend of His.'Louisa Bell, aka Lola Bell, sings in a bawdy house, even though she's never done anything but sing, but still she's treated like trash by everyone. She loses her job at the Cat-Eye Saloon to a younger, more desirable singer and realizes she has no place to go. However, her brother is stationed with the calvary in Indian t...

As soon as I turned the cover of this book the author had me walking in Louisa Bell's shoes, and loving this girl. A big heart filled with compassion, and when she becomes homeless decides to go to her brother who is in the brig in Fort Reno.Be ready for a few chuckles and wonder how she does what she does, but with such a loving way, that faux pas are soon forgotten, but we do see what a great mind she does possess with her chess playing. Can ...

.Let's get the obvious out of the way - what a gorgeous cover!! In between the gorgeous covers of this book lies an equally gorgeous story, one that will draw you in from the very first page.This book has some beautiful characters. Major Daniel Adams is one of the kindest, most gentlemanly heroes I've seen. Louisa Bell has such a sincere heart and desires the chance at a normal, respectable life. Private Bradley Willis and the Major's two daughte...

Holding the Fort was such a joy to read. I cannot think of another book that had me giggling out loud as much as this one did in quite some time. It takes a special story to really be able to infuse humor into a romance during a time in history that was very stressful and could be deadly. I like that this story had such a quirky heroine. Her growth as a character and the transformation that she made in a world that often judged her and the wonder...

Louisa Bell survived her haphazard upbringing and has managed to stand on her own feet as a dance hall singer. She knows polite society would shun her for being a performer, and even though she has been able to hold on to a measure of respectability in her dark surroundings, it's enough to be associated with that rabble. Louisa finds herself being edged out by younger, prettier, more willing singers, and when she hears that her brother has gotten...

Running a Kansas Fort on the frontier with Indian Territory, and with two daughters in desperate need of training and education, Major Adams agrees to hiring a governess. Anything to stop his mother in law from pulling his girls away, she thinks that Fort Reno is no place for growing girls. She's sung her last song as a singer & performer at the Cat Eye Saloon. Replaced by a younger, albeit less talented model, Louise 'Lola' Bell is suddenly unem...

When you are in the mood for a trip to the old west, life in a fort, and a sweet story about faith, love and forgiveness then this should be one of the books you pick up to indulge that feeling.While this book is labeled as western Christian romance, it is not heavy on the religious aspect.  There is the right balance of faith/religion, love, action and the wisdom of two young ladies.This story touched my heart in many ways.  Louisa was way out...

It is amazing how much I still learn about the West while reading fiction after all these years.  Regina Jennings packed so much history into Holding the Fort, written about the actual military fort, Fort Reno.  It is clear she did a lot of research for this book, and yet not a minute of the book was dry or uninteresting.When I read the description of this book, I honestly expected to find the premise a little unbelievable.  It seems like mist...

I really enjoyed the story (though I had some small initial hesitation, even having loved the author's previous works--nothing good ever comes from lying about who you are). But it's delightfully funny, it's sweetly romantic, and it's a marvelous example of grace--everything I've come to expect from the author, while at the same time tackling a difficult subject.Anytime the main character is masquerading as someone they're not, no matter how inno...

Holding the Fortby Regina JenningsBethany HouseBethany House PublishersChristianPub Date 05 Dec 2017I am reviewing a copy of Holding the Fort through Bethany House Publishers and Netgalley:In this book we meet Louisa Bell, she never wanted to be a dance hall singer but desperate circumstances beyond her control forced her into making that decision. She receives a little help from her brother in the Calvary, but lately he's been getting himself ...

When Lovely Lola Bell (aka Louisa Bell) finds herself out of a job, she decides to check on her brother stationed with the cavalry at Fort Reno. While there, she can straighten him out and perhaps find a new job. But when she arrives, she's mistaken for the governess to Major Daniel Adams's daughters.The way Louisa and Daniel meet is both original and a touch humorous. Their second meeting is even better considering neither of them quite know...

What I Loved: I always enjoy a military setting, so I was smitten with Hold the Fort from the moment I had first heard about it. Jennings incorporates military life at a western fort along with historical details about the conflict with the relocated tribes in the area. I learned some things along the way which is always a treat. With this as a backdrop, she adds in a beautiful romance, two charming girls, and one sweet talking hero. And then the...

Holding The Fort ( The Fort Reno Series-Book 1 )By: Regina JenningsHolding The Fort is book one in The Fort Reno Series. Jennings weaves a story of mistrust, fear, and danger. After dance hall singer Louise Bell is fires she travels west to see her brother who is in the cavalry at Fort Reno. It seems he is getting into all kind of trouble . Louise is mistaken for a governess to Major Daniels Adams two daughters .It seems that there is an issue wi...

This was a fun, easy read. The type of book I call a beach read. It was thoroughly enjoyable with wonderful vibrant characters, a great setting, and some history woven in the pages.It's a story of love and forgiveness, but a lighthearted read at the same time. The humor is well done, and the cast of characters pull it off so well. I also love that a faith theme makes its way into the story. With a singer as a governess, two rambunctious girls, ...

A delightfully easy and enjoyable read with characters that are warm andSupportive. Louisa Bell, a dance hall singer arrives at the fort in IndianTerritory, to check on her brother and is mistaken for a governess. Sheneeds a job, so gives it a try. The Major Daniel Adams has his hands fullwith two daughters and a fort to oversee. Things don't always go as planned,but humor, life, mystery, charm, and love all aid in the decisions made Inthis tal...

I thought this was a really great read. I enjoyed every page. It was such a cute story about a dance hall singer pretending to be a governess. The handsome major and dad to her two charges was so intrigued by her. Not only by her beauty but her selfless and kind heart. He being a strict military man and all just didn't know what to think about her. I definitely recommend this book and can't wait for more in this series. *I was given a copy of thi...

"She's a thoroughbred. . . trying to pas herself off as a mule."(91)First off, never was a fan when people compare women to animals. However, Regina Jennings did so in the most acceptable way I can imagine - in a book that is appropriate in setting and period. And might I add also for the most delightful of characters? We are of course talking about the heroine in Jennings' latest release, Holding the Fort, Louisa Bell."I am Lovely Lola Bell. The...

4.5 "I am Lovely Lola Bell. He will be enchanted with my performance and will love my show." . . . . . . Except that Louisa Bell has landed the job of a governess, albeit by mistake, for Major Daniel Adams' precocious girls on remote Fort Reno in Indian Territory. Escaping her life as a dance hall singer after being replaced by a younger, more promiscuous talent; Louisa heads towards her unruly brother's last known residence as a cavalry soldier....

Summary: Louisa Bell, a dance hall singer in the 1800's, loses her job at the Cat-Eye Saloon. In desperate need of another job, she takes a risk and travels to Fort Reno, where her brother is stationed under the strict eye of Major Daniel Adams. Major Daniel Adams is a widower whose two daughters are too much for him to handle, so he sends word for an older Mennonite woman to be their governess. The older Mennonite woman meets Louisa on the roa...

You can read my review at: Random Thoughts of a Book NerdHolding the Fort definitely wasn't a book that made any big impact on my reading experience. It's a very easy read that your brain really doesn't have to process. But in a way that's exactly what this book is supposed to do, it's not supposed to make you think, it's supposed to give you a nice story to read. For that, I do give this book credit because it is definitely a nice, light-hearted...

With a heroine in a situation where she doesn't quite belong, and a hero a bit out of his depth in his current situation, and a varied cast of secondary characters, all the elements are in place for another romp of a story. Louisa Bell as the former saloon singer Lovely Lola Bell, is unemployed and on her way to pull her younger brother out of a scrape at Fort Reno in Indian Territory, only to find herself masquerading as a governess for the two ...

Holding the Fort tells the story of a woman pretending to be a governess and the difficulties she has to overcome as a result of her own lack of education. There's a little more to it than that, but that story is the one I enjoyed the most. In fact, I wish there had been a little bit more bumbling in regards to Louisa's ability to teach—there is a little bit at the beginning, but then it gets brushed aside in favor of the romantic plot. Jen...

Ok, I'll admit it. I begged to review this book because of the cover. I could tell it was a period piece based on the backdrop and wardrobe. But it was the cute blonde in a pink dress with an armful of books that sold it to me.It wouldn't take much more to endear this book to me, but the main character, Louisa Bell, stole my heart. Anything could have happened and I would still love this book. A strong, independent woman who taught herself to sin...

Great book! Historical information included in the story on the Fort Reno at the time of the story and the Indian problems along with the soldiers that were housed there. Louisa Bell loses her job as a singer in a saloon (she only sings) and she finds out that her brother is once again in trouble at Fort Reno he's been thrown in the Brig and she decides to go there to let her brother know that he has to straighten up she can't help him anymor...

This is Christian Romance done right. Louisa Bell, aka Lola Bell, is a dance hall singer who has just been replaced by a younger woman. With nowhere to go, she heads to Fort Reno where her brother is stationed. She's just learned that he's gotten himself in trouble, so she hopes that she can help him. In the meantime, Major Daniel Adams is struggling with raising his daughters who are getting to an age that they need a woman's help. So, he decide...

Louisa Bell (aka Lovely Lola), didn't want to be a dance hall singer in the first place, but due to circumstances beyond her control, she either had to work at the Cat-Eye Saloon or starve. Louisa wasn't surprised when the owner of the saloon, Tim-Bob gave her the boot in favor of a younger girl, whom she felt had potential…potential to be his next lady-love. It couldn't have come at a worse time and to top it all off, her brother; Bradle...